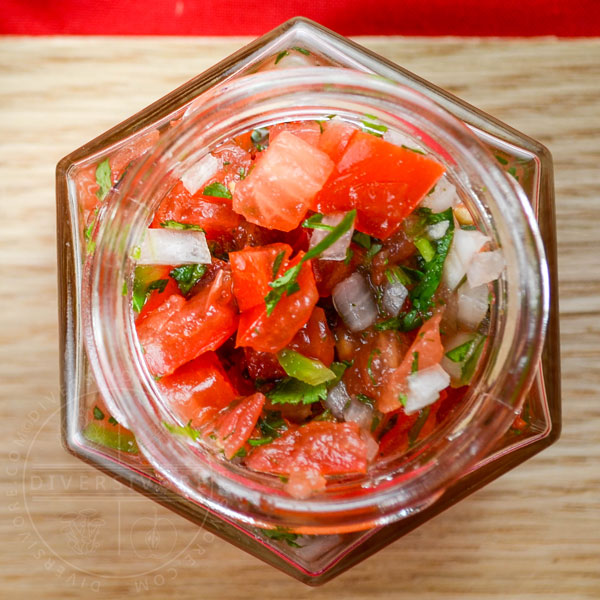 Fresh Tomato, Onion, and Cilantro Salsa
Once in a while I'll need a bit of a gentle nudge in the right direction when it comes to publishing a simple recipe. It has nothing to do with the quality of the food – it's simply that I get in my head. I worry that it will seem like filler, or the recipe itself will be too obvious and uninteresting. Fortunately, a more rational voice (i.e. my wife) reminds me that simple recipes for great food are ALWAYS worth posting.
Pico de gallo is simple, simple stuff. For the uninitiated, it's a fresh salsa (in fact it's sometimes called salsa fresca), and it's made by mixing fresh tomatoes, white onion, hot pepper, and cilantro with a little lime juice and salt. If you can use a knife, you can make this. No cooking, no fancy procedures – just chop and mix. But that's just the thing – it's so good, and so simple, but we feel this weird desire to constantly dress it up to make it worthy of our attention. Don't get me wrong, there's nothing wrong with variations and twists (see my notes below for more on this), but this is so good in its basic form that you really never have to.
Now that I've seen the light on publishing basics like this, let me tell you why you should make/save/refer to THIS recipe in particular:
1. It's a simple base. You can play with it or adjust it to your tastes easily because there aren't too many variables.
2. I've actually given USEFUL measurements. It blows my mind how many recipes use "one onion" as an ingredient. I don't know about you, but where I live onions vary enormously in size.
3. It's super-tasty. I realize that all pico de gallo recipes share a certain commonality, but I settled on this version based on the recipe set out by the lovely and talented Pati Jinich in her wonderful book "Pati's Mexican Table" (seriously, it's a great book and you should get it).
Make it and never look back.
As mentioned above, this is a very simple base and you should feel free to play with it. If you're so inclined, you vary the onion, tomato, pepper, or cilantro to your personal tastes. I wouldn't play with the lime or salt much myself, as I think the balance there is ideal, but to each their own.
To me, the key to a good pico de gallo is the dice on the ingredients. Some people like a really chunky salsa, but I think it's better with a smaller and more refined chop. Use good, firm tomatoes (fresh romas are ideal, but a really nice meaty beefsteak or heirloom variety could work wonders as well), and squeeze out the gooey seedy guts from the center. I like the onion nice and small (smaller than the tomatoes) and the pepper even smaller. That way every mouthful of salsa is nicely balanced. As for the cilantro, I don't like to over-chop cilantro as a rule because it becomes sort of mushy and obliterated, but try to get it into nice manageable little bits, as shown in the images above. With all the ingredients except the cilantro, I try to aim for a evenness above all. A giant hunk of tomato or onion can spoil a mouthful.
Make sure you use fresh-squeezed lime juice here, as the flavour will be superior to bottled lime juice. If you have Mexican/Key limes, they're great to use, but standard Persian/Bearss limes will work just as well.
As for the spice (a perennial topic when it comes to Mexican recipes), this pico de gallo is not hot at all. I recommend serrano peppers because they have a wonderful flavour and a crisp, penetrating heat, but jalapenos will work well too. You can add more pepper to give this more heat if you like, but I wouldn't add too many serranos or jalapenos as it will really change the flavour balance. Instead, I'd recommend adding small amount of a hotter pepper like a Thai bird's eye chili or a habanero if you want to really add some fire to the salsa.  The classic Mexican chili pepper for pico de gallo is considered by many to be the chile pequin, so if you have access to those lovely fiery little delights, go for it.
Variations
The sky's the limit here really. There are a million-and-one pico de gallo recipes out there with ingredients ranging from avocado to strawberries to radish to mango, and many of them are very good. That being said, many of them are also so different that they really qualify as completely separate recipes. If you want to tweak this specific version, I can recommend adding a little mango, tomatillo, or avocado to the mix. If you do add an ingredient, you might want to add a bit more pepper, lime, and salt to make sure that the flavour is balanced out.  Tomatillo can be partially or entirely swapped for tomato, though the flavour is a little more 'green' and sour, so you might need to reduce the lime juice a bit.
If you're one of those poor souls with a distaste for cilantro, you can make this without it, or with a little chopped flat-leaf (Italian) parsley in its place.
Some recipes (including Pati Jinich's original) list olive oil as an optional ingredient, and you can certainly add a little if you like (something in the neighbourhood of 1-2 tbsp). The oil can help carry some of the spice and herbal notes on the palate, though I personally find it unnecessary.
Note: Nutritional Information is given for a single serving (1/12th portion of the total recipe).
Nutrition Facts
Pico de Gallo
Amount Per Serving
Calories 10
Calories from Fat 1
% Daily Value*
Fat 0.1g0%
Monounsaturated Fat 0.02g
Sodium 102mg4%
Potassium 110mg3%
Carbohydrates 2g1%
Protein 0.4g1%
Vitamin A 400IU8%
Vitamin C 9.1mg11%
Calcium 10mg1%
Iron 0.2mg1%
* Percent Daily Values are based on a 2000 calorie diet.
Nutritional Summary

GOOD NEWS:

This recipe demonstrates the incredible nature of a flavourful and healthy side. It adds a great punch of flavour with high nutritional value, and without contributing much in the way of calories or salt. Not only is this healthy, it's a great way to avoid overdoing it with rich and high-calorie sauces and sides.

BAD NEWS:

Nothing. This stuff is amazing.
Ingredient Pages
No ingredient pages have been written yet for any of the ingredients in this recipe.  Like to see one?  Let me know in the comments below or by email.
Pantry Pages
No pantry pages have been written yet for any of the ingredients in this recipe.  Like to see one?  Let me know in the comments below or by email.
Pico de Gallo
Pico de gallo is simple to make and easy to love. This recipe uses a variety of measurements (including weight and volume) to make consistent batches, as well as annotations and variations.
Ingredients
450

g

tomatoes

(3 cups) seeded and finely diced

100

g

white onion

(1/2 cup) finely diced

1

medium

serrano pepper

(about 10 g) very finely diced

15

g

cilantro

(1/4 cup moderately packed) chopped

2

tbsp

lime juice

freshly squeezed

1/2

tsp

salt

or to taste
Instructions
Combine all of the ingredients and let stand for 5-10 minutes to allow the flavours to mix. If necessary, adjust the salt and lime juice to taste.

Serve alone with tortilla chips, or as a side to accompany Mexican dishes like tacos (honestly, you could put it on anything).
Notes
Roma tomatoes are ideal, but a meaty heirloom or beefsteak variety would work well too. Serrano peppers provide a distinctive flavour and mild but penetrating heat, but jalapenos will work well in their place. You can adjust the tomato, onion, or peppers to your personal preferences.
Nutrition
Calories:
10
kcal
|
Carbohydrates:
2
g
|
Protein:
0.4
g
|
Fat:
0.1
g
|
Saturated Fat:
0.02
g
|
Polyunsaturated Fat:
0.1
g
|
Monounsaturated Fat:
0.02
g
|
Sodium:
102
mg
|
Potassium:
110
mg
|
Fiber:
1
g
|
Sugar:
1
g
|
Vitamin A:
400
IU
|
Vitamin C:
9.1
mg
|
Calcium:
10
mg
|
Iron:
0.2
mg