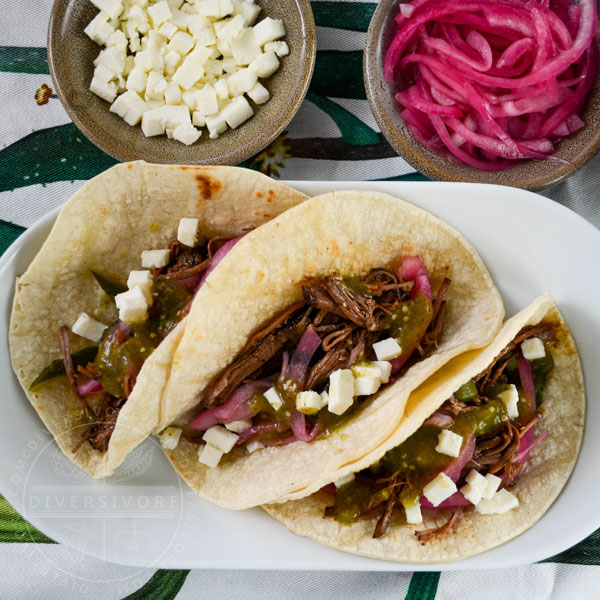 Instant Pot Mexican Brisket
With Pasilla-Morita Adobo
I love tacos. Sorry, let me do that again with a series of links to emphasize my point: I love, love, love, love, love tacos. I mean think about it: they showcase a great central recipe, but they're endlessly customizable thanks to the accompanying toppings, salsas, etc. They're also perfectly portable and quick to make.  Perfect. Food.  I've been making and writing about this subject a lot lately, in no small part because I've had a lot of fun developing Mexican recipes for the Instant Pot. Lots of great Mexican meals take advantage of tough-but-tasty cuts of meat, and these are precisely the ingredients that do really, reallllly well in an electric pressure cooker.  Basically, the options just keep revealing themselves to me.
Now because I love tacos, love my Instant Pot, and love you, dear readers, I've been wanting to share this recipe for a while.  But frankly, I wasn't really sure what to write about.  Long story short: nuts to that.  Today I tossed my hands in the air (metaphorically, anyway – I was holding coffee and my cellphone) and decided it was time to get this baby up.
You see, a little while back a wonderfully witty and funny person named Kashana wrote something on Twitter. I'm going to throw it in some quotes because I'm fancy like that.
Emails just aren't safe. We should hide state secrets deep in the story parts of recipe blogs.Kashana Cauley
Gotta admit, I laughed.  Ugly-laughed.  So while I personally love writing the lead-ups to my recipes, and about food in general, I get you world.  I've got a jump-to-recipe button for a reason.  Sometimes you just want to get right down to it.  And you know what? That's a good thing.  I want my readers to cook my food, and when you want to get cooking, you don't need a story.  So let's just say that today there are no state secrets. I want to share some food, and I want you to make it, so let's get down to eating some tacos.
When I develop a Mexican recipe, I aim for a few key points every time: big flavour, quality ingredients, and respect for the culinary traditions. Electric pressure cookers certainly aren't a historical part of making brisket tacos, but don't be tempted to think that this is some sort of bland, over-simplified generic taco recipe. This recipe is a continued tribute to my love affair with Mexican chilies and the wonderful, wonderful things they can do. This is all about turning a tough cut of meat into delectably tender stuff, and about the fantastic flavours of two amazing chilies. Hail to the taco.
Everything here is quite easy to do, but I will strongly encourage you to make sure you get good ingredients, and to make sure your toppings and sides are great. The meat is wonderful, but man does not live by taco-meat alone. Here are some helpful tips.
Chilies
This adobo is all about two of my favourite chilies, and both play important (and different) roles in the adobo sauce. They're in the title for a reason, after all.
Morita chilies are a type of chipotle, which is a smoked ripe jalapeno. The (arguably) more familiar chipotle meco is heavily smoked and somewhat bolder, but moritas are nice because they contribute a bold fruity flavour and a moderate smoky punch. You can read all about moritas and chipotle mecos here, including information on finding and substituting them. If you have chipotle meco chilies, you can use them instead, though you might find the adobo comes out a little more boldly smoke-flavoured.
Pasilla chilies (aka chiles negro) are one of the 'holy trinity' of mole peppers.  Their name means 'little raisin' – an apt description of their fruity flavour and wrinkled appearance.  If you can't find pasillas, you can use the more readily available ancho chilies.  The flavour isn't exactly the same, but the character is similar enough to work nicely.
Making Adobo
Alright folks, this treads the line between simple and complicated. Yes, there is a line there. There's a reason that a lot adobo sauces are bought pre-made, even by dedicated home cooks. Basically, they can be time consuming and a little difficult. But this is no copycat recipe, and you won't find an adobo like this in stores. What determines whether it's easy or hard is mostly equipment. If you have a good grill and a good blender, you're set. The veggies are all grilled, the chilies simply soak, and the blender turns everything into sauce. Easy peasy. Now if you don't have the gear, don't worry, you might be all right. The veggies can be roasted under a broiler, though you'll need to pay bit more attention to the process, and (depending on your oven) possibly reposition things a bit more to get an even char.
The blender is what really makes things easy. As I've mentioned elsewhere, Mexican cooks love their blenders, and for good reason. A good sauce is quickly and easily made with a quality blender. If you don't have one you can use a food processor, but make sure you puree things long enough to get a smooth sauce.
Serving
Tacos are pretty easy to personalize, so you do you.  That being said, I really like how the tart/acidic tomatillo-based salsa verde works with the rajas, beef, and rich, fruity adobo.
Cotija is a great cheese to use here, and a little goes a long way.  If you can't find it you could use a good mild feta, or go in a different direction with some queso fresco.
The pickled onions are my taco secret weapon (ok they're probably a lot of people's secret weapon, but still).  There are a few ways to make them, but a simple mixture of vinegar and sugar, plus sliced red onions and a little salt will get you in the right direction.  Look for a full recipe on Diversivore soon.
Pressure Cooking vs. Slow Cooking
This recipe was designed for an electric pressure cooker, but there's no reason that you can't adapt it to a slow cooker, or even the stove-top or oven.
If you're looking to adapt this to a slow cooker you won't need to make many changes, but you will (obviously) have to allow for a lot more time. Proceed with all of the other steps leading up to the brisket as shown below, including searing the beef. Then combine the adobo and brisket in a slow cooker on low and leave for 8-10 hours, or until the meat is quite tender.
If you're adapting this to a stove-top or low oven, you'll once again want to follow all of the lead-up steps including searing the beef. Combine the beef and adobo in a large, heavy-bottomed pot, cover, and simmer over a very low flame (or in a medium oven) for 6-8 hours, or until the meat is tender. Check on the liquid level in the pot every 2 hours or so, adding a little water if necessary to keep it from drying out too much.
Note: Nutritional Info is shown for a single serving (2 tacos) including tortillas and toppings as shown in the photos.
Nutrition Facts
Instant Pot Brisket with Pasilla-Morita Adobo
Amount Per Serving (2 tacos)
Calories 278
Calories from Fat 108
% Daily Value*
Total Fat 12g 18%
Cholesterol 88mg 29%
Sodium 360mg 15%
Potassium 616mg 18%
Total Carbohydrates 8g 3%
Protein 30g 60%
* Percent Daily Values are based on a 2000 calorie diet.
Nutritional Summary

GOOD NEWS:

Loads of protein, yet surprisingly lean, this is a great example of a meat meal that's also exceptionally healthy.

BAD NEWS:

Not much really, though it's worth noting that some of the vitamin numbers are going to be a little inflated, as you're not likely to eat all of the adobo, and that's where a lot of the Vitamin A comes from (thanks to the chilies).

TRIM IT DOWN:

As with all taco recipes, a lot depends on how you garnish. Don't go overboard on the cheese.
Ingredient Pages
No ingredient pages have been written yet for any of the ingredients in this recipe.  Like to see one?  Let me know in the comments below or by email.
Pantry Pages
Note: the base recipe itself is dairy-free. If you want to keep the servings dairy-free, simply omit or substitute for the cheese.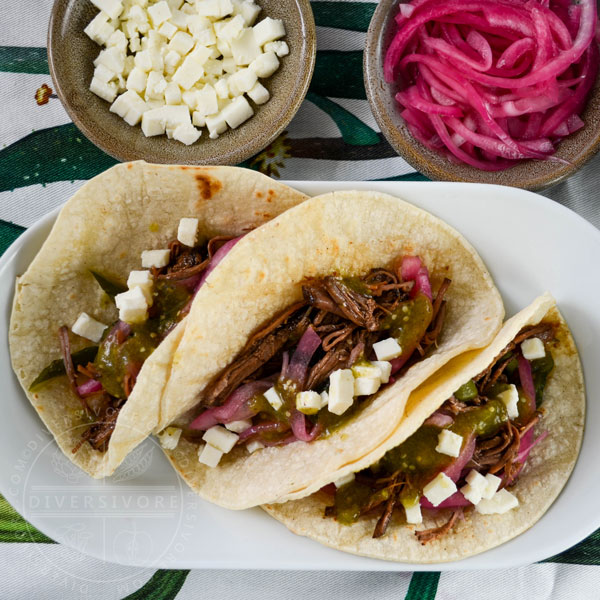 Instant Pot Brisket with Pasilla-Morita Adobo
Meltingly tender beef (thanks to the electric pressure cooker) and sweet-smoky scratch-made adobo made with loads of roasted veggies make for a fan-freakin-tastic taco recipe.
Cuisine:
Mexican, North American
Keyword:
adobo, brisket, chilies, instant pot, tacos
Ingredients
Adobo
4

pasilla chilies

2

morita chilies

2

tbsp

apple cider vinegar

1

medium

tomato

1

medium

sweet onion

(~250 g)

3

cloves

garlic

unpeeled

1

tsp

piloncillo

or brown sugar

1/2

tsp

dried oregano

(preferably Mexican)

1 inch

piece

cinnamon

or 1/2 tsp ground (see note)

1

tsp

allspice berries

or 1/2 tsp ground

1/2

tsp

cumin seeds

or 1/2 tsp ground

1

tbsp

vegetable oil

1/4

tsp

black pepper

1/2

tsp

salt

or to taste
Brisket
1.4

kg

beef brisket

fat trimmed (about 3 lbs)

1/2

cup

beer

1

cup

stock

beef or vegetable, preferably a low-salt variety

1/4

cup

pasilla-morita adobo
Rajas
3-4

medium

poblano peppers
To Serve (All optional but recommended)
salsa verde

cotija cheese

or other salty, crumbly cheese

pickled red onion

corn tortillas

toasted, and kept warm
Instructions
Adobo
Soak the morita and pasilla chilies in very hot water for 10 minutes. After this time, carefully remove the stems and as many of the seeds as you can manage. Reserve the softened chilies and the soaking liquid.

Preheat the broiler of a stove or an outdoor grill. Roast the onions, tomatoes, and garlic until moderately charred (on an outdoor grill, the garlic took about 2 minutes, the tomatoes about 5, and the onions about 7). See also the instructions for the rajas below.

Place the charred vegetables and softened chilies in a blender, along with all of the remaining adobo ingredients and 1/2 cup of the chili soaking liquid. Blend until the adobo sauce is smooth.
Rajas
Roast the poblano peppers under a broiler, over a gas flame, or on an outdoor grill (the latter is my personal favorite way to do this). Turn the peppers occasionally until the skins are blackened all over. Place the roasted peppers in a large bowl and cover tightly (a fitted lid or plastic wrap works well). Set aside for at least 20 minutes, and up to several hours.

Before serving, peel, seed, and slice the poblano peppers into long strips.
Brisket
(Instructions are for the Instant Pot brand of pressure cooker - for other brands, see the notes below). Sear beef. Add beer, then add adobo and stock.

Cook for 1 hour. Let the pressure release naturally, or (if you're pressed for time) let stand for 5 minutes then release the valve manually.
To Serve
Load up a corn tortilla with some brisket, a little extra sauce, and a few raja strips. Top with cheese, salsa verde, and onions. Enjoy immediately.
Recipe Notes
Use TRUE cinnamon if possible. If using cassia, use a little less.
If you're using another brand of electric pressure cooker, simply refer to the instructions for that brand before adapting the recipe. Make sure to cook at high pressure, and for approximately the same amount of time. Because there are no presets being used here, it should be fairly easy to adapt.