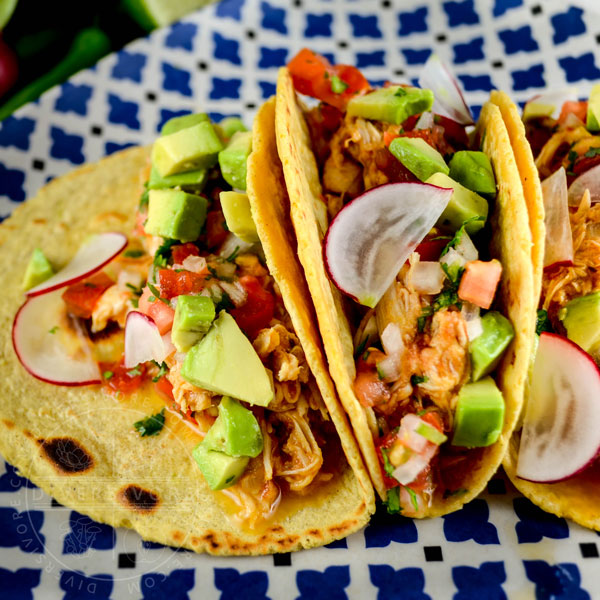 I think it's time we talk about the "Mexican Food" label hanging mockingly over that one aisle in the grocery store. I'm sure things vary a little depending on where you are (not to mention the size of the Mexican population wherever you live), but in my experience, very little of what you'll find there is even remotely representative of the average Mexican kitchen.
I'm not pointing this out to sound snobby or elitist - it's simply frustrating when you want to cook genuine Mexican cuisine only be steered towards the same middling processed foods time-and-again. And I care about these issues of accessibility - I'm sure it won't come as any surprise that I've had to do a fair bit of hunting for resources in order to make many of the meals I put on Diversivore, but I always try to figure out just what can be sourced from a conventional grocery store. After all, that's the first place that a lot of readers are going to head to. In the name of research, I scoped out the 'Mexican' sections in three different grocery stores to see just what the choices look like, and as you've no-doubt surmised, the results were not exactly encouraging. It was about 90% taco kits and salsa with a decidedly Tex-Mex spin. (For what it's worth, I'm not railing against Tex-Mex either - I'm just opposed to junky, highly-processed Tex-Mex masquerading as authentic Mexican food).
Normally I wouldn't give this kind of thing much thought - after all, the 'ethnic' sections of grocery stores tend to be pretty mixed bags at best. But mixed in with all the boat-shaped tortillas and fajita kits was something that surprised me - a seasoning packet for chicken tinga. Now I had never made chicken tinga before I started working on this recipe, but I can comfortably tell you three things: it's incredibly delicious, surprisingly versatile, and something that really, really shouldn't be made from a packet. Packaged seasoning blends like this are what I like to call 'manufactured convenience.' They give you the impression that you can shortcut your way to an excellent dish (you can't - the seasoning pack was mostly salt and garlic powder, and that's certainly not going to provide the backbone of this meal), but in doing so they give the false impression that you actually NEED that kind of help. You don't. This is healthy, hearty, easy, weeknight fare - and I can also happily report that despite the sorry state of the average 'Mexican' section, you can actually make this meal, from scratch, without having to visit a specialty/Latin American grocery store. So nuts to the package.
My aversion to packaged sauces probably doesn't come as a surprise, but given how good and how EASY this actually is, I can't imagine why you'd even want to use a packaged seasoning blend. This recipe, adapted with a few little tweaks from Pati Jinich's version (found in her wonderful book "Pati's Mexican Table" which I can whole-heartedly recommend) is packed with fresh ingredients and incredible flavours that could never be replicated by a by using something that came out of a packet. And I want to reiterate - this isn't difficult to make at all; you boil and puree some tomatoes and tomatillos, saute it with some onion and garlic, add spices, chicken (a pre-roasted rotisserie chicken is ideal), cook things down, and you're good to go. Minimum input, maximum flavour.
So it's delicious, it's easy, and you don't have to shop around too much for the ingredients. That's all wonderful - but I've saved the best thing about chicken tinga for last. The best thing about it is that you can eat it in SO many wonderful ways. This meal easily serves 6-8, but I'm not at all kidding when I say that two people could make this and eat it all week. Tacos (like in the banner image and the image below), quesadillas (like the image above), tortas, tlayudas, tostadas and any other tortilla-based preparation works amazingly well. If you wanted to do something a little more unconventional, this would make an incredible topping for pasta too (in fact it rather reminds me of a Mexican version of my mom's chicken cacciatore recipe). Frankly, you could just straight-up eat this as is like a sort of stew, maybe with a little crema and avocado on top. You can't get tired of this dish. I miss it already.
As I've mentioned above, this is not a difficult dish to source or cook. To make it as easy as possible, and to help you figure out your serving options, I've broken things down by section below.
Chicken
You can roast or slow-cook your own chicken if you like, but this works incredibly well with one of those roasted chickens you can pick up ready-to-go at the grocery store - simply shred the meat while the sauce cooks and you're good to go. In theory, I see no reason this wouldn't also work beautifully with slow-cooked pork.
Tomatoes & Tomatillos
To make things even easier, there's no need to peel, core, or seed the tomatoes or tomatillos.  Simply clean them, boil them whole, and puree them in a food processor or blender.
Specialty Ingredients
Tomatillos are probably the hardest ingredient to find on this grocery list, and even they're becoming more and more common in conventional grocery stores. I was able to find them at most of the mainstream grocery stores in my area. Chipotles in adobo are, mercifully, one of the few truly Mexican ingredients that can usually be found in the Mexican section of the store. Do not be tempted to skip out on them, even if you're spice averse - they provide unmistakable smoky depth to the meal that simply can't be replaced.
Piloncillo (Mexican cane sugar) can be tricky to find, but it's easily swapped for a good dark brown sugar or palm sugar.
As for the toppings, some of them are harder to find than others (Mexican crema and cotija cheese for example), but these are optional and easily swapped out with easier-to-find ingredients. Greek yogurt, mild feta, and Monterey Jack all make great toppings.
Spiciness
One of the best things about this meal is how easy it is to adjust to your preferred spice level. I cooked it for four adults and two kids with varying levels of spice tolerance and split the dish in half accordingly. One half got no chipotle peppers (but still some adobo sauce), the other half got about four chipotles. The flavour was great in both versions, but I will certainly profess a preference for the peppered version. Spice tolerances vary of course, but I didn't find the version with peppers to be that hot at all. The spice level lingered pleasantly on the tongue, but caused no discomfort. If you were inclined to ramp up the heat, you could add a couple of seeded and soaked árbol chilies or even some diced habanero pepper while cooking the sauce to add intense bite.
Toppings & Variations
The sky is the limit here, but anything with a tortilla is a good bet. I do think a good salsa is almost a must, and I'm really partial to a fresh pico de gallo. You can put one together in a snap - stay tuned for a recipe in the next few days. Add a bit of dairy, some fresh tomatoes, avocado, radishes, cilantro, maybe a little bit of pickled jalapeño, and you're set.
Nutritional information given is for an individual serving of chicken only, and is exclusive of any toppings or tortillas you use.
Nutrition Facts
Chicken Tinga
Amount Per Serving
Calories 327
Calories from Fat 144
% Daily Value*
Fat 16g25%
Cholesterol 88mg29%
Sodium 925mg40%
Potassium 762mg22%
Carbohydrates 14g5%
Protein 32g64%
Vitamin A 1350IU27%
Vitamin C 34.7mg42%
Calcium 50mg5%
Iron 2.7mg15%
* Percent Daily Values are based on a 2000 calorie diet.
Nutritional Summary

GOOD NEWS:

Because this recipe relies on vegetables and spices to build a flavour base, it's surprisingly healthy, and remarkably nutrient-dense. This is excellent, incredibly healthy food.

BAD NEWS:

It can be easy to overdo it on the sodium, so try to season judiciously.

TRIM IT DOWN:

Make sure to make wise choices with your toppings too - there's no reason to smother this in cheese (a little goes a long way here). Choose lots of fresh veggie toppings (e.g. avocadoes and pico de gallo) to keep things healthier. If you use tortillas, note that the corn ones are leaner than wheat.
Ingredient Pages
No ingredient pages have been written yet for any of the ingredients in this recipe.  Like to see one?  Let me know in the comments below or by email.
Pantry Pages
No pantry pages have been written yet for any of the ingredients in this recipe (but chipotles in adobo are coming up soon).  Like to see another one?  Let me know in the comments below or by email.
Chicken Tinga
You can make this amazing, authentic meal without venturing beyond the average grocery store. It makes amazing tacos, tortas, quesadillas, tlayudas and more. Adapted from Pati Jinich's version in Pati's Mexican Table.
Ingredients
8

roma tomatoes

(about 2 lbs/900 g)

3

medium

tomatillos

(about 7 oz/200 g)

3

tbsp

vegetable oil

1

cup

white onion

chopped

3

cloves

garlic

minced

1/2

tsp

oregano

preferably Mexican

1/4

tsp

dried marjoram

1/4

tsp

dried thyme

1

large

bay leaf

1.5

tsp

salt

(less if you use a salt-added chicken stock)

2

tsp

piloncillo

(or brown sugar)

1-4

whole

chipotle peppers in adobo sauce

chopped (see note about spice)

1

tbsp

sauce from chipotles in adobo

5

cups

cooked shredded chicken

(a grocery store rotisserie-cooked chicken works great)

1.5

cups

chicken stock

preferably low- or no-sodium added
To Serve (All Optional)
corn tortillas

avocado

pico de gallo

or other salsa

cotija or queso fresco cheese

(substitute monterey jack, farmer's cheese, or mild feta)

Mexican crema
Instructions
Place the tomatoes and tomatillos in a large pot and cover with cold water. Bring the pot to a boil on the stovetop and cook until soft but not mushy, about 6-8 minutes. The skins on the tomatoes will most likely split open during cooking.

Remove the tomatoes and tomatillos from the water with a slotted spoon and transfer to a blender or food processor. Allow to cool for a few minutes, then blend until smooth and set aside.

Heat the oil over medium-high heat in a large, heavy-bottomed pot. Add the onion and saute for about 4 minutes, or until the onions are soft and somewhat translucent - a little bit of brown or char is fine. Add the garlic and saute for another minute, then add in the pureed tomatoes and tomatillos (it will spatter, so be careful). Reduce the heat and stir in the spices, sugar, chipotles, and adobo sauce. Loosely cover the sauce and allow it to simmer over medium-low heat until it's thickened and darker - about 10 minutes.

Add the chicken and stock to the sauce and combine well. Cook for an additional 10 minutes or so, or until most of the sauce has been absorbed and the mixture is thick. Season to taste with salt.

Serve with tortillas and various toppings (see ingredient list for basics, but feel free to vary things based on your personal tastes). Quesadillas, tortas, tlayudas, tostadas, etc. are also great options.
Notes
You can easily vary this recipe in terms of spice by adding or subtracting chipotle peppers in adobo sauce. For a very mild version (i.e. the version I served my young children), you can use one or no chipotle peppers. For a smokier version with moderate heat, you can use 2-3 peppers. If you're looking for something fairly fiery, you can use 6-10 peppers, or the better part of a small can,. Although the adobo sauce (i.e. the sauce that the peppers are preserved in) does contribute a very small degree of spiciness, I wouldn't recommend removing it even for the spice-averse, as it contributes a lot of the smoky rich flavour necessary for the dish to work.
The tomatoes and tomatillos do not need to be seeded or cored - simply clean them and boil them whole.
Nutrition
Calories:
327
kcal
|
Carbohydrates:
14
g
|
Protein:
32
g
|
Fat:
16
g
|
Saturated Fat:
3
g
|
Polyunsaturated Fat:
6
g
|
Monounsaturated Fat:
6
g
|
Cholesterol:
88
mg
|
Sodium:
925
mg
|
Potassium:
762
mg
|
Fiber:
3
g
|
Sugar:
9
g
|
Vitamin A:
1350
IU
|
Vitamin C:
34.7
mg
|
Calcium:
50
mg
|
Iron:
2.7
mg