Smoky Dried Chili Salsa
(K'uut Bi Ik)
K'uut Bi Ik! Easy to make, easy to love, and not-so-easy to say (the apostrophe is a glottal stop). It's a little-known chili salsa from Yucatan peninsula of Mexico that combines rehydrated chili peppers with Seville orange juice (or a suitable substitute, see below) and a little salt. Nothing complicated, but it adds a big, bright, bold punch to all kinds of dishes.
It's simple and wonderful salsa, and perfect for those looking for a little (or a lot) of extra heat. You just throw it together when you want to up your taco game to ridiculous new heights. As such, it seems like the kind of recipe that I should stop talking about in order to get right down to the details. Add to that the fact that I'm certainly not the first person to shine a light on k'uut bi ik – this recipe is only mildly tweaked from the version found on the fabulous Serious Eats website, and as such I don't want to pretend I'm reinventing the wheel in a really big way here.
THAT BEING SAID (which is, incidentally, something I say a little too often), while I'm not reinventing the wheel, perhaps I'm putting new rims on. Or… rotating and balancing. This analogy is in trouble, so let's move on. My recipe departs from the traditional/Serious Eats combination of pasilla and árbol chilies for one exceptionally good reason: smoke.  This fiery red dried chili salsa foregoes the pasilla chilies and instead swaps in wonderful, moderately smoked morita chipotles. You see, a lot of great Mexican carne (meat) recipes use smokers, charcoal, or even pit ovens to really rock that smoky, slow-cooked flavour.  While more and more people are using home-smokers (or smoker boxes in barbecues), it's still not something that everybody can do.  And if you're looking to cook genuinely good Mexican food quickly (hello pressure cooker!) the smoke is usually the first thing to go by the wayside. I was, suffice it to say, not ok with this. Enter the beloved chipotle peppers. Beloved by whom, you ask? Well me for starters. And a whole lot of Mexican and Southern US cooks. And hopefully you too, because these things are amazing. By using a smoked chili in your k'uut bi ik, you get a condiment that still delivers all the awesome fruit chili heat, but also brings prominent smokiness to any dish it touches. It's not overwhelming (more on that below when we talk about chipotles), but it's definitely there, and it definitely does great things.
Now, let's get down to making this stuff.
Words can't express just how easy this is to make. I mean… I guess they'll have to because that's kind of my job and all that. As for how to make this, the instructions below are really all you need. The only tricky bit involves charring the garlic, and even that's pretty straightforward (you're basically lighting them on fire… but, gently). Do make sure to toast your chilies and to soak them for a little while, as you definitely don't want a salsa with annoying flaky bits of dry chili skin in it. Nobody wants that. Like the look of those tacos above? If you're looking to try it out, that's my recipe for Instant Pot Carnitas con Queso. It's a perfect recipe for this salsa. Go ahead and check it out. I'll wait here.
Garlic?
This recipe is, in some sense, a bit of a hybrid between two recipes that are already pretty similar to begin with: the aforementioned k'uut bi ik from Serious Eats, plus another Yucatecan salsa called Chile Tamulado (which has also been covered by Serious Eats – if I was getting paid for this I'd probably owe them royalties). The recipes differ by using dried or fresh chilies, and the SE Chile Tamulado recipe uses fire-roasted garlic. I looooooove me some garlic, so I decided to incorporate it in my k'uut bi ik recipe. That being said, you can totally omit it if you're not in the mood, or if charring  garlic seems like too much work (I have a gas stove, so it's a snap). If you do choose to omit the garlic you can expect a somewhat sharper, fruitier, more chili-centric flavour. Still very good, just a little different.
The Chilies
Needless to say, the chilies are pretty important here. Right out of the gate I'll cover this point: you could use any good dried chilies that you like to make this, and you'd end up with a tasty salsa. But if you're looking for a nice balance between chili-heat and smokiness, I do recommend you track down árbol and morita chilies.
The árbols are a pretty standard hot red chili with a nice fruity profile. If you're looking for substitution ideas you can check out the link to the Pantry Page here.
Morita chilies are one of two types of chipotle pepper. Moritas are distinctively purple-red, with a fairly glossy skin and a smoky, but not overwhelming scent. The second type, the chipotle meco, is a papery, tobacco-brown colour with a much stronger, distinctive smoky flavour. Chipotle mecos are great, but they can be overwhelmingly smoky. If you can't find morita peppers but you can find chipotle mecos, use one or two of those in place of the moritas. For more on chipotle peppers and how to find, choose, and use them, check out this Pantry Page all about the subject.
Seville (Sour) Oranges
One of my favourite ingredients, this recipe (and this one) is a fantastic reason why you shouldn't be afraid to try a new fruit when the opportunity arises. They're not always easy to find however, so if you can't track them down, you can substitute at 1:1:1 mix of grapefruit, orange, and lime juice. The flavour isn't an exact substitute, but it will do the job nicely. For more on finding, choosing, and using Seville Oranges, check out this Ingredient Page.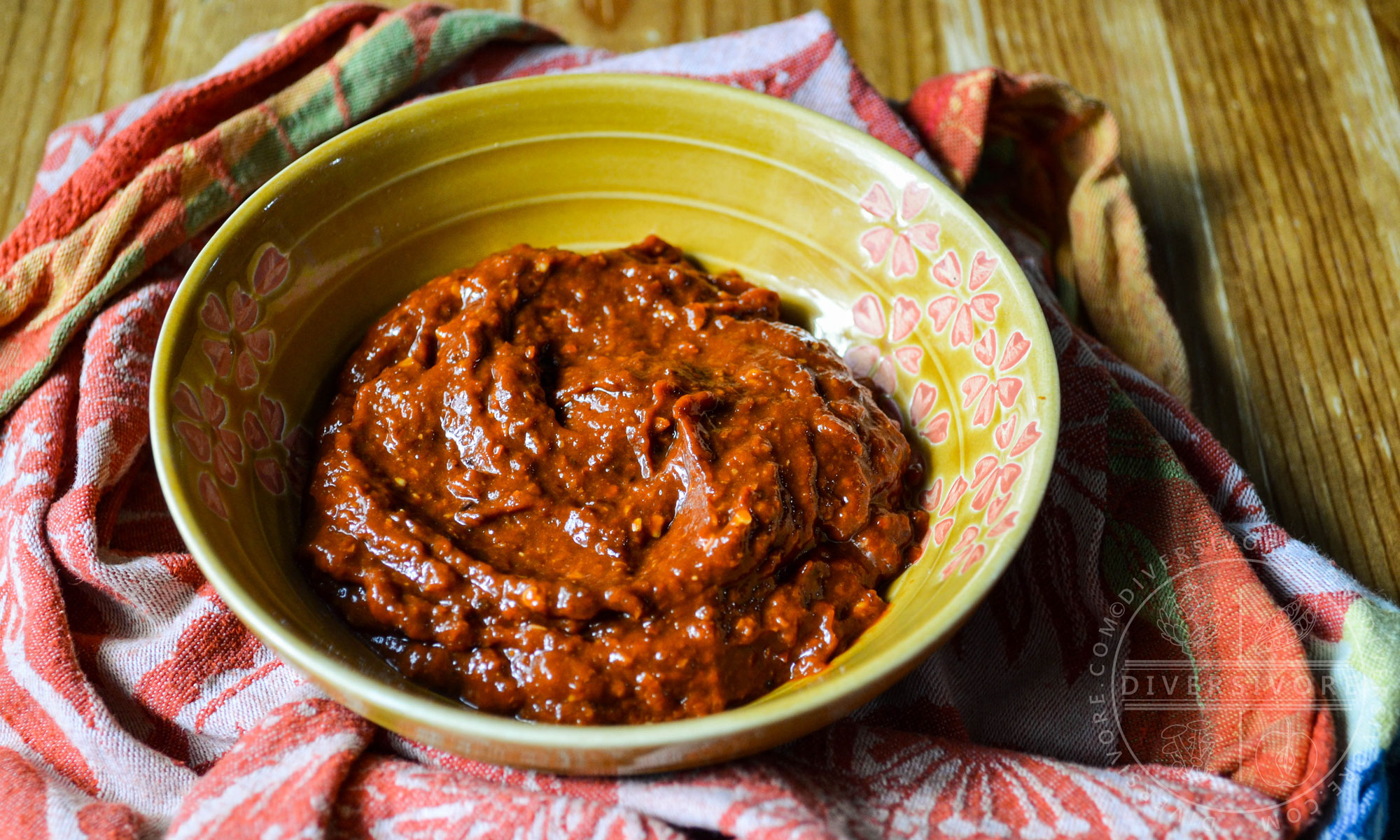 Nutritional information is given for an individual serving (1/20th total recipe).
Nutrition Facts
Smoky Dried Chili Salsa (K'uut Bi Ik)
Amount Per Serving
Calories 6
% Daily Value*
Total Fat 0.004g 0%
Polyunsaturated Fat 0.001g
Sodium 21mg 1%
Potassium 2mg 0%
Total Carbohydrates 2g 1%
Protein 0.2g 0%
* Percent Daily Values are based on a 2000 calorie diet.
Nutritional Summary

GOOD NEWS:

This is the perfect condiment – tons of flavour, with almost zero added fat or calories. It's a great way to spice up (literally) all kinds of dishes.

BAD NEWS:

Nothing at all! You could eat this by the spoonful – though I wouldn't recommend trying it unless you've got a fire-proof tongue.
Ingredient Pages
Pantry Pages
Smoky Dried Chili Salsa (K'uut Bi Ik)
Nothing finishes a good Mexican recipe like a really great salsa. While cooked and fresh salsas are wonderful, it's hard to beat the simplicity and impact of k'uut bi ik - a Yucatecan salsa made from dried chilies and Seville orange juice. This variation incorporates garlic and smoky morita chipotle to give it a deeper and more rounded-out flavour.
Course:
Pickle/Chutney/Salsa etc., Sauce/Marinade
Cuisine:
Mexican, North American
Keyword:
authentic, chilies, chipotle salsa, citrus, dried chili salsa, k'uut bi ik, morita chilies, salsa
Ingredients
10

g

morita chilies

(~5 chilies)

10

g

arbol chilies

(~15 chilies)

4

cloves

garlic

unpeeled (optional)

3/4

cup

seville orange juice

or 1/4 cup each orange, lime, and grapefruit juice

1

tbsp

white vinegar

(see note)

salt

to taste

1-2

tbsp

water

or as needed for final consistency
Instructions
(Optional - skip if omitting garlic) Thread the cloves of garlic onto a metal skewer, then carefully roast/blacken them over an open flame (I use a gas stove, but you could use a barbecue too). If you don't have a flame source, you can blacken the cloves in a very hot cast iron pan instead. The idea is to thoroughly char the cloves, but not to roast them all the way through. Set the charred garlic aside to cool.

Remove the stems, seeds, and membranes from the dried chilies. You may find it easier to do this after toasting; I personally shake out the seeds before and after to remove as many as possible.

Toast the chilies by either adding them to a hot frying pan for about 2 minutes (turning occasionally), or by microwaving them for 20-30 seconds. The toasted chilies should be pliable and very fragrant.

Place the toasted chilies in a small bowl along with the Seville orange juice (or citrus substitute), vinegar, and salt. Soak for about 10 minutes.

Peel the garlic (if using) and combine with the chilies, juice, vinegar, and salt in a blender, spice grinder, or mortar and pestle. Blend/pulverize until the salsa is uniform. Add a little water for a thinner consistency, if desired. Let the salsa sit for 20-30 minutes if possible in order to balance the flavours.
Recipe Notes
If you are able to find Seville oranges you might find that the vinegar is either unnecessary or too strong. Taste the juice and see if you think it's acidic/bitter enough, and consider adding a little less vinegar or a milder vinegar like white wine vinegar. You may want to add a little extra water to make up for the reduced volume of liquid.