Flank Steak in a Beer and Guajillo Marinade
The more you learn about Mexican food, the more diversity (and deliciousness) you uncover. When I was a little kid, 'taco' really only referred to one specific recipe that my mom made (and while that recipe is definitely more on the Tex-Mex side of the equation, it still holds a special place in my heart). I got a little older and realized that 'taco' is a category, not unlike 'sandwich', and it encompasses a gigantic array of foods. Now that I'm older and a lot more experienced in the kitchen, I tend not to make as many assumptions, but I was pleasantly surprised when I started looking into carne asada recipes.
Carne asada sounds like it should refer to some very specific recipe, but it literally means 'roasted meat.' With that in mind, it shouldn't come as any surprise that there are countless variations on the dish, often with some wildly different flavours. In its most basic (and, many would argue, ideal) form carne asada is simply a very good piece of beef, salted and grilled over extreme heat for a short period of time. But many variations include a marinade, and I'm a big fan of marinading inexpensive, relatively tough cuts of meat. 'Borracha' is Spanish for drunken, so this is my well-seasoned and well-soused variation, replete with dried chilies, lager, and a salty-savoury bite.
Now, it's time for a little sales pitch. There are (as we've established) plenty of carne asada recipes out there, so why should you make this one? Because this was, hands-down, the tastiest beef recipe I've made in a long time. The guajillos are fruity, bold and a little smoky, the beer is vibrant and lively, and all of it is set off by the salty, savoury tastes of soy and Worcestershire sauce. Another factor that makes a big difference - the pureed onions in the marinade. This isn't a common feature in Mexican cooking, but it does play a big role in Korean marinades, and it makes for amazingly rich, slightly sweet meats. It's also a cheap and easy to make recipe - plus it calls for less than a whole beer, so you get to polish off the rest of it while you cook. Ding ding ding, winner!
I learned a lot from THIS amazing article by the amazing and inimitable Kenji López-Alt. Check it out, and check out anything else he writes. If you're a food-and-science nerd like me, you'll love it all.
Anyway, if you don't have time to read the article right now, let me just say that one of the biggest take-home points centered on the role of salt in your marinade.  You need a LOT of salt (both in its crystalline form and as soy sauce). It has a major impact on both the taste and the texture of the final dish, so you don't want to skimp on it. In fact, this is one of those weird cooking situations where you make a sauce/marinade that's TOO salty on it's own; a tasty and well-salted marinade won't penetrate and flavour the steak, while an 'over-salted' one will. While the effect on the meat is phenomenal, it's unfortunate to end up with a tasty sauce rendered inedible by excess salt. The marinade makes such a good sauce on its own that I do two things to work around this - first, I cooked vegetables in it, and second, I set aside a portion before adding the extra salt. I strongly recommend doing the same things - you'll be glad you did.
As for serving, these are especially good as tacos (or fajitas, or whatever you want to call them) in flour tortilla shells. You could also just tuck into this with a fork and knife, or serve it on a nice toasty brioche bun to make a great torta. It's versatile stuff, so use your imagination.
For a few notes and tips about cooking and the ingredients themselves, keep reading.
(Click the heading above, or follow this link to read the Diversivore article on finding, choosing, and using guajillos)
Guajillos are fairly easy to find at Mexican and Latin grocery stores, plus a number of reputable online retailers for Mexican dry goods have popped up over the years, so you should be able to get some even if you can't buy them locally.  They've got an excellent and highly versatile flavour, and they don't contribute much spice to the final dish. Make sure you toast your chilies to improve their texture and flavour; if you're not overly comfortable toasting dry chilies, you can microwave them for 15-20 seconds to soften them and bring out an aromatic character, though you won't get any of the light smoky char that you would from a pan.
I would definitely not characterize this as a spicy meal (my one-year-old son had no issue with it, so that should give you an idea). If you do want to add some heat, I'd either substitute puya chilies for the guajillos, or leave the guajillos and add a couple of arbol chilies.
Marinating Time
Lopez-Alt did some great experiments in that post I linked to above regarding marinade time.  Basically, once you've gotten past the bare minimum hour or so in the marinade, you don't see a lot of difference in the overall flavour of the dish, even with a longer marinade.  As he says in the article (and as you'll find with the majority of marinating situations) you don't want to leave the meat too long, as the acids and/or enzymes (depending on what you're making) in the marinade will begin to break down the meat to such a point that it will lose its consistency.  I marinated for about 4 hours, though this had more to do with convenience than anything.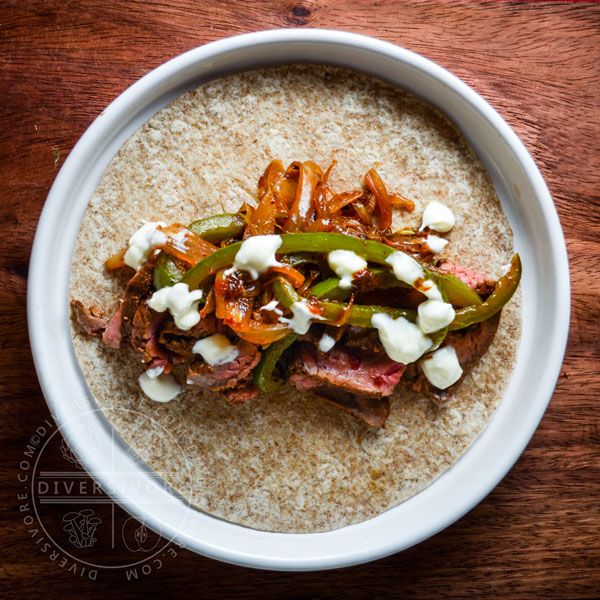 Cooking & Cutting
This is not a meal you want to cook gently.  You want really, REALLY high heat, and you want to use it for a short period of time.  Your shooting for a solid, dark sear on the outside and a rare steak on the inside - about 3 minutes per side, tops.  I like to use an exceptionally hot barbecue to do this (this has the added benefit of getting nice grill marks on the steaks), but if you don't have a grill, you could using a blisteringly hot cast iron skillet or comal to good effect.
Make sure to rest the steak for about 10 minutes before slicing, and when you do slice the steak, cut AGAINST the grain of the muscle. That way you end up with fall-apart-tender pieces and not long strips of muscle fiber.
Mexican Crema
If you can't get Mexican crema itself, you can use (or make) crème fraîche. To make crème fraîche, combine 2 tbsp of buttermilk with 1 cup of heavy cream and let stand on the counter for 4-6 hours. Mexican crema tends to be a little thinner than crème fraîche, so you can let it sit for a somewhat shorter time than you might otherwise. I like it on the thicker side myself, so I prefer to let this stand for a longer period of time.
Some argue that Mexican crema is a little sweeter, though I think this is a matter of taste and wide variation. In any case, you can add 1/2 tsp of sugar if you want to, though I personally don't.
Nutritional info is given for a single serving (1/4 of the recipe), including a flour tortilla.
Nutrition Facts
Carne Asada Borracha
Amount Per Serving
Calories 264
Calories from Fat 99
% Daily Value*
Fat 11g17%
Cholesterol 50mg17%
Sodium 1036mg45%
Potassium 144mg4%
Carbohydrates 12g4%
Protein 26g52%
Vitamin A 3550IU71%
Vitamin C 46.2mg56%
Calcium 90mg9%
Iron 2.7mg15%
* Percent Daily Values are based on a 2000 calorie diet.
Nutritional Summary

GOOD NEWS:

The meat itself is fairly lean and there's very little added fat, so this is pretty low in calories while remaining high in protein and vitamins (assuming you use the veggies).

BAD NEWS:

While this is overall quite healthy (especially for a beef-centric meal) there's a lot of salt in the marinade, and a fair bit of that makes its way into the meal. Because of the role salt plays, it's quite difficult to reduce this, so consider serving with low-salt sides to balance things out a little.

TRIM IT DOWN:

If you're looking to cut the calorie count a bit, consider switching from flour tortillas (which are generally higher in calories) to corn.
Ingredient Pages
No ingredient pages have been written yet for any of the ingredients in this recipe.  Like to see one?  Let me know in the comments below or by email.
Pantry Pages
Carne Asada Borracha
Flank steak, marinated in a savory and salty blend of guajillo chilies, beer, and soy sauce, then seared to perfection. Simple, inexpensive, and delicious.
Ingredients
Meat and Marinade
450

g

flank or skirt steak

2

guajillo chilies

1/2

cup

pale beer

(I used a lager)

3-4

cloves

garlic

2

tbsp

soy sauce

or tamari, or Maggi sauce

1

tbsp

Worcestershire sauce

1.5

tsp

salt

1/2

cup

white onion

(100 g) chopped

1/4

tsp

black pepper
For Serving (Optional)
1

tsp

vegetable oil

1/2

large

white onion

1

green pepper

(or poblano pepper)

1/4

cup

carne asada borracha sauce

(from above) - see also note about setting aside a low-salt portion

Mexican crema

corn or flour tortillas
Instructions
Heat a heavy pan (or comal) over medium heat. Add the guajillo chilies and toast for 2 minutes, turning occasionally. Place the toasted chilies in a small bowl and cover with warm water. Set aside to soak for 20 minutes.

Combine remaining marinade ingredients (basically everything but the meat and the optional serving ingredients) in a food processor and puree. (See note below about using the marinade as a sauce)

Pierce the steak all over with a fork. Cover with the marinade and refrigerate for at least 3 hours and up to 8 hours.

Remove the steak from the marinade and set it aside (keep the marinade for cooking the vegetables). Allow it to come to room temperature. Preheat an outdoor grill/barbecue to a high heat (around 450-500 F). Place the steak on the grill and cook for about 3 minutes per side. Remove the steak from heat and allow it to rest for 10 minutes before slicing. (Note that you want to sear the steak on VERY high heat, making an outdoor grill ideal. If you don't have one, you can use a very hot cast iron pan.)

Heat a large cast iron skillet over high heat and add 1 tsp of oil. Once the oil is very hot and shimmering, add the onion and saute for 1 minute. Add the peppers and saute for an additional 2 minutes. Add 1/4 cup of the marinade to the pan and continue to cook until the peppers are soft and the sauce is thick. Remove from heat and set aside.

Cut the steak into thin strips against the grain of the muscle. Serve with warmed tortillas (I like flour tortillas for this) and the cooked vegetables (or any other way you might like). If you kept a little of the low-salt marinade, spoon it over the meat and enjoy.
Notes
The marinade itself makes an excellent sauce, though it's quite salty as-is. If you want to keep some of the marinade to use as a sauce, omit half the salt when pureeing, set a small portion aside for serving, then add most of the remaining salt to the marinade (leave out a little to make up for what you're reserving). Even if you do make the full-salt version only, you can benefit from using the flavour to cook all of the vegetables toward the end.
Nutrition
Calories:
264
kcal
|
Carbohydrates:
12
g
|
Protein:
26
g
|
Fat:
11
g
|
Saturated Fat:
4
g
|
Polyunsaturated Fat:
1
g
|
Monounsaturated Fat:
0.4
g
|
Cholesterol:
50
mg
|
Sodium:
1036
mg
|
Potassium:
144
mg
|
Fiber:
1
g
|
Sugar:
7
g
|
Vitamin A:
3550
IU
|
Vitamin C:
46.2
mg
|
Calcium:
90
mg
|
Iron:
2.7
mg