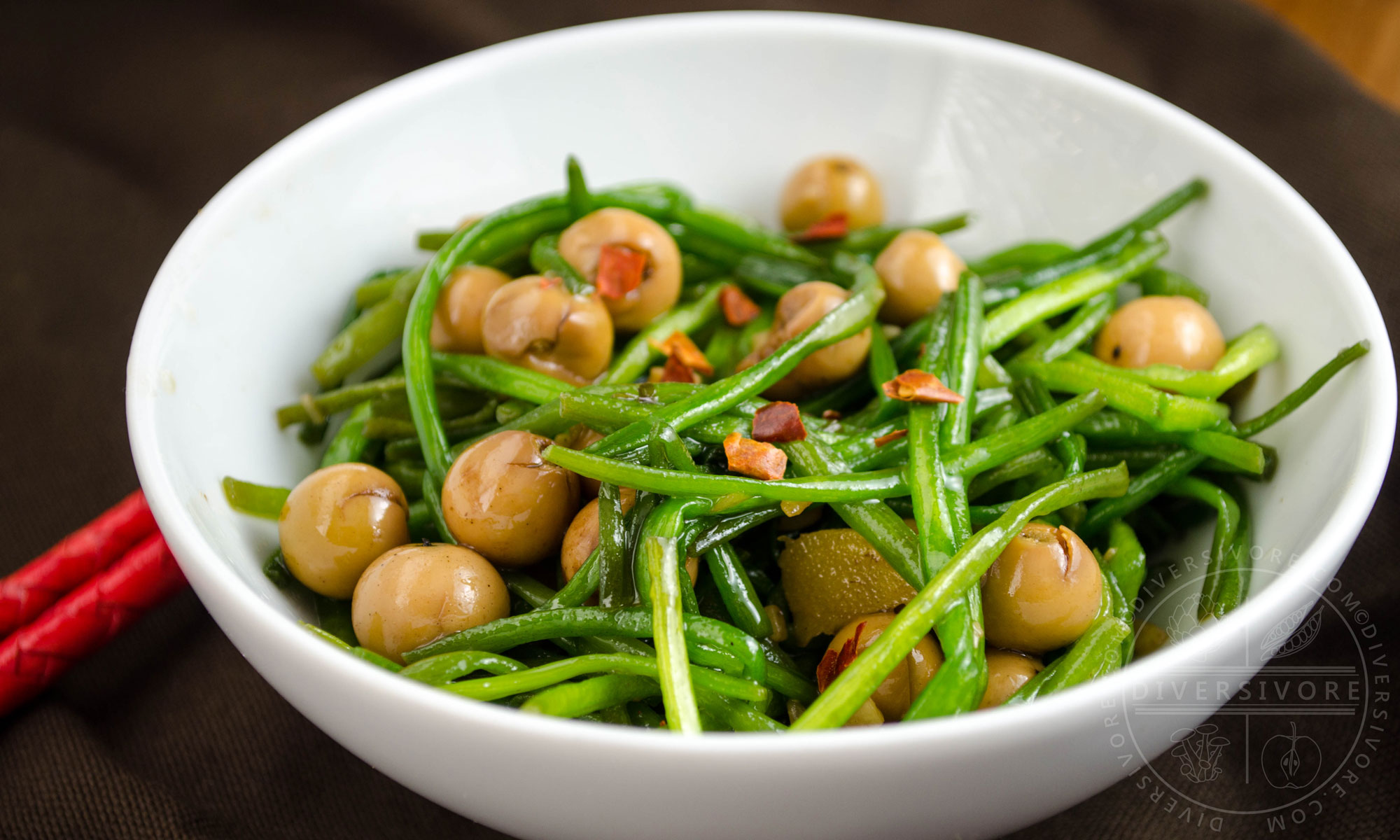 Stir-fried White Water Snowflake
With Pickled Cordia Fruit
破布子炒水蓮
Ever tasted an ingredient and immediately wondered to yourself why it wasn't more popular? Well this recipe has TWO of those ingredients. Both Taiwanese specialties, these ingredients are beloved by those that know them, but frequently off the radar with even the more ardent of Chinese food fans. Now I'm not sure why exactly these two ingredients haven't enjoyed greater popularity, but it might have something to do with their names. You see, both of them are absolutely aching to be given better English names. With that in mind, I'd like to introduce you to White Water Snowflake and Fragrant Manjack.
Yes, those are their names. The green stuff in the photos above and below? That's white water snowflake.  The round little fruits? Fragrant manjack.  Neither of them sounds like food, really, but they're both quite tasty.
White water snowflake is an aquatic plant (Nymphoides hydrophylla, aka N. cristata) native to tropical Asia.  Despite its fairly large range it's really only commonly grown for consumption in parts of Southern Taiwan (specifically around Kaohsiung).  Elsewhere, the plant is appreciate for it's lily-pad like foliage and beautiful little white flowers.  These delicately fringed five-pointed petaled flowers are where we get the English name - white water snowflake.  And frankly, it's about time to transition our appreciation of this plant more fully from the visual to the culinary realm, as its decorative popularity has led to some problems.  It seems that white water snowflake plants grown ornamentally in water gardens have escaped captivity and become something of a nuisance in some parts of the world.  The plant has been declared a noxious weed in Florida, where some populations are getting significantly out of control.  Perhaps it's time to start eating the thing.
As for fragrant manjack - well this is a plant that's just dying for some rebranding.  It's such an interesting and tasty ingredient with such a hilarious name problem that I'm thinking I'll write up a little piece dedicated just to it, but for now I'll just explain what it is.  A member of the borage family, fragrant manjack (Cordia dichotoma) can be found in much of South and Southeast Asia.  In Taiwan, the small, immature fruits are pickled in a mixture of soy sauce, sugar, and salt.  These small, sweet/salty/sour pickles are then used to add a punch of flavour to all kinds of dishes, including vegetables, steamed fish, congee, and eggs.  Why do I say it's dying to be rebranded? Well the Chinese name (破布子 - pò bùzi in Mandarin, phoà-pò·-chí in Taiwanese) translates to 'shabby clothes' or 'rags.'  And as for the English names - well, fragrant manjack is probably the best choice.  Other options include 'snotty gobbles' and 'glue berry.'  I can't believe I just wrote 'snotty gobbles' on my food blog.  Anyway, it's pretty clear that the English names aren't going to cut it, so if you do go looking for these you're most likely going to find them labeled as "pickled Cordia dichotoma" (or just pickled Cordia fruit).  The manjack name might show up on the packaging too, but the scientific name seems to be where it's at in terms of English language labeling.  For more information about finding and using manjack/Chordia or white water snowflake, check out the Recipe Notes section below.
Onto the most important part of all this: how do these ingredients taste?  In a word, wonderful! I realize that highly specialized ingredients aren't always the most approachable flavours in the world, but both white water snowflake and manjack are very easy to love.  The thin jade-green stalks of white water snowflake are delightfully crispy, and pleasantly (is somewhat generically) green tasting.  Picture the taste of mild spinach with the texture of celery and you'll get a sense for it.  It really absorbs flavour, and performs very well in a simple, classic Chinese stir-fry.  As for manjack, the chickpea-sized fruits blend a mild, sweet-and-sour flavour with the punch of soy sauce.  I've seen them likened to tamarind, but I'd say that's true more for the character of the ingredient than the actual taste.
Now let's get to making this stuff.  And don't worry - I've got some common and more accessible substitutions to share with you in the next section.
Alright folks, I'm here to help. I realize that in the great big world of food, this is a bit of a niche recipe. Perhaps you arrived here because you had the ingredients and you wanted a recipe, in which case - awesome. Good to go. But if you're here because you're curious and you want to try this, you might have a hard time tracking down some of the ingredients. I'll walk you through how to find them, possible substitutions/variations, and how to get the best flavour.
I also wanted to take a second to give a quick shoutout to a friend and amazing blogger who helped me with a bit of translation and Taiwanese food fact-finding - Tiffany from Choochoocachew is an amazing cook dedicated to helping the world discover Taiwanese cuisine, and you should definitely go and check out her site. This page has a lovely introduction to Taiwanese food if you're looking for a good place to start.
White Water Snowflake & Substitutions
This is an ingredient that you'll most likely find it tough to plan around. Instead, it's better to have this recipe in mind so that you can come back to it when you do find it. That being said, the growing popularity of this ingredient within Taiwan and among the Taiwanese diaspora has made it a bit more common of late. I found it in Richmond (the greater Vancouver area) BC in late June, but the plant is apparently grown and harvested all year long. That being said, you're going to have to either be in Taiwan (and preferably in or around Kaohsiung in the south) or know of a store or importer who wants to bring some in. There's a Taiwanese importer in Vancouver that offers these lovely greens online, and they can ship within the Lower Mainland.  Outside of that area you'll have to look into it on a wholesale level, so you'll have to contact them specifically to sort out the details.
If you're a fan of foraging and you happen to live in a US Gulf State, you might actually be able to find this plant growing as a wild invasive species.  If you're confident about identifying it, and confident about the cleanliness of the water, then you could harvest it yourself.  DISCLAIMER: never work with wild-foraged ingredients without first taking into account safety and proper identification.  The information in this post is meant as an introduction and should not be considered sufficient education for those looking to identify this species or to differentiate it from its relatives (whose edibility I'm uncertain of).
If you can't find white water snowflake, there are plenty of wonderful and accessible veggie options to try in its place.  Each variation will taste a little different of course, but they're all good in their own way.  If you're thinking texture first, you could use thinly sliced batons of celery.  Chinese celery is another option, but the flavour is much more pronounced (which is good or bad, depending on which way you want to go with this).  Taiwanese or regular spinach would both make excellent choices, though they are much softer and would require a far shorter cooking time.  Bok choy makes an excellent and easy to find alternative as well.  Water spinach (aka ong choy, kong xin cai, or kangkong) is a popular, fairly easy to find, and would make another great alternative with a nice texture.
Fragrant Manjack & Substitutions
As a pickled/preserved food, fragrant manjack is fortunately a little easier to track down than white water snowflake. That being said, it's still not likely to be found at your average Western grocery store. If you're luck enough to live in an area with Taiwanese grocers or importers, check there first and foremost (here in the Vancouver area my go-to location is Kuo Hua Trading in Richmond, BC).  Beyond that, well-stocked Chinese grocery stores are a pretty good bet too.  Manjack fruits are used in other cuisines (South and Southeast Asian, for example), so you might find sometime that works at a grocery store focused on those communities, but be cautious as the type of pickle could be completely different.  For example, there are Indian versions of pickled manjack that use tomato, chilies, and a plethora of spices.  Tasty, but not what you want here.
As for substitutions, don't worry too much about the exact taste of the pickles and look more to the general flavours that you're looking to bring to the dish - namely sourness, salt, and a bit of sweetness.  One very simple option is to omit the pickles entirely and emulate the pickling liquid by adding 1 tsp of light soy sauce, 1 tsp of rice vinegar, and a little sugar (maybe 1/2 a tsp).  Mix these ingredients together and toss them into the finished stir-fry like a dressing.  If you're fond of other Chinese-style pickles (e.g. hua gua, 花瓜) you could certainly add those in place of the manjack, though I'd personally avoid the really soy/salt-heavy pickles.  A little pickled eggplant would be really nice if you have it.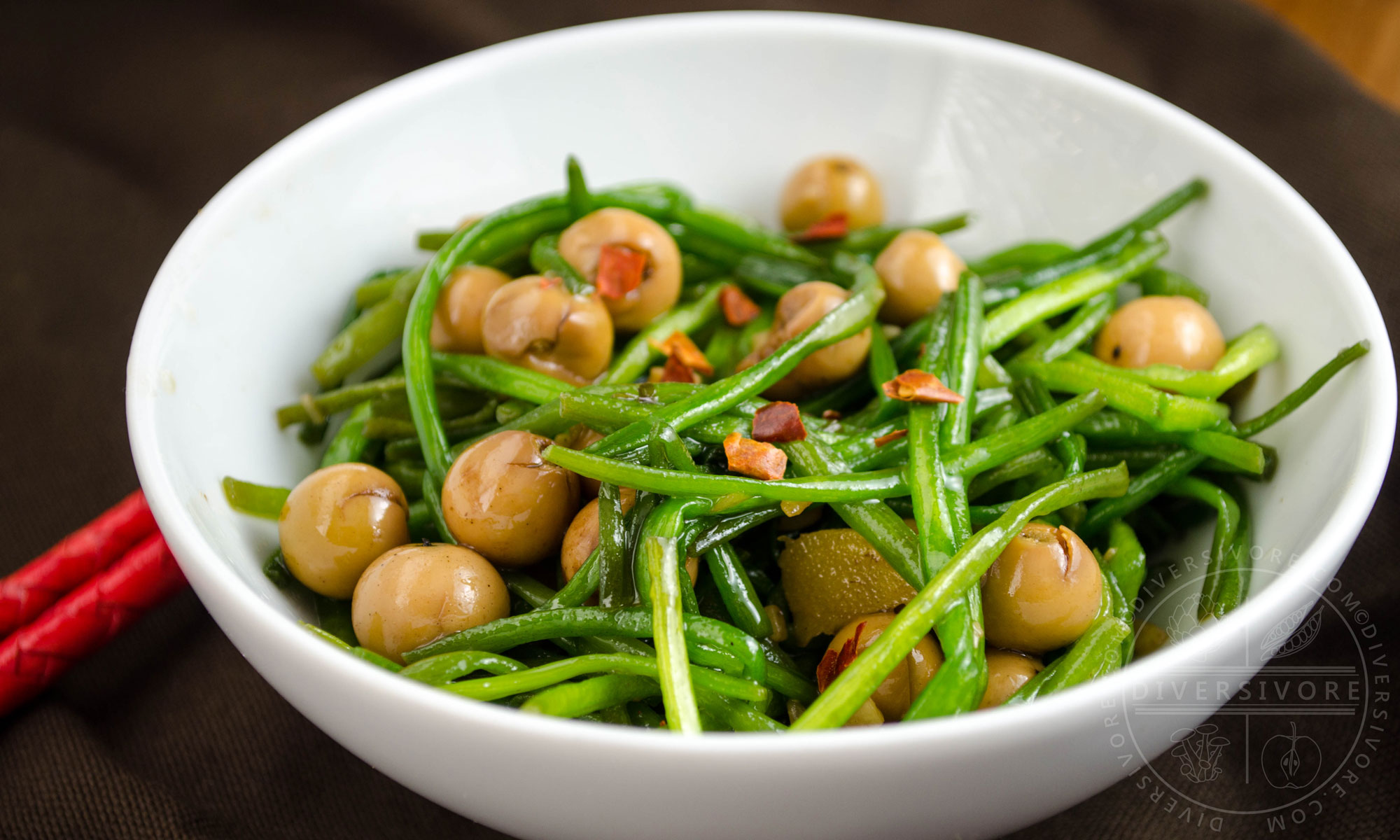 Note: Nutritional information is given for a single serving (1/6th total recipe).
Nutrition Facts
Stir-fried White Water Snowflake
Amount Per Serving
Calories 58
Calories from Fat 36
% Daily Value*
Fat 4g6%
Sodium 187mg8%
Potassium 12mg0%
Carbohydrates 3g1%
Vitamin A 205IU4%
Vitamin C 0.5mg1%
Calcium 20mg2%
Iron 2.2mg12%
* Percent Daily Values are based on a 2000 calorie diet.
Nutritional Summary

GOOD NEWS:

Loads of nutrients in this healthy green veggie plus a fairly light sauce/dressing makes for a wonderfully healthy dish. It's also quite high in iron for a vegan dish, so that's nice too.

BAD NEWS:

Not a lot to say - as with many East Asian dishes the sodium can creep up a little if you overdo it on the soy sauce or eat a lot, but even then this is pretty inoffensive.
Ingredient Pages
No ingredient pages have been written yet for any of the ingredients in this recipe.  Like to see one?  Let me know in the comments below or by email.
Pantry Pages
No pantry pages have been written yet for any of the ingredients in this recipe.  Like to see one?  Let me know in the comments below or by email.
Stir-fried White Water Snowflake
A distinctively Taiwanese treat, these slender, crunchy green stems from the aquatic plant known as white water snowflake (Nymphoides hydrophylla - aka crested floatingheart, or 水蓮 in Chinese) are stir-fried with a light and aromatic sauce, and salty-sour pickled fragrant manjack fruits.
Ingredients
350

g

white water snowflake stems (水蓮)

(see note)

2

tbsp

vegetable oil

3

cloves

garlic

coarsely chopped

10

g

ginger

thinly sliced

1

tbsp

Chinese rice wine

1

tsp

light soy sauce

pinch

salt

or to taste

2

tbsp

pickled Cordia fruit (破布子)

(see note)

1

tbsp

liquid from Cordia fruit pickles

crushed red chilies

(optional)
Instructions
Wash and thoroughly drain the stems, then cut them into ~3 inch (7.5 cm) pieces.

Heat wok over very high heat. Add the oil and let it heat up until shimmering and nearly smoking.

Add garlic and ginger and stir-fry for about 10 seconds, or until garlic is just turning brown and crispy.

Add the white water snowflake stems to the wok and stir-fry for 2-3 minutes, or until darker, somewhat softened, and jade-green.

Add rice wine, soy sauce, and salt. Stir-fry for an additional 30 seconds or so, then remove the vegetables from the wok immediately.

Add the pickled Cordia fruit and the pickling liquid. Serve immediately, garnished with a bit of crushed red chili if desired.
Notes
White water snowflake is admittedly a pretty obscure ingredient, but if you're reading this recipe there's a decent chance you know that already. It's mostly harvested for eating in southern Taiwan, and a portion is exported seasonally in the early summer. It's also become something of a pest in parts of the world (e.g. Florida), so if you're an experienced forager you might actually be able to source wild plants yourself. NOTE: always ensure that you're 100% confident about the identity, cleanliness, and safety of a wild food before eating it! If you can't find white water snowflake, this basic recipe works brillianty for any crisp green vegetable. Try thinly sliced celery stalks, yam leaves, or ong choy.
Pickled Cordia fruit, also called Fragrant Manjack fruit, can be found at well-stocked Chinese grocery stores (especially if you happen to have a Taiwanese grocery store in town). If you can't find it, you can omit it from the dish - simply substitute about 1 tsp of rice vinegar, 1 tsp of light soy sauce, and a pinch of sugar for the missing pickling liquid.
Nutrition
Calories:
58
kcal
|
Carbohydrates:
3
g
|
Fat:
4
g
|
Saturated Fat:
3
g
|
Sodium:
187
mg
|
Potassium:
12
mg
|
Fiber:
1
g
|
Vitamin A:
205
IU
|
Vitamin C:
0.5
mg
|
Calcium:
20
mg
|
Iron:
2.2
mg