Saskatoon Berry Clafoutis
This post is the third in a series of awesome egg recipes for 2018 brought to you in collaboration with BC Egg.
All opinions are my own.
Clafoutis! Easy to make, easy to adapt, and fun to say (it's 'cla-foo-TEE' for the record). If you're not familiar with clafoutis, it's a classic French dish made by pouring a thin, custardy batter into a pan and topping with fruit (traditionally sweet cherries – more on that later), and baking it until it's puffy and set.  I'm quite excited to share this particular clafoutis (aka flaugnarde – more on that later too) version with you, as it highlights a wonderful and underappreciated fruit – the saskatoon berry.  These lovely little purple fruits have a juicy sweetness and almond-like flavour that's definitely worth emphasizing. I chose to draw attention to it by sprinkling freshly ground almonds over the batter before baking, helping to take this recipe a step further than the typical swap-out-the-cherries clafoutis variations you generally encounter. If you can't get saskatoons, no worries – I cover plenty of variations and options below, as well as the basic steps needed to make sure that your clafoutis works regardless of the fruit you use. 
This is one of those delightfully odd little dishes that occupies strange culinary real estate, falling comfortably into both the breakfast and dessert categories with ease. This might sound a little surprising coming from me, as I've railed against overly sweet brunch foods in the past, but that's just the thing: clafoutis isn't actually that sweet. Fruit does most of the heavy lifting here, with just under 2 teaspoons (8 g) of added sugar per serving. I personally like when you can taste the egg in custard-based recipes, but some people prefer a bit more sugar to de-emphasize that flavour. You can certainly increase the sugar in the batter if you like it a little sweeter, and a dusting of powdered sugar on top is par for the course.  You're still likely to end up with a dish that's lower in sugar than, say, pancakes with maple syrup.  So yeah.  Dessert for breakfast.  Breakfast for dessert.  Either way, go for it.
Clafoutis is wonderful, nearly fool-proof stuff. The batter is phenomenally easy – especially if you have a blender. All of the batter ingredients simply get thrown together, thoroughly combined, and poured into a greased/sugared pan. No muss no fuss. If you don't have a blender (or don't feel like getting it out) you can easily mix the ingredients in a bowl by hand or with an electric mixer. It's a rather thin batter, so it's not too tricky – it may just take a little bit longer.
As I mention in the sections below, there are a lot of variations that you can work with if you want to change up the clafoutis recipe. With that in mind, I'm going to go over the key points to success, regardless of any fruit variations you might want to use.
1. Prepare the pan (etc.) – I like to make clafoutis in a nice hefty cast iron pan. It's easy, it heats up nicely, and hey – it's got a handle for getting it in and out of the oven. But you can use a pie dish, regular frying pan (with deep enough sides), or even go the individual route and use ramekins or small pans. Regardless, you'll need to make sure that the vessel you use is well-buttered, and coated with an even layer of granulated sugar. This serves two important purposes – first, it helps to make the finished clafoutis easy to get out of the pan. Secondly (and arguably more importantly), the added sugar creates a thin, slightly caramelized crust all around the custardy dish. It's an important and delicious touch.
2. Batter, then fruit, and then (if using) ground almonds. You want the fruit to sort of float on a cloud of clafoutis, rather than having them all buried at the bottom. Plus, if the fruit goes in first, it's more likely to overcook or even scorch while in contact with the bottom of the pan. In this recipe, the ground almonds are added to emphasize the flavour of the saskatoon berries while adding a bit of texture and visual impact to the top of the clafoutis.
3. Do not. Trust. The clock. Your oven's true temperature, the type of pan, and other factors can influence the cooking time on your clafoutis. If you try to cook this based on a timer alone, you seriously risk under- or over-cooking it. Instead you want to keep an eye on it as it's getting close to done. The edges should be puffy and browned, but the center is the important bit. Shake the pan – the finished clafoutis should jiggle, but not be liquidy. Give it a little poke with a knife if you're unsure.
4. What goes up, will come down. The finished clafoutis will be airy and puffy, but it will deflate fairly quickly after you get it out of the oven. No big deal. If you can serve it right away, great, but it's every bit as good after it's deflated a bit. The photos of this (and most other) clafoutis show it in a more deflated state, because – well, it's kind of tough to take a jillion photos of something in the 2 minutes after it comes out of the oven.
One last note – when it comes to the almond topping, I find that you get the best, most almond-y flavour by grinding a handful of fresh, blanched almonds in a spice or coffee grinder.  You could use a mortar and pestle too.  You can pre-ground almond meal too (or even almond flour, if it's not too finely ground), but make sure it's as fresh as you can get, as the distinctive almond flavour diminishes significantly over time.
Saskatoon berries, aka serviceberries, are one of North America's great underappreciated fruits. In fact, I'm going to muster up a bit of canuck pride and call them a truly wonderful Canadian fruit, because the bulk of their natural range is in BC and the prairie provinces. Plus, y'know, we kind of named an entire city after them.  Saskatoon Saskatchewan derives its name from the Cree word misâskwatôminihk, which translates to 'at the saskatoon berry' (i.e. at a place where many of them could be found).
At first glance, it's easy to confuse them with blueberries, but the two fruits are quite dissimilar.  Blueberries are in the heath family (Ericaceae), while saskatoons are in the same branch of the rose family (Rosaceae) that includes apples, pears, loquat, hawthorn, and quince.  From a flavour perspective, saskatoons do have some of the deep, berry-like notes that you'd associate with other anthocyanin-rich purple fruits, but one of their most distinctive features is actually their lovely almond-like flavour.
Now let's talk about how to get these things.  If you live in Western Canada or parts of the Northern and Pacific USA, there's a decent chance that you can find these in the wild, or that you know somebody who's got a bush or twelve that needs picking.  Growing up in Alberta, there always seemed to be somebody who had a glut of saskatoon berries begging to be made into pie (or clafoutis, clearly).  They are starting to become available on a commercial scale, though, and will often make appearances at farmers markets in the summer.  Depending what market you're in, you might be able to find frozen berries in some stores – particularly gourmet and specialty produce stores (there are Canadian and North American councils for saskatoon berries, and some commercial operations like Prairie Berries – all of these are good places to go for more info or to see if you can find fruit in your neck of the woods).  And if you're especially lucky, your amazing and talented food blogging friends will gift you a whole bunch so you can do lots of fun stuff with them.  Thanks to my good friends Nicoletta and Loreto at Sugar Loves Spices for sharing the berry love.  You should check out their incredible food.
Now, what if you can't find saskatoon berries? Well I have good news – clafoutis is delightfully simple and wonderfully adaptable, and I've got a bunch of possible variations for you below.
Clafoutis vs. Flaugnarde
A quick note about terminology to ward off any confusion (or irate French readers).  Clafoutis is fundamentally a flan-like pancake, and one that's easily adapted to all kinds of fruits. In fact, this is already an adaptation, as the classic French clafoutis from Limousin is made with sweet cherries. If we're going to be sticklers, this recipe should be called a flaugnarde (or flagnarde) rather than a clafoutis. The term is little-used in North America however, with clafoutis being the more commonly encountered term regardless of the fruit used.  For the sake of familiarity and searchability, I've stuck with the clafoutis term, but call it what you want.  If your guests ask what's for dessert and you say "Saskatoon Flaugnarde" they might look at you like you're having a stroke, but hey, that's part of the fun.
Cherries, Berries, Etc.
Cherries are, of course, the classic. Unlike many desserts that use sour cherries (classic cherry pie, for example), clafoutis is made with sweet, often unpitted dark cherries. The argument is often made that leaving pits in allows the cherry stones to contribute an almond-like flavour to dishes, but I don't really buy that given that the almond flavour comes from the kernel inside of the pit, and we're talking about a rather brief cooking time here. I'd personally pit the cherries and use the ground almonds on top to better emphasize this classic flavour pairing.  Barring that, a touch of almond extract in the batter would go a long way too.
Here in BC, you can't go wrong with fresh, in-season blueberries either.  You'll end up with a dish that looks quite similar to this one, but with a very different flavour profile.  I would recommend using a little bit less fruit if you go this way, as blueberries are considerably juicier than saskatoons, which will make for a much softer final product.  Apples, firm plums, peaches, pears, and even good dried fruits are all popular flaugnarde variations, and any of them (alone or in combination) would make a lovely choice.  I've seen recipes that call for chunks of chocolate as well, though personally I think that changes the character of the dish a little too much.
Regardless of the variation you try, you can choose to either include or omit the ground almonds in the recipe based on how well you feel they pair with the fruit you're using.  Stone fruits in general go well with almonds – which isn't terribly surprising, given that almonds are a stone fruit themselves, and that the flavour compounds found in them are present in varying degrees in a bunch of their relatives.  If you got with a softer, more berry-like fruit (blueberries, strawberries, etc.) you might want to leave the almonds out, but go with your gut.  Or, better yet – go with your taste-buds – try tasting a couple of almonds with the fresh fruit before deciding whether or not you like the combination.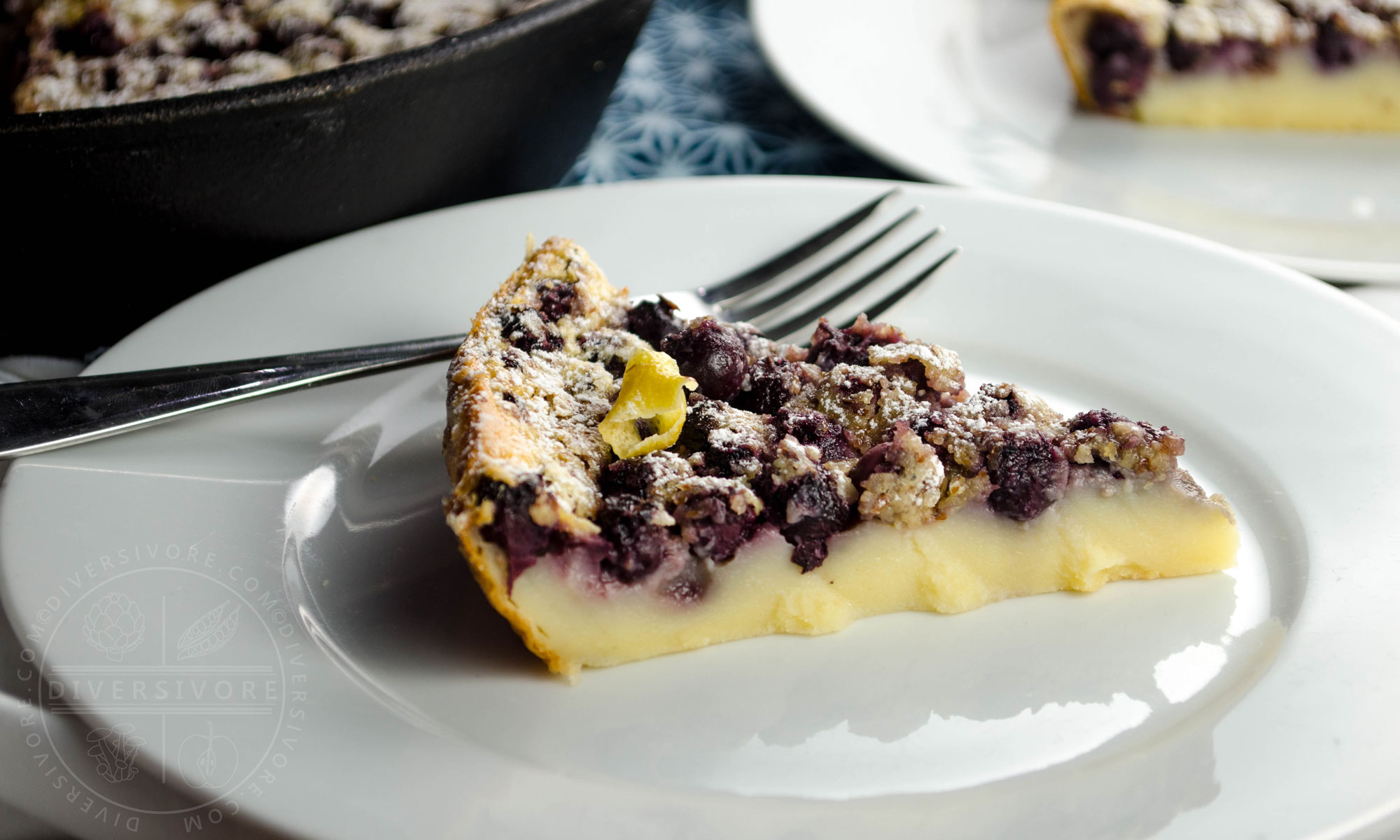 Nutritional information is given for a single serving (1/10th of the total recipe).
Nutrition Facts
Saskatoon Berry Clafoutis
Amount Per Serving
Calories 133
Calories from Fat 36
% Daily Value*
Total Fat 4g 6%
Cholesterol 61mg 20%
Sodium 73mg 3%
Potassium 108mg 3%
Total Carbohydrates 19g 6%
Protein 4g 8%
* Percent Daily Values are based on a 2000 calorie diet.
Nutritional Summary

GOOD NEWS:

Naturally sweetened with fruit and occupying that wonderful sweet spot (pun intended) between breakfast and dessert, this is delightfully low in calories and fat.
You could easily get away with larger serving sizes without feeling guilty.

BAD NEWS:

Not much really! While the cholesterol levels are high, this is (as I've mentioned before) not something to be particularly concerned about for most people. There's not a lot going on in terms of vitamins and minerals here, which isn't a big deal from a dessert standpoint, but you might want to consider rounding it out with fruit, cereal, etc. if serving for breakfast.
Ingredient Pages
No ingredient pages have been written yet for any of the ingredients in this recipe.  Like to see one?  Let me know in the comments below or by email.
Pantry Pages
No pantry pages have been written yet for any of the ingredients in this recipe.  Like to see one?  Let me know in the comments below or by email.
Saskatoon Berry Clafoutis
While you can adapt a basic clafoutis in all sorts of wonderful ways, this goes beyond simply swapping in different fruits. The sweet-tart and somewhat almond-like flavour of saskatoon berries (aka service berries) is enhanced with a bit of freshly ground almonds, making for a wonderful, easy and surprising dessert-slash-breakfast.
Course:
Breakfast, Dessert
Cuisine:
Canadian, French
Keyword:
eggs, pancake, saskatoon berries
Ingredients
Batter
3

large

eggs

1.25

cups

milk

1

tsp

vanilla extract

1/8

tsp

salt

1/2

cup

flour

1/3

cup

sugar
To Finish/Bake
1

tbsp

butter

for greasing the pan

1

tbsp

sugar

for sprinkling in the pan (see instructions)

250

g

saskatoon berries

about 1 cup (see note)

2

tbsp

ground/crushed almonds

fresh (see note)

powdered sugar

(optional)

candied lemon peel

(optional)
Instructions
Preheat an oven to 325°F (160°C).

Place all of the batter ingredients into a blender. Blend until well combined. (Alternatively, place everything into a bowl and blend thoroughly by hand or with a mixer).

Grease a large cast iron frying pan, pie plate, or similar dish with butter. Sprinkle the reserved 1 tbsp of sugar evenly over the butter.

Pour the batter into the pan, then sprinkle the saskatoon berries evenly throughout the mixture.

Crumble the ground almonds all over the surface of the clafoutis, then place in the oven. Bake until the the clafoutis is puffy (especially around the edges) and nicely browned on top - about 35-40 minutes. To check if it's done, remove it from the oven and gently wiggle the pan. It should shake softly, but not look overly liquid. You can also pierce the center with a knife to ensure that it's set.

Dust with powdered sugar and garnish with candied lemon peel (if desired) and serve immediately.
Recipe Notes
1. You can use fresh or frozen saskatoon berries. If using frozen, don't defrost them as they'll 'bleed' more into the batter. Adjust the cooking time a little if necessary to account for the colder fruit.
2. For best flavour, I buy blanched almonds and grind a small amount with a spice or coffee grinder. You could also crush them in a sturdy bag with a rolling pin. You can substitute almond flour if you like, though the flavour is likely to be somewhat less pronounced. If you want or need to avoid using nuts you can omit the almonds entirely. Likewise, if you're substituting for a different fruit, feel free to include or exclude the almond as you see fit (they're excellent with cherries, but less important with blueberries, for example).
Substitutions and Variations:
If you can't find saskatoons, you can use any fruit that you might like (sweet cherries are the classic fruit to use in a true French clafoutis). The batter is quite versatile and easily adapted to anything you might have on hand. For a similar look (but very different flavour) substitute fresh blueberries.