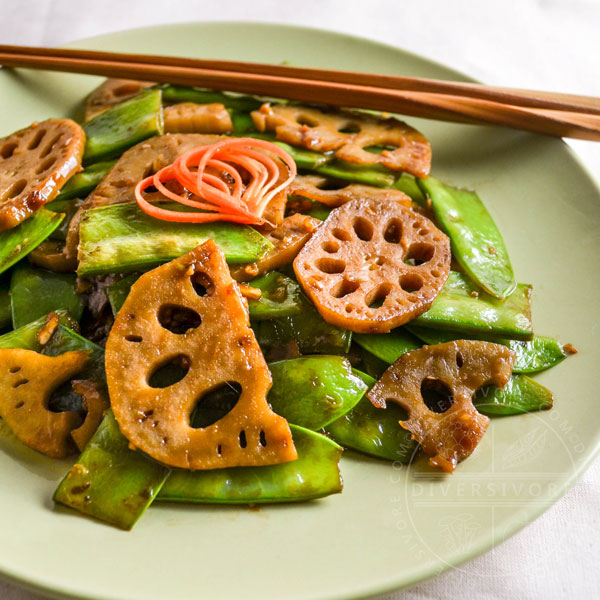 Stir-Fried Lotus Root & Snow Peas
Like so many Canadians, I didn't grow up with great Chinese food. My exposure was by-and-large relegated to the typical westernized Chinese fare – sickly sweet lemon chicken, doughy egg rolls, and fluorescent orange ginger beef were really all I knew for a long time. As I grew older (and married a good Canadian-Taiwanese girl) my exposure to the depth and breadth of Chinese cooking expanded enormously, and today it's probably my go-to cuisine in the kitchen. The sweet-and-fried Western-style dishes became little more than distant and somewhat embarassing memories. But I've been doing some reading over the past year on the culture and food of the Chinese emigrants (including this wonderful book about Hakka cooking), and it's really changed how I look at the Chinese food we so often dismiss as 'inauthentic.' Thanks to prohibitive laws and immigration policies, many Chinese immigrants had little access to work outside of a few specific industries, and for many, opening a small restaurant was the only feasible road to prosperity (or even survival). Many of the dishes that evolved in these North American Chinese restaurants departed so far from traditional Chinese cuisine that they bore only a passing resemblance. Indeed, the Chinese who worked in or visited these restaurants were seldom interested in this food – it was merely a way to keep Western palates happy. But the restaurants and home kitchens of Chinese immigrants were also home to a different kind of experimentation. Many of the staples of the Chinese kitchen were difficult or impossible to find in North America, leaving inventive cooks to experiment and explore in order to recreate the tastes of home.
Case in point – peas. Now, snow peas have always been popular in China, but peas in their many forms are probably more common in North American Chinese food than they are back in China. Peas were easy to obtain, and snow peas were easy to grow in a small home garden. The Chinese in Canada and America had little interest in the heavily sweetened deep-fried fare that their new neighbours seemed to prefer, but they embraced Western vegetables, even if only out of necessity. Carrots, white onions, and broccoli were little-known in Southern Chinese cooking, but all grew to prominence among the Chinese in North America and elsewhere.
Today, the growth of the Asian diaspora in North America coupled with the increase in global food trade has made a huge diversity of previously rare foods easy to come by. This has made it easier and easier for everyone, regardless of their cultural background, to experience Chinese foods prepared in a manner that markedly differs from the buffets that once dominated the North-American-Chinese culinary landscape. I balk at using the word 'authentic,' but the idea it conveys in this case is clear – food prepared the way that the original Chinese immigrants would have preferred, rather than what suited other palates.
Lotus root stir fried with snow peas is a classic Chinese preparation, and one that nicely highlights how Western tastes and interests have started to shift. The snow peas are instantly recognizable – a 'classic Asian ingredient' (and token vegetable in the frighteningly meat-centric Chinese buffet). But lotus root was unimaginably exotic to many people only a few decades ago, and is still unfamilar to many home cooks. Where I live (admittedly a part of Canada with a very large Chinese population), lotus root can now be found in the big box grocery stores all the way down to the little corner market near my house. Fortunately, it's not only easy to cook, but easy to love. In addition to being incredibly visually striking, it has a mild, nutty taste that compliments the mild snow peas without overpowering them. Pairing crunchy lotus root with crisp snow peas also demonstrates the importance of texture in Chinese cooking – the two ingredients make for a stir-fry that's a world away from the broccoli goop that languishes under a buffet heat lamp.
I've featured a lot of Chinese food on Diversivore since starting out a couple of months ago, and I'm almost certainly going to be featuring a lot more in the future. I hope that simple and surprising dishes like this will encourage more and more people to pick up an unfamiliar ingredient and explore a new cuisine. But I also hope that my readers will grow more confident and adventurous with ingredients like this – after all, there's no reason that snow peas, lotus root, or any other ingredient should be confined to a wok. Likewise, there's no reason that the absence of an ingredient from a particular culinary tradition should prevent you from experimenting with it. A group of intrepid people left everything they knew far behind and made a home in a country that did not always welcome them with open arms. Those people experimented endlessly in order to capture the tastes and aromas they had left behind. Now, we can all benefit from their ingenuity, and experiment not because we are forced to, but because we can. Don't let the notion of authenticity put you in a box. Instead, let tradition guide you, and let your creativity drive you.
This is a pretty easy stir fry to put together, but you will want to focus on one key points: make sure you're cooking with extremely high heat. If the heat is too low, the vegetables will steam and they won't develop any caramelization. Make sure that you thoroughly drain the blanched vegetables, as this will make it easier to stir fry them properly and help keep excess water from thinning out the sauce.
This recipe is pescetarian if you use oyster sauce, but there are wonderful mushroom-based 'oyster' sauces that can be used to make this dish vegan instead.
Nutritional information is given for a single serving (1/2 total recipe) and does not include any rice, noodles, etc.
Nutrition Facts
Stir Fried Snow Peas and Lotus Root
Amount Per Serving
Calories 216
Calories from Fat 63
% Daily Value*
Total Fat 7g 11%
Cholesterol 1mg 0%
Sodium 926mg 39%
Potassium 800mg 23%
Total Carbohydrates 32g 11%
Protein 7g 14%
* Percent Daily Values are based on a 2000 calorie diet.
Nutritional Summary
GOOD NEWS:
This is a very healthy dish, and extremely low in calories. The oyster sauce adds a bit of sodium, but even then it's well within healthy levels. It's also ridiculously high in Vitamin C.
The nutritional information reflects a main-dish sizes portion (i.e. 2 servings), rather than a side-dish portion (i.e. 4 servings).
BAD NEWS:
Nothing really – a little high in sodium and low in protein, but nothing reaching a level to be concerned about. Enjoy!
Ingredient Pages
Pantry Pages
No pantry pages have been written yet for any of the ingredients in this recipe.  Like to see one?  Let me know in the comments below or by email.
Stir Fried Snow Peas and Lotus Root
Snow peas are easy to love and use. Fortunately the same can be said of the less familiar lotus root. They're even better together in this distinctive stir fry.
Course:
Main Dishes, Side Dish
Keyword:
authentic, pescetarian, stir-fried lotus root, stir-fried snow peas, stir-fry, vegan
Ingredients
Vegetables
200

g

snow peas

ends trimmed and halved

225

g

lotus root

peeled, thinly sliced, and cut into smallish pieces

2

tsp

peanut oil

or other high smoke point, neutral oil
Sauce
1

tbsp

light soy sauce

1

tbsp

Shaoxing wine

1

tbsp

oyster sauce

or vegetarian oyster sauce

1

tsp

sesame oil

1

tsp

sugar

3

cloves

garlic

minced

2

tsp

ginger

minced
Instructions
Bring a large pot of water to a boil. While waiting for the water to boil, combine the all of the sauce ingredients in a bowl and set aside.

Blanch the lotus root in the boiling water for one minute. Add the snow peas to the pot and blanch both ingredients together for an additional minute, then remove and drain thoroughly.

While the vegetables are draining/cooling, heat a wok over very high heat (as hot as you can manage). Add the oil to the wok, swirling to cover the sides a little. Once the oil is shimmering and beginning to give off very faint wisps of smoke, add the blanched vegetables. Stir fry for 1 minute, then add the sauce and continue to toss and fry until the sauce thick and easily coats the vegetables, about 2-3 minutes more. Remove from heat and serve immediately.
Recipe Notes
Garnish with a little carrot or sliced red pepper to add a bit of colour.