Five-Spice Baked Tofu
With Seared Bok Choy
I think there's a common misconception about perfectionists. I get it – the word 'perfect' is right there, so I can understand how people are apt to believe that there's an element of vanity involved (i.e., perfectionists believe they're better than others or that their work is above reproach). I can't speak for everyone, but when I call myself a perfectionist, what I mean is that I'm not satisfied until something is as good as I can make it. That doesn't mean it's perfect, but it's as perfect as I can get it. In fact, I'm sure that many perfectionists look a the finished product and think "boy, I wish I had the skills to take this a step further." But that's part of the game – it gives you something to look forward to and something to shoot for. But perfectionism has a serious down side – it can make you approach things from a very binary, black-or-white perspective. So when things take a turn for the worse, the desire to scrap everything and start over becomes very strong. Mistakes are to be eradicated. To quote Ripley from the timeless classic film Aliens "I say we take off and nuke the entire site from orbit. It's the only way to be sure."
It's tough for me to keep this mentality in check. So when my baked tofu came out of the oven looking like IT had been nuked from orbit, I was ready to toss my hands up in the air and order a pizza. I was shooting for crispy and brown, not flamethrower black. Fortunately, two things came together to keep me moving forward. First – the tofu actually tasted really, really good. Even the burnt ones. I'm not really sure how that happened… the burnt layer was really thin (but no, it couldn't be scraped off… trust me), and each little morsel was actually quite tasty. Second, my wife is much, much saner than I am when it comes to these hurdles. She is the sober yin, to my raging yang. The calm "honestly, it's fine" to my frantic "THIS IS THE WORST FOOD I'VE EVER MADE." So I persevered, albeit grumpily. The bok choy was a snap to make, and wonderfully tasty. Then something wonderful happened. I picked out the least scorched tofu, put a bowl together, and suddenly realized that I'd assembled one of the tastiest, prettiest vegan dishes I'd ever come up with.
So if you're going to take away anything from this, I'll hope you'll remember 1) that it ain't over til it's over, 2) that you should always be thankful for the person in your life that balances you out and helps you see things for what they really are, and 3) watermelon radishes make everything better.
As you might guess from the little diatribe above, you need to keep a close eye on the tofu. In order to crisp up, the tofu needs to be baked at very high heat, which means there's little room for error. The recipe I adapted this from (see below) calls for the tofu to be baked for 10-15 minutes. I foolishly didn't check, and 10 minutes turned out to be much too much. But ovens are finicky and pretty personal, so I'd encourage you to watch this like a hawk.
If you have a silicon baking tray, I strongly recommend using it – even with a high smoke-point oil, the pan tends to smoke a little. Turn on your oven fan to help deal with it. Don't be tempted to omit the corn starch – it's what makes the tofu crispy as it cooks, rather than just dry.
The bok choy is a pretty easy part of the meal, but make sure that you sear the stalk/heart and sauté the leaves separately for best results. I used a medium-sized bok choy cut into quarters, but baby bok choy cut in half would work very well too.
The basic premise for crispy baked tofu came from Crescent Dragonwagon's excellent Bean by Bean cookbook. If you're interested in cooking with beans (or bean products like tofu), I thoroughly recommend this book. It's packed with incredible recipes, the majority of which are vegan or vegetarian. Her recipe for baked tofu is a little more pan-Asian than this one, but I'm sure it would be exceptional.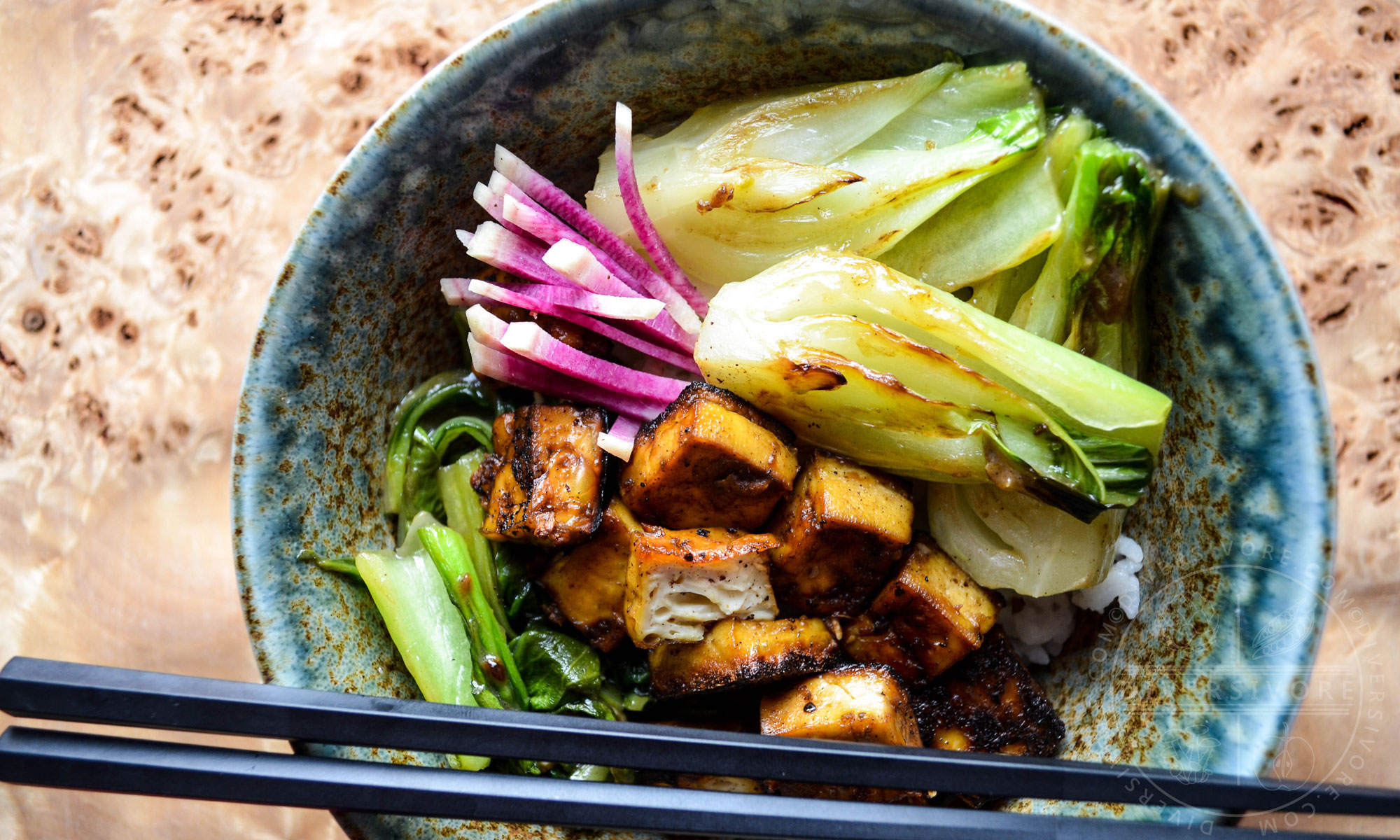 Nutritional information is given for a single serving (1/4 serving) and are for the veggies/tofu only. Rice (etc.) is NOT included here.
Nutrition Facts
Five-spice Baked Tofu with Seared Bok Choy
Amount Per Serving
Calories 138
Calories from Fat 45
% Daily Value*
Total Fat 5g 8%
Monounsaturated Fat 0.01g
Cholesterol 1mg 0%
Sodium 503mg 21%
Potassium 139mg 4%
Total Carbohydrates 8g 3%
Protein 12g 24%
* Percent Daily Values are based on a 2000 calorie diet.
Nutritional Summary

GOOD NEWS:

Healthy healthy healthy!  Nutrient-dense, high in protein and vitamins, low in fat and calories – this is one of the only meals I've ever seen where you could literally eat all 4 servings (minus rice of course) and still be having an exceptionally healthy meal.

BAD NEWS:

Not much really – it is a tiny bit high in sodium, but nothing to really be worried about, and as mentioned above, these numbers do not include rice, noodles, or any other starchy side.  Adjust accordingly.
Ingredient Pages
Pantry Pages
Five-spice Baked Tofu with Seared Bok Choy
Crispy baked tofu is the answer to your meat-free prayers. Add creamy bok choy and flavourful Chinese spices for rich, satisfying, totally vegan comfort food.
Course:
Main Dishes, Side Dish
Keyword:
buddha bowl recipe, crispy tofu, rice bowl recipe, vegan
Ingredients
Marinade
2

tbsp

corn starch

2

tbsp

Shaoxing wine

1

tbsp

dark soy sauce

1

tsp

sugar

1/2

tsp

Chinese five-spice powder

pinch

black or white pepper

1/4

tsp

salt

1/4

tsp

Sichuan peppercorns

ground

4

cloves

garlic

minced
Tofu
450

g

medium firm tofu

3

medium heads

bok choy

quartered, leaves removed and set aside

1

tbsp

rice vinegar

1/3

cup

water

watermelon radishes

or carrots (optional garnish)
Instructions
Place the tofu on a plate, then place a heavy plate on top of it to press out the excess water. If necessary, you can add a book to weigh down the plate a little, but take care not to crush the tofu. Press for at least an hour, draining the water from the bottom plate periodically.

Combine all the marinade ingredients and set aside.

Cut the tofu into strips or cubes and combine with the marinade. Let stand for at least 1 hours, or up to overnight.

Preheat the oven to 500 F and cover a baking pan with a silicon baking sheet or a very generous amount of high smoke-point cooking oil (e.g. grapeseed or avocado oil). Layer the marinated tofu on the baking tray, making sure to avoid crowding the pieces together. Mix the leftover marinade with the rice vinegar and water and set aside (or refrigerate if you plan to cook the tofu ahead of time).

Bake for 7-10 minutes or until the tofu is crispy and brown on the bottom (i.e. the side touching the tray). Flip the pieces and bake for an additional 3-5 minutes, or until the other side is browned and somewhat crispy. Once the tofu is finished, remove it from the oven and allow it to cool somewhat. It can be refrigerated and reheated the next day, if you like.(See note below)

Heat a large, heavy-bottomed pan over medium-high heat and add 2 tsp of oil (I used avocado, but grapeseed, vegetable, or peanut oil would all work well). Once the oil is shimmering and quite hot, add the quartered bok choy stalks to the pan, cut side down. Sear for about 1 minute, then turn and sear the other face (note that if you use small baby bok choy, you may simply want to halve them instead of quartering, in which case you'll only need to sear one side). Remove the bok choy stalks from the heat and set aside.

Add the bok choy greens to the pan and stir fry for about 15 seconds, then add the marinade and water mixture (from step 4) to the pan. Stir fry for and additional 30 seconds and set aside with the bok choy stalks. The sauce should thicken considerably thanks to the corn starch.

Serve the tofu and greens over a bed of rice or noodles and garnish with some crunchy raw vegetables like carrots or watermelon radishes.
Recipe Notes
In order to crisp up properly, the tofu must bake at high heat. This means that it's quite easy to overcook (or even burn) the tofu, so make sure to keep a very close eye on it. If you have a silicon baking tray, I strongly recommend using it - even with a grapeseed or avocado oil, an oiled pan tends to smoke a little. Turn on your oven fan to help deal with it, and make sure not to use a low-smoke point oil like olive oil.
Don't be tempted to omit the corn starch - it's what makes the tofu crispy as it cooks, rather than just dry.