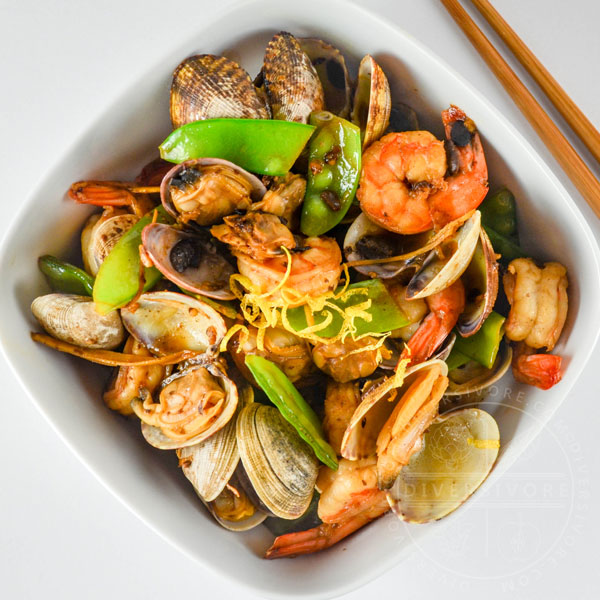 With a Black Bean & Citrus Sauce
I've always had a fondness for scientific names. I realize that many people don't exactly feel the same way I do - after all, it is easier to remember the word 'shrimp' than it is to remember Litopenaeus vannamei. Plus, it is admittedly more poetic to herald the coming of spring by pointing out the arrival of robins, rather than the incoming Turdus migratorius. So why do I like scientific names? Well for one thing, sometimes they just sound awesome. Take the humble soybean; do you know what its scientific name is? Glycine max. How awesome is that? It's like a vegetable superhero.  On top of that, its kind of cool (well, cool to me) to find out that we occasionally use scientific names without even realizing it; Asparagus is, officially, Asparagus officinalis, which kind of sounds like it should be its twitter handle.  But what I love most about a scientific name is the precision and specificity it carries.  Each two-part name, composed of a genus (always capitalized) and a specific epithet (never capitalized), is used to formally describe one species and one species alone.  Now, I won't get into the blurry lines that sometimes exist between species (that's basically 90% of my graduate work, and trust me when I say that it gets confusing), but suffice it to say that a scientific name tells you a lot more than a common name.
Diversivore is a science and education blog, but it is first and foremost about food - so what does all this have to do with food?  Language tends to be a pretty flexible thing, and the language surrounding food is no exception.  Take the word 'pepper,' which can mean black, green, or white pepper (Piper nigrum in its various states), pink pepper (Schinus molle),  Sichuan pepper (Zanthoxylum simulans),  alligator pepper (Aframomum melegueta), or any of the various hot and/or sweet peppers (Capsicum anuum in its many guises).  On the opposite side of that coin, we have situations where a single food is given countless names within a single language.  Eggplant (Solanum melongena) is a great example; in the English-speaking world alone it is also known as aubergine, melongene, garden egg, guinea squash, brinjal, and (my personal favourite) brown jolly.  I could go for a plate of brown jolly parmigiana right now.
Context, explanation, culture, and descriptive language generally make it clear what exactly is being discussed when a word like 'pepper' is used, and good ol' Google can usually help us figure out what the heck a British recipe means when it calls for capsicums and aubergines, but sometimes things do get genuinely confusing.  So it is with 'black beans.'  This recipe prominently features the powerful flavour of the fermented black soybean, known in Mandarin Chinese as douchi (pronounced DOH-chi, with the i sounding like the middle of the word 'shirt').  These are commonly called black beans, but they have absolutely NOTHING to do with the black beans you'll find in a burrito. They taste completely different because, well, they are completely different.  The black beans (aka black turtle beans) used in North/Central/South American and cooking are a variety of the common bean (Phaseolus vulgaris).  A similar bean called the black gram (Vigna mungo) is used in Indian food, and is sometimes replaced with the black turtle bean.  But neither bean has anything to do with douchi.  The Chinese black bean, which features prominently in black bean sauce and the dishes that revolve around it, is a salted and fermented black soybean (Glycine max).  If you've tasted these beans, you'll immediately understand the importance of avoiding confusion.  A Chinese dish made with black turtle beans would bare absolutely no resemblance to one made with douchi, while a burrito made with douchi would be pretty terrifyingly intense.
Bean confusion wasn't the only reason I decided to write about this topic today.  This entire dish is a mishmash of ingredients with variable and confusing names.  The snow peas, which are commonly confused with sugar/snap peas, are called mangetout in much of the English-speaking world. The dried citrus is frequently called orange peel, but is generally actually mandarin. But this whole issue of nomenclature takes a fairly serious turn when we look at the seafood.  I can't think of anything else we eat that's been so confusingly muddied up with inaccurate, insufficient, and even misleading names.  Consider shrimp - for many of us shrimp is just shrimp - a single food entity that warrants little further differentiation.  Nothing could be further from the truth.
Now before I get to far into this, let me be clear that I'm not just worried about semantics here; what we call our seafood really matters.  A recipe like this one might simply call for shrimp, leaving it up to the reader to decide on size and variety, but shrimp fishing is a gigantic industry ($50 billion per year globally) and not all harvesting is achieved responsibly.  The spot prawn (Pandalus platyceros) industry here in British Columbia is a paragon of sustainability, but its economic impact is a blip compared to the farmed shrimp industry, which focuses primarily on the Pacific white/whiteleg shrimp (Litopenaeus vannamei), giant tiger prawn (Penaeus monodon) and a handful of less significant species.  Spot prawns are delicious, but expensive, especially for a meal like this that doesn't really revolve around the shrimp alone. So should you buy farmed shrimp?  That depends very much on the shrimp - some operations are sustainable and ecologically sound while others are horribly destructive.  To make matters worse, one species might be raised responsibly in one place but not in another.  The Vancouver Aquarium's Oceanwise program lists information for 67 different species and/or harvesting methods (at last count) for consumers looking to make environmentally informed decisions. I'm only barely scratching the surface of this issue, but it rapidly becomes clear that a shrimp is not just a shrimp.
Of course I'm not suggesting that we start writing out recipes with scientific names, but I hope you'll believe me when I say that a name can be incredibly important.  The simple truth is that the language surrounding our food and its biology is often being obscured, and we as consumers and cooks need to start changing that. Marketing groups and retailers will explain that consumers don't want to be confused by their food, and their is some truth to that - I wouldn't be surprised if consumers balked at being presented with literally dozens of different species and harvesting methods while shopping for shrimp. But food culture is becoming more adventurous and global in its reach, and if that's going to happen sustainably then we need to open our minds to learning about ideas, and yes, new problems. But that awareness of new problems should not intimidate us - instead, we should feel empowered and involved. We develop deeper understandings of the world and its people when we expand our culinary horizons, but we have an undeniable impact when we reach beyond what we already know. Fortunately we have the ability to make that impact a positive one.
If my discussion of shrimp has scared you off a little, this dish will also work beautifully with crab, lobster, or even a simple firm-fleshed white fish. You could also use more clams and omit the crustaceans entirely.
Most grocery store clams have been purged of sand and grit, so they should be fairly clean. If you're concerned, or you've obtained your own clams and you need to purge them, I strongly recommend a simple salt-water based method like the one used here. Despite what you might read elsewhere, there's no need to use cornmeal to clean clams.
The natural saltiness of the clams, black beans, and the soy sauces means that a conventional salt-added chicken stock can risk making this dish very salty. If you can't get a no-salt stock, I would recommend just using water, and possibly an extra tablespoon of clam broth.
As with many Chinese dishes, this one can still seem salty on its own, which is why it's at its best when served over rice or with noodles. A nice thin wheat noodle works well, but rice noodles should make a good accompaniment too.
Most of the ingredients needed for this recipe can be found in a well-stocked grocery store, but you'll probably need to seek out a Chinese grocery store for the douchi and mandarin peel. For what it's worth, store-bought mandarin peel is relatively easy to find, but even easier to make at home - simply wash and scrub a mandarin orange, then peel zest and a little bit of the pith with a vegetable peeler and allow it to dry. I like to toast mine in the oven just a little bit for an added flavour dimension.
Note: nutritional information is shown for a single serving (1/4 total recipe) and does NOT include rice, noodles, etc.
Nutrition Facts
Shrimp and Clams in a Black Bean and Citrus Sauce
Amount Per Serving
Calories 305
Calories from Fat 72
% Daily Value*
Fat 8g12%
Cholesterol 205mg68%
Sodium 800mg35%
Potassium 715mg20%
Carbohydrates 13g4%
Protein 42g84%
Vitamin A 950IU19%
Vitamin C 63.5mg77%
Calcium 130mg13%
Iron 24.3mg135%
* Percent Daily Values are based on a 2000 calorie diet.
Nutritional Summary
GOOD NEWS:
High in protein and iron while still very low in fat, this dish demonstrates the wonderful nature of good seafood.
BAD NEWS:
This is a bit high in sodium, and has the chance to be VERY high if you don't properly soak the douchi (black beans). Make sure to follow the directions carefully. This is also relatively high in cholesterol thanks to the shrimp.
If you do choose to serve this with a noodle, try to choose one that's low in sodium. Some packaged Asian noodles can be astonishingly salty.
Ingredient Pages
Pantry Pages
Shrimp and Clams in a Black Bean and Citrus Sauce
Fermented black soybeans are one of the most distinctive flavours in Chinese cooking. Here, they're balanced beautifully by the bright taste of citrus.
Ingredients
Sauce
1/4

cup

no-salt-added chicken stock

(if unavailable, see note)

1

tbsp

light soy sauce

2

tsp

dark soy sauce

1

tsp

sugar

2

tsp

rice wine

2

tsp

rice vinegar

1

tbsp

corn starch

1

4 inch piece

dried orange/mandarin peel

1

lemon

zested and juiced
Stir Fry
2

tbsp

peanut oil

or other neutral, high-smoke point oil

450

g

shrimp

(31-40 count)

900

g

Manila clams

or little neck clams

200

g

snow peas

trimmed and halved

2

tbsp

clam broth

(this will come from boiling the clams)

1/4

cup

douchi (fermented black beans)

3

cloves

garlic

15

g

ginger

(~1.5 inch thumb) peeled and finely shredded
Instructions
Combine all the sauce ingredients and set aside.

Rinse the clams in cold water and scrub off any dirt or grime. Discard any pieces of shell and any open clams.

Fill a large pot with about 2.5 cm (~1 inch) water. Bring to a boil, then add the clams and cover the pot with a lid. Simmer for about 7 minutes, then check the clams. If most of the clams are open, turn off the heat and remove the clams with a slotted spoon and set aside. If many of them are still closed, put the lid back on and steam for another 3-4 minutes. Don't wait for every clam to open up, as this will overcook them. The few unopened ones should relax after being removed from heat, but if they remain very tightly closed, discard them. Reserve the clam broth.

Place the fermented black beans in a bowl of cold water and let them stand for 5 minutes. Drain the water, then rinse the beans 2 more times with fresh water to remove much of their saltiness. Set them aside in a strainer or on a paper towel to dry.

Heat a wok (or large, heavy-bottomed pan) over high heat for 30 seconds. Add the oil and swirl to coat the bottom of the wok. When the oil is shimmering and very hot, add the ginger and garlic and stir fry for 30 seconds. Add the shrimp and stir fry until the shrimp are pink on the surface but not cooked through.

Remove the semi-cooked mixture and return the wok to the stove to allow it to become hot again. Add the snow peas and stir fry for 30-45 seconds, or until they look a vibrant green. Add the snow peas to the shrimp.

Return the wok to the stove and add the sauce, clam broth, and black beans. Once the sauce is boiling, return all of the other ingredients and the clams. Mix the ingredients well, ensuring that the sauce coats the clams. Cook for 2-3 minutes, or until the shrimp is just about cooked through (do not overcook them - they will continue to cook from the residual heat once removed from the wok).

Serve immediately, ideally with noodles or rice to soak up the sauce.
Notes
The natural saltiness of the clams, black beans, and the soy sauces means that a conventional salt-added chicken stock can risk making this dish very salty. If you can't get a no-salt stock, I would recommend just using water, and possibly an extra tablespoon of clam broth. Doing so also makes the meal pescetarian.
As with many Chinese dishes, this one can still seem salty on its own, which is why it's at its best when served over rice or with noodles. A nice thin wheat noodle works well, but rice noodles should make a good accompaniment too.
Nutrition
Calories:
305
kcal
|
Carbohydrates:
13
g
|
Protein:
42
g
|
Fat:
8
g
|
Saturated Fat:
1
g
|
Polyunsaturated Fat:
3
g
|
Monounsaturated Fat:
2
g
|
Cholesterol:
205
mg
|
Sodium:
800
mg
|
Potassium:
715
mg
|
Fiber:
1
g
|
Sugar:
3
g
|
Vitamin A:
950
IU
|
Vitamin C:
63.5
mg
|
Calcium:
130
mg
|
Iron:
24.3
mg