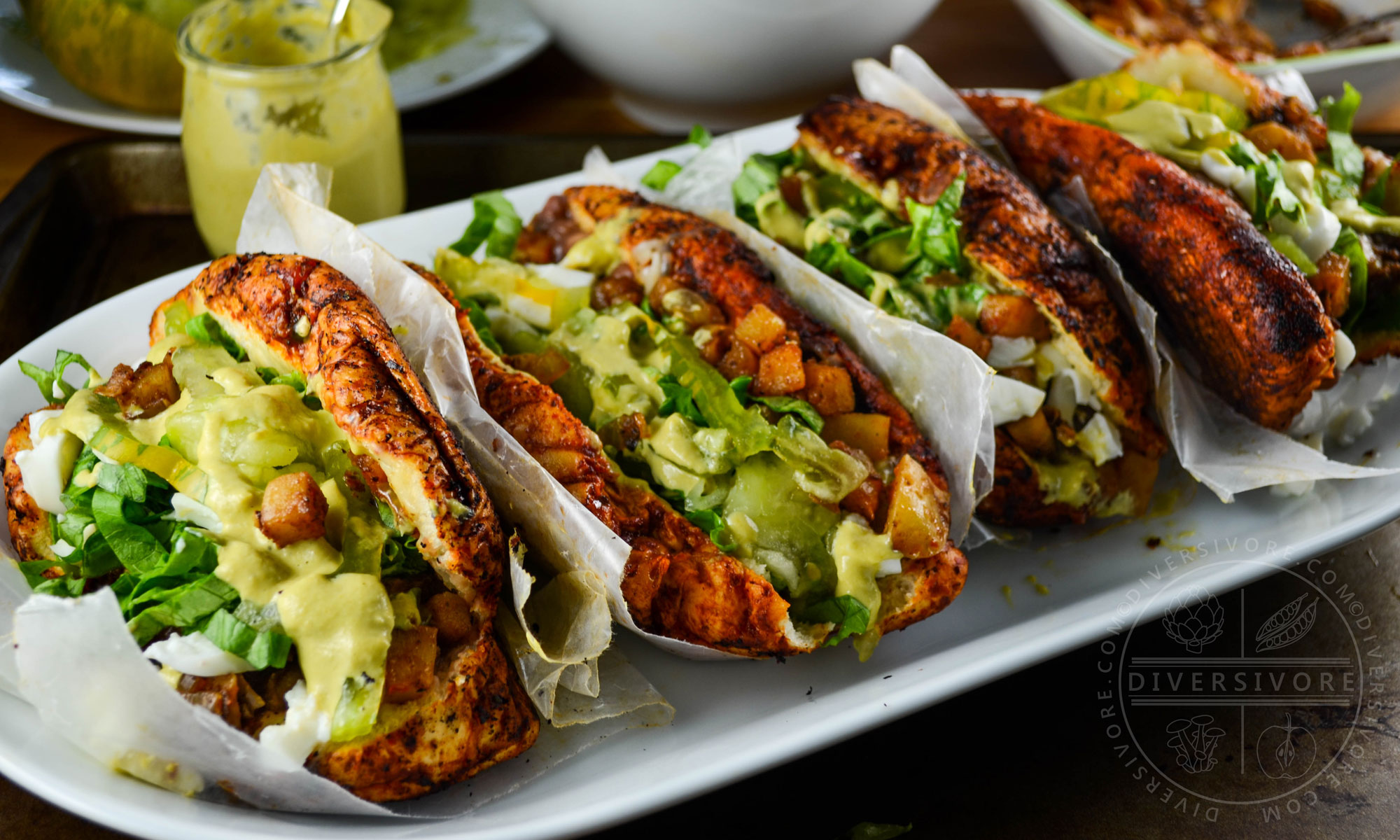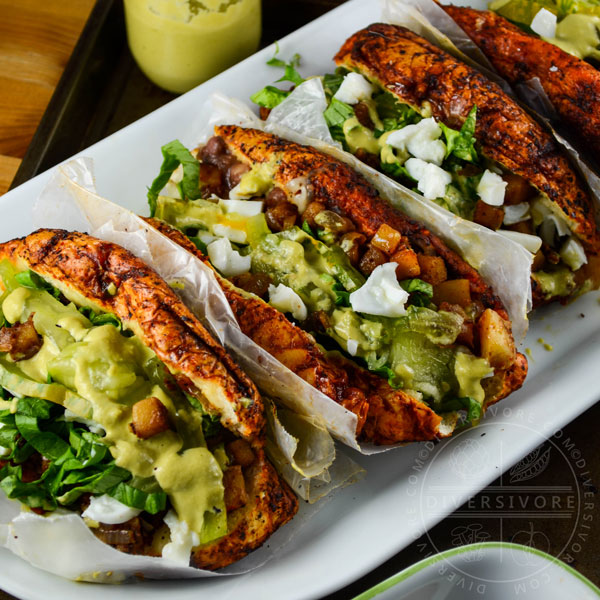 Pambazos Con Huevos
Mexican Sandwiches with Egg, Guajillo, & Tomatillo
The world loves a messy sandwich. It's kind of hilarious when you think about it; the sandwich was ostensibly designed to facilitate easy and mess-free eating, and yet people around the world have turned that idea on it's head, choosing instead to drown sandwiches in sauce or to fill them to the point of bursting. It's bizarrely satisfying too – a sandwich somehow seems all that much better when you need seven napkins (and maybe a change of shirt) just to eat it.
This isn't so much a recipe as it is three recipes smashed together (four if you make your own beans, but that's a post for another day). I explore the practicality and flexibility of this approach in my new feature on easy Mexican meals, but long story short the idea is that lots of little recipes can be made in advance in small windows of time and put together quickly for a variety of great (and easy) meals. Still, when you look at the ingredient list it can be tempting to think that this will be a lot of work. I'll say this: it was a lot of work to develop… but now that the taste testing and tweaking and researching has been done, the end result is actually pretty straightforward, as long as you have a good blender. Let me just say that again, as it warrants emphasis: you REALLY want to have a good blender to make this recipe. You could probably work your way through it alright with a food processor or mediocre blender, but you're going to find yourself working a lot harder to get the textures and consistencies you want. Blenders are beloved, and more or less essential in the modern Mexican kitchen. Given how big of a role sauces and marinades play in the cuisine, this is hardly a surprise.
Alright, so good blender = good times. The next big tip: break the work up. As I mentioned in the post introducing this series of Mexican recipes, you can do an awful lot with little stress by taking the approach that a given meal can be built from a series of components that come from the fridge or freezer, plus or minus a central recipe add-on. Yes, there's advanced planning involved, but it doesn't mean that you're spending 2 hours in the kitchen trying to make a sandwich. Most of the components of this meal can be made ahead of time, and many of them work great with other recipes and meals (plus: leftovers!). Make the guajillo sauce a day or two ahead. Blend the potato spices ahead of time. Get the tomatillo-egg sauce done and set before you worry about the potatoes. Then when you're actually cooking the potatoes and frying/assembling the sandwiches, you've got a nice and tidy set of components all ready to go. And for the record, those sauces you're making are totally going to give you more than needed, but they can be re-purposed into other awesome meals (more on this later), so you're really feeding yourself several times with the work you're doing.
I've featured a lot of Mexican recipes and ingredients on the site in the past, with plenty more to come. Mexican cooking is very flavour-forward and emphasizes fresh, high quality ingredients. Some of those ingredients are less familiar to those who are newer to Mexican cooking, but it's becoming easier and easier to obtain many of them online and/or through specialty grocers. I'm going to run through a few of the ingredients here, and I encourage you to explore the relevant Pantry Pages on the site.
Guajillo Chilies
These are probably my favorite dried Mexican chili pepper. Guajillos are a fantastic and flavourful chili with a ton of character, yet surprisingly little heat, meaning that even the more spice-averse can use them with confidence. Their prominence in this recipe perfectly balances the acidity of the tomatillo sauce while standing up to the spices used in the filling.
You can find guajillos at Mexican and many Latin American grocery stores. Don't have one of those nearby? No worries – guajillos and other dried chilies are shelf-stable and available from all kinds of good online shops. If you're also shopping for Mexican spices, you can get them all in one go and get them delivered right to your door.
When shopping, look for deep-red chilies that are more or less intact. Avoid overly brownish, spotty, faded, or crumbled peppers. I really encourage you to use guajillos here, but if you absolutely can't get them, you could subsitiute cascabel chilies, which are fairly similar in terms of heat and flavour. Puya and arbol chilies are likewise relatively similar in flavour, but considerably spicier. Check out my Guide to Mexican Chilies or the Guajillo Pantry Page for more on finding, choosing, and using these wonderful chilies.
Tomatillos
Tomatillos are pretty fun. Related to tomatoes and ground cherries (which aren't actually cherries), they're an essential Central American ingredient with a flavour somewhat like a tangy, slightly herbal tomato. If it weren't for the distinctive papery husk that surrounds the fruit, you easily mistake them for smallish green tomatoes. They show up in a lot of Mexican cooking, and are the essential ingredient in the beloved salsa verde (green salsa).
Tomatillos are increasingly popular in North America at all kinds of grocery stores, though (unsurprisingly) they're most common at Green grocers with a Latin American focus. They're a fairly popular late summer crop at Farmer's Markets too, so keep your eyes open for the local seasonal stuff.
There's not much to using a tomatillo – just peel away the papery husk and wash. Underneath the husk you'll find that the fruit is almost always somewhat sticky or tacky; this is totally normal, and washes right off.
Pan Basso & Other Breads
Pambazos are named after pan basso, the bread commonly used to make them. Pan basso is Ladino (a romance language also called Judaeo-Spanish), and means 'low bread' – a reference to its relatively unrefined peasant status. Unless you live in an area with a relatively large Mexican population, your odds of finding true pan basso aren't great, but that's okay. Simple, soft Kaiser rolls make a great substitute. In fact, any relatively dense roll with a soft crust should do the job. You'll see some recipes suggest that you use French bread or other Mexican breads like telera, but I'd personally stick with Kaiser rolls and the like because of the soft exterior. Remember that the idea is to let the bread really soak up that guajillo sauce before being fried – a crispy crust doesn't work as well in that situation.
This recipe, like many great Mexican dishes, is actually a combination of several smaller recipes. It can look a bit daunting at first, but theses smaller recipes are actually quite easy, and several aspects can be prepared in advance. If you're reading this all the way through, I'm probably starting to sound like a broken record on this point, but seriously, it's a great way to cook. As an added bonus, the various components also yield leftovers that can be used to make another meal altogether (recipe coming soon!).
Don't be intimidated by the length of the ingredient list either – there are quite a few spices, but they're not hard to find, and a lot of that length is because you've really looking at a series of mini-recipes. It's actually pretty straightforward, and it's ridiculously easy if you have a good blender.
Guajillo Sauce
This stuff is dead easy to make (again, with the aforementioned blender). Here's the jist of it: toast guajillo chilies in a dry pan (they should be slightly dark, fragrant, and pliable), cook them with water, onion, and garlic, then blend and season with salt. It may be easy, but this sauce is what makes a pambazo special.
This recipe made about twice what I needed (though your results may vary depending on how soft or absorbent your bread is). You can cut the recipe down a bit, but I personally recommend leaving it as is and either making more pambazos or using it for leftovers (see below).
Creamy Salsa Verde with Eggs
When you think of salsa verde (that is assuming you think of it at all) you probably don't think of eggs. And if you do, it's probably because of the classic egg-and-salsa recipe huevos divorciados. But this is something entirely different – the eggs (specifically the yolks) are working their magic IN the actual sauce. We start out with a fairly traditional tomatillo-based salsa verde, but this is transformed altogether when thoroughly blended with the lightly cooked egg yolks. The sauce is creamy and smooth, yet bright and acid. It's a bit deceptive, as you almost expect something rich like an avocado sauce, rather than a velvety almost-salsa. It's a great trick and it couldn't be easier to achieve – the blender does all the work for you. For best results, aim for an 8-minute boiled egg with a just-set yolk.
Spiced Potatoes
Pambazos are most traditionally filled with a mixture of fresh Mexican chorizo and potato. I wanted to keep this vegetarian and a little lighter (I mean… a little lighter… it's still a fried sandwich) while still embracing those flavours. In order to achieve this, I've used a blend of spices typically found in fresh chorizo. I realize that spices can make ingredient list look a bit long and intimidating, but there's nothing terribly difficult to use or hard to find here. All you're really doing is sauteing potatoes, onion, and garlic with a few spices and a dollop of the guajillo sauce you've already made. Easy-peasy. If you're interested in making a pambazo with chorizo, check out the notes in the Meat Variation section below.
Frying the Bread
Two very important notes right off the bat: 1: DO NOT buy pre-sliced buns, and 2: DO NOT slice the buns that you do get. The idea is to bathe the whole bun in sauce, fry that in an oiled pan, then cut it the finished bun open and fill it. It's quite straightforward – keep your pan hot, and don't leave the bread to fry for too long. I really like the result that you get by frying the bread once, filling it with a bit of cheese, then frying it again (more on that in the actual instructions below). It's optional, but I think it's great for the texture and flavour.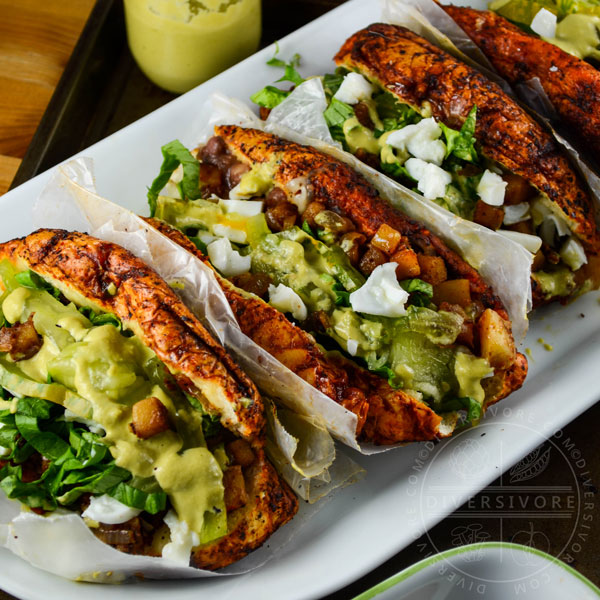 Good news and bad news if you want to make a meat-based variation for the filling. The good news is that you can omit the added spices if you have Mexican chorizo, as they'll be redundant. The bad news is that you have to find good, fresh Mexican chorizo, which can be tricky at times. To be clear, Mexican chorizo is a fresh (i.e. uncured) sausage, and is NOT the same as Spanish cured chorizo. The two are not interchangeable.
Really want to do a meat-based variation but can't find Mexican chorizo? No problem. Use a neutral pork breakfast sausage and add the spices back in, minus some of the salt (adjust that to taste). You could also use ground pork if you don't mind the finer texture.
The core of the recipe is really the guajillo sauce for the buns, the salsa verde with egg, and the potato with chorizo spices (or actual chorizo). Beyond that you can vary the other components however you like. I like the combination of refried beans, egg white, lettuce, tomato, and a bit of melted cheese, but it's easy to swap these out for other foods you like. The cheese is easy enough to drop if you're going dairy free as the salsa verde provides a nice creamy component.
Nutritional information is given for one sandwich, and assumes that you use about half of the sauces (over all six servings).
Nutrition Facts
Pambazos con Huevos
Amount Per Serving
Calories 489
Calories from Fat 189
% Daily Value*
Total Fat 21g 32%
Cholesterol 92mg 31%
Sodium 760mg 32%
Potassium 645mg 18%
Total Carbohydrates 58g 19%
Protein 19g 38%
* Percent Daily Values are based on a 2000 calorie diet.
Nutritional Summary

GOOD NEWS:

For a fried sandwich, these sure are healthy. Fats and carbohydrates are moderate, and the veggies are numerous. Two sandwiches wouldn't be out of the question for a large meal.

BAD NEWS:

Not much really. Do note that the overall nutritional profile may change depending on the type of bun and the amount of sauce you use. If you add chorizo you can expect much more fat.
Ingredient Pages
No ingredient pages have been written yet for any of the ingredients in this recipe.  Like to see one?  Let me know in the comments below or by email.
Pantry Pages
Note: This recipe is not dairy-free as is, but is optionally dairy-free. See the notes above.
Pambazos con Huevos
Guajillo-soaked Mexican sandwiches with spiced potatoes and a creamy egg-tomatillo salsa verde. Delicious, vegetarian, and easy thanks to the make-in-advance mini-recipes that are used in the filling.
Course:
Main Dishes, Sandwich
Cuisine:
Mexican, North American
Keyword:
authentic, mexican egg sandwich, pambazo sauce, tomatillo salsa, vegetarian mexican sandwich
Ingredients
Guajillo Sauce
8

guajillo chilies

1

tsp

vegetable oil

50

g

white onion

(1/2 cup) coarsely chopped

1

clove

garlic

2

cups

water

1/4

tsp

salt
Salsa Verde with Eggs
4

large

hard boiled eggs

yolks only (save whites for filling) - see note

450

g

tomatillos

husks removed

150

g

white onion

(about 1/2 medium onion) root end left intact (see note)

1

clove

garlic

1

serrano pepper

stem and seeds removed

30

g

cilantro

(1/2 cup, packed)

1/4

tsp

salt

or to taste
Potato Filling
450

g

Yukon gold potatoes

diced into 1 cm (1/2 inch) cubes

150

g

onion

(about 1/2 medium onion) chopped

1

clove

garlic

minced

2

tbsp

vegetable oil

1

tsp

ancho chili powder

1/4

tsp

ground cumin

1/4

tsp

dried oregano

preferably Mexican

1/8

tsp

black pepper

preferably freshly ground

pinch

ground cloves

pinch

cinnamon

salt

2

tbsp

guajillo sauce

(from above)

1/4

cup

water
To Assemble and Serve
6

Portuguese buns

or pan basso buns, if you can find them

leaf lettuce

or iceberg lettuce, shredded

tomato

Oaxaca cheese

or Mozzarella, shredded (optional)

hard boiled egg whites

(leftover from making salsa verde with eggs)

refried beans

2-3

tbsp

vegetable oil

for frying
Instructions
Guajillo Sauce
Use scissors to cut the stems off the chilies. Shake out and discard as many seeds from the inside as you can manage (use a butter knife to break up and separate the membranes/seeds if necessary).

Heat a dry frying pan over medium heat on the stove top. Add the guajillo chilies and toast for 1-2 minutes, or until they're somewhat darker in colour and more pliable.

Heat the oil in a medium saucepan and saute the onions and garlic for 2-3 minutes over medium heat. Add the toasted chilies, salt, and water to the pan and bring to a boil, then reduce to a low simmer. Cook until the chilies are very soft; about 10 minutes.

Add the cooked mixture to a blender and puree until very smooth. Set aside to cool. Refrigerate for up to 5 days, or freeze for up to 6 months.
Salsa Verde with Eggs
Bring a large pot of water to a gentle boil. Add the eggs and cook for 8 minutes. While the eggs are cooking, prepare an ice bath. When the eggs are done cooking, transfer them to the ice bath and set aside. Keep the water for the next step to save time. Peel the cooled eggs and separate the eggs and whites. The whites can be set aside or refrigerated until serving.

Bring a large pot of water to a boil on the stove top. Add the tomatillos, onion, garlic, and serrano pepper to the water and cook until the tomatillos are soft and pale olive-green (the skins may split - this is normal). Carefully remove the vegetables from the water with a slotted spoon and place them in a blender along with the garlic, onion, and serrano pepper. Add the egg yolks, cilantro, and salt and blend until smooth. Cool the salsa and set it aside. Refrigerate for up to 3 days or freeze for up to 6 months.
Potato Filling
Combine the spices and set aside.

Heat the oil in a large skillet over medium-high heat. Add the potatoes and stir to keep them coated in oil and prevent them from sticking. After about 2 minutes, add the onions and garlic and continue to fry, stirring regularly, until the onions are soft and starting to brown a bit.

Add the spices to the pan and stir to combine. Fry for another minute or so, then add the guajillo sauce and water. Stir to combine again and reduce the heat to medium. Cook until the sauce is fairly dry and the potatoes are tender. If you need to cook the mixture a bit longer, add more water to keep it from scorching. Set aside or refrigerate for up to 3 days.
To Assemble and Serve
Pour a portion of the guajillo sauce into a shallow bowl. Take a single bun and dunk it in the sauce, turning it over slowly to ensure that it's evenly covered and soaks up a fair bit of sauce. Set the bun aside on a plate and repeat with the remaining buns, adding more sauce as necessary.

Heat a small skillet over high heat and add the vegetable oil. Once it's very hot, add a bun to the oil and fry for about 30 seconds per side. Remove the bun and let it cool (you may want to place them on paper towel to soak up the excess oil). Repeat with the remaining buns. Discard any leftover oil.

Slice the buns open.

(Optional) If using Oaxaca/mozzarella cheese, fill the inside of the buns, return them to the pan (with most of the oil removed) and dry-fry them to melt the cheese and crisp up the buns a bit. If you're omitting cheese or using a crumbled cheese like queso fresco, skip this step.

Fill the buns with potatoes, refried beans, salsa, lettuce, tomato, chopped egg white, and a few dollops of the guajillo sauce. Grab a ton of napkins and enjoy immediately.
Recipe Notes
Onion for the salsa verde - Because you're cooking the onion in boiling water and then removing it, you want it to stay together as one piece. In order to do this, cut the top off of a whole onion and peel away the skin/outer layer, but DO NOT cut off the root end (do trim it to clean it up and remove any roots, but leave it intact). You can halve the onion through the center (half a medium onion is usually around 150 g) and add it to the pot as is. When it comes out of the pot it should be intact. You can trim away the root end now if you like, but it will be fine if it goes into the blender as is.