Mexican Christmas Salad
Ensalada de Navidad
Salads are a lot more popular in Mexico than many people realize. Part of the confusion is linguistic; the Spanish word ensalada is largely used in reference to vegetable dishes containing lettuce. Plenty of other vegetable based dishes are made, but the word ensalada doesn't get used as often. While that's part of the issue (and obviously not the entire issue, since I'm showing you a Mexican salad that clearly lacks lettuce), another factor is simply what sells in the USA and Canada. Taco trucks sell. Salad trucks don't.
Fortunately, Mexico is blessed with some truly spectacular produce, so putting together a stunning salad is not too difficult. Around Christmas time (either Christmas Day or Christmas Eve depending on the tradition), it's common to put together a bright, colourful salad made with typically wintery produce. Citrus tends to feature prominently, but the variations are endless. I was inspired to use beets and candied nuts based on a version by Pati Jinich (who I seriously need to buy a cup of coffee for, because her books totally made my month), though this version departs pretty heavily from hers.
Now, as for this salad… isn't it pretty? I mean come on! I don't normally use language like that to describe my food, but this felt like a bouquet on a plate. It's just so lavish looking! But the best thing about it is that it's actually wildly simple. The beets are raw (a spiralizer is fantastic, but you can prepare them other ways too), the citrus is simple, and the dressing is a snap. The candied pistachios are the only thing that takes any real effort, and even they're pretty simple. If you're unfamiliar with jicama, it's very easy to love. It's fantastic raw, with an earthy pear-like taste and a fantastic juicy/crunchy texture. For tips about using it (and more), check out the Recipe Notes below.
So don't wait for Christmas (unless, you know, it's Christmas when you read this, in which case… get going). Make this as soon as you can.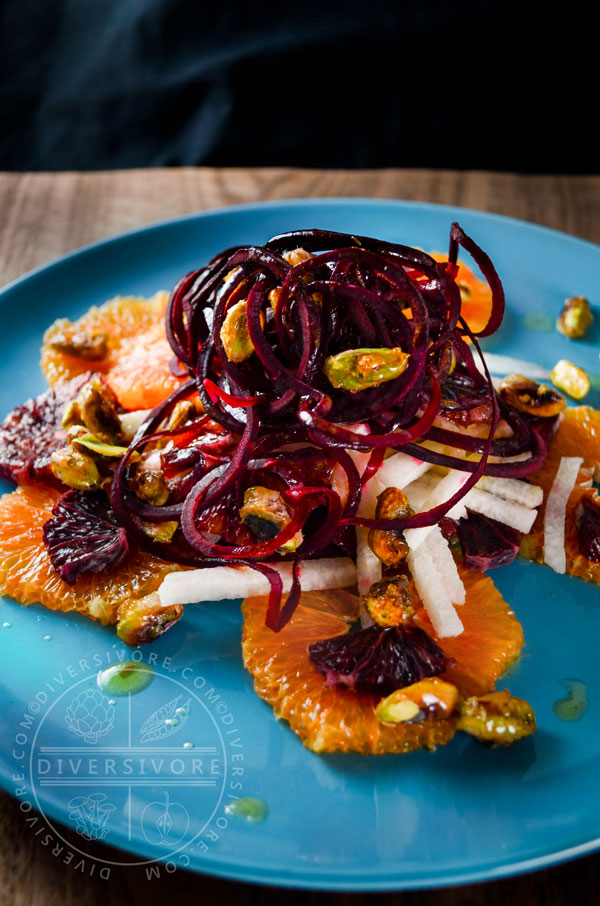 Most of the ingredients necessary to make this are fairly easy to find, though the specific oranges are fairly seasonal. If you struggle to find blood oranges and cara cara oranges, you can always substitute other oranges, or even other citrus varieties.
JICAMA
Jicama is a large, round root with a papery brown skin. It's increasingly common in conventional grocery stores, so you should be able to find one without too much struggle. If you have trouble, they are often found in Latin American and Asian grocery stores. Choose a small-to-moderate sized jicama (large ones are often overly fibrous), and make sure to cut away the skin and a bit of the flesh beneath it to get to the more tender part of the root. Ideally, your jicama should be a creamy ivory colour throughout; pale brown flesh will be sour and soft. Even if you do get a less-than-ideal jicama, cut through the center to see if the flesh in the middle is salvageable.
CITRUS
Blood oranges and cara cara oranges contribute intensity of flavour and remarkable colour to this salad, but you could easily substitute other oranges, mandarin slices, or even grapefruit. Use your imagination.
BEETS
Raw beets might sound a bit odd, but when finely shredded or sliced, they make a fantastic salad, with a unique earthy sweetness. If you find the taste of red beets too intense, you could try using golden beets instead (though obviously the visual impact of the salad will change).
PISTACHIOS
It's not difficult to candy nuts, so don't be intimidated if you've never done it before. Make sure you keep an eye on your sugar, as it goes from perfectly caramelized to burnt mess pretty quickly.
You could easily swap out the pistachios for peanuts, pecans, or another nut of your choosing.
Nutritional Summary

GOOD NEWS:

It's nearly all fresh produce, loaded with vitamins, and fairly low in calories and fat. It's also quite high in dietary fiber, and ridiculously high in vitamin C.

BAD NEWS:

Those candied pistachios are really delicious, but let's not forget the word 'candied.' Resist the urge to eat them all by yourself and you'll be fine.
Ingredient Pages
No ingredient pages have been written yet for any of the ingredients in this recipe.  Like to see one?  Let me know in the comments below or by email.
Pantry Pages
No pantry pages have been written yet for any of the ingredients in this recipe.  Like to see one?  Let me know in the comments below or by email.