Mexican Pickled Red Onions
Easy to make, and even easier to love, these tangy, bright, and beautiful Yucatecan pickles are made with red onions and bitter (Seville) orange juice, or with a mix of more readily available citrus juices. Taking only 5-10 minutes to make, and ready to eat in as little as two hours, they make an incredible addition to tacos, stews, and more.
I'm sure we could all use a punch of colour in our lives and on our plates right now.  This recipe fits the bill – and frankly, it's long overdue. These tasty pickled red onions have already shown up in the background of a couple of other recipes here on Diversivore, and I've been meaning to post the recipe for ages, but [insert boring real world excuse]. Enough is enough! I'm righting the wrong by steamrolling through and releasing this recipe into the world with an ultra-quick turnaround time.  The pickles were prepped on Sunday, photographed Monday, and now I'm posting on a Tuesday.  Got to make the most of this whole isolation/social distancing thing, I suppose. I sincerely hope that some of you will be discovering this recipe after life has returned to normal, but for now I'm broadcasting to the world from the pandemic-induced self-imposed quarantine of early 2020.  But hey, culinary self-sufficiency is always a good thing to have going, regardless of the current state of affairs.  And tacos.  Always good to have tacos.
On that note, This ridiculously simple recipe is perfect for 1) anyone who likes tacos, and 2) anyone who wants to learn about making pickles/condiments. Given that #1 probably includes about 95% of the world's population, I'm going to guess that the Venn diagram of potential readers covers pretty much everyone.  I know that I'm definitely a die-hard taco guy.  You can just click that little magnifying glass icon up top in the menu and type in 'tacos' to see just what I mean.  Tacos for days.  But, while the central recipe is obviously important, a lot of what makes a taco great is the condiments.  They can be ultra-simple (tomatoes, diced onion, cilantro, etc.), or a little more complex (salsas, guacamole, etc.).  In the middle you've got the kinds of condiments that take a bit more time and/or effort than the simple toppings, but only marginally so.  Pico de gallo and guacamole are great examples; a bit of extra chopping and prep needed, but no cooking.  I think that these pickled onions definitely fall into that same category.  After all, the only culinary skills you need to make them are a) slicing, and b) waiting.  In fact, the most complicated thing about making these onions is finding bitter (Seville) oranges, but even then there's a simple substitution (more on this in the Recipe Notes section below).  So let's go make some pickled onions, and eat some tacos.
This is a pretty simple recipe, so there's not much need for detailed notes here. The biggest factor is generally going to be the availability of bitter orange juice, so I'll deal with that first and foremost.
What Are Bitter Oranges?
I love bitter oranges and I use them as much as I can. I've even written an extensive guide to them here on the site, so I'd encourage you to check that out if you're new to the topic.
First of all, let me address what these oranges are so that we can avoid any confusion.  Bitter oranges (also called Seville, sour, marmalade, or bigarade oranges) look and smell a lot like their sweet, cousins, but they are decidedly NOT sweet.  Bitter oranges have actually been around a lot longer than sweet oranges, and while they've been eclipsed in many ways by their more fructose-friendly relatives, they still hold a prominent position in a number of cuisines and recipes around the world.  The fragrant, sour, bitter, somewhat herbal juice is particularly important in the Yucatan peninsula of Mexico, where it's used in a variety of recipes, including pickles, salsas, and the ever-popular pork dish known as puerco (or cochinita) pibil.  I personally think that bitter oranges are a deeply underappreciated ingredient, and if you can get a hold of some, I hope you'll give them a try.  They make amazing contributions to both savoury and sweet dishes; marmalade simply wouldn't be the same without the peels of bitter oranges, and one of my absolute favourite desserts is made with a mixture of lemon and Seville orange juice.
All that being said, I know it can be tricky to find these lovely oranges, so let's address substitutions in the next section.
Bitter Orange Substitutes
Fortunately, there's a very simple substitute for Seville orange juice that requires only commonly available citrus types.  A 1:1:1 mixture of grapefruit, lime, and sweet orange juice makes a very good substitute in this recipe, and in any recipe that calls for bitter orange juice.  I will note that many modern grapefruit varieties emphasize sweetness over the more 'old-fashioned' bitter/sour components of the fruit, so you may want to adjust the ratio slightly with a bit of extra lime juice if you find it too sweet.  Pink grapefruit is nice for colour, but I find many of the white varieties are a little more bitter/herbal, and better suited to use in this mixture.
It's important to note that sweet oranges alone do NOT make a good substitute for Seville oranges.  While they certainly have a similar orange-like fragrance, the juice is far sweeter, and lacks the acid tang and bitterness of Seville oranges.
So what can you do if you only have sweet oranges available? Well, fortunately you're not out of luck.  The recipe can be modified by reducing the amount of orange juice to about 1/3 cup, and increasing the amount of vinegar from 1 tbsp to approximately 1/2 cup.  This doesn't produce identical results, but it still makes for a great pickle with some of the citrusy punch of the original.  I would recommend using white wine vinegar if you do go this route, as I find pure white vinegar a little too sharp and overpowering when used in such large quantities.
No citrus available? No worries, my friend. Check out my recipe for fish tacos with white-wine pickled onions.  Those onions are very similar to these, but with a different flavour profile thanks to the use of wine and wine vinegar.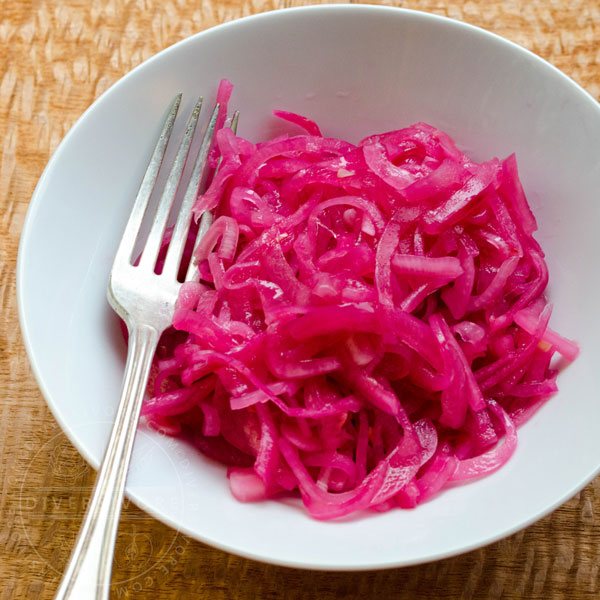 Is That Colour For Real?
Yep! No editing trickery here folks, these pickles really do come out a vibrant pink colour.  The chemical compounds that give red onions their beautiful colour are called anthocyanins.  These compounds are weakly acidic on their own, and react with acids and bases in ways that produce variations in colour.  In acidic environments (for example, a mixture of vinegar and citrus juice), the anthocyanins grab a hold of hydrogen ions (a process called protonation), and in this state they produce an intense red colour.  That red leaches into the white cells of the onions, producing the brilliant magenta colour you see in the pictures.  Similar reactions can be found in a variety of other anthocyanin-loaded foods too; purple cabbage, for example, is often used for simple DIY acid-base indicator experiments at home or in classrooms.
The food photographer side of me has a hard time imagining these pickles in a more subdued palate, but you can swap out red onions for sweet white ones (e.g. Walla Walla onions).  The resulting pickle will be similar in taste, though obviously lacking the bright colour of the original recipe.
Note: Nutritional Information is given for a single serving (1/8th portion of the total recipe).
Nutrition Facts
Mexican Quick Pickled Red Onions
Amount Per Serving
Calories 22
Calories from Fat 9
% Daily Value*
Fat 1g2%
Sodium 74mg3%
Potassium 76mg2%
Carbohydrates 5g2%
Protein 1g2%
Vitamin C 8mg10%
Calcium 8mg1%
Iron 1mg6%
* Percent Daily Values are based on a 2000 calorie diet.
Nutritional Summary

GOOD NEWS:

These pickles are low in calories, fat, and carbohydrates. Basically, they're big on flavour while being fairly nutritionally neutral. They even pack in some Vitamin C thanks to the citrus juice.

BAD NEWS:

'Nutritionally neutral' can be a bad thing of course, but given that you're unlikely to eat these as a stand-alone meal, there's really not much to complain about. Of course you'll want to factor in the nutritional value of whatever you're serving them with.
Ingredient Pages
Pantry Pages
No pantry pages have been written yet for any of the ingredients in this recipe.  Like to see one?  Let me know in the comments below or by email.
Mexican Quick Pickled Red Onions
These addictively delicious, wonderfully simple pickled onions are made in the Yucatecan style with the juice from bitter (Seville) oranges. No bitter oranges? No problem - a simple combination of readily available citrus juices works just as well.
Ingredients
2

small

red onions

(~300 grams total)

3/4

cup

seville orange juice

or 1/4 cup each orange, lime, and grapefruit juice (see note)

1

tbsp

white vinegar

or white wine vinegar

1/4

tsp

salt

or to taste
Instructions
Thinly slice the onion. Combine with juice, vinegar, and salt in a container. Shake vigorously for about 10 seconds. Refrigerate for at least 2 hours (overnight is best).
Notes
Seville Orange Juice - Bitter (Seville) oranges have a distinctive orange fragrance, but lack most of the sweetness found in their more common cousins.  A 1:1:1 mixture of grapefruit, lime, and (sweet) orange juice makes an excellent substitute.  Don't be tempted to use regular orange juice alone however, as it lacks the acidity and pleasing bitterness needed to make these pickles work. Pickling Time - These pickles will be ready to use after about two hours, but they reach their most intense colour if left overnight.  They'll keep well in the fridge for at least a month.
Nutrition
Calories:
22
kcal
|
Carbohydrates:
5
g
|
Protein:
1
g
|
Fat:
1
g
|
Saturated Fat:
1
g
|
Sodium:
74
mg
|
Potassium:
76
mg
|
Fiber:
1
g
|
Sugar:
4
g
|
Vitamin C:
8
mg
|
Calcium:
8
mg
|
Iron:
1
mg