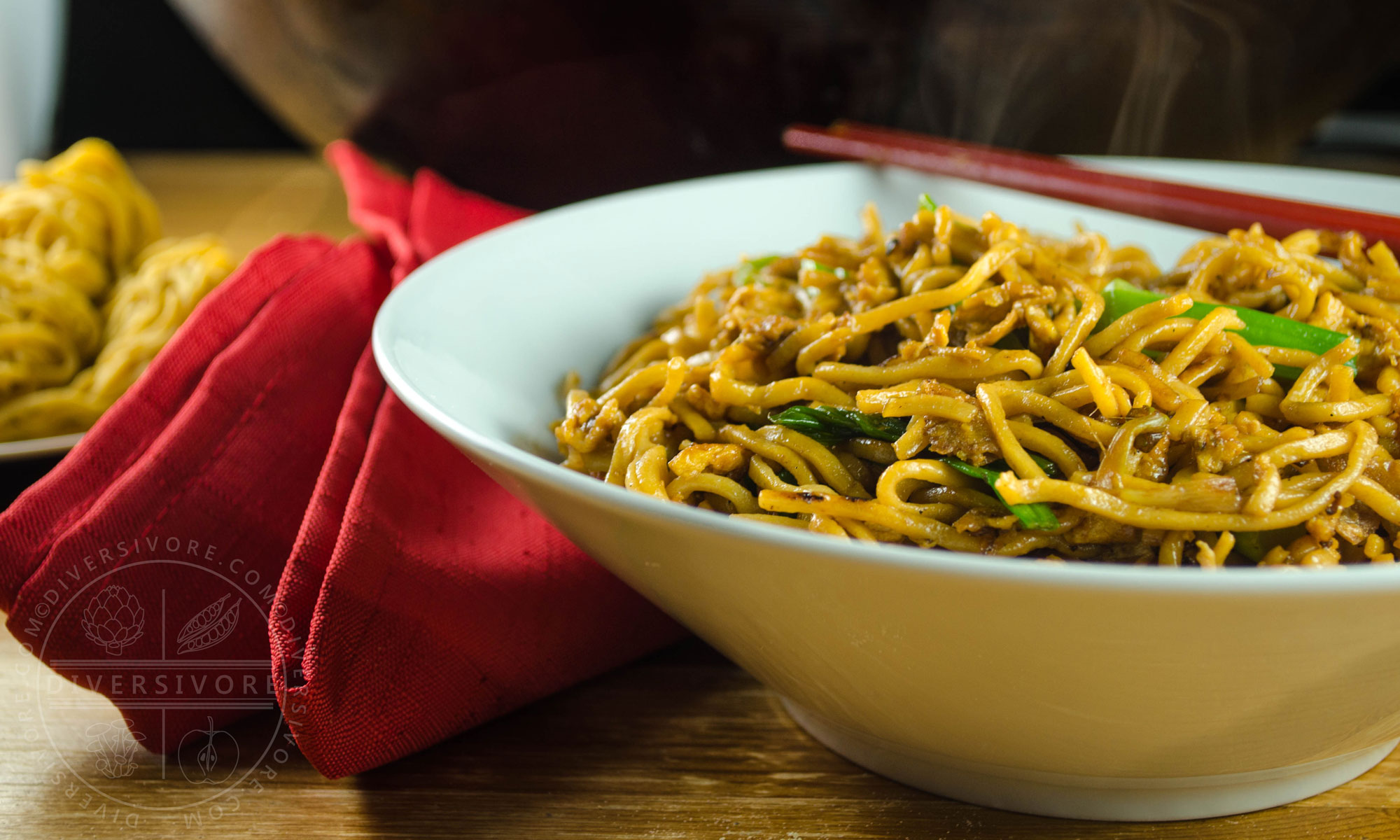 Stir-Fried Soy Sauce Noodles
Everybody loves a good stir-fried noodle recipe! This simple and classic Taiwanese/Chinese stir-fry is perfect for anybody looking to make the jump from take-out to home-cooked.  The recipe itself is easy and adaptable, plus it's a great way to learn more about using three key ingredients: egg noodles, soy sauce, and soy paste.
Life is busy. Of course you knew that already - we all know life is busy. Nobody walks around saying 'boy, things sure are slow... I wish I had a ton more responsibilities and commitments to deal with.' Probably because if they did, you'd smack them.
I bring this up because I've been wanting to publish this recipe for aaaaages, but I haven't gotten around to it.  It's a simple little companion to my recipe for homemade Chinese egg noodles (which, I'm delighted to say, has become one of the most-viewed posts I've ever made), and I initially figured that I'd publish it soon after the original post.  Instead I posted a bunch of other recipes and kept myself generally jammed with real-life things (notably having a third kid - my idea of 'busy' has reached brave new heights).  The best-laid plans of mice and men finally come to fruition in the Year of the Rat.  How fitting.
But today's the day, my friends! Today is the first day of Chinese New Year, 2020, and I can't think of a better time to publish a recipe like this.  Easy to make and even easier to love, this simple noodle dish is a crowd pleaser, and a perfect way to enjoy the fruits of your hand-made noodle labour.  Of course I understand that you might not have the time to dive into DIY egg noodles right now, and that's totally fine - you can easily make this with store-bought noodles too (check out the Recipe Notes below for tips).  Of course, if you do have some time, I'd recommend making a big batch of the noodles yourself, then freezing some for quick and delicious future weeknight meals.  After all, we've already established that life is busy, and I'm sure that future you will be awfully grateful that past you was so fastidious and forward-thinking.  Can't you just picture tucking into a big bowl of hot, delicious stir-fried soy sauce egg noodles with your hungry family and/or friends?  They'll be in awe of your culinary prowess.  Your noodly aptitude.  Your mastery of all things starchy and delicious.  And they should be - way to go, you.
Here's to you, to long life, long noodles, and (fingers crossed) shorter to-do lists.  新年快樂 - xīnnián kuàilè - Happy New Year.
If you're already well-versed with stir-frying and/or Chinese egg noodles, you're probably good to jump right to the recipe itself, though you may want to read up on Taiwanese soy paste first.  But if you've struggled to get homemade noodle dishes to taste as good as (or, ideally, better than) takeout in the past, then read on for some tips and tricks.
Egg Noodles
In an ideal world (ok, my ideal world), you'd always make this with my homemade Chinese egg noodles.  They're awesome, and you should definitely try making them some time.  But I'm also a realist, and I know that noodle makers have been around for a long time for a good reason.  So let's talk about your noodle options.
Many larger Chinese grocery stores will sell freshly made egg noodles.  If you're not going with homemade, this is probably going to be your best option (unless you're lucky enough to live near a dedicated Chinese noodle-maker, in which case GO! Go buy some noodles!).  Japanese ramen-style noodles (i.e. the type you'd find in yakisoba) will also work very nicely, though it's worth noting that only some of these are made with eggs.  You can also find some frozen and dried egg noodle varieties in Asian grocery stores.  Frozen would be my next choice in this situation.  Dried would be my last choice as they require pre-cooking and are often terrifyingly high is salt.  If you are using frozen or dried egg noodles, be sure to read the ingredients, as the sodium levels and preservatives used can vary wildly from one brand to the next.
If you haven't got any access to Chinese egg noodles, you can turn to a different but surprisingly workable source: German spätzle (aka spaetzle).  This egg noodle/dumpling (which, I should point out, is also made and adored in other parts of Central Europe) actually stands in pretty nicely for Chinese egg noodles.  I would try a thin, commercial brand, though you could certainly try homemade if you were so inclined.
Egg noodles are nice here because of the rich flavour and colour that they add to an otherwise very simple dish, but you can adapt to non-egg noodles too.  Thick wheat based noodles like Japanese or Korean udon would work, though you want to be confident of your stir-frying abilities, as their starchy/wet surface tends to stick to the pan a lot more.  Chinese wheat noodles (i.e. those made without eggs) like lamian will also work, though I personally find them a little plain for this kind of recipe.
Stir-Frying
I've actually written a detailed guide to stir-frying Chinese vegetables here on Diversivore, and it's worth a read if you're new(ish) to the technique.  While we're using noodles here, many of the basic ideas are very much the same.  In particular, it's worth noting the paramount importance of heat.  The biggest key to good stir-frying is using high heat, and lots of it.  The intense heat of stir-frying not only cooks food quickly, it sears and caramelizes the ingredients to impart the beloved wok hei (literally 'breath of the wok') flavour that's considered essential to good Cantonese stir-frying.  A wok (or other pan) that's too cold will frustrate home cooks for three key reasons; you won't get the seared wok hei flavour, you'll struggle to cook everything evenly, and you'll end up simmering/braising because of the accumulated liquid (from the sauce AND from the cooking veggies and proteins) that doesn't evaporate.  It's not always easy to get the high heat needed for good stir-frying - I use a carbon-steel wok on a gas stove, and even still I find myself wishing for more heat at times.  I recommend using a big wok (NOT non-stick) or other very large, heavy pan, pre-heated until VERY hot.  Additionally, you want to work with relatively small amounts of food - I can get away with doing this entire recipe in one batch because the noodles are already hot and there's little in the way of added meat and veggies, but I wouldn't try to stir-fry more than this at once.  If you're cooking for a group, I STRONGLY recommend making 2-3 servings of noodles at a time before emptying the wok, reheating, and repeating with remaining servings.  This sounds like more work, but it's really not, as large servings of food will take MUCH longer to cook in the wok, and won't sear the way you want them too.  Remember: small is hot, hot is fast, fast is good.
One final note about stir-frying noodles: organization is key.  You want to have everything laid out and ready to go before you heat up your wok.  Because you're dealing with very high heat and quick cooking times, a lot can go wrong if you don't have your sauce ready, your utensils nearby, your ingredients chopped and ready to add, etc.
Taiwanese Thick Soy Sauce (aka Soy Paste)
This stuff has been a staple in our house for ages now, and I didn't initially realize that it's something of a specialty ingredient.  If you're wary of buying yet-another specialty ingredient for a single recipe, you needn't be.  Why? First of all - it's adaptable stuff.  Soy paste is easy to use, and great in all kinds of Chinese/Taiwanese dishes.  Secondly, you don't actually HAVE to buy it if you don't want to.  Instead, you can make it (or something very much like it) from more basic ingredients.
Alright, so let's start at the logical beginning by talking about what soy paste is.  It's basically a slightly sweetened soy sauce that's had some starchy thickeners added to make it into a paste.  It's somewhat similar to Indonesian kecap manis, but a bit thicker and less sweet.  The Kimlan brand stuff is the most common variety where I live, and is easily found in most Chinese grocery stores.  It's cheap, and it keeps in the refrigerator for ages (i.e. several years).
Why use soy paste? Well, it's nice in recipes like this because it adds a bit of sweetness while thickening the sauce considerably.  You can add sugar to plain soy sauce of course, but it tends to collect and boil in the wok instead of clinging to the noodles the way you want.
If you don't have soy paste, don't worry, as substitution is refreshingly easy.  A good homemade soy paste can be made with the following:
3/4 cup (175 ml) water
1 cup (240 ml) light soy sauce
2 tsp starch (corn, potato, or mung bean)
2 tbsp sugar
Simply stir all of the ingredients together until thoroughly combined.  You can scale the recipe up or down too, depending on how much you think you'll end up using.  Note that light soy sauce is named for the colour (i.e. to contrast it with dark soy sauce), and is NOT the same as 'lite' or low-sodium soy sauce.  In fact, light soy sauce is quite salty - which is good, given that you're diluting it here with water.
You could also swap soy paste for the aforementioned kecap manis, though if you do I would omit some or all of the sugar called for in the recipe to account for the added sweetness.
Dark Soy Sauce
Dark soy sauce is amazing stuff.  Many people don't pay much attention to their soy sauces, but I would strongly urge you to taste your soy sauces and learn a bit about what makes one better than another.  Good soy sauce isn't typically very expensive, but it makes a huge difference in a lot of recipes.  Dark soy sauce is, unsurprisingly, darker in colour than light soy sauce.  It has a rich flavour with caramel notes, and (most importantly) tends to be mellower and less sharp tasting than light soy sauce.  It's valued for adding colour and depth of flavour to dishes like this one (and one of my favourites, Dongpo Rou).
I don't generally recommend trying to substitute for dark soy sauce, but if you have no other choice you substitute tamari. If you don't have tamari either, use 2 teaspoons of light (i.e. regular) soy sauce, plus an extra teaspoon of soy paste.  The colour won't be exactly right, but you should get a pretty good flavour.
Note: Nutritional Information is given for a single serving (1/4 portion of the total recipe).
Nutrition Facts
Soy Sauce Fried Noodles
Amount Per Serving
Calories 295
Calories from Fat 108
% Daily Value*
Fat 12g18%
Cholesterol 159mg53%
Sodium 505mg22%
Potassium 110mg3%
Carbohydrates 36g12%
Protein 10g20%
Vitamin A 265IU5%
Vitamin C 8.4mg10%
Calcium 95mg10%
Iron 4.2mg23%
* Percent Daily Values are based on a 2000 calorie diet.
Nutritional Summary
GOOD NEWS:
This manages to be surprisingly low in sodium for a recipe that focuses on soy sauce.  Note though that store-bought noodles are often much higher in sodium than home-made.
BAD NEWS:
A little high in saturated fat, and low in Vitamins.  Serve with a big side of stir-fried veggies for a delightful and complete meal.
Ingredient Pages
No ingredient pages have been written yet for any of the ingredients in this recipe.  Like to see one?  Let me know in the comments below or by email.
Pantry Pages
No pantry pages have been written yet for any of the ingredients in this recipe.  Like to see one?  Let me know in the comments below or by email.
Soy Sauce Fried Noodles
A simple and classic Chinese stir-fry that focuses on two key ingredients: good egg noodles, and good soy sauce.
Ingredients
2

tbsp

thick soy sauce

(aka soy paste) - see note

1

tbsp

dark soy sauce

1/2

tbsp

sugar

1/2

tsp

sesame oil

2

tbsp

vegetable oil

2

large

eggs

whisked

1

bunch

scallions

green and white portions separated and cut into 2 inch (4cm) pieces.

1/2

inch

ginger

sliced into thin strips

1

clove

garlic

1/2

lb

Chinese egg noodles

- see note
Instructions
Bring a pot of water to a boil. Cook the egg noodles until soft (2-3 minutes for fresh noodles). Drain and set aside.

Combine the soy sauces, sugar, and sesame oil in a small bowl and set aside.

Heat a wok (or large, heavy pan) over very high heat.  Add 1 tbsp of oil and swirl the wok to cover the bottom. (See note below about stir-frying and portion size)

Add the eggs slowly to the wok, stirring quickly to yield small pieces of egg.

Add the white portion of the scallions, ginger, and garlic to the wok and stir fry for about 1 minute, or until the scallions are tender.

Add the scallion greens to the wok along with half the sauce and stir-fry for about 30 seconds.

Remove everything from the wok, setting it aside in a bowl.

Add the remaining oil.  Allow the wok to heat back up.

Add the noodles to the wok and stir fry for about 1 minute, stirring continuously.

Add the egg and vegetables back to the wok.  Add the remaining sauce and stir fry for an additional minute or so.

Remove from heat and serve immediately.
Notes
Taiwanese-style thick soy sauce or soy paste is fairly commonly available at Asian grocery stores, but if you don't have it you can make your own by mixing 3/4 cup of water, 1 cup of light soy sauce, 2 tsps of starch (mung bean, potato, or corn starch), and 2 tbsps of sugar.
Fresh Chinese egg noodles are often available at larger Asian grocery stores, but nothing compares to making your own! I've got the ultimate recipe and guide here.
Stir-frying and portion size - it can be difficult to get a wok or pan hot enough to properly stir-fry a large portion of noodles like this.  If you're concerned about getting enough heat to properly sear and cook all of the ingredients, try splitting the recipe in two and cooking in two batches.  It won't actually take that much longer, and you'll be much happier with the results.
Nutrition
Calories:
295
kcal
|
Carbohydrates:
36
g
|
Protein:
10
g
|
Fat:
12
g
|
Saturated Fat:
7
g
|
Polyunsaturated Fat:
1
g
|
Monounsaturated Fat:
1
g
|
Trans Fat:
1
g
|
Cholesterol:
159
mg
|
Sodium:
505
mg
|
Potassium:
110
mg
|
Fiber:
1
g
|
Sugar:
7
g
|
Vitamin A:
265
IU
|
Vitamin C:
8.4
mg
|
Calcium:
95
mg
|
Iron:
4.2
mg