The classic Belgian/Flemish beer-and-beef stew Carbonnade Flamande (also spelled Carbonade) is sure to become a classic in your household - especially since you can easily adapt it to your kitchen, and to many dietary restrictions.  Once you've finished the initial skillet-based flavour-building steps, the stew itself can be finished with an electric pressure cooker (e.g. Instant Pot), slow cooker, or on the stovetop.  It's easily made dairy-free, and with a bit of effort, it can be made gluten-free as well.
There are plenty of wonderful perks to becoming a more talented and confident cook.  Better tasting food is, obviously, the biggest plus.  Kind of a necessary perquisite, when you really think about it.  But there are a lot of other, subtle bonuses that pop up as you become better in the kitchen.  One of my favourites is something I like to call 'mental-taste-testing.'  Alright fine, I've never called it that before now, but that's only because I've never had to put it into words.  What I'm talking about is the ability to read a set of ingredients (plus or minus the instructions) and instantly get an idea of what the dish will taste like.  Everyone has this skill at some level of course - nobody starts making a chocolate cake while thinking 'gee, I hope this doesn't end up tasting like chicken pot pie.'  But the more you cook, the more refined this skill becomes.  Over time, you start honing in on individual ingredients and their quantities, instantly shifting your perception of what a recipe will (or at least should) taste like.  Developing this skill helps you decide on the recipes you want to try, figure out substitutions, and adjust quantities based on your own preferences, all without having even picked up a kitchen knife.
Why do I lead in with this, dear reader?  Because the phenomenal Flemish/Belgian beef dish known as carbonnade flamande shouldn't be glossed over or dismissed as just another stew.  If you've got a good sense for mental-taste-testing, take a look at the ingredients, and I think you'll see what I mean.  Sure, it's got all of the standard beef stew pluses, but a handful of ingredients really set it apart:
Onions. LOTS of onions. Most importantly, they're cooked slowly to provide deep, caramelized sweetness.
Beer. Sure, there's beer in lots of beef stews - but this isn't just any beer.  My carbonnade flamande prominently features the bold, strong, sour, and pleasantly bitter flavour of a Belgian-style tripel ale.
Sugar & Vinegar.  These ingredients offset the savoury richness of the stew, imparting a sweet-and-sour flavour that plays off the onions (sweet) and ale (sour).  These flavours compliment the pleasant bitterness of the beer and the browned meat.  It's the combination that's really special - too much of one or the other ingredient wouldn't be the same.
The combined flavours are big, bold, and unforgettable.  I love a good stew in virtually any form, but carbonnade flamande is something that I well and truly crave.  It occupies that culinary space that makes it feel like it's both comfort food and a decadent treat.  When it comes time to serve it, French fries are considered a classic accompaniment, and they're certainly one I advocate for.  Potatoes or a good, crusty loaf of bread also make an excellent partners.
Carbonnade Flamande is a fairly easy to make, and can be adapted to a few different cooking methods. The biggest key is making sure that you focus on building the flavours at the beginning and balancing them at the end.  When it comes to the first part, you want to ensure that you focus on properly and thoroughly browning the beef, cooking the bacon, caramelizing the onions, and using a good beer (more on this last one in below).  Failure to sufficiently brown the beef or completely caramelize the onions will cause you to skip out on a lot of really amazing flavour chemistry, resulting in a blander and more disappointing end product.  As for balancing the flavours, you want to taste-test your finished stew and adjust it to your own personal preferences.  You can balance and refine the finished stew by adding more brown sugar (sweetness), cider (sourness/acidity), or salt.  Do make sure to let the stew sit for a while before adjusting the flavours too much, and to be judicious with your quantities.
This recipe owes a lot to Chef Charlie Palmer's recipe for Carbonnade Flamande, as published on Saveur back in 2012.  I've tweaked it over the years to my family's tastes, and to work with a variety of cooking methods (see below).  The actual ingredients aren't all that different (I omit tarragon, as I personally don't really think it does much here), but the differences in quantities can actually make a pretty substantial variation.  For example, this recipe leans more heavily on a good beef stock, and a bit less on the beer.  And while we're on that subject, I really prefer the way that a tripel beer works in Carbonnade over the darker brown ales, but you can read more about this in the notes below.
This recipe can be adapted for an electric pressure cooker (e.g. Instant Pot), slow cooker, or stovetop quite easily.  The initial browning and caramelizing steps are still required for each variation, so it's by no means a set-it-and-forget-it kind of dish, but this does have the added advantage of making the results very similar between the different methods.  Check below for specific notes.
Carbonnade Flamande can easily be made dairy-free without any real impact on the overall character or quality. It can also be made gluten-free, though the importance of the beer makes this a little trickier. See below for details.
What Kind of Beer Do You Use?
Given the Belgian roots of this dish, it shouldn't be too surprising to find out that the beer is a big deal.
There's debate out there about what beer is best to use in Carbonnade Flamande, but I'm not going to get into too much detail (or trouble, hopefully).  I personally think that Belgian tripels are ideally suited to this kind of cooking, as they nicely balance sweet, sour, and bitter flavours.  They're bold and distinctive without being overwhelming.  Classic Belgian tripels include Chimay Triple, Westmalle, and Karameliet.  There are also a number of wonderful tripels produced on a very small scale (e.g. in the monastery-operated Trappist style), but cooking with these is somewhat akin to using a $500 bottle of Bordeaux to make bourguignon.  There are some who prefer to make carbonnade with Belgian golden or red ales.  I really like the tripels myself, but I'm sure these would be lovely too.  I do think it best to avoid the very dark dubbel and brown ales, as I find their rich, heavy body a bit much with the browned beef and bacon.
I do love a good Belgian beer, they can be tricky to find where I live, and they can break the bank a bit (especially if you're pouring them into a stew).  Fortunately there are some lovely tripel beers made outside of Belgium too.  When making this batch for Diversivore, I turned to a Canadian beer I've enjoyed for many years now: Fin du Monde.  It's an excellent top-fermented tripel-style strong ale, and it's quite easy to find in Canada.  Unibroue, the Quebec-based brewery that makes Fin du Monde (and many other lovely beers), has been owned by beer giant Sapporo since 2006, so you may find that it's a bit easier to find in many markets than some other tripels.
Pressure Cooker vs. Slow Cooker vs. Stovetop
I want to be very clear about one thing right at the outset: there isn't a 'quick' version of Carbonnade Flamande.  The pressure cooker method is definitely the fastest method, but it still involves browning all the beef, cooking the bacon, and caramelizing the onions ahead of time.  And, while I'm normally a big fan of the Instant Pot's ability to saute foods before pressure-cooking, the series of steps and quantity of ingredients used in this recipe make it easier to start everything out in a large, heavy skillet on the stove-top.  Even with this in mind, I still like the electric pressure cooker method best, as it's relatively foolproof and still a considerable time savings over the other methods.
Once again (for those of you recipe skimmers out there), be sure to do all of the browning/caramelizing BEFORE you continue with these cooking methods!
Pressure Cooker - Transfer all of the ingredients to an electric pressure cooker (e.g. an Instant Pot).  Seal and cook on high pressure (manual setting) for 45 minutes.  I prefer to let the pressure release naturally when the stew is finished, but if you're a bit pressed for time, you can release the valve after 15 minutes.
Slow Cooker - Transfer all of the ingredients to a slow cooker.  Cover and cook on the low setting for 6-7 hours, or until the beef is tender.
Stovetop - While this version has the advantage of being done in the same pot as the browning and caramelizing steps, it's a little more hands-on.  Bring all of the ingredients to a boil over medium-high heat, then cover and reduce to a low simmer for 2-3 hours, or until the beef is tender.  If you know your stovetop well you shouldn't have much trouble with this, but it can be tricky to keep the heat low enough to avoid burning, yet high enough to simmer the meat.  In general it's better to err on the side of a lower temperature for a longer time.  Give it a stir every once in a while (not too often or you'll always be letting the heat and moisture out), and consider topping up the liquid levels with a bit of water or beer if you're losing too much moisture from the pot.
NOTE: the pressure cooker method tends to break the onions up into very small pieces, creating a rich and unctuous sauce or gravy.  However, the onions tend to stay more-or-less intact with the other two methods, leaving the sauce much thinner (but still delicious).  You can do one of two things to adjust for this:
Blend some of the onions and sauce together (an immersion blender makes this particularly easy, but a regular blender or food processor would work fine too).
Add about 1.5-2 tablespoons of cornstarch, stir into a little bit of water, and mix into the gravy before serving.
Dairy-Free Variation
This is the easiest variation to manage, as it requires only a straight swap of butter for bacon fat or vegetable oil.  Given that you're already using bacon, I'd personally be inclined to use bacon fat, but vegetable oil will work quite well if that's what you've got handy.  You can substitute an equal quantity of bacon fat (3 tbsp) or about 2.5 tbsp of vegetable oil.
Gluten-Free Variation
There are two steps necessary to convert Carbonnade Flamande into a gluten-free dish.  The first step is the easiest - simply swap the flour used in the beef browning step for your favourite gluten-free blend, or for arrowroot powder.  The second step is to figure out what to do with the beer.
Yes, beer contains gluten.  The actual amount of gluten can vary quite a bit depending on the brand and beer type, but there's generally going to be at least a little.  Fortunately, there are gluten-free beers on the market.  Unfortunately, there aren't many gluten-free beers that approximate the distinctive strong/sour/bitter flavour that you find in a Tripel ale.  The UK gluten-free beer brand Green's does make a Tripel ale, but (as with any specialty beer) you may or may not be able to find it in your market.  If you can't find a Tripel, a gluten-free Belgian red or brown beer would also make a good choice, as would any ale with a nice bitter/sour flavour profile.  I wouldn't personally use a very light beer like a pilsner or lager, as these are too light and mild tasting.
If you can't find a suitable gluten-free beer, or you're concerned about any remaining gluten, you can substitute a good quality dry apple cider.  It's by no means a perfect match in terms of flavour, but it will still make for a great stew.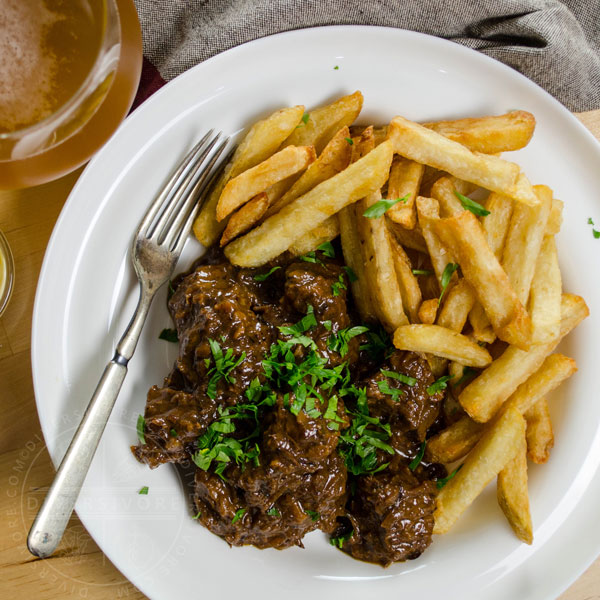 Note: Nutritional Information is given for a single serving (1/6th portion of the total recipe), and does NOT include fries or any other sides.
Nutrition Facts
Carbonnade Flamande (Flemish Stew)
Amount Per Serving
Calories 594
Calories from Fat 333
% Daily Value*
Fat 37g57%
Cholesterol 162mg54%
Sodium 675mg29%
Potassium 959mg27%
Carbohydrates 20g7%
Protein 43g86%
Vitamin A 255IU5%
Vitamin C 6.8mg8%
Calcium 64mg6%
Iron 4.8mg27%
* Percent Daily Values are based on a 2000 calorie diet.
Nutritional Summary

GOOD NEWS:

Lots of protein, high in iron, and... very very tasty.

BAD NEWS:

Saturated fat! Even with a relatively lean cut of beef, you've got bacon and butter to contend with.

TRIM IT DOWN:

Cutting the saturated fat (and fat in general) down is a bit tricky, but you can a) pour off any excess bacon fat (ensuring that you leave enough for caramelizing the onions), and/or swap vegetable oil for the butter.
Ingredient Pages
No ingredient pages have been written yet for any of the ingredients in this recipe.  Like to see one?  Let me know in the comments below or by email.
Pantry Pages
No pantry pages have been written yet for any of the ingredients in this recipe.  Like to see one?  Let me know in the comments below or by email.
Note: the basic recipe is neither dairy- nor gluten-free as-is, but simple substitutes are given in the recipe and notes.
Carbonnade Flamande (Flemish Stew)
This Belgian Beef and Beer Stew is a beloved classic for a reason. The fantastic and distinctive flavour of the dish is built around lots of browning and caramelizing, but the final steps can be made very hands-off with an Instant Pot or slow cooker.
Ingredients
2.5

lbs

chuck or stewing beef

cut into 2 inch (4 cm) cubes

1/3

cup

all purpose flour

(see note)

1/4

tsp

salt

1/8

tsp

pepper

3

large

yellow onions

thinly sliced

1

cup

Tripel beer

(see note)

3

tbsp

unsalted butter

(see note)

4

slices

thick bacon

finely chopped

4

cloves

garlic

minced

2

cups

beef stock

2

tbsp

brown sugar

packed

3

tbsp

apple cider vinegar

1/2

tsp

thyme leaves

3

stems

parsley

plus minced parsley to garnish

1

bay leaf
Instructions
Place the beef into a large bowl and cover with the flour, salt, and pepper.  Toss/combine until the beef is well-covered on all sides.

Place a large cast iron frying pan or Dutch oven on the stove top over medium-high heat and add 1 tablespoon of butter. Brown the beef in the pan, taking care not to crowd the pieces together (you'll most likely want to work in batches). Once the beef has been well-browned (~3-4 minutes per batch), remove it from the pan and set it aside.

Add the bacon to the now-empty pan and cook until the fat is fully rendered and the bacon is a little bit crisp.

Reduce the heat to low and add the onions, garlic, and remaining butter to the pan. Cook slowly, until the onions are well-caramelized – on average 35-45 minutes. Ensure that your heat is truly low enough; a large coil on a gas stove may still be too hot when set on low, especially as the caramelization stage nears.

Add the beer to the pan and scrape it gently to deglaze any stuck-on bits. Bring the heat back up to medium-high and simmer until the liquid is reduced by about ¼.

Transfer the contents of the frying pan and the beef to an electric pressure cooker, slow cooker, or large Dutch Oven (see next step for cooking variations). Add the beef stock, sugar, vinegar, thyme, parsley, and bay leaf. You may wish to lightly salt the dish at this point, but adjust the final taste closer to the completion point.

Pressure Cooker: Seal and cook at high pressure (manual) for 45 minutes. Allow the pressure to reduce naturally for at least 15 minutes before venting.

Slow Cooker: Cover and slow cook on low for 6-7 hours, or until the beef is very tender.

Stovetop: Bring to a boil, then reduce heat to low and cover. Simmer for 2-3 hours, or until the meat is very tender.

Remove finished stew from heat and adjust the final taste with salt and, if necessary, a little brown sugar and/or vinegar. Garnish with fresh parsley and serve with bread, potatoes, or (my favourite) fries.
Notes
Flour note: If you need to go gluten-free, you can swap out the flour for a good gluten-free all-purpose blend, or arrowroot powder.  As most beers contain gluten, you'll also need to use a gluten-free beer variety.
Beer note: Tripel beers are strong, golden pale ales with a high alcohol content, historically produced in regions of Belgium and the Netherlands, but now produced in the same style in may parts of the world.  These beers have a somewhat bitter, slightly sour flavour that contributes a great deal to the typical flavour of good carbonnade.  If you can't find a good tripel to use, you can substitute Belgian red or brown beers, or any good quality ale with a nice bitter/sour flavour.
Butter note: if you need to make this dairy free you can substitute and equal quantity of bacon fat or 2.5 tbsp (~35 ml) of vegetable oil.
Nutrition
Calories:
594
kcal
|
Carbohydrates:
20
g
|
Protein:
43
g
|
Fat:
37
g
|
Saturated Fat:
16
g
|
Cholesterol:
162
mg
|
Sodium:
675
mg
|
Potassium:
959
mg
|
Fiber:
2
g
|
Sugar:
8
g
|
Vitamin A:
255
IU
|
Vitamin C:
6.8
mg
|
Calcium:
64
mg
|
Iron:
4.8
mg