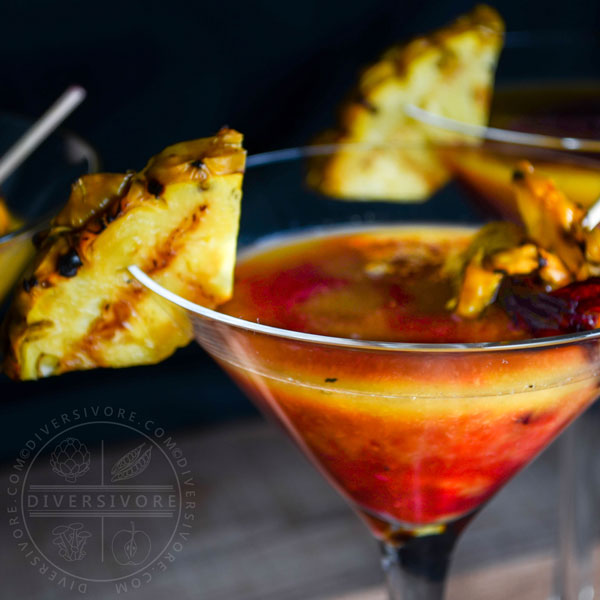 This was a first. Actually it was several firsts.
This is the first cocktail I've made here on Diversivore. It was also the first cocktail I've ever invented. It's a big, bright, summery drink with marinated, grilled pineapple, lime, cascabel chilies, hibiscus agua fresca, and of course mezcal (that's where the mezcalita name comes from after all – it's basically a smokier, more rustic take on the familiar tequila-based margarita concept).  It was a ton of fun to make, and it was also the first blogging-community project I've ever participated in. Lots of firsts – so there's plenty to say. I'll try to keep it short and sweet, because you, my dear readers (of appropriate age), are going to want to go and buy a pineapple, some chilies, and some great mezcal very soon. But before I talk about the 'firsts,' let's talk about the drink.
I am decidedly not a fan of heavily sweetened fruity drinks. The overabundance of vodka-laced adult-slurpees out there bores me to tears. But I love cooking with fruit, and I love incorporating it into savoury dishes – the key is always balance, and putting the flavours ahead of the sweetness. So I thought it might be fun to make something fruit-based that I'd actually enjoy drinking. With Father's day coming right up, I thought it might be fun to just embrace the Dad-domain stereotype and make this all about smoke, fire, and the grill. The result is bold, powerfully flavoured concoction, made smoky thanks to the outrageously good mezcal, earthy and herbal thanks to the chilies, and perfectly sweet-sour thanks to the grilled pineapple. The whole thing is quite literally topped off with a tangy and visually exuberant hibiscus flower agua fresca (which is easily good enough to drink on its own).  It's a drink that you build; the cocktail itself takes only minutes, but you start by really creating the ingredients. There's something wonderfully absurd (not to mention delicious) about a cold drink that was born over fire.
Back to the firsts. As I mentioned, this is both the first cocktail I've ever published and the first cocktail I've invented. Because I try to focus heavily on the educational side of things here, I don't particularly want to alienate any readers under the legal drinking age. So if you can't, won't, or don't drink, let me also say for the record that this makes a really great booze-free mocktail – check out the recipe notes below for more.  I think one of the best things about this drink is that it doesn't leave out the non-drinkers – I had a mocktail and a cocktail taste-tester, and enjoyed both immensely.
I also had a lot more fun with this than I thought I would. Truth be told, I don't tend to make a lot of cocktails. I think I've long held notions of cheap vodka and bottled mix – two things that have never appealed to me. But alcohol can be so important in good cooking, and there's an ever-growing return to artisanal and ingredient-based brewing and distilling, and I thought it would be fun to approach a cocktail like a true recipe. As it turns out, inventing a cocktail is a lot like inventing any other recipe; you start by thinking about the flavours and how they can best work together, and then build from there. I think inventing a drink seems bizarre to a lot of us – even more so than inventing a meal, but if you really appreciate the ingredients, ideas start to grow in your mind.
So was it fun? Uh, yeah. Big time. I had a phenomenal time making this, and I was incredibly pleased with the results. I make up new recipes all the time, but making up a drink was a wonderful challenge, and it was great to approach these flavours from a totally different perspective. I have a distinct feeling this will not be my last foray into mixology.
As for the final first (now there's an odd clause), this project was actually part of a wonderful collaboration with a group of my fellow Canadian food bloggers. We started a little group called Connecting Over Cocktails, and this is our first Dionysian offering to the world. Once you've checked out this recipe, scroll down or click here to read about all of the incredible drinks that these wildly talented people have come up with. I had a great time, and I'm incredibly pleased to be part of such a talented group.
This can look like a lot of work for a drink, but you're making a couple of amazing ingredients, and these can be made ahead of time. If you do work ahead, the actual drinks come together extremely quickly. Plus you get the satisfaction of having a drink that goes way beyond simply mixing a bunch of bottled ingredient – this has a deep, complex, memorable flavour.
This makes a great mocktail/virgin cocktail too – see the notes below.
Pineapple Puree
This stuff is amazing, and you could EASILY use it beyond this drink. Make a salsa out of it (add some red onion and cilantro, for example) and serve it with chicken or fish and it would be stellar.  The puree takes a bit of time and planning, but it's not difficult. Make sure you leave yourself enough time to get it done, and if possible do it a day ahead of time. If you do, the drinks themselves come together in a flash.  As for the ingredients, don't be intimidated by the specific Mexican components. They're easy to work with, and if you can't find then, keep reading for replacements.
Piloncillo is a wonderful Mexican cane sugar, minimally processed. It generally comes in solid, blunt-ended cones, and it's usually very hard. Grating it with a fine box grater or microplane yields airy and soft light brown sugar that can easily be incorporated into dishes. If you can't find piloncillo, you can substitute a light brown sugar, or even a pure crystalline cane sugar, though you'll want to ensure that you dissolve it well in the lime juice.
Cascabel chilies, or rattle chilies, are a wonderful and versatile chili to add to your repertoire. For the record, they DO NOT make this a spicy drink. Cascabels are quite mild, and one of them (with seeds removed) spread over 6 drinks makes the heat nearly, if not completely, unnoticeable. The chilies are important because they add an earthy, fruity, almost herbal quality that works extremely well with both the pineapple and the mescal.  If you can't get cascabels, you can used guajillo or puya chilies.  If you do want a little fire in your drink, substitute arbol chilies, or dried bird's eye chilies.  If you absolutely can't can't find good whole chilies, substitute 1 teaspoon of the best quality crushed chilies that you can find, preferably very few or no seeds.
Hibiscus Agua Fresca
In this case, you're actually making a drink to add to the drink. Hibiscus, rehydrated in sweetened water, makes an amazing tea or agua fresca. The amount that this recipe makes is actually more than you'll need, so feel free to either cut it in half, or drink the leftovers separately.  You'll also end up with extra rehydrated flowers – they're quite nice, and can be incorporated into cakes, cookies, ice cream, etc.  Hibiscus flowers are also called Jamaica flowers, and they can be found at any good Latin American or Caribbean grocery store.  They often pop up at Indian grocery stores too.  If you can't find hibiscus flowers, you can look for hibiscus herbal tea (make sure that hibiscus is the only or the primary flavour).  Substitute two bags for the flowers in order to make the agua fresca, though you obviously won't be able to use rehydrated flowers as a garnish.  If you can't find any at all, you could use unsweetened cranberry juice for a relatively similar effect.
As with so many dried, irregularly shaped ingredients, it's exceptionally difficult to provide a volume measurement for hibiscus flowers (which is why I gave a weight measurement). That being said, 15 g will generally equal about 1/4 cup.
I used honey in the agua fresca because I like the taste, but you could easily substitute agave nectar to make it a) vegan, and b) pleasantly agave-centric.  After all, mezcal is made from agave!
The hibiscus agua fresca is best made ahead of time, as you'll want it cold and ready to use.  It can be made several days ahead of time.
Mezcal & Mocktails
Mezcal is tequila's rustic cousin (I personally like it a lot more), and the two spirits have a lot in common. But what sets mezcal apart is its distinctive, smoky punch.  This cocktail has an unmistakable and bold smokiness that helps to mellow and balance the sweet and sour flavours of the fruits.  If you're not a fan of smoke, or you simply can't find a good mezcal, you can use tequila (of course then it's not a mezcalita).
If you want to omit the alcohol altogether, this makes a great virgin cocktail.  The pineapple puree and hibiscus agua fresca components are wonderful alone, and they aren't overbearingly sweet.  The chilies and the grilling process bring a lot to the table – in fact, if you do omit the mezcal, I might recommend grilling the pineapple a little longer to give the drink a bit more of the grilled and caramelized taste.  In the end it's a mocktail with actual character, which is always a plus.
For the record, I used Montelobos Mezcal from Oaxaca for this cocktail, and I loved it.  It's sustainable, USDA organic, and really, really good.  Also for the record, I'm not being paid to say this – I just think it's a wonderful spirit.
Connecting Over Cocktails
As I mentioned above, this recipe (do you call drinks recipes? I need to get some books…) was part of a collaboration among a wonderful group of Canadian food bloggers. Each of us has published a new drink today, and I'm happy to tell you a bit about all of them here. I hope you'll check out their drinks, and their sites (there's a little photo montage below) – these people are incredibly talented, and I'm happy to call them my colleagues, and my friends.
Cassie at Crumb Kitchen has crafted a stellar Spiked Strawberry and Basil Limeade.
Jared at The Hesitant Chef (who is something of a home-brewing guru) has made a lovely Minted Cucumber and Gin Gimlet Cocktail.
Justine Celina, whose eponymous and gorgeous blog is constantly astonishing, has gifted us with a summery Rose Lychee Elderflower Sangria.
Dana at Killing Thyme is knocking our socks off (and proving that great minds do think alike) with her Pineapple Pepper Punch.
Taylor from The Girl on Bloor has put together a wonderful Watermelon Cucumber Mojito.
And last but not least, I want to give props to the wonderful Kristy Gardner of She Eats.  Kristy is part of our lovely little social group, but she couldn't join us this month.  She's a wonderful writer, and she has a great book all about cooking with cocktails coming out soon.  If you don't know her already, I hope you'll check her out.
Til next time – Cheers.
Note: Nutritional Information is given for a single cocktail, including (1/6th portion of the total recipe).
Nutrition Facts
Mezcalita del Ocaso
Amount Per Serving
Calories 110
% Daily Value*
Fat 0.02g0%
Polyunsaturated Fat 0.005g
Monounsaturated Fat 0.002g
Sodium 4mg0%
Potassium 42mg1%
Carbohydrates 27g9%
Protein 1g2%
Vitamin A 50IU1%
Vitamin C 57.8mg70%
Calcium 20mg2%
Iron 0.2mg1%
* Percent Daily Values are based on a 2000 calorie diet.
Nutritional Summary

GOOD NEWS:

I was pleasantly surprised here. You're not adding a ton of sugar, and there's only 1 oz (30 ml) of alcohol per drink, so it's not calorie-laden. It's also quite high in Vitamin C thanks to the pineapple – though I don't think most nutritionists out there would recommend drinking as a way to up your vitamin intake.

BAD NEWS:

This is an alcoholic beverage (unless you make it a mocktail obviously), which means added calories. Consume in moderation, and always drink responsibly.
Ingredient Pages
No ingredient pages have been written yet for any of the ingredients in this recipe.  Like to see one?  Let me know in the comments below or by email.
Pantry Pages
Mezcalita del Ocaso
Sunset Mezcal Cocktail - made with grilled marinaded pineapple, lime, cascabel chili, hibiscus agua fresca, and of course bold and smoky mezcal.
Ingredients
Roasted Pineapple Puree
1

medium

fresh pineapple

45

g

piloncillo

grated - see note

1

cascabel chili

or similar - see note

1/2

cup

lime juice

freshly squeezed (about 3 large limes' worth)

150

g

ice
Hibiscus Agua Fresca
15

g

dried hibiscus flowers

2

tbsp

honey

or agave nectar

1.5

cups

water
To Serve (Per Drink)
1

oz

mezcal

2.5

oz

roasted pineapple puree

divided into 2 and 1/2 oz portions

1/2

oz

hibiscus agua fresca

grilled pineapple wedges

(from above) to garnish

rehydrated hibiscus flowers

(from above) to garnish
Instructions
Roasted Pineapple Puree
(Note: the pineapple can be marinaded a day in advance, and the entire mixture, minus ice, can be made up to a day ahead of time in order to speed up drink making).Cut the top third of the pineapple off and set it aside. Peel, core, and cut the remaining bottom two thirds of the pineapple into long, thick pieces. The easiest way to do this is to halve the pineapple the long way, then cut the halves again into long thirds or quarters. At this point, it's easy to cut the skin and the tough core off of the pieces.Note that if you do have a preferred method for cutting pineapple, feel free to use it, as long as it yields pieces large enough to grill.

Remove the stem and seeds from the cascabel chili. Toast the chili in a hot, dry skillet for about 2 minutes, or until darkened and fragrant, then remove from heat. When the chili is cool enough to handle, chop it into relatively small pieces.

Combine the pineapple, chili, lime juice, and grated piloncillo (or brown sugar) in a large bowl or container. Set aside to marinade for at least 2 hours, or overnight.

Remove the pineapple pieces from the marinade, but DO NOT discard the marinade. Cut the reserved pineapple top from step 1 into rings (skin on or off, depending on your presentation preference). Preheat an indoor or outdoor grill to a high heat (about 200 C/400 F). Grill the marinaded pineapple for 5-6 minutes, turning a few times to get a little char all around. Grill the reserved pineapple slices for about 2 minutes per side, or just long enough to leave nice grill marks.

Place the grilled marinaded pineapple in a blender or food processor along with the leftover marinade. Blend until smooth. This can be kept refrigerated until ready to use. When you're ready to make the drinks, blend the mixture with the ice cubes until smooth.Cut the grilled un-marinaded pineapple into wedges and set aside.
Hibiscus Agua Fresca
(Note this step can be done up to several days in advance)Combine the water and honey in a sauce pan and bring to a gentle boil.

Add the hibiscus flowers and reduce to a simmer. Cover and simmer for 15 minutes. Remove from heat, strain out the flowers and refrigerate the liquid and flowers separately (ensure that the liquid has cooled completely before using).
To Serve
If you haven't already done so, blend the pineapple with the ice until smooth.

Add 1 oz (30 ml) of mezcal to a martini glass. Pour 2 oz (60 ml) of the pineapple puree over this and mix gently.

Mix the hibiscus agua fresca with the remaining 1/2 oz (15 ml) of pineapple puree and pour gently over the drink. It should settle in patches or a spiral in the drink.

Garnish with a roasted pineapple wedge and/or pineapple with hibiscus flours. Serve immediately
Notes
Piloncillo is Mexican cane sugar. It generally comes in blunt-ended cones, and it's usually quite hard. Grating it with a fine box grater or microplane yields airy and soft light brown sugar that can easily be incorporated into a number of dishes. If you can't find piloncillo, you can substitute a light brown sugar, or even a pure crystalline cane sugar, though you'll want to ensure that you dissolve it well in the lime juice.
Cascabel, or rattle chilies, are a mild and versatile Mexican dried chili.  If you can't find them, you could substitute a small guajillo (or even half of one), or a puya chili.  If you want to actually feel some heat in the drink, you could use an equivalent weight of arbol or dried bird's eye chilies.  If you can't find any of these, use 1 tsp of the best quality crushed chilies you can find, preferably with few or no seeds.
Nutrition
Calories:
110
kcal
|
Carbohydrates:
27
g
|
Protein:
1
g
|
Fat:
0.02
g
|
Saturated Fat:
0.002
g
|
Polyunsaturated Fat:
0.005
g
|
Monounsaturated Fat:
0.002
g
|
Sodium:
4
mg
|
Potassium:
42
mg
|
Fiber:
1
g
|
Sugar:
22
g
|
Vitamin A:
50
IU
|
Vitamin C:
57.8
mg
|
Calcium:
20
mg
|
Iron:
0.2
mg