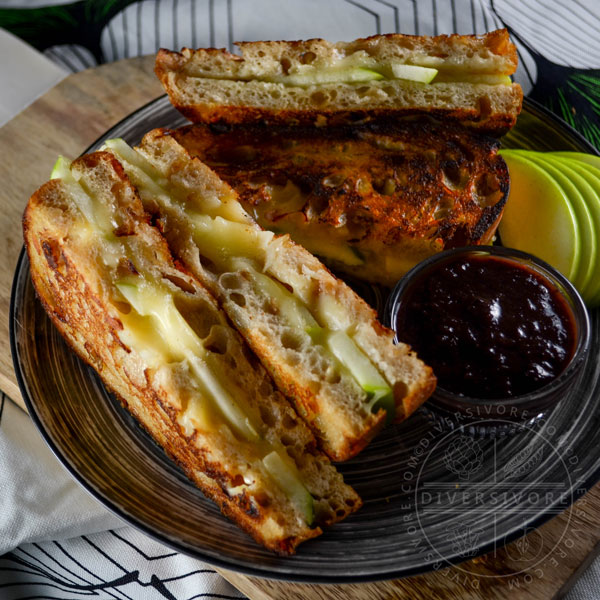 Granny Smith Apple Grilled Cheese
Oh cheesy goodness. If the food trucks, cooking shows, and yes, food blogs are to be believed, we're going through something of a grilled cheese renaissance. I'm certainly not going to complain; grilled cheese was never fancy fare growing up, but it was always welcome. Grilled cheese and tomato soup is rainy-day-comfort-food through and through as far as I'm concerned, and I have no plans to unleash (yet another) overwrought, over-thought sandwich recipe.
So why are we here? Because I was hemming and hawing over loaves of bread at Vancouver's incredible A Bread Affair bakery, having narrowed my choice down to two loaves, when one of the staff mentioned just how good their Apple of My Eye loaf (an apple-sunflower bread) is as the foundation for grilled cheese.
Cheese? Apples? Yes. Oh my, yes. There are few culinary combinations so phenomenal (and yet so odd-sounding on the surface) as old cheddar cheese and crisp, tart green apple. You know that weird tingle you get inside your jaw when something starts to make your salivate? I get that just from thinking about apple and old cheddar cheese. So I decided that I'd put together a little apple grilled cheese. I'm not reinventing the wheel here – but I am giving you a very, VERY nice wheel. The condiment I served this with however … that reinvents the wheel a bit. More on that later.
There's nothing complicated going on here. It's grilled cheese. Easy. In fact I made this while watching (and feeding) two little kids, and a significant portion of the cooking and prep was done one-handed thanks to a curious toddler who insisted on watching the culinary action. That being said, there are a few tricks involved in elevating your grilled cheese game and really knocking this recipe out of the park.
Mayo. Yes, Mayo.
This recipe relies on a simple but slightly unconventional method for astonishingly good grilled cheese crust – mayonnaise. I assure you that I'm not crazy. A few years ago this little trick made the rounds on the food blog circuit, but I've found that a lot of people still aren't familiar with it, so I'm going to do my best to spread the gospel. Slather the outside of the bread with mayo instead of butter and you get an even, crispy, and delicious crust with a much lower likelihood of burning.  I've used two kinds of standard store-bought mayo to do this – the usual American-style stuff (e.g. Hellmann's) made with real eggs, and Japanese mayo. As a general rule, I'm a BIG proponent of Japanese mayo (it's made with egg yolks instead of whole eggs, plus rice vinegar in place of white vinegar), but I haven't found that it makes a huge difference when it comes to grilled cheese.
Bread
As I mentioned above, I make this with a lovely loaf of bread studded with little bits of Okanagan apple and sunflower seeds. It's amazing. If you're lucky enough to have access to A Bread Affair's bread give it a go.  They have a retail space at Granville Island in Vancouver, plus they can be found in a bunch of different stores. Otherwise, I personally recommend an light and slightly crusty, not-too-dense bread for making grilled cheese. This kind of loaf does tend to have more air bubbles and holes which can lead to some cheese melt-through, but that just means more crispy cheesy goodness in my opinion. A standard grocery store loaf is certainly a classic way to go with grilled cheese, and you'll still have a tasty sandwich if you go that route, though the bread doesn't contribute as much in terms of actual flavour that way. Go with whole wheat and/or something with grains or seeds for a bit more texture and pop.
Cheese
Alright, I have some strong opinions on this, but here goes. Don't even bother making grilled cheese with mild cheddar. It's rubbery and bland stuff, and it doesn't stand up to the tart taste of apple in the slightest. At the very least, use a standard old cheddar (i.e. the kind easily found in any grocery store), as it will have enough of that distinctive cheddar bite. If you're a true cheddar lover, you can't go wrong with a really nice and very sharp aged white cheese. The older the better, in my opinion.
In theory you could go in other directions than cheddar, though you'll be changing the character of this sandwich quite a bit. That's not necessarily a bad thing – I could see an aged Gouda or even a brie making a really interesting sandwich, but one with a totally different flavour. Tart apple and cheddar are just so natural together.
Now that we've established my love o' cheese, I want to say one more thing: don't overdo it. You'll notice that I haven't taken any gooey-melty-cheesy photos here. You know that kind I mean – the cheese oozing out as a gooey sheet, trying its best to draw the two sandwich halves back together. That much cheese on this sandwich is not a good thing. It makes for a fatty, oily, overpowering mess. Yes, it means that I don't have any of that photogenic cheese overload running over the crusts and sizzling in the pan, but I genuinely prefer to go for flavour over quantity. I also prefer a sandwich that doesn't have 218% of my daily recommended intake of saturated fat. I use enough cheese (fairly thinly sliced) to cover one side of the bread, plus about half that again on the other side of the apple. This sandwich-within-a-sandwich holds the apple in place and keeps everything from falling apart when flipped or eaten.
Apple
I've specified Granny Smith apple here because it's generally the only tart apple available to most consumers. It's sour, crisp, and a little bitter – perfect for a cheesy sandwich. Nonetheless, any apple with a tart profile will work well. Jonagold would be a great choice too – it's a little sweeter, but that would be really nice with a very strong aged cheddar. Belle de Boskoop apples (a wonderful heirloom variety I wrote about in my Apple a Day feature) would also be amazing, and the apples are so big that you could probably cover an entire slice of bread with one or two slices.
When I Dip You Dip We Dip
It has come to my attention that many folks like a bit of ketchup with their grilled cheese. This was never something I did as a kid, but I'm no anti-ketchup crusader. It's a good condiment. But when it comes to this grilled cheese, skip the standard tomato ketchup (it doesn't do the apple any favours) and try your hand at something a little different.
I've had two very different homemade preserves with this, and both have been awesome. The first was an amazing pineapple mustard from Pat Crocker's book "Preserving." It's seriously delicious stuff, easy to make, and a wonderful preserve to do in the winter when local fruits aren't available. The second preserve is shown in the photos, and it's one of my own invention – blueberry plumcot ketchup. If that sounds bizarre to you, let me reassure you that before tomato ketchup became the universal standard, the condiment was actually made with all kinds of different fruits, vegetables, and even mushrooms. All kinds of flavours play really well with the sweet-and-tangy mixture of vinegar, sugar, and spices used to make ketchup. Now I'm afraid I'm going to have to leave you hanging here, because I don't have the recipe up yet – but once blueberry season rolls around again it'll be making an appearance. Go make a couple of practice sandwiches to get yourself ready.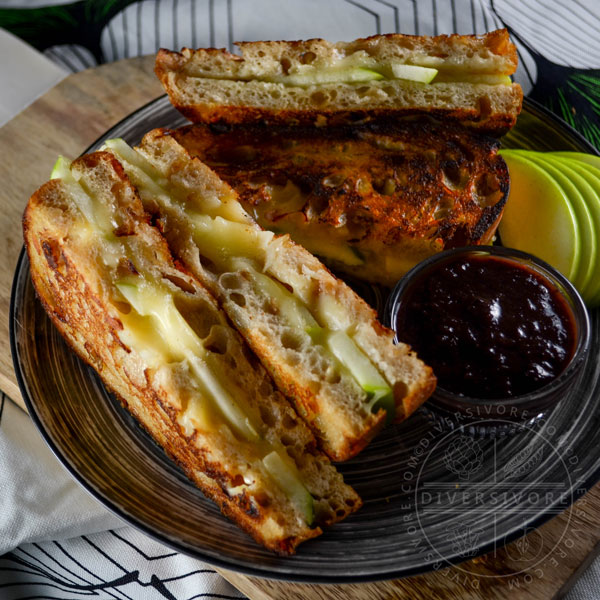 Nutritional info is given for a single sandwich, exclusive of any dips (etc.). Note that the bread you use will make a difference in the final nutritional profile.
Nutrition Facts
Granny Smith Apple Grilled Cheese
Amount Per Serving
Calories 263
Calories from Fat 90
% Daily Value*
Total Fat 10g 15%
Cholesterol 25mg 8%
Sodium 542mg 23%
Potassium 32mg 1%
Total Carbohydrates 36g 12%
Protein 10g 20%
* Percent Daily Values are based on a 2000 calorie diet.
Nutritional Summary

GOOD NEWS:

I was pleasantly surprised here. As long as you don't drench the sandwich in cheese and extra mayo, it comes out pretty healthy all in all. The apple also adds a healthy edge and a lot of flavour. The key to keeping this healthy is to use good ingredients — it's a lot easier to overdo it with flavourless cheese and low-quality bread.

BAD NEWS:

The cheese makes this is a little high in saturated fat.
Ingredient Pages
No ingredient pages have been written yet for any of the ingredients in this recipe.  Like to see one?  Let me know in the comments below or by email.
Pantry Pages
No pantry pages have been written yet for any of the ingredients in this recipe.  Like to see one?  Let me know in the comments below or by email.
Granny Smith Apple Grilled Cheese
A simple and timeless bit of comfort food given a kick in the pants with tart Granny Smith apple, aged cheddar, and the secret to an amazing, crispy exterior.
Cuisine:
American, North American
Keyword:
apple and cheese, apple grilled cheese, granny smith apple, grilled cheese with mayo
Ingredients
100

g

extra old cheddar cheese

8

slices

bread

(apple-sunflower if you can get it!)

1

granny smith apple

very thinly sliced

mayonnaise
Instructions
Spread a generous layer of mayonnaise on the outer faces of the bread slices.

Sprinkle some cheese on the inside of each sandwich, then a layer of apple slices, followed by a thicker layer of cheese, more apple, and a final thin layer of cheese. The two outer layers of cheese help glue the whole sandwich together.

Heat a cast-iron frying pan or a griddle over medium-high. Add the sandwiches and cook until golden brown. Flip and cook the other side.

Allow to cool a few minutes before slicing and serving so that the sandwiches stay together better.
Recipe Notes
Serve with your choice of condiment (pineapple mustard is fantastic, as is any homemade or fruity ketchup).