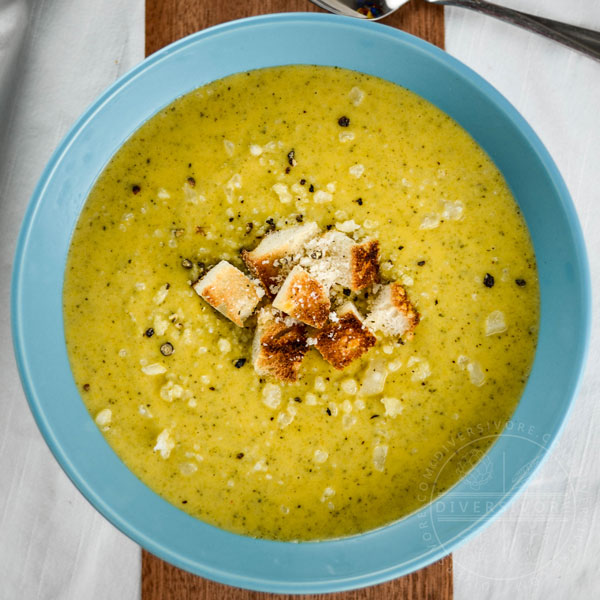 Broccoli & Cheddar Soup
With Parmigiano Croutons
You may or may not have noticed, but there are certain types of recipes that I try to avoid on Diversivore. I can't really think of a specific title, other than to call them "ultra-fattening comfort food." I don't avoid this food because I dislike it. I avoid it because a) the food blogging world is already LOADED with these recipes, b) I try to aim for healthier recipes as a rule, and c) I like to present the delicious but less-familiar recipes that might otherwise go unnoticed. But like anyone, I crave a good bit of comfort food now and then, so I decided I'd take a slightly different approach to this soup. I decided to make it healthier, and to make it right.
Hopefully you're still reading this, because I know that when you throw the 'healthier' word out there, there can be a lot of eye-rolling. I think we all picture that uber-fit yoga-guru insisting that "No seriously, these dehydrated raw unsalted kale chips taste WAY better than potato chips." Please don't abandon ship. I promise that this is still a rich, amazingly delicious, dare-I-say decadent soup. It's healthier because it uses much more than just cheese and broccoli to build flavour, and because it uses cheese (and fat) judiciously. In fact, the way it uses fat actually makes this soup taste better than a than other recipes that use more cheese and fewer vegetables. To explain what I mean, it's time to drop a bit of science.
Good broccoli cheddar soup relies on two really key factors working together in harmony – flavour, and texture. Both are complicated and multi-faceted of course, but we're going to talk about one of the single most important factors at play in this soup: fat. Fat is great. It's delicious on its own, though in ways we don't fully recognize, as we don't perceive it the way we do flavours like salty and sweet. It also plays a major role in how we perceive other flavours; sugar tastes better when it's accompanied by fat, for example. The science at play here is way too complicated to get into in this little space, but I strongly encourage you to read Michael Moss' incredible book "Salt Sugar Fat" if you want to learn a bit more about the science behind manipulating taste.
Now let's get back to how fat affects this soup in particular. Fat plays a big role in making bitter flavours like those found in broccoli and other green veggies much more palatable. It also delivers powerfully satisfying reward messages to the brain (though this also has to do with texture). But in and of itself, it doesn't make a soup great. A lot of the broccoli cheddar soups I looked at just LOADED the fat on without really building much of a flavour base. The bizarre thing is, fat covers for bad cooking and sub-par ingredients. This is one of the principals behind a lot of processed foods; added fat disguises off flavours and bland preparations. If you look at this recipe though, there are a bunch of vegetables building a really wonderful and essential foundation for the soup. You start out with onions, garlic, carrots, and corn, a good roux, and good chicken (or vegetable) stock. You're basically making a delicious-but-simple vegetable soup before you even touch the broccoli or cheese. By doing this, the added fat amplifies and highlights the flavours you've already built. I'm certainly not the first person to develop a broccoli and cheese soup around this idea – any good cook knows the value of building your flavours from the bottom up (this very popular recipe from Averie Cooks does a good job of this, and it was my starting point while I developed and adapted this recipe). But now we need to discuss the second, and arguable more important contribution that fat makes to a meal: texture.
While this soup is loaded with cheese, it takes a step away from many other recipes that rely on copious quantities of cheese AND cream AND butter. Initially I didn't really understand why so much fat went into making this meal – after all, there must have been plenty of flavour already. But when I started to read about fat and texture (aka 'mouth-feel') it all made sense. Broccoli and cheddar soup has to have a really creamy, rich, unctuous texture to it, and fat is responsible for this. But the weird thing about fat is that there isn't a magical 'sweet spot' where we all say "there you go, that's the right amount of fat. We can just keep adding fat to foods and our brains never really hit the stop button. Too much sugar or salt and the meal is rendered inedible, but adding more fat tends to amplify the pleasant physical sensations that we are hard-wired to enjoy. Now fat isn't the only way to achieve a pleasant texture in food, but it is one of the easiest ways. Making a roux is tricky. Adding an extra cup of cream is not. Some recipes cut the calories by using fat-free 'cream' products, but this is in and of itself a textural work around as those products use all manner of thickeners to trick your brain into thinking 'rich and creamy fat.' They also tend to use a lot of added sugar in order to appeal to the peculiar cross-over brain chemistry involving fat and sweetness. I didn't want to add too much butter or cream, and I had ZERO interest in using a heavily processed replacement. Instead I fell back on a couple of kitchen tricks. The first one is fairly well known: a good roux. With some butter and flour, you very quickly put together a simple white roux that adds flavour and incredibly impressive texture to the soup. Good roux is what a bechamel or alfredo sauce so thick and texturally appealing. The second trick is a less common one, but it's one I hope you'll explore more: pureed corn. Cooked corn (especially fresh corn, but frozen works too) does magical things when pureed and added to soups. It adds sweetness and flavour of course, but it also has a silky, thickening property that really reminds me of a slightly thinner version of cream. The two factors together (along with all that cheese of course) help to give this soup amazing texture while keeping the fat reasonable and without relying on a bunch of highly processed stuff. It seems like magic, but it's science. Tasty, tasty science.
This is by no means a difficult soup to make, but you need to make sure that you follow the steps carefully. Using the flour incorrectly, adding the cheese all at once, or over-cooking the broccoli can all result in a gross gooey mess.
Flour and the Roux
After you've sauteed the garlic, shallots, and carrots in butter, you need to add the flour (and spices) and whisk the whole thing together. It will get very thick and very pasty quite quickly. You want to make sure that a) it's well-combined, and b) you don't burn it. It should cook over a medium-low flame for a minute or so. You're NOT looking to brown the roux, so if you start to see toasted flour, add some liquid right away.
Cheesy Choices
I can not emphasize this enough – do not use a mild cheddar cheese. Putting aside for a moment the fact that I don't really get the purpose of mild cheddar, it contributes so little cheese flavour to this soup that you'll end up having to compensate somehow. I like using a sharp, moderately aged cheddar. No need for something really old/expensive, but make sure it's got an appreciable cheddar taste.
As for the other cheese in this soup (and the croutons), you can make this with parmigiano-reggiano or grana padano cheese. The results will be wonderful either way. While I haven't tried it yet, I think pecorino romano would probably be really great too. Don't use the 'parmesan' cheese that come in a green container with a shaker-lid. Actually that's pretty much ALWAYS my advice. I have some strong opinions about cheese.
Broccoli
You can go in two directions with the broccoli in a broccoli and cheddar soup. Either you can puree it along with everything else (what I did), or you can leave bite sized pieces. Personally, I like to get everything cooking, then use an immersion blender to puree the whole soup (including the corn, which (as I mentioned above) is an important thickener and textural component in the soup. If that's what you want to do, then just follow the directions as is. If, however, you want to leave your broccoli in bigger pieces, blend the soup after adding the corn and cooking for about 5 minutes. Then add the broccoli and cook for another 20 minutes or so. After that, you'll be able to stir/melt the cheese into the soup in order to finish it off.
Croutons
While they're totally optional, the croutons are super easy (souper, even) and a great addition. They don't toast for too long, so they retain a slightly soft texture underneath the crunchy outer layer. The melted parmigiano also adds a great salty-savoury flavour that pops in the final dish.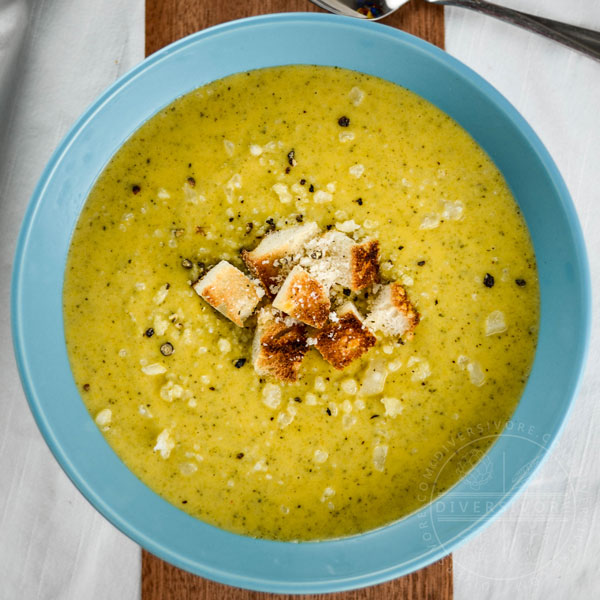 NOTE: Nutritional information is given for an individual serving equal to 1/6th of the total amount, and includes croutons.
Nutrition Facts
Broccoli and Cheddar Soup
Amount Per Serving
Calories 387
Calories from Fat 198
% Daily Value*
Total Fat 22g 34%
Cholesterol 62mg 21%
Sodium 672mg 28%
Potassium 509mg 15%
Total Carbohydrates 28g 9%
Protein 21g 42%
* Percent Daily Values are based on a 2000 calorie diet.
Nutritional Summary

GOOD NEWS:

This soup is a lot healthier than most broccoli cheddar soups.  While still relatively high in fat, is much leaner overall and very nutrient dense.  It's high in protein, low in carbohydrates, and amazingly low in calories… assuming you don't eat the whole pot in one go.

BAD NEWS:

All the tweaking in the world can't undo the fact that this much cheese make for high levels of saturated fat.  Adjust your daily diet accordingly and you'll have no problems incorporating this into your regular meal planning.
Ingredient Pages
No Ingredient Pages have been written yet for any of the ingredients in this recipe.  Like to see one?  Let me know in the comments below or by email.
Pantry Pages
No pantry pages have been written yet for any of the ingredients in this recipe.  Like to see one?  Let me know in the comments below or by email.
Broccoli and Cheddar Soup
With a few spectacular tweaks and a little science, even a guilty-pleasure like broccoli and cheddar soup can be made remarkably guilt-free.
Course:
Main Course, Soup
Cuisine:
American, North American
Keyword:
broccoli, healthy, hidden veggie recipe, made from scratch, roux
Ingredients
Soup
3

tbsp

butter

3

medium

shallots

finely chopped (~150 g)

2

cloves

garlic

minced (~10 g)

1

large

carrot

shredded (~100 g)

1/4

cup

flour

(all purpose)

1/2

tsp

smoked paprika

2

cups

chicken stock

or vegetable stock

1

cup

water

2

cups

milk

(any fat content)

1/4

tsp

salt

1/4

tsp

black pepper

1

lb

broccoli florets

(~3 cups)

1

cup

corn

(fresh or frozen, not canned)

225

g

sharp cheddar

(8 oz) shredded

30

g

parmigiano-reggiano cheese

(1 oz) shredded (see note)
Parmigiano Croutons (optional)
2

slices

bread

15

g

parmigiano-reggiano cheese

(1/2 oz; about 2 tbsp) shredded (see note)
Instructions
In a heavy-bottomed pot, heat butter over medium until melted. Add shallots, garlic, and carrots, and cook until soft. The shallots should be slightly coloured and translucent.

Whisk in the flour, paprika, salt, and pepper, stirring to mix completely. Cook for 1 minute.

Slowly add the chicken broth to the pot while whisking.

Add the milk and bring up the heat to medium-high. Bring the soup to a very gentle boil, then reduce the heat and simmer for 10 minutes.

Add the broccoli florets and the corn and simmer partly covered for an additional 20 minutes, stirring occasionally.

Remove the pot from heat and stir in one small handful of cheese at a time, stirring as you work to ensure that it melts into the soup.

Use an immersion blender (or transfer to a blender or food processor) to blend the soup to a desired consistency – leave the broccoli as big as you like.

Add salt and pepper to taste (freshly ground black pepper makes a great addition to this soup).

Garnish with croutons
Parmigiano Croutons
Slice the bread into small cubes and set aside.

Preheat broiler (or use a toaster oven).

Toast the bread cubes until they're golden brown all over (you'll need to toss them and turn them over a little bit, but it's not the end of the world if they're not brown on every side). Remove them from the oven and sprinkle them with shredded parmigiano cheese, then return toe the oven and heat again until the cheese is a deep golden brown. Remove from the oven and allow to cool.
Recipe Notes
You can use parmigiano-reggiano or grana padano cheese to make this and the results will be wonderful either way. While I haven't tried it yet, I think pecorino romano would probably be really great too.