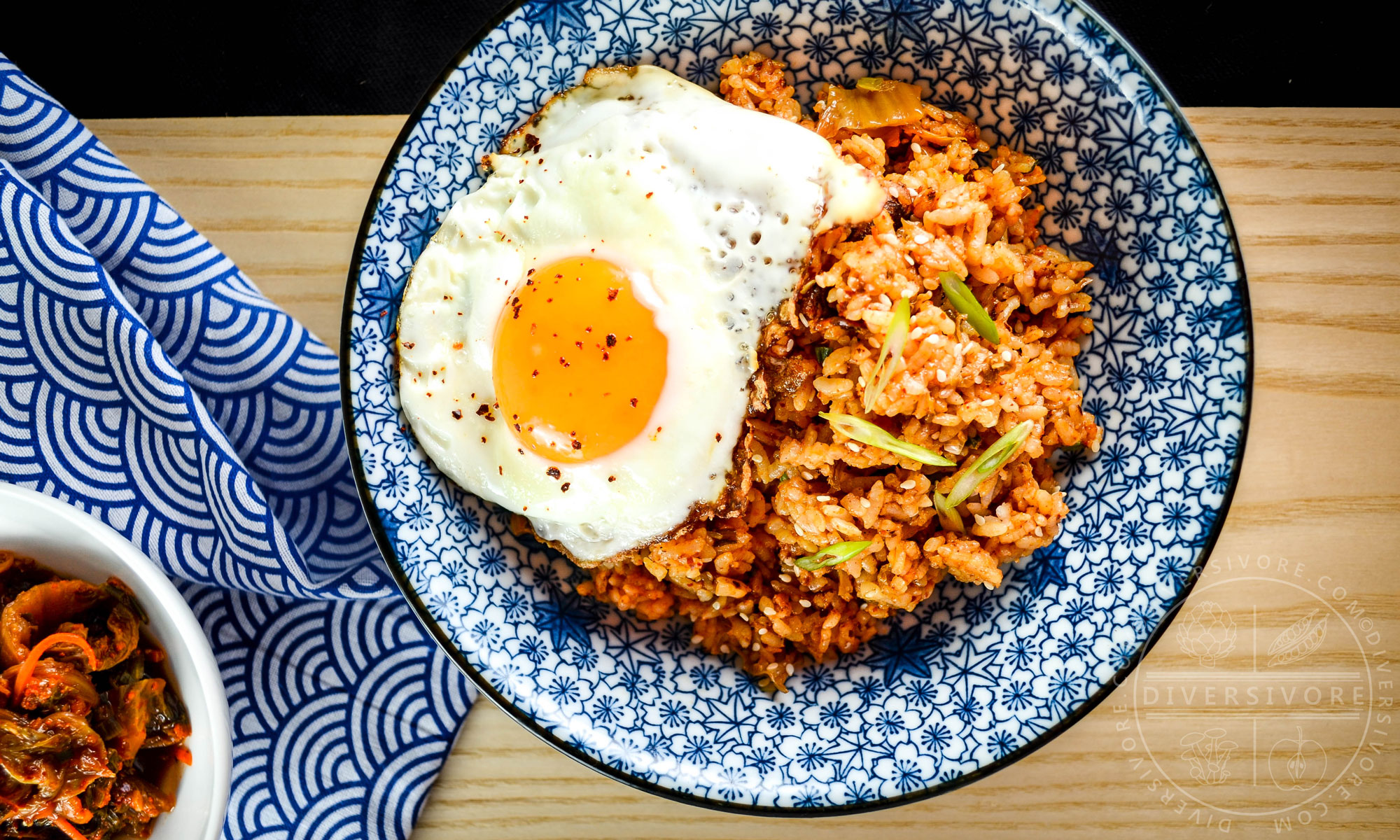 Kimchi Fried Rice
(Kimchi Bokkeumbap)
Kimchi is a funny thing – spectacular, and incredibly delicious – but funny.  It's a fermented food, which means that if you make your own or buy a live, non-pasteurized  batch, it never really stops changing.  Instead, it continues to lacto-ferment over time, developing its distinct and somewhat sour flavour.  And while this process makes kimchi a great food, it does mean that a particularly old or forgotten batch of kimchi can reach a state of almost mouth-puckering tanginess.  Fortunately, it's at precisely this point that kimchi becomes ideal for making fried rice.
This recipe uses baechu kimchi, made with Chinese (napa) cabbage. This common and popular variety is probably what most people think of when they picture kimchi, but it is worth differentiating because you can actually make kimchi from all kinds of veggies (green onion, or pa-kimchi, is one of my favourites). You can definitely make this recipe with store-bought kimchi, and if you want to go that way I'd encourage you to source out a good Korean grocer.  That being said, making your own kimchi is a lot of fun, and surprisingly easy. And if you're thinking "That's easy for you to say Mr. Food Blogger" let me tell you that a) Mr. Food Blogger is a great name for a new blog and you should totally go buy the domain name, and b) my first batch of kimchi was not only my first ever ferment, it was done entirely based on written recipes and articles. I'm not fortunate enough to have any die-hard Korean foodies to mentor me in the kitchen at the moment, so I fell back on my old standby-skill: copious research. Basically, I read every recipe I could get my hands on, as well as a few books and articles about fermenting in general. So if you're thinking about giving it a try, do your reading, and beware any quick-fix pseudo-kimchi recipes. Kimchi is not just cabbage and chili-flakes, but it honestly is pretty easy to make properly. Yes, you'll need to make a trip to a Korean grocer, but once you're there you'll find everything you need easily, and you'll be able to buy enough supplies to make multiple batches with ease. Plus, if you're not Korean (or at least Asian looking), you get to enjoy the fun, slightly embarrassing realization that EVERYONE in line is talking in Korean about how you're clearly going to try making kimchi. The ingredients make it pretty obvious. Just smile along and give 'em a nod.
My own kimchi recipe isn't up on the site yet (it is in the works), but in the meantime, it's a great idea to just try out plenty of kimchi to see where your personal tastes lie. I tend to like my kimchi with a somewhat smoky chili heat, medium sourness, and only a little sweetness. Korean grocers will often sell kimchi made in-house (or at least in town), and you can buy a few batches, try them out, and make this amazing fried rice with the leftovers.
My recipe is a pretty close adaptation of one found on my go-to Korean food blogs, Maangchi.  I've adapted it to my tastes, adding a little punch of sweetness in the form of mirin and with a little bit more white rice.  I've also given the option of substituting spicy doubanjiang (Chinese spicy bean paste) for gochujang if you want a slightly more savoury, pungent hit.  Kimchi fried rice is really popular in Taiwanese restaurants, and Chinese ingredients in general can merge well with the dish to create interesting fusions. I don't garnish my fried rice with flaked gim (aka nori seaweed), but you can certainly give that a shot if you like.  This is basically comfort food, so feel free to experiment. The biggest factor affecting your final dish is going to be the quality and character of the kimchi you use, so make sure you like that before going any further!
If you're serving kimchi fried rice as a meal unto itself, a fried egg is often served on top to bring a little protein into the mix.
Note that the recipe tags below indicate that this is a pescetarian/vegetarian-optional recipe. This might seem odd, as there is neither meat nor fish on the ingredient list, but this is actually thanks to the kimchi; kimchi is generally made using Korean fish sauce and/or small salted shrimp. There are some great vegetarian kimchi recipes out there, so if you want to go all-in, this can actually be a vegan dish (assuming you don't add an egg, of course).
If you're looking to add meat to this dish, a little bit of ground pork is a very popular addition (especially at the aforementioned Taiwanese restaurants I've been known to frequent). If you want to make this variation, simply add about 150 g of ground pork along with the other ingredients in Step 3 of the instructions below, and extend the stir-frying time by about 2 minutes.
Note: The nutritional information shown is for the fried rice only, and does not include an egg or any additional kimchi on the side.
Nutrition Facts
Kimchi Fried Rice (Kimchi Bokkeumbap)
Amount Per Serving
Calories 211
Calories from Fat 36
% Daily Value*
Total Fat 4g 6%
Sodium 171mg 7%
Potassium 41mg 1%
Total Carbohydrates 39g 13%
Protein 4g 8%
* Percent Daily Values are based on a 2000 calorie diet.
Nutritional Summary

GOOD NEWS:

This is healthy, nourishing, and filling stuff. It's also mercifully low in sodium, which is something of a rarity in East Asian cooking.

BAD NEWS:

This is mostly white rice, so it's a little nutrient-poor. Serve with vegetables (and more kimchi) to round things out.
Ingredient Pages
No ingredient pages have been written yet for any of the ingredients in this recipe.  Like to see one?  Let me know in the comments below or by email.
Pantry Pages
Kimchi Fried Rice (Kimchi Bokkeumbap)
Good kimchi and a few Korean pantry staples transform plain white rice into this incredible Korean comfort food. It's amazingly good, and incredibly easy.
Keyword:
authentic, kimchi, kimchi bokkeumbap
Ingredients
4

cups

cooked short grain rice

1

tsp

vegetable oil

1

cup

kimchi

(specifically Chinese/napa cabbage kimchi) chopped

1/4

cup

kimchi juice

(see note)

1

tbsp

mirin

1

tbsp

gochujang

(see note)

2

tbsp

sesame oil

4

small

scallions

chopped (white and green portions separated)

1

tbsp

sesame seeds

(preferably toasted)

1

fried egg

(optional)
Instructions
Cook the rice and set it aside to cool (See note).

Heat a wok or other very large pan over medium-high heat. Add the kimchi and stir fry for 1 minute.

Add the rice, spreading it out in the pan a little. Add the kimchi juice, mirin, gochujang (or doubanjiang), and the white portions of the green onions and stir together. Cook for 5 minutes, stirring and mixing frequently to combine the ingredients and prevent the rice from scorching.

Remove from heat and stir in the sesame oil and green onions (green portion). Garnish with sesame seeds (and other optional garnishes) and serve.

If you want to serve this with an egg, simply fry it to your personal taste (a runnier yolk is nice, as it runs into the rice and tastes great). You can even garnish the egg with a little bit of Korean chili flakes (gochugaru).
Recipe Notes
RICE
Day-old rice is actually ideal for making fried rice, so if you can, make your rice well ahead of time.  If you have to use fresh-cooked rice to make the kimchi fried rice, spread it out over a large plate or dish to allow it to cool and lose some moisture before you continue.
KIMCHI JUICE
No, this isn't some kind of obscure Korean beverage.  Kimchi juice is just the juice in your kimchi jar.  In the event that your kimchi is running a little dry, just add 1/4 cup of water to your kimchi, shake it up, and pour it out.  Voilà - kimchi juice.
DOUBANJIANG
This incredible, versatile Korean ingredient is basically a fermented chili/bean/rice paste, and it's amazing. You can easily find fairly inexpensive tubs of it in Korean grocery stores. It keeps for ages in the fridge, but it's also a great ingredient to experiment with, so don't be afraid to buy it. If you're looking to try a Chinese variation on this idea (and this dish), you can substitute Chinese spicy broad-bean paste (doubanjiang).