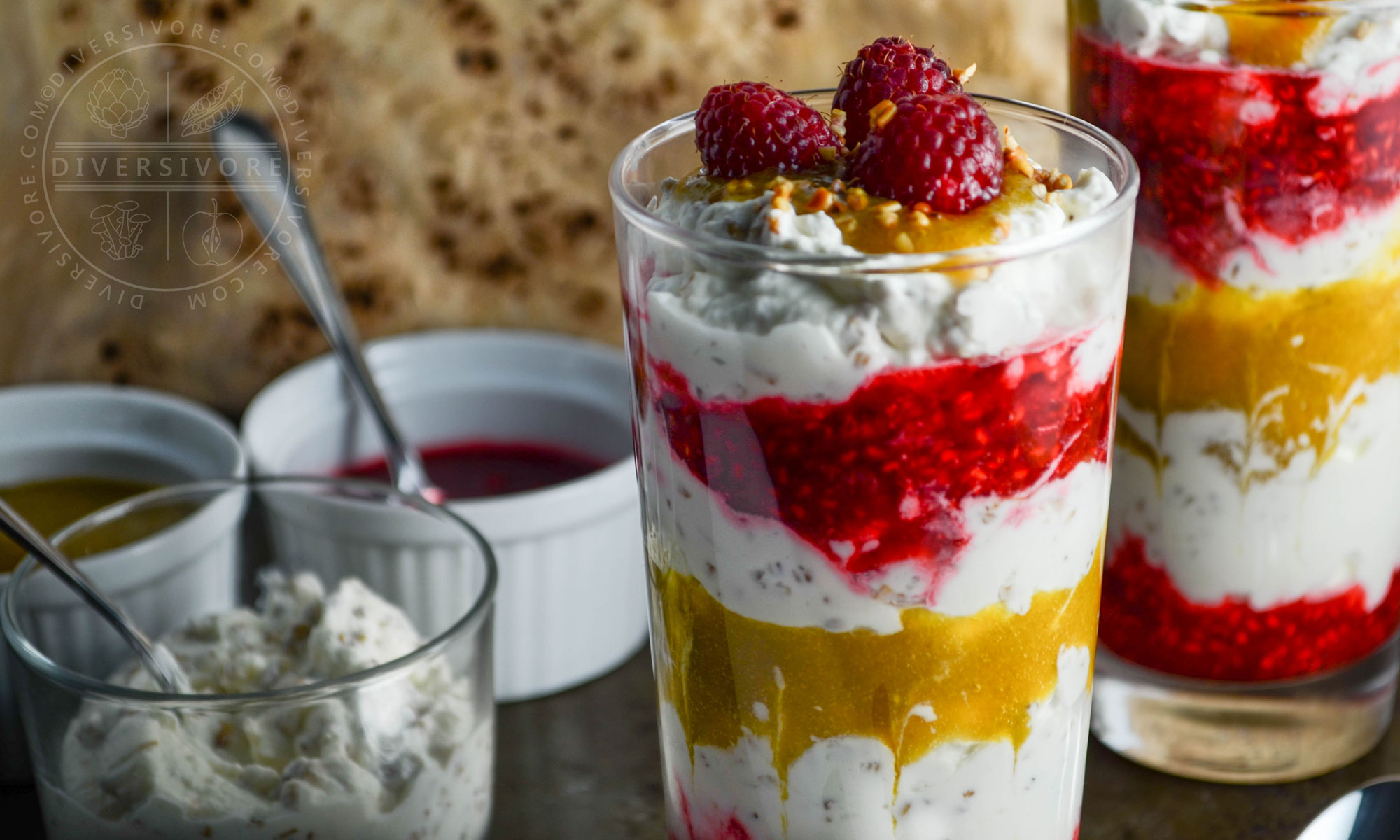 Cranachan
With Raspberries & Greengages
If I have Scottish readers (and I sincerely hope that I do), I hope this makes you swell with pride. After all, Scottish cuisine doesn't always hold a prominent place at the forefront of the culinary world, despite having plenty to offer. I mean… just look at that dessert. At first glance, Cranachan seems to have a quite a bit in common with the other creamy or layered desserts like trifle and Eton mess, but it's got a wonderful character all it's own.
Cranachan has so much going for it – seasonal fruit, whipped cream, toasted oats, and (of course) the unmistakable velvety punch of Scotch whisky. In my opinion, it's really that combination of oats and whisky that really sets this apart from the crowd. Whipped cream and fruit are undeniably good partners, but they can be a bit one-dimensional. The oats are toasted and soaked overnight in whisky, then stirred into the whipped cream for a much more complex and memorable dessert. It's also simple to put together and perfect for a hot summery day where you don't want to heat up the house.
Raspberries are the quintessential fruit for making cranachan (and also one one my all-time favourites), but I wanted to try something a bit different here. As luck would have it, I was able to find a special little stone-fruit that, like cranachan, is rather more well-known in Europe: greengage. Greengages are a variety of European plum are small, somewhat tart and slightly bitter greenish yellow plums. While they can be eaten raw, they are some of the best plums out there for making desserts, and they truly come alive alongside ingredients like sugar, dairy, and pastry. If you can track them down, you'll have a lot of fun with them. That being said, if you can't find them, you'll still be able to make this any number of ways (see the variations below). I'm beginning to think that I need to just copy and paste that into every recipe.
Diversivore: celebrating unusual and underappreciated food, unless you can't find it in which case I've got your back there too. Catchy.
The difference between a good dessert and a great one here is all in the ingredients. I feel like I say that a lot around here, but it's true. I'll take a moment to run down the different components. Note that this recipe serves about 8 people, but it can easily be scaled up or down for larger or smaller crowds.
Fruits
You want to use the ripest, softest raspberries you can find to make Cranachan, as they'll taste the best and fall apart nicely. I personally like the seeds here, as they add a textural crunch that matches the oats, but if you want to avoid them you can strain the puree.
The greengages need a bit more work that the raspberries, but are still fairly simple to work with. Choose ripe, soft fruits, and be sure to take the pits into account when deciding how many you'll need. I give instructions below for pressing the cooked greengage puree through a mesh to remove skins and fibers, but you could theoretically blend it all together if you have a powerful blender with a small capacity.
For other fruit options, see the Variations section below.
Oats
There can be quite a bit of confusion about different types of oats, so I want to be clear about what you're using here. This recipe uses steel-cut (aka pinhead oats, aka coarse or Irish oatmeal) oats. Steel-cut oats are produced by removing the inedible outer hull of the oat grain, then by cutting this inner portion into a few smaller pieces. The more familiar flattened oats one sees in oatmeal, granola, etc., are rolled oats. Rolled oats are similarly de-husked, but are then steamed and flattened so that they cook quickly. You do NOT want to use rolled oats (or instant oats, or quick oats). Steel-cut oats should be relatively easy to find at well-stocked grocery stores, health food stores, and some bulk stores.
Dairy
I made the switch about 2 years ago to a local organic whipping cream, and I really notice the difference in desserts like this. Most commercial whipping creams use a variety of stabilizers and thickeners to keep whipping cream homogeneous and to (ostensibly) make it easier to whip. The cream I use now is pure cream, and I love it. It will separate a bit in the fridge, but it's easy to mix back together, and I find the clean, pure taste really wonderful. Not only that, I personally don't think it's any harder to whip that stabilized cream. In fact, it seems to whip a little faster at times, but that could just be me. You can use a conventional whipping cream too, if that's what you have access to. Take care not to overwhip your cream , or you'll end up making butter.
If you're dairy-averse, there are options you can explore. I personally avoid oil-based whipped cream substitutions like the plague, but you could always explore that option. Whipped coconut cream is an interesting possibility, though it brings a very different flavour profile to the dish. If you're going to make this change, I would suggest playing with the fruit a bit too – I think a dairy-free tropical take with mango and rum-soaked oats would be very tempting. In fact I may have to give it a whirl one of these days.
Honey
I'm not normally one to avoid sucrose (e.g. white sugar) in desserts. I realize that there are those who prefer other sweeteners, but I like sugar for its clean taste and versatility, and I don't like substituting things like honey and maple syrup unless I really want that taste to be present. That being said, you honey is what you WANT in this recipe. A sweet, slightly floral, relatively light honey makes the perfect flavour accompaniment to the oats, whisky, and raspberries. It's an essential element, so pick a honey you really like. Honey is sweeter than white sugar, and I don't like to overdo it here, so if you feel the need to use more (e.g if your raspberries aren't super sweet) I would do so cautiously and to taste.
Serving
Cranachan is by no means complicated. It comes together very quickly and only requires a little bit of advanced preparation. You can theoretically do it all in one day (morning and evening), but it's easiest to just spend a bit of time getting ready the night before, then putting everything together before serving.
On the first day, toast the oats in a frying pan and soak them in the whisky. Once that's done, prepare the greengage puree and refrigerate it. If you want, you can also prepare the raspberries ahead of time, but they will in all likelihood soften and give up more juice if they sit overnight. Your call.
On day two, you simply need to prepare the whipped cream and the raspberries (unless you've done so the night before) and assemble everything. Keep a few extra raspberries and whisky-soaked oats to top everything off.
Finally, it's worth mentioning that when it comes to serving this, you can either go ahead and prepare individual servings in tall or medium-sized glasses as I've done here, or you can serve all of the components separately at the table (family-style) and allow people to prepare their own serving however they wish.
Cranachan is more typically made with raspberries alone, so you can easily go that route, omitting the greengages and using more raspberry puree. Other related fruits like blackberry, tayberry, boysenberry, etc, would be wonderful as well. If you want to continue with the stonefruit angle but don't have any greengages, a slightly sour purple or golden plum would work very well.
When I first previewed a teaser for this recipe on Instagram, my friend Thérèse of Kitchen Exile wondered if the yellow layer might be sea buckthorn. It wasn't, obviously, but the idea got me rather interested. I don't have access to sea buckthorn at the moment, but if any of my readers (especially in Europe) happen to try it out, I'd love to know how it goes.
As I generally say, feel free to experiment. That being said, fruits with a somewhat floral and mildly sour profile tend to work best with the whisky and cream. For a tropical twist, you could try working with mango or papaya.  Whatever you go with, try to bring in a touch of sourness – very sweet fruits could make the whole thing a bit too cloying and over-the-top.
Whisky (or Whiskey…)
I don't think it's going to surprise anyone when I say that a Scottish dessert is typically made with a Scottish whisky. Go figure. I used an inexpensive but versatile single-malt whisky, as I usually do when baking. I do adore Scotch whisky, but I'd personally avoid particularly unusual or peaty flavours unless you're really trying to bring that flavour into the final dessert.
Now, what if you don't have Scotch? I realize that non-Scotch drinkers are probably not going to want to fork out for a bottle just for dessert making. Fortunately, you can use any number of whiskies – bourbon, Irish, Japanese, rye, etc. Purists forgive me, but I think that the heady, spice-like nature of Canadian rye whisky would actually work quite well here.
Oh and in case you were wondering… it's GENERALLY whisky in Scotland, Canada, Japan, etc., and GENERALLY whiskey (with an e) in the USA and Ireland… but usage is a bit inconsistent. Regardless, it's good with oats and it makes for a kickin' dessert.
If you don't like whisky (and you're still reading for some reason) you could simply toast the oats and soak them in a bit of raspberry juice or cream. This would obviously change the character of the recipe quite substantially, but it's a possibility for those who don't cook with alcohol. Likewise, if you're feeling particularly hardcore about it, you can actually purchase whisky flavouring essence for use in baking and cooking. I've never tried the stuff, but as with most flavouring essences, I would imagine that care needs to be taken not to overwhelm the dish. Presumably a few drops in a neutral liquid like water would be sufficient for flavouring the oats.
Nutritional info is shown for a single serving (1/8th total recipe).
Nutrition Facts
Cranachan with Greengages or Raspberries
Amount Per Serving
Calories 338
Calories from Fat 207
% Daily Value*
Total Fat 23g 35%
Cholesterol 81mg 27%
Sodium 23mg 1%
Potassium 176mg 5%
Total Carbohydrates 27g 9%
Protein 4g 8%
* Percent Daily Values are based on a 2000 calorie diet.
Nutritional Summary

GOOD NEWS:

As far as desserts go, this one feels surprisingly filling. I've allowed for a fairly large serving (1/8th) but you could easily eat less. It's also got quite a lot of fruit, and little added sugar.

BAD NEWS:

Lots of cream means lots of fat. It's not a terribly large serving, but if you're looking to cut it back a little, use a bit less cream in favour of more fruit.
Ingredient Pages
No ingredient pages have been written yet for any of the ingredients in this recipe.  Like to see one?  Let me know in the comments below or by email.
Pantry Pages
No pantry pages have been written yet for any of the ingredients in this recipe.  Like to see one?  Let me know in the comments below or by email.
Cranachan with Greengages or Raspberries
The classic Scottish summer dessert of fresh whipped cream, toasted oats with whisky, honey, and raspberries, plus the added charm of pureed greengage plums.
Cuisine:
British, European, Scottish
Keyword:
authentic, cranachan trifle, dessert with whisky, greengage recipe, no-bake
Ingredients
Oats (Day 1)
100

g

steel-cut (pinhead) oats

(a little over 1/2 cup)

1/4

cup

whisky

(ideally a good Scotch whisky)
Greengage Puree (Day 1)
400

g

greengage plums

2

tbsp

honey
Raspberries (Day 2)
250

g

raspberries

1

tsp

whisky

1

tbsp

honey
To Serve (Day 2)
2

cups

whipping cream

1

tbsp

honey

1

tsp

whisky
Instructions
Day 1
Heat a medium frying pan (cast iron ideally) on the stove top. Add the oats and heat in the dry pan until fragrant and lightly toasted. Set aside to cool slightly, then add whisky. Refrigerate overnight.

Halve and pit greengages and add them to a saucepan with a splash of water (just enough to keep them from scorching). Heat on the stove-top over low, stirring occasionally until the fruit starts to break down. Add the 2 tbsps of honey to the pan and continue to simmer until the fruit is very soft. If you want to speed the process up a little, you can crush the fruit gently with a large spoon or potato masher.

Press the greengage puree through a small strainer in order to separate out the skins and tough fibers. Discard the skins and any leftover pulp that won't pass through the strainer. Cover the strained puree and refrigerate.
Day 2
Gently crush 3/4s of the raspberries in a bowl along with 1 tbsp of honey and 1 tsp of whisky. Set aside.(Optional - if you don't like raspberry seeds, the fruit can be gently cooked and pressed through a strainer in much the same way as the greengages).

Whip the cream until it forms stiff peaks. Stir in 1 tbsp honey and 1 tsp whisky, then whip for another few seconds to combine.

Stir the whisky-soaked oats from step 1 into the whipped cream. Note that you may want to reserve a few oats to top the cranachan.

Fill glasses with alternating layers of raspberry puree, cream, and greengage puree. Top the cranachan with the remaining raspberries and a sprinkling of whisky-soaked oats. Serve immediately.(Note: you can also serve all of the components separately and allow diners to combine them as they wish at the table.)