There are methods of preparing and presenting food that transcend barriers of class, culture, and language. Universally loved, these are the kinds of recipes that make people from every corner of the world say "Oh yeah, we have a recipe like that too." Interestingly, a lot of these recipes are highly portable and shareable - the kind of thing that you'd bring on a picnic or buy while wandering through a fair or market. Meat-on-a-stick, for example. Every culture does a variation on meat-on-a-stick. When I set out to develop a recipe for this collaboration with BC Egg, I knew that I wanted to do a variation on the ever-popular Scotch egg. As it turns out, eggs-wrapped-in-something are food with a huge cross-cultural appeal. The Scotch egg (a hard boiled egg wrapped in sausage, breaded, and then fried) already comes in numerous regional variations within the UK. In the Netherlands and Belgium they're called vogelnestjes or eierbals and they're often served with a tomato sauce. In India and Pakistan, the delectable dish nargisi kofta (and vegetarian variations) is made very much the same way. The Oxford Companion to Food actually speculates that nargisi kofta may have given rise to Scotch eggs. In the Philippines there's tokneneng, which uses a fried batter to coat the eggs (no sausage though... man, that'd be good). Other recipes, like Italian polpettone and Hungarian Stefánia-vagdalt take the idea in a meatloaf direction, embedding boiled eggs in a savoury sausage loaf.
All of these variations on the theme are incredible, but I wanted to put my own distinctly personal and Pacific Coast spin on the recipe, so I turned my attention to... Cajun food. That probably doesn't sound like it makes any sense, but the basic thought process was as follows:
1) Scotch eggs would be good with salmon,
2) Replace pork sausage with salmon sausage,
3) How the heck do I make a good salmon sausage?
I got stuck at number three for a little while there. Fortunately, Cajun food came to my rescue in the form of seafood boudin. To clarify, boudin is a French sausage usually made with pork, either with or without blood (the former making boudin noir, the latter boudin blanc), but a seafood-based variations and the use of rice are distinctly connected to the cooking of the Acadiana region of the US Gulf Coast.  With a little help from the master of kicking things up a notch, Chef Emeril Lagasse, I was able to adapt a seafood boudin recipe to wild BC salmon.  After that, I turned my attention back across the pond and started adapting from Chef Jamie Oliver's fantastic traditional Scotch egg recipe, modified for baking.  And there you have it - a classic UK snack, possibly adapted from an Indian one, modified for Canadian Pacific ingredients, using Cajun-French cooking techniques.  Around the world in a dozen eggs.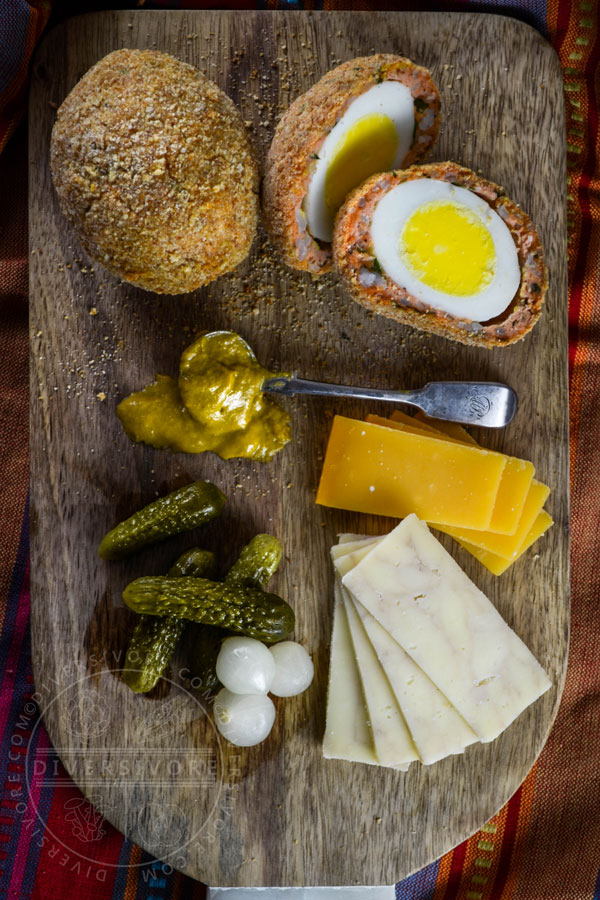 Hopefully you're ooh-ing and ahh-ing at this point. Maybe you're even starting to look for a good excuse to make this (Hint: you don't need an excuse). But when it comes to recipes like this, I know that most of us immediately have a nagging thought creep into our minds: am I getting myself into a giant and crazy cooking project?
Short answer: no. This recipe takes a bit of time, but it doesn't have to be done all at once in an unbroken chain. You can break the prep into chunks very easily and save yourself from a big hassle. So while it is something of a 'project' recipe, it doesn't require any complicated techniques or long periods of attention. Because of this, it's a perfect recipe for picnics, potlucks, or even just make-ahead snacks and lunches.
Alright, telling you that you can break it up is all well and good, but let's get into the details. First of all, I want to break down what you're really doing here (I've linked each of these categories to the notes below in case you want to jump to a section).
Steps 1 & 2 are easily done the day before if you need to save a bit of time.  Hopefully you have a spice or coffee grinder and a food processor, but if you don't you can still make this (see the notes below).  Cooking and peeling the eggs shouldn't take more than 15 minutes (especially with my favourite egg peeling tip - again, more on that below).  Assembling and breading the eggs will be the most time consuming part, and even that should really only take 15-20 minutes of your time, plus you'll get better and better at it with each egg.  Unlike most Scotch egg recipes, there's no deep-frying involved, so that's a big plus for the average home cook.  Of course, you totally could deep fry these if you were so inclined.  Totally manageable, right?  Right.  If you're ready to dive in now, go for it, but if you're still looking for some tips and tricks, let's break down the process in more detail.
Spice Blend
I'm pretty much constantly advocating for the use of whole spices at home. Pre-ground spices are convenient, but you're sacrificing a lot of flavour for that convenience. Given the fact that whole point of adding spice is to add flavour, that seems like a pretty poor trade-off. If you don't have one already, I strongly, STRONGLY recommend investing in a simple electric spice or coffee grinder. You'll notice an immediate flavour benefit, plus whole spices keep longer than pre-ground ones, meaning that you'll save money on stale spices over the long run. I have a little electric grinder that's specifically meant for spices (it's a bit bigger than the average coffee grinder). It was about $50, but any electric coffee grinder will work too. Some people use their existing coffee grinder, but I personally recommend having one just for spices to avoid coffee-flavoured spices (or spice-flavoured coffee).
If you want to make this recipe and you don't have a spice grinder, you can go in one of two directions. Option one: grind the spices by hand with a mortar and pestle (though you'll need to use a grater for the nutmeg). The bay leaf is the trickiest bit to grind by hand, but adding the salt to the mixture helps grind and break things up. Option two: use pre-ground spices. If you opt to go this route, use the freshest spices you can, and you may want to add a bit of extra nutmeg and allspice. Even if you choose to go with pre-ground spices, you'll probably still need to pulverize a bay leaf, as I don't think those tend to come in a pre-ground form.
Making Fresh Sausage
Before any scary red flags go up, let's be clear here: you're not making finished, stuffed sausages. No complicated equipment is necessary. You're making a salmon boudin sausage patty - not unlike making a burger. The main recipe instructions on this section should be pretty clear, but I want to emphasize two things: you're using COOKED rice to make this, and FRESH salmon (not cooked or canned). Save yourself some time and make the rice in advance. Because you're using fresh salmon, you'll want to make sure that it's free of bones (and skin of course). A food processor makes short work of this whole thing, but if you don't have one you can either pass fish through a meat grinder or finely mince it by hand. The latter would obviously be a lot more time consuming.
One last little tip: if you're looking to save yourself some hassle on a weeknight in the future, double the salmon sausage recipe and freeze the extra as pre-formed patties. They can be popped out and fried or grilled for a quick and delicious meal.
Eggs
There's nothing terribly complicated to cover here, but I do have a few little notes on the specifics, plus one AWESOME tip.
I specify medium eggs here, and I realize a lot of people don't use them very often. Their smaller size makes them perfect for snacks and small meals, and in this case they yielder a slightly smaller and Scotch egg, which is nice. An extra large egg is pretty big already, and it becomes pretty gargantuan when wrapped in sausage. The smaller eggs also cook faster, so the boil time is fairly short. The eggs will continue to cook in the oven too, so the shorter boiling time helps you end up with a set, but not overly dry yolk. If you can't track down medium eggs, use large eggs and add a minute or two to the boiling time, plus a bit more time in the oven. You may find that you only have enough salmon sausage for 7 large eggs, so adjust there if you feel the need.
As for peeling eggs - well, this has to be one of the most talked-about food prep subjects in the food world. I've seen and tried so many tips over the years, but I'd never been particularly impressed by any of them. That is, until my wife (who is, as I've established before, the master of ramen eggs in our house) told me about the shaken-pot method. It's quite simple: take your cooked and cooled eggs and place them in an empty pot (the one you cooked them in should be the right size). Add about an inch (2.5 cm) of water to the pot. Put the lid on and give the whole pot a careful but relatively firm shake/spin. I say 'shake,' but don't go all paint-mixer on them. Hold the pot in two hands and give it a few quick horizontal rotations (like a turntable), with just a bit of vertical movement to jostle the eggs. You're aiming to thoroughly crack all the shells, not make crunchy egg salad. After about 10 seconds, pop the lid off and you should find a batch of eggs with extensively cracked and rather loose shells. If they're not cracked enough, put the lid back on and shake a bit more vigorously. When you're done, the shells should peel away from the eggs very easily. Rinse them under running water to remove any clinging bits of egg shell, then set them aside for the next step.
Assembly
This is the step I was most worried about, but it turned out to be a lot easier than I had initially thought it would be. I already mentioned the basic technique above, but for clarity's sake I'll go over it again. Pour a bit of oil into your hands and grab a ball of salmon sausage that's about the same size as your cooked egg. Form it into a flat patty with a depression in the middle. Place the egg in the little divot, then use the palms of your hands to gently and evenly press the salmon around the egg. You can either move on to the breading now, or repeat this step for all of the eggs. I recommend the latter.
When you're ready to bread the eggs, make sure you're well-prepared, with the flour, beaten raw eggs, and dried breadcrumbs all laid out side-by-side in separate, shallow dishes. Roll a sausage-covered egg in flour, then egg, then breadcrumbs. You can stop there, but you'll get a better and crispier outside if you do another layer of egg and breadcrumb.
Baking
This section is very straightforward - bake the eggs in the oven. Most Scotch eggs are deep fried, making them a bit more challenging to the average home cook. These manage to be healthier, easier, and still delightfully toasty and crisp on the outside. I put them directly in the oven on a mesh rack so that they'd bake evenly all over. If you don't have a rack like that, a simple baking tray will work too, though you'll want to turn the eggs once during the baking period to ensure that they cook evenly.
Because you're baking and not frying these eggs, it helps to use very dry, lightly-toasted breadcrumbs. Toasting the bread crumbs isn't strictly necessary, but it does help contribute to a flavourful and browned crust in the absence of deep frying. I personally don't like buying bread crumbs and prefer to make them myself. There are notes in the recipe about that below, but it basically involves toasting bread (ideally day-old) until very dry and breaking it down in a food processor. If you've got the spice grinder I mention above then it's really easy to get the ideal texture for this recipe by using that. If you already have bread crumbs, you can toast them by spreading them evenly on a baking tray and placing them in a medium oven until lightly browned. Keep a close eye on them or they'll burn.
I kind of wanted to bring this up earlier, but I didn't want to distract from how to make the eggs. These eggs go from great to AMAZING with the right sides. I went in a very British direction - cheese, pickles, hot mustard, and beer. A bit of crusty bread would round this out as an extended Ploughman's Lunch, so feel free to add some of that as well. Personally I'd recommend putting a home-grown spin on things - find some local bread and cheese, your favourite local brew, and maybe even some homemade pickles.
Lastly, I want to dedicate this recipe to my dear departed grandfather. The only one of my grandparents born outside of Canada, he emigrated from Southwest England after WWII. He embraced this country with his whole being, but he never left behind his love for English culinary specialties - hot mustard ('hotsy' as he called it) in particular always reminds me of him. The mug in the background of the photos was his, and I was pretty pleased to be able to use it here. So here's to you Poppa - I hope you would have enjoyed these.
The nutritional information shown is for one Scotch egg, and does not include any sides or sauces.
Nutrition Facts
West Coast Scotch Eggs
Amount Per Serving
Calories 302
Calories from Fat 135
% Daily Value*
Fat 15g23%
Cholesterol 284mg95%
Sodium 381mg17%
Potassium 339mg10%
Carbohydrates 20g7%
Protein 20g40%
Vitamin A 650IU13%
Vitamin C 1.7mg2%
Calcium 90mg9%
Iron 2.3mg13%
* Percent Daily Values are based on a 2000 calorie diet.
Nutritional Summary

GOOD NEWS:

When it comes to nutritional on-the-go food, these are AMAZING. With nutritious proteins and fats and very few carbs, they're filling and a good source of all-day energy.

BAD NEWS:

The eggs are great, but only as healthy as their serving partners. Don't overdo it on the add-ons (though you can generally go nuts on the pickles) and you'll be fine. If you're deciding on sauces, note that mustard is almost devoid of calories. Mayo is decidedly not.
Ingredient Pages
No ingredient pages have been written yet for any of the ingredients in this recipe.  Like to see one?  Let me know in the comments below or by email.
Pantry Pages
No pantry pages have been written yet for any of the ingredients in this recipe.  Like to see one?  Let me know in the comments below or by email.

West Coast Scotch Eggs
A Pacific Coast & pescetarian twist on the beloved classic Scotch egg. Made from scratch and baked, they're perfect for picnics, potlucks, or simple lunches.
Ingredients
8

medium

eggs

350

g

salmon

(3/4 lb) Any variety; I used sockeye

10

allspice berries

1/2

tsp

nutmeg

freshly grated

2

tsp

yellow mustard seeds

1

bay leaf

1/2

tsp

salt

60

g

shallots

chopped (1/2 cup)

1/2

cup

cream

150

g

cooked rice

(1.5 cups)

20

g

flat leaf parsley

(~1/4 cup) minced

3

med

eggs

flour

for coating (~1/4 cup)

1

cup

fine dried bread crumbs

toasted (see note)
To Serve (All Optional)
cheese

cornichons

pickled onions

hot mustard

chutney

mayonnaise
Instructions
Prep
Remove the skin and any pin bones from the salmon if necessary.

Combine the allspice, nutmeg, mustard seeds, bay leaf, and salt in a spice grinder or mortar and pestle. Grind to a powder.

Combine the salmon, spice mix, and chopped shallots in a food processor. Puree, then add cream and blend again. The mixture should be smooth and even when finished. Fold in the cooked rice and chopped parsley, mixing evenly. Set aside.

Bring a large pot of water to a boil. Add the eggs and reduce the heat to a low simmer. Cook the eggs for 8 minutes (9-10 if using large eggs). While the eggs are cooking, fill a large bowl with cold water and some ice cubes. When the eggs are finished, transfer them to the cold water immediately.

Peel the cooked eggs and set them aside.
Assembly
Preheat your oven to 375 F.

Place the flour, 3 eggs (the raw ones, not the boiled ones), and breadcrumbs in three shallow dishes. Use a fork to thoroughly whisk the eggs.

Lightly oil your hands with vegetable or olive oil, then take a ball of the salmon 'sausage' mixture (about the same size as an egg) and flatten it slightly in the palm of your hand. Place a boiled egg in the center, then carefully and evenly press the sausage around the egg so that the egg is evenly encased in salmon. The mixture should be fairly thin - if it's too thick remove some and press again to fill the space in. If you have any bare patches, add a bit more salmon to the mixture.

Carefully roll the salmon-covered egg in flour, then in the beaten eggs. Allow the excess egg to drip off, then roll the ball in the breadcrumbs. Repeat the egg and breadcrumb steps, then set the egg aside (ideally on a rack, as a plate may stick a little). Repeat this process for all the remaining eggs.

Place the eggs in the oven, ideally on a mesh or wire rack, as this will allow them to bake evenly. Bake for 10-12 minutes, or until the salmon is cooked through and the breadcrumb crust is golden. Remove and allow to cool. If you don't have a rack to cook the eggs, carefully place them on a baking tray and turn them once halfway through the baking process.

Serve with pickles, cheese, preserves, crusty bread, hot mustard, mayo, or other 'ploughman's lunch' style accompaniments. The finished Scotch eggs can be served warm or cool.
Notes
Bread Crumbs - I like to make my own breadcrumbs as needed, though it does add a bit of time to the process. You can buy bread crumbs too, as long as they're good and dry. If they're particularly coarse, run them through a food processor or spice grinder to make a finer mix. The crumbs themselves can be toasted on a pan in the oven.
If you do want to make your own bread crumbs, follow these steps:
1. Toast 6 slices of bread (ideally day old bread).
2. Place the toasted bread in a low oven and toast/dry out further.
3. Add the toasted bread to a food processor and break down into crumbs. If these crumbs are still a bit moist, return them to the oven and toast again until lightly browned and very dry.
4. Add to the food processor (or spice grinder) and process until the crumbs are fine and even.
Nutrition
Calories:
302
kcal
|
Carbohydrates:
20
g
|
Protein:
20
g
|
Fat:
15
g
|
Saturated Fat:
6
g
|
Polyunsaturated Fat:
2
g
|
Monounsaturated Fat:
5
g
|
Cholesterol:
284
mg
|
Sodium:
381
mg
|
Potassium:
339
mg
|
Fiber:
1
g
|
Sugar:
2
g
|
Vitamin A:
650
IU
|
Vitamin C:
1.7
mg
|
Calcium:
90
mg
|
Iron:
2.3
mg