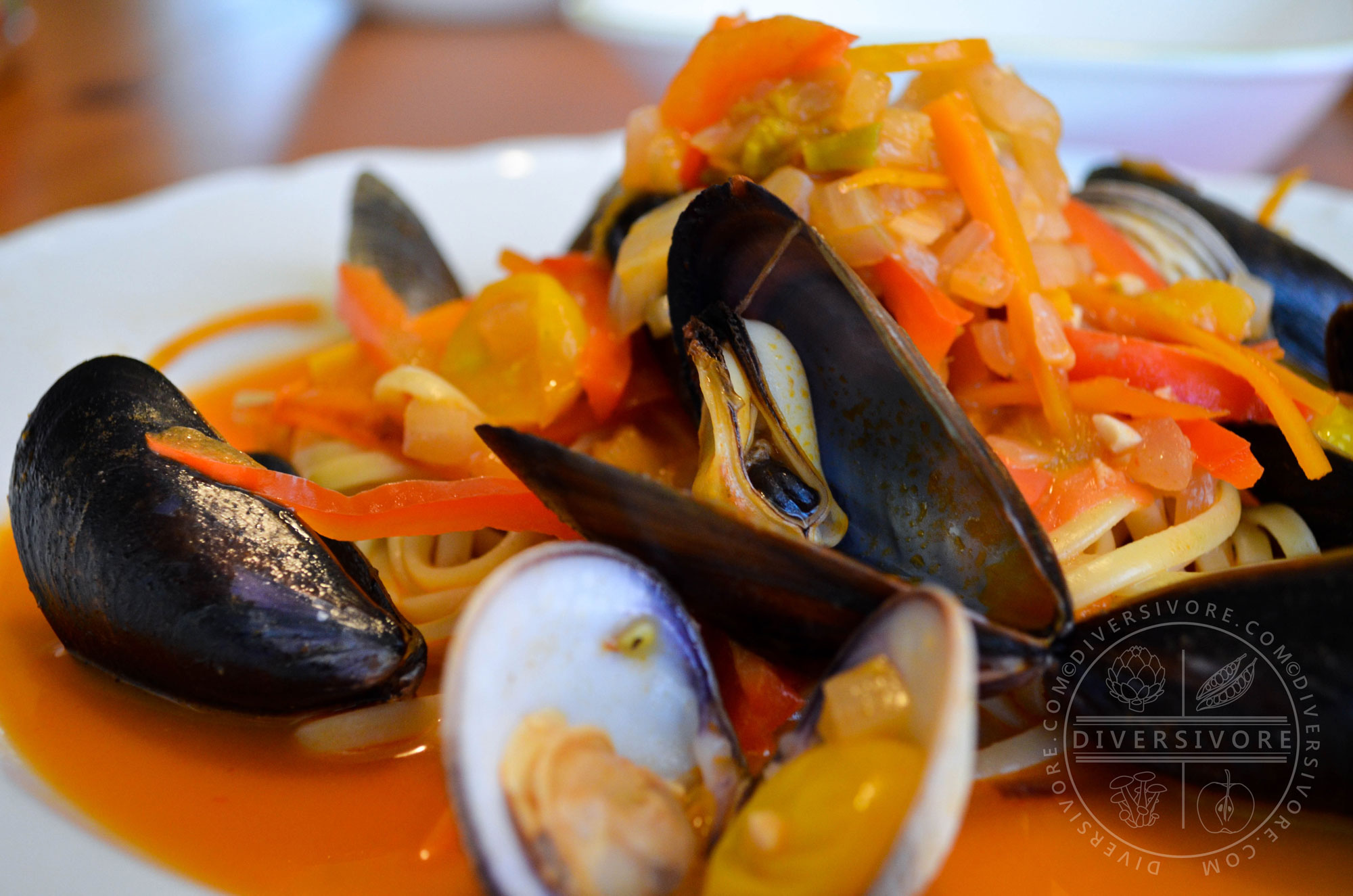 San Diego Mussel & Clam Linguine
Once, when I was foolish and naive, I thought that I could just snap a few photos of my recipes and keep them in the vault for when I'd finally get a chance to write them up. Sometimes that's still true, but now (as I add this to a recipe that was published many months ago) I can tell you that pre-blogger me had NO idea how to properly stage or shoot food photos. Oh sure, I'd get one good one and say "yeah, that looks good." But one is not enough. Oh no. You need a photo that works horizontally, one that works vertically, maybe one for a square shot, and a few with different props and backgrounds if you have the time. Every time I look back at this recipe, I remember all of the great things about it, and I kick myself for not taking a better horizontal photo. Ah well. We'll consider it an homage to simpler times when I would get to actually eat my recipes while they were still hot.
As for the great things going on here, this dish is the culmination of three things I absolutely love to do. First on the list, we have cooking from the farmer's market. I adore swinging through a farmer's market and buying things based purely on their seasonality and potential and then figuring out what to do with them when I get home. Second, I made this on vacation, which meant I got to (had to?) work with regional ingredients that were new, or at least different. There's a lot to dislike about cooking on vacation (i.e. not knowing where anything in the kitchen is, terribly knives, unfamiliar stoves, and the fact that you're on vacation and you want a break for crying out loud), but I can't help it. I just love digging into the food wherever I am, and I can't help but tinker. Third and finally, this is one of those Food-Network-esque meal challenges where you've got a set of incredibly disparate ingredients and the need to bring them all together into something coheisive. I love a challenge, and this time, it just happened to work beautifully.
This is certainly one of those cases where the picture tells you a lot more than the name (even if the picture itself does drive me crazy). Why San Diego? Because I whipped this up for Mother's Day in San Diego once, and I couldn't think of a better name. Naming recipes is always a little bit tricky when the cooking style doesn't rely heavily on one ingredient (Zucchini blossoms? Carrot? Coconut cream? Basil?), or (as in this case), doesn't really fall into an easily distinguished culinary category. For that matter, what culinary category does this fit into? The techniques are quintessentially European, it was made in the USA with mostly Californian ingredients, but… coconut milk?
So if you've got a better name than San Diego Mussel and Clam Linguine, let me know, but for now I think it's a pretty fine example of the Detroit Rule. Whatever you call it, this is one tasty way to eat your noodles and shellfish.
You can adapt or modify the shellfish based on what you can get locally. If you wanted to only mussels or only clams, be aware that you get a lot more shell and a lot less meat per unit weight when it comes to clams, so be prepared to adjust accordingly. Good quality (and preferably sustainably harvested/farmed) frozen clam meat would also work nicely, and make this an easy meal to put together on the fly. For the record though, I think you want to use at least some mussels – their flavour partners especially well with coconut milk.
You mussels should be cleaned and gently scrubbed cold water, and do your best to remove the fibrous orange 'beards' that protrude from the shells. Clams in grocery stores generally don't need to be purged (i.e. have sand and grit removed), but if you're concerned or you've caught your own clams you can use the simple salt-water purging method outlined here by Honest-Food.
Zucchini/squash blossoms can often be found in late summer and early fall at farmers' markets. If you can't find them, they can be left out, or substituted for another light-but-interesting tasting vegetable. Try experimenting.
Edit – having done more cooking with zucchini/squash blossoms (check out my awesomely tasty Shakshouka Rancheros), I can tell you that day lily buds apparently make an excellent substitute. But A) that's a pretty DIY food ingredient, since day lilies tend to be found as garden ornamentals, and B) that means they may be even less available that zucchini blossoms. So basically, experiment, try some things, and have fun.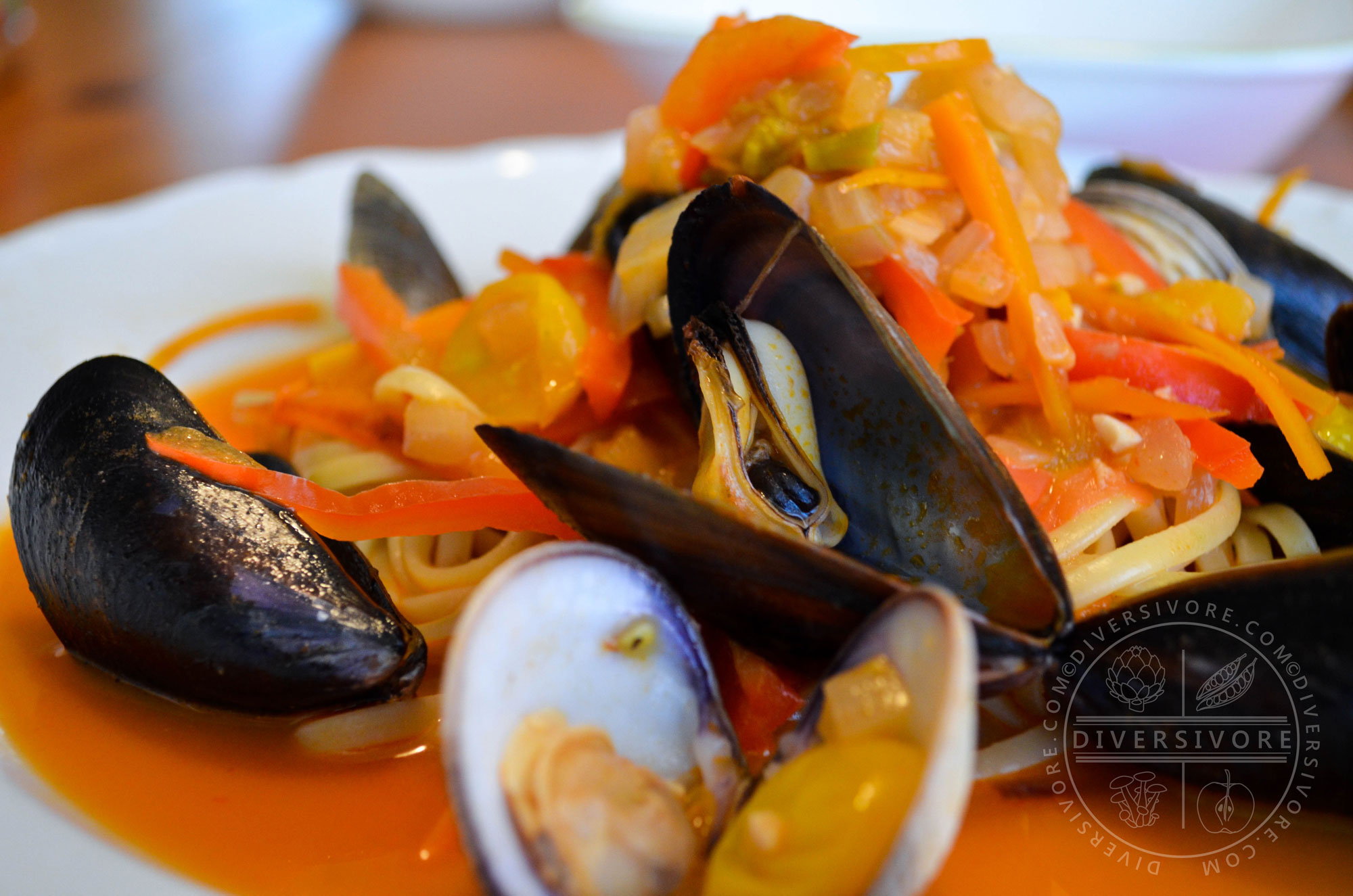 Nutritional information is given for a single serving (1/8th total recipe).
Nutrition Facts
San Diego Mussel and Clam Linguine
Amount Per Serving
Calories 388
Calories from Fat 90
% Daily Value*
Total Fat 10g 15%
Cholesterol 29mg 10%
Sodium 546mg 23%
Potassium 596mg 17%
Total Carbohydrates 48g 16%
Protein 20g 40%
* Percent Daily Values are based on a 2000 calorie diet.
Nutritional Summary

GOOD NEWS:

Pretty much good news all around! This meal is very healthy, especially for a dish featuring pasta. The mussels and clams make it quite high in protein, while remaining fairly low in fat and sodium. The dish also uses environmentally friendly seafood, so that's a big plus.

BAD NEWS:

Not much really… make sure you buy clean, healthy shellfish to avoid any risk of food poisoning.
Ingredient Pages
No ingredient pages have been written yet for any of the ingredients in this recipe. Like to see one? Let me know in the comments below or by email.
Pantry Pages
No pantry pages have been written yet for any of the ingredients in this recipe. Like to see one? Let me know in the comments below or by email.

San Diego Mussel and Clam Linguine
Pasta... coconut milk... peppers, shellfish... tomato... basil... I mean, it's an odd little mash up (hence the random title) but MAN is it ever good.
Course:
Main Dishes, Pasta & Noodles
Cuisine:
American, European, Italian, Miscellaneous
Keyword:
clams, mussels, pescetarian, seafood pasta with coconut milk, seafood with coconut cream, seafood with coconut milk, shellfish, sustainable seafood
Ingredients
700

g

mussels

(shell included in weight)

700

g

clams

(manilla, littleneck, or other small variety - shell included in weight)

1

cup

white wine

1/4

cup

water

2

tbsp

olive oil

1

lg

sweet onion

diced

4

cloves

garlic

1

med

red pepper

julienned

1

med

carrot

julienned

6

zucchini blossoms

(or other squash blossom) cut into a chiffonade

130

ml

coconut cream

(a little over 1/2 cup)

2

tbsp

tomato paste

10

yellow cherry tomatoes

1

tsp

paprika

1

lemon

(zest and juice)

5-6

basil leaves

chopped or torn up (plus more to garnish)

900

g

linguine

black pepper

to taste
Instructions
Bring a large pot of salted water to a boil for the linguine.

Heat oil over medium-high in a large pot, then add onion and garlic. Sauté briefly (~30 seconds) before adding the other veggies (including the zucchini blossoms) and cook for an additional minute.

Add wine, water, tomato paste, and coconut cream. Cover and cook for two minutes.

Add the linguine to the pot of boiling water and cook until al dente. Drain well and set aside.

Add mussels, clams, tomatoes, and basil. Reduce heat to low, cover and cook until all the shellfish have opened up, about 8-10 minutes.

Serve the sauce and shellfish over a bed of linguine, and garnish with a little extra basil. Season with black pepper.