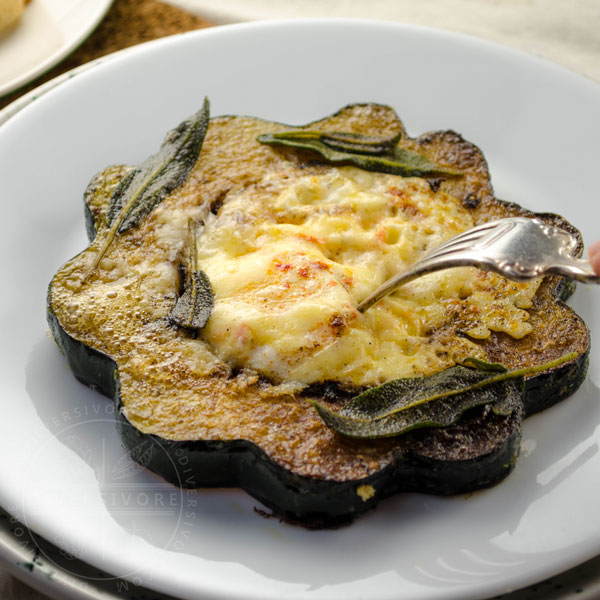 Egg-in-the-Acorn
(aka Toad-in-the-Squash)
This post is the fourth in a series of awesome egg recipes for 2018 brought to you in collaboration with BC Egg.
All opinions are my own.
There's a strange challenge that presents itself when you're working with a versatile ingredient. Eggs are clearly versatile, and I'm never at a loss for ideas when I'm working with them, but in certain settings you find yourself asking 'why reinvent the wheel?' That's often where I land when it comes to the first meal of the day. I mean, it's eggs for breakfast. I think we all picture minor variations on a fairly universal sort of dish when we say that, despite knowing that eggs can be used in all sorts of ways. Oh sure, we could hide them in pancakes or scramble them up into a quiche, but when I picture an egg for breakfast I picture just that – maybe poached, maybe fried, but an egg on the plate no matter how you look at it. After all, it's a classic for a reason – it's simple to make and easy to adapt to your tastes.
Nuts to reinventing the wheel. Today we're leaving the wheel intact. It's the vehicle that we're going to look at instead.
That's right, we're not doing anything fancy with the egg. Instead, we're going to look at all of the wonderful flavours that go alongside it while reimagining an old classic. Eggs are the little black dress of breakfast – we're just working on accessorizing.
I don't know who first came up with the idea of cutting a hole in a piece of bread in order to fry an egg inside it, but bless that person. It's sublime in its simplicity – not to mention darned tasty. The dish itself goes by all kinds of names, including egg-in-the-basket, frog-in-the-hole, bullseye eggs, and the ever-appetizing 'spit in the ocean.' Nomenclature aside, I was struck by an idea while examining the multitudes of squash coming into my local market at this time of the year – why not ditch the bread altogether and take things in an autumnal direction? The premise is simple enough (so I'll try not to flog a dead horse) – acorn squash rounds make perfect little natural baskets for fried eggs while being easy to cook and pretty darned tasty in their own right. Some spices, a bit of sharp cheese, and some (always amazing) fried sage, and voilà.
Now in case you're thinking that this is just some desperate attempt to dress up another sad, low-carb variation let me assure you that nothing could be further from the truth. If I may paraphrase (and tidy up) a colourful expression, "Don't feed me cauliflower and call it rice." I am a die-hard carb fan with a serious love for all things bready, so when I say that I think this recipe might actually be better than the toast-based original, I hope you won't take it lightly. I know, I know it sounds sacrilegious (a term that sounds especially tongue-in-cheek when you're talking about loaves of bread), but it's true. To me, there's never quite enough bread left in the classic egg-in-a-basket to go along with the egg itself. After all, you cut a big chunk out of your slice. But acorn squash is denser and richer (not to mention healthier). It works in synergy with the big, bold flavours of sage, cheddar, and paprika, and it becomes even more interesting when you brown it nicely in a buttery pan. Toast is, both literally and figuratively, a simple frame surrounding the classic portrait that is a breakfast egg. Nothing wrong with that. But sometimes, a painting pops all that much more when it's set in a frame that offers a little bit more.
While this recipe is a little more complex than the typical bread-based egg-in-the-hole, it's still quite easy to make. Despite the relative ubiquity of squash, it's one of those ingredients that give a lot of home cooks anxiety. I've got a few basic tips and tricks (as well as variations) to help you get cracking.
Ba-dum-TSH!
Working with Squash & Variations
Acorn squash is easy to work with and quite tasty.  This, coupled with its small size (especially when compared to monsters like banana and full-grown hubbard squash) makes it fairly easy to find.  I generally get my squash at a local market, but it's usually easy enough to find at conventional grocery stores.
First things first, let me address a common concern – yes, the skin is perfectly edible.  Don't bother try to remove it or peel it – just leave it on.  It looks nice on the final dish too.
If you're new to working with squash, it's pretty straightforward.  In this recipe you only want the middle section (i.e. the portion that can be cut into rings), so cut off the ends and set them aside for another recipe.  Scoop out the seeds and stringy bits inside, then carefully cut the squash into 1-cm (0.4 inch) rounds.  Try to keep your cuts as even and parallel as possible or you'll end up with rounds that are thick at one end and thin at the other, making them harder to cook evenly.
Season the squash, then get your pan ready.  The oil and butter are especially important in this recipe because they help to brown the squash and add a lot of flavour.  Squash will steam or bake quite easily too, but you're really shooting for that crispy, toasty, maillard-reaction goodness here.  The squash itself won't take too long to cook, but bear in mind that you want to time adding in the egg right.  That's covered in more detail below (Egg Doneness).
There are countless squash varieties out there, and you could easily explore variations on this theme.  That being said, your biggest limitation here is shape and size.  Butternut and similar squashes don't have a large enough central cavity to work with, while others are simply too big.  That being said, you could always try out a family-style multi-egg variation in something like a large kabocha or other medium-sized squash.  Could be fun.  Delicata, small kabocha, and small hubbard, and even small sugar pumpkins should work nicely.  You could try spaghetti squash too, though I personally think that it's tendency to separate into long strands of cooked squash makes it better suited to other dishes.
Lastly, what to do with those leftover ends? If you're at a loss for ideas, just dice them up into little cubes and bake them like you would potatoes, or add them to a simmering stew or sauce.  Can't decide what to do with them? Dice them, freeze them, and figure it out another day.
Fried Sage
Fried sage is one of those super-simple things that you'll find yourself coming back to over and over again.  Raw sage has an overwhelming and (in my opinion) unpleasant flavour, but it's transformed into something wonderful when the leaves are gently fried.  You can take one of two approaches with this meal.  You can fry the sage before you cook the squash, or you can add the leaves to the pan as you cook the squash and egg together.  In either case, do yourself a favour and spoon some of the oil/butter over your eggs while they cook, as it will be imbued with a nice sage flavour.  Regardless of the method you choose, simply add the clean sage leaves to the oil in the pan and cook until deep green and crispy, then drain on a paper towel or cloth.  A pair of small tongs or chopsticks makes it easier to pull the leaves from the pan before they burn.
Egg Doneness
'Doneness' is a word that's always bugged me.  It doesn't really sound right.  And while I may not like the word, I can definitely help you nail the concept.
There are three periods of time to keep in mind while you cook this:
The squash alone in the pan
The egg added to the pan
Everything under the broiler
In each step you'll be cooking the squash, but the egg will (of course) only cook in steps two and three.  As such you want to get your timing down.
The squash itself is fairly easy to cook.  Once it's just starting to get fork-tender (but not falling apart) you want to add the egg.  That being said, you'll want to cook the squash just a little longer if you're shooting for a loose/runny yolk, as it will cook for less time during step two.  By the time the whole dish is finished, the squash should be soft and easily cut with a fork.  If you're worried, err on the more-cooked side – it's tough to badly overcook squash.
When it comes to the egg, you want to take into account the effect that the broiler is going to have.  An egg might look like it's just starting to set before going under the broiler only to come out well-done.  If you want a runny or semi-set yolk, move the pan under the broiler while the white is still a little clear and runny on top, and make sure not to leave the pan under the broiler for too long.  As you can see from the photos, you're going for cheese that's melted and bubbly, but not crispy.  If you want a well-done yolk, cover the squash with a lid for a minute or so when the white is nearly set, then transfer the uncovered pan to the broiler.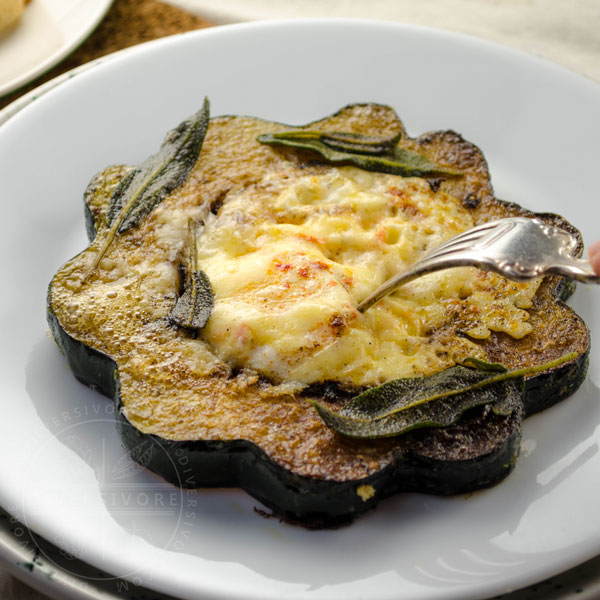 Nutritional information is given for a single serving (one round of squash with an egg, cheese, and sage).
Nutrition Facts
Squash Hole-in-One
Amount Per Serving
Calories 284
Calories from Fat 216
% Daily Value*
Total Fat 24g 37%
Cholesterol 220mg 73%
Sodium 375mg 16%
Potassium 293mg 8%
Total Carbohydrates 7g 2%
Protein 10g 20%
* Percent Daily Values are based on a 2000 calorie diet.
Nutritional Summary

GOOD NEWS:

The squash adds vitamins and drops carbs from the standard bread-y version of this dish. It's a dense and filling recipe without being overly calorie-heavy.

BAD NEWS:

A little high in fat thanks to the oil, butter, and cheese – though it is difficult to calculate the actual fat content of the final dish as a portion of the fat used during cooking will stay in the pan.

TRIM IT DOWN:

If you're looking to cut the fat (and especially saturated fat) content somewhat, sub out the butter for a little extra olive oil.
Ingredient Pages
No ingredient pages have been written yet for any of the ingredients in this recipe.  Like to see one?  Let me know in the comments below or by email.
Pantry Pages
No pantry pages have been written yet for any of the ingredients in this recipe.  Like to see one?  Let me know in the comments below or by email.
Squash Hole-in-One
A vegetable-based take on the classic eggs-in-a basket made with rounds of acorn squash, bubbly cheese, and fried sage.
Course:
Breakfast, Brunch
Cuisine:
Canadian, Miscellaneous
Keyword:
acorn squash, cheddar cheese, egg, egg in the basket variation, gluten-free, sage, toad in the hole variation
Ingredients
1

acorn squash

or similar (see note)

2

large

eggs

1/2

tsp

paprika

1/8

tsp

salt

or to taste

pinch

pepper

2

tbsp

butter

1

tbsp

olive oil

2

tbsp

sharp cheddar cheese

grated (see note)

8-10

sage leaves
Instructions
Slice the acorn squash into 1 cm (~3/8 inch) thick rounds and scoop out the seeds and stringy inside bits. You need the round, hollow sections for this recipe, so you can save the more solid ends (and any particularly small rounds) for another purpose. Note that the instructions are for two servings (two rounds of squash) as that's what fits in my frying pan. You can do more or less easily by adjusting the other ingredients.

Sprinkle a bit of salt and pepper over the cut surface of the squash rounds.

Turn on the broiler in your oven (high/full heat, if you have the option).

Set a large cast iron or heavy-bottomed skillet over burner at medium heat. Melt the butter in the pan, and add the paprika. Add the squash rings to the pan and cook for about 5 minutes, then flip and cook the other side for about 3-4 minutes, or until the squash is fork-tender but not mushy.

Crack an egg into each squash round. Cook the eggs until the whites are set on the bottom but loose on the top, spooning the paprika-infused butter over them periodically as they cook. The whites and yolk will set a bit more in the next steps, but if you want a more hard-cooked egg, see the notes below.

Sprinkle a handful of cheese over each egg and place the sage leaves in the pan around the squash. Fry the sage leaves for about 1 minute, then remove from the pan and set aside. Transfer the pan to the oven under the broiler.

Broil until the cheese on the egg is browned and bubbly; about 1 minute.
Recipe Notes
Squash variation - acorn squash is ideal because of it's relatively small size, mild flavour, and ready availability, but you can adapt this to a winter squash that's small enough and that has a natural hole in the middle.  A good-sized delicata squash would work well.  Butternut squash, while tasty, is not as easy to work with here because of the shape and the very small central cavity.
Cheese variation - the cheese plays a very important role in this dish, but there is definitely room for variations.  Sharp cheddar has a distinctive, pungent and salty flavour profile that plays very well against the relatively mild egg and squash, but you could try any number of sharp, strong cheeses.  Italian hard cheese (parmigiano, grana padano, etc.) would work very well.  A good blue cheese would make for a very different but delightfully distinctive variation too.
Egg doneness - In order to control how well-cooked your eggs are, you'll want to ensure that you adjust the cooking time on the squash, and avoid leaving the pan under the broiler for too long.  If you like a runnier yolk, cook the squash for a longer time before adding the egg.  Note that the white on top will take longer to set because the heat in the pan is coming from below, but it will set under the broiler.