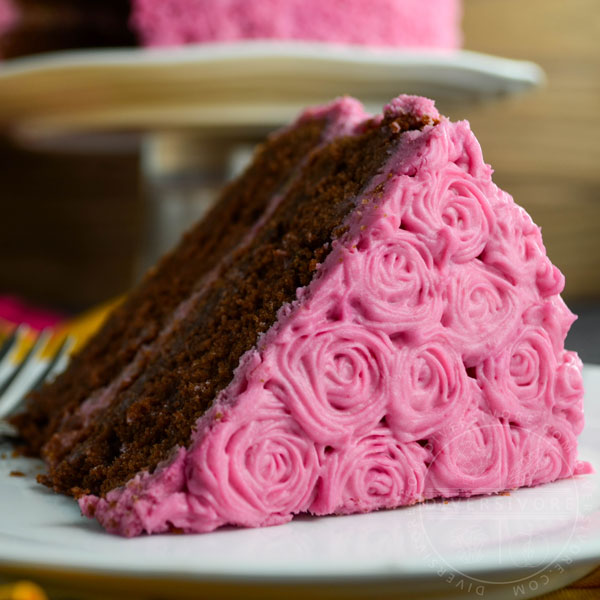 Decadent Chocolate Beet Cake
With Cream Cheese Frosting & Candied Pecans
Hi everybody! I'm particularly excited to share this recipe for chocolate beet cake with you, as it's a celebration of Diversivore's 2nd birthday! My blog is a toddler, y'all!
I've had an incredible time creating food and sharing ideas with you all over the last couple of years. It's been a pretty wild time too, and things have grown in ways that I could only have dreamed about. But none of that would matter if it weren't for those of you out there reading what I right, and cooking what I cook. So to every one of you Diversivores out there, thank you. Whether you've been around since day one or you just discovered the site today, thank you. I hope I can keep making food that will intrigue, delight, and educate.
So, here's my birthday cake to... myself. It's ridiculously moist, with a dense chocolate crumb. The frosting is a whipped sweetened cream cheese, and I think it's absolutely perfect against the earthy richness of the cake. I'm not big on overly sugary icing in general, so I think that cream cheese tang adds a fantastic depth and complexity to the recipe. And, because I love a textural surprise, I've included some crunchy caramel-y candied pecans in the frosting between the two cake layers. Because I can. It's an awesome cake for any occasion, though I would suggest Valentine's day as an ideal date, given the incredible colour, rich chocolate, and ready availability of beets.
Yes, beets. Let's talk about that bit, shall we?
Yes folks, it's true. Beets in a cake. To my beet-y brethren already enamoured with the scarlet globes, the idea might sound interesting - maybe even appealing. But those among you who aren't (yet) on the beet bandwagon might feel a little... well, suspicious. But if you're labouring under the suspicion that I've included beets just so that I can hide vegetables in a cake, let me put your mind at ease. This is still a cake - a rich, delicious, sugary, chocolaty cake. The beets are here because they actually contribute incredible moisture and richness to the batter. There are actually quite a few beet cake recipes out there, but a common complaint is that some of them end up a little too... well, beet-y. I love beets, but I'm not looking for my cake to taste like root vegetables. So I played with this recipe to get the right balance. It's wonderfully moist, decidedly decadent, and definitely not beet flavoured. If you're really looking for it, you can taste the beet flavour popping through, but it's actually quite nice with the chocolate. That's also why I worked extra chocolate into the mix - after all, it's chocolate beet cake, not just beet cake. I find that cocoa powder alone doesn't quite do enough to really drive the chocolate flavour in this batter, so there's also melted dark chocolate coming along for the ride. Like I said: decadent.
As an added bonus, a very small amount of beet juice is all you need for that spectacular pink icing colour. No artificial colouring necessary - just pure beet goodness. And no, the icing does not taste like beets - a tiny bit goes a long way.
When it comes to the how-to of using beets in a cake, I'll get into a bit more detail below, but I hope I've convinced you that it's worth a go.
I did some pretty serious recipe researching and tweaking before arriving at this final version, but I do owe a rather big debt to two other recipes that helped me lay the foundation. First off, this cake from Joy the Baker got me started and laid the foundation for this recipe. The post is a darned good read too, so do check it out. My recipe makes some departures from the aforementioned one, and that has a lot to do with some time I spent working out how to get more chocolate into the thing. For that, you can thank Mark Bittman, and his excellent encyclopedic tome "How to Bake Everything." If you're not already familiar with Bittman's How to _____ Everything books, you should seek them out.
The recipe itself isn't very difficult to make. If you're a confident baker, it'll be a snap. If you're new to scratch cake-making, rest assured that it's not tough stuff. Boxed cake mix is one of those things that makes you believe you're saving a lot of time when in reality you're not. Scratch made cakes only involve a few extra measuring steps, and they give you way more control over the flavour, texture, and quality of ingredients.
Beets (by You)
(Whipping out the not-very-good Professor Farnsworth impression) Good news, everyone! The beet aspect of this cake is easy. Simply wrap the beets in foil and put them into an oven at 350°F for about 1 hour. They should be tender enough to allow a knife to slip into them easily when they're done. Let the cooked beets cool before peeling (the skins slip off easily after baking) and shredding. The end.
Leavening Agents
You'll notice that this recipe has both baking powder and baking soda. This isn't a mistake, and both agents contribute to the texture and lightness of the crumb. Baking powder is a pretty common additive in most cakes, as it will leaven any batter. This is because baking powder is a mixture of dry ingredients that combine to produce carbon dioxide when they come into contact with water. It's a classic acid-base reaction made possible by packaging an acid salt with a dry carbonate base. Baking soda (sodium bicarbonate), on the other hand, is only a base, and won't produce the carbon dioxide bubbles necessary for leavening unless added to an acidic solution. Using baking soda in a neutral batter is a recipe for very flat, very dense cakes (some gas is given off as the chemical breaks down from the heat of baking, but not as much). So, not what we want here. Fortunately, this batter is acidic thanks to buttermilk.
(There are also double-acting baking powders on the market that make use of one quick-acting acid/base combo and a second heat-dependent acid/base pair that only becomes active in the oven. I personally don't use these types of baking powder, preferring to stick with the simple fast-acting ones for flavour and chemistry reasons that I won't get in to here.)
With that bit of explanation, I hope to address some of the key reasons that cake batters can fail to rise. First, too little of any leavening agent can mean too little carbon dioxide, and therefore too few bubbles. Second, adding leavening agents (especially baking soda) too early can allow much of the gas produced to escape, leaving you with nothing to help the cake rise. Third, using baking soda without an acid will lead to disappointing results. A fourth issue doesn't affect the batter's ability to rise, but can hurt the taste: using too much baking powder alone in an acidic batter will leave some of the acid salts un-reacted, contributing to an off flavour.
So why use both baking powder and baking soda? It's a form of insurance, basically (no chemistry pun intended). It's easy to go wrong with a single leavening agent, but (assuming you follow the rules), a bit more fool-proof with two. By using both, you some of the baking powder acts right away, while the remaining portion and the baking soda start to react with the acidic batter. The baking soda is further broken down by heat in the oven, yielding more carbon dioxide as it bakes.
Lastly, if you're unsure about whether or not your baking powder is still good, just add a teaspoon to some water. It should bubble up and fizz. Baking soda shouldn't really go bad, but if you want to check, simply add a little bit to some vinegar. If it foams up readily, you're good to go.
Candied Pecans
You could certainly skip this step if you were short on time, or just use plain pecan pieces, but I quite like the candy-like crunch that you get in the middle of the cake by incorporating these. The instructions below give you all the detail you need, but it's worth pointing out that this is a step you want to pay close attention to. You're basically making hard caramel (something I've done a few times on the site), and the line between caramely and burnt sugar is fairly thin. Make sure all your ingredients are ready to go before you get started. If you do end up overcooking your sugar (it should be golden, not dark brown), scrap it and start again rather than wasting pecans in bitter/sour burnt sugar.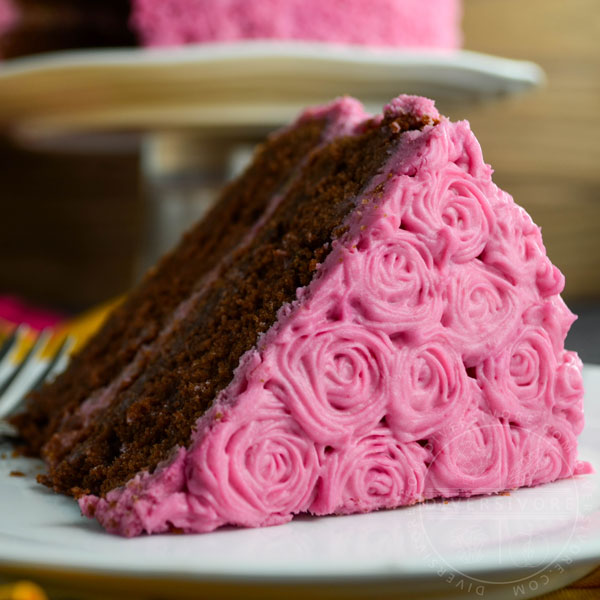 Nutritional information is given for a single slice of cake (1/10th the total cake - a fairly large slice).
Nutrition Facts
Decadent Chocolate Beet Cake with Candied Pecans
Amount Per Serving
Calories 692
Calories from Fat 369
% Daily Value*
Fat 41g63%
Cholesterol 165mg55%
Sodium 567mg25%
Potassium 227mg6%
Carbohydrates 73g24%
Protein 10g20%
Vitamin A 1250IU25%
Vitamin C 1.7mg2%
Calcium 120mg12%
Iron 2.7mg15%
* Percent Daily Values are based on a 2000 calorie diet.
Nutritional Summary

GOOD NEWS:

Well, it's got veggies in it, right? But let's not split hairs - it's cake, and it's a treat. The serving sizes is actually pretty generous (1 slice = 1/10th of the cake) and you could almost certainly cut smaller slices and still feel like you're coming out on top.

BAD NEWS:

Hey, it's cake. Lots of sugar and delicious, delicious fat, especially thanks to the cream cheese.

TRIM IT DOWN:

I'm not going to pretend to make this health-food, but if you're looking to trim the fat you could use a low-fat cream cheese or even quark (I love quark). Beyond that, I encourage sharing it with the neighbours so you're not tempted to eat it all.
Ingredient Pages
No ingredient pages have been written yet for any of the ingredients in this recipe.  Like to see one?  Let me know in the comments below or by email.
Pantry Pages
No pantry pages have been written yet for any of the ingredients in this recipe.  Like to see one?  Let me know in the comments below or by email.
Decadent Chocolate Beet Cake with Candied Pecans
That's right. Decadent, rich, chocolaty cake that just happens to be made even better thanks to roasted beets. Sounds crazy, but it makes for amazing cake.
Ingredients
Cake
2

medium

beets

3/4

cup

butter

(= 1.5 sticks or 170g) at room temperature

1.5

cups

granulated sugar

50

g

dark chocolate

(I use 70% cocoa chocolate)

3

large

eggs

2

tsp

vanilla extract

2

cups

cake flour

sifted

1

tsp

baking soda

1/2

tsp

baking powder

3/4

tsp

salt

1/4

cup

Dutch process cocoa powder

1.5

cups

buttermilk
Candied Pecans
1/3

cup

pecans

1/3

cup

sugar

1/4

cup

water

1

tsp

vanilla

salt
Cream Cheese Frosting
2

tbsp

beet puree (from above)

450

g

cream cheese

(16 oz)

3/4

cup

powdered sugar

1/4

cup

butter

1

tsp

vanilla extract

salt
Instructions
Cake
(This step can be done one or two days ahead of time). Preheat oven to 400°F (205°C). Clean the beets and wrap them in aluminum foil. Roast them until their knife-tender (about 1 hour), then allow them to cool.

Using a food processor or the fine side of a box grater, shred enough beet to yield about 1 cup. You want the pieces to be quite small, so don't be afraid to shred the beets quite finely.

Preheat oven to 350°F (176°C).

Line two round 8 or 9 inch cake (see note) tins with parchment paper and gently flour the sides.

Melt chocolate in a bain-marie (double-boiler) or in a bowl over hot water. Keep the chocolate warm, but don't allow it to scorch.

Use a hand or stand mixer to cream the butter and sugar in a large bowl until very fluffy.

Beat in one egg at a time, then add vanilla, 3/4 cup (~180 g) shredded beets and melted chocolate.

Combine the dry ingredients in a separate bowl (flour, baking soda, baking powder, salt, cocoa powder) and sift to aerate.

Add the dry ingredients and the buttermilk to the beet mixture, a little bit at a time. Stop as soon as the batter is well-mixed and smooth. Spoon mixture into cake tins. Bake until a toothpick comes out clean (about 30 minutes, but keep an eye on it as ovens can vary quite a bit), then cool
Candied Pecans
Spread the sugar evenly in a large, heavy-bottomed pan and heat on the stovetop over medium-high heat. Once the sugar darkens and begins to melt and bubble at the edges, add the vanilla, water, and salt to the pan. The caramel should sizzle dramatically. Once the mixture settles down a little, stir gently, and reduce the heat to a very low setting.

Stir in the pecan pieces, ensuring that they're completely covered in caramel. Remove the candied pecans from heat and spread them out on a large, flat, heat-proof surface (e.g. a baking tray). Once cooled, break the clumps into small bits with a knife or by hand (but be careful - the sugar can be quite sharp).
Cream Cheese Frosting
Either squeeze as much juice as you can from the reserved beet puree, or incorporate the puree itself if it's finely grated enough (but be careful if you plan to pipe the icing, as small pieces will stick in some tips).

Place the beet puree (or juice) in a large bowl along with the other frosting ingredients. Use a stand or hand mixer to whip until the icing is well combined and somewhat airy. Set aside to chill in the refrigerator.
Decorating
If your cakes are a little domed, carefully slice off the rounded portion to make a flatter top.

Mix the candied pecans with about 3/4 cup of the frosting. Spread this over the first layer of cake, then place the second layer on top.

Frost the cake by spreading the frosting with a flat utensil, or if you prefer, by piping with a pastry bag. Serve immediately, or chill to set the frosting a bit more.
Notes
8 vs. 9 inch cake pans - I made this cake in 8 inch cake pans, and they were quite full, making for a longer cook time and a thicker cake. If you have 9 inch cake pans, you might want to use them and reduce your baking time somewhat. Alternatively, you could use three 8 inch pans to make a triple layer cake, once again keeping an eye on your baking time.
Nutrition
Calories:
692
kcal
|
Carbohydrates:
73
g
|
Protein:
10
g
|
Fat:
41
g
|
Saturated Fat:
24
g
|
Polyunsaturated Fat:
2
g
|
Monounsaturated Fat:
10
g
|
Cholesterol:
165
mg
|
Sodium:
567
mg
|
Potassium:
227
mg
|
Fiber:
2
g
|
Sugar:
51
g
|
Vitamin A:
1250
IU
|
Vitamin C:
1.7
mg
|
Calcium:
120
mg
|
Iron:
2.7
mg