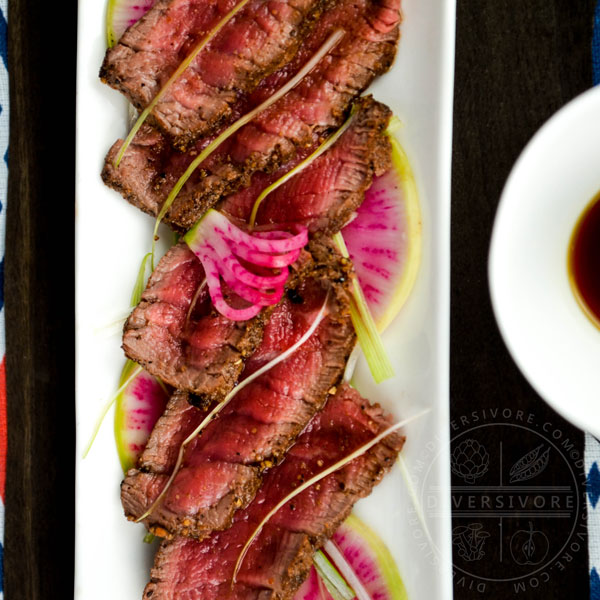 When it comes to beef tenderloin, less is more. It's an incredibly lean, soft, flavourful cut of meat, so you really don't want to overcook or over-season it. Given that it's the centerpiece of fillet mignon, it's obviously a great steak. It's also SUPER pricey.
Fortunately, you can take a small quantity of beef fillet and turn it into something absolutely spectacular.
Tataki means 'pounded' in Japanese, a reference to a preparation method that involves thinly slicing meat and pounding it flat, not unlike carpaccio. But the term is also applied to meats like tuna and beef fillet that start out tender. These are simply seared and served with a dipping sauce (like ponzu).
The flavours used to make this tataki are bold and varied, but they compliment the beef, rather than overpowering it. There's a little heat from the shichimi togarashi and the black pepper, brightness from the citrus in the ponzu, and layers of umami thanks to the beef, powdered mushroom, and the aforementioned dipping sauce. The onions and radishes add a bit of crunch with enough bite to hold up against the other ingredients. Best of all, the whole thing is incredibly simple to put together.
I was tempted to tag this as a 'reduced meat' recipe, but that seemed a little odd, given that the focus of the dish is steak. But when you really look at it, this is a great way to treat yourself to a high quality meat without overdoing it (financially or gastronomically). I can't think of a lot of meat-centric meals that can get away with serving less than 150 g (5.3 oz) per person, but this meal doesn't make you feel like you're missing a thing.
Beef tataki with ponzu makes a spectacular dinner for two (as served in the picture below), or a very high-end but surprisingly affordable appetizer for 8, as shown in the header image above.
To make this dish come together quickly, you need two things ready-to-go. First, you need a good ponzu. I can't stress enough that you don't want a cheap, salty ponzu. Tataki dipped in a simple soy sauce will be utterly overwhelmed by salt. Take the time to make it from scratch, or find a very good quality one that uses dashi as a base. Second, you need the powdered shiitake mushrooms. This might sound like an obscure ingredient, but it's actually just a simple DIY item. Dried shiitake mushrooms, which are normally rehydrated before being used whole or chopped, are readily available at any Asian grocery store. Simply take 2 or 3 of these mushrooms, remove the stems, and grind the caps in a spice grinder or food processor. The resulting powder is great for adding a savoury flavour to dishes, and it stores well in a spice jar.
As for the watermelon radishes, they look spectacular, but they're also a nice blend of crunchy and mildly peppery. If you can't find them, daikon or regular (red) radish would work well, though their peppery taste may be a little bit stronger.
The nutritional data is for a main-course sized portion (1/2 the total recipe); scale down by about 1/2 for an appetizer.
Nutrition Facts
Beef Tataki with Ponzu
Amount Per Serving
Calories 342
Calories from Fat 162
% Daily Value*
Fat 18g28%
Cholesterol 92mg31%
Sodium 1185mg52%
Potassium 764mg22%
Carbohydrates 12g4%
Protein 34g68%
Vitamin A 400IU8%
Vitamin C 18.2mg22%
Calcium 70mg7%
Iron 3.2mg18%
* Percent Daily Values are based on a 2000 calorie diet.
Nutritional Summary

GOOD NEWS:

You get a lot of protein in this dish, and a fairly well-balanced meal overall. The low quantity of red meat and the very lean cut keeps the saturated fat down. The sodium numbers look a little high, but that's assuming you drink every last drop of the ponzu dipping sauce. I wouldn't blame you if you did.

BAD NEWS:

Can be pretty high in sodium, so keep an eye on the quantity of ponzu you use if you're watching your salt.

TRIM IT DOWN:

The dish is pretty healthy as-is, but you can reduce the salt content by making sure you don't use too much of the ponzu sauce. If you're making ponzu from scratch, you can also use a lower sodium soy sauce.
Ingredient Pages
No ingredient pages have been written yet for any of the ingredients in this recipe.  Like to see one?  Let me know in the comments below or by email.
Pantry Pages
Beef Tataki with Ponzu
When it comes to beef tenderloin, less is more. This is all about balancing powerful flavours and letting the tender, seared fillet shine through.
Servings:
2
(main or appetizer)
Ingredients
275

g

beef tenderloin

2

tsp

ground dried shiitake mushrooms

(see note)

1/2

tsp

shichimi togarashi

1/2

tsp

black pepper

freshly ground

1/8

tsp

sansho pepper

(optional)

1/2

tsp

salt

1

tbsp

vegetable oil

1

tsp

sesame oil

2

small

watermelon radishes

or other mild radish, including daikon

6

scallions

white part only

3

tbsp

ponzu
Instructions
If your meat was in the refrigerator, allow it to come to room temperature. Cut the tenderloin across the grain into 2 steaks. Sprinkle the flat sides with salt and set aside.

Slice thin rounds of radish and set aside.

Trim the scallions and cut them into very thin matchsticks and set aside.

Combine the dried shiitake powder, shichimi togarashi, black pepper, and sansho (if using) in a small bowl. Rub the upper and lower surfaces of the steaks with the mixture, making sure to evenly cover meat.

Heat the oils in a heavy-bottomed frying pan (ideally cast iron). Once they're very hot, add the steaks and sear each side for no more than 1 minute. Remove from heat, set aside, and rest for 5 minutes.

Slice the steak as thinly as you can manage while still ending up with solid pieces. Serve with onions and radishes, and ponzu for dipping.
Notes
Dried shiitake powder is a surprisingly versatile and simple ingredient to prepare. Simple remove the stems from a small handful of dried shiitake mushrooms and pulverize them in a spice grinder or food processor. The finer you can get the powder, the better. Extra mushroom powder will keep in a spice jar for at least several months.
Nutrition
Calories:
342
kcal
|
Carbohydrates:
12
g
|
Protein:
34
g
|
Fat:
18
g
|
Saturated Fat:
5
g
|
Polyunsaturated Fat:
5
g
|
Monounsaturated Fat:
7
g
|
Cholesterol:
92
mg
|
Sodium:
1185
mg
|
Potassium:
764
mg
|
Fiber:
3
g
|
Sugar:
6
g
|
Vitamin A:
400
IU
|
Vitamin C:
18.2
mg
|
Calcium:
70
mg
|
Iron:
3.2
mg