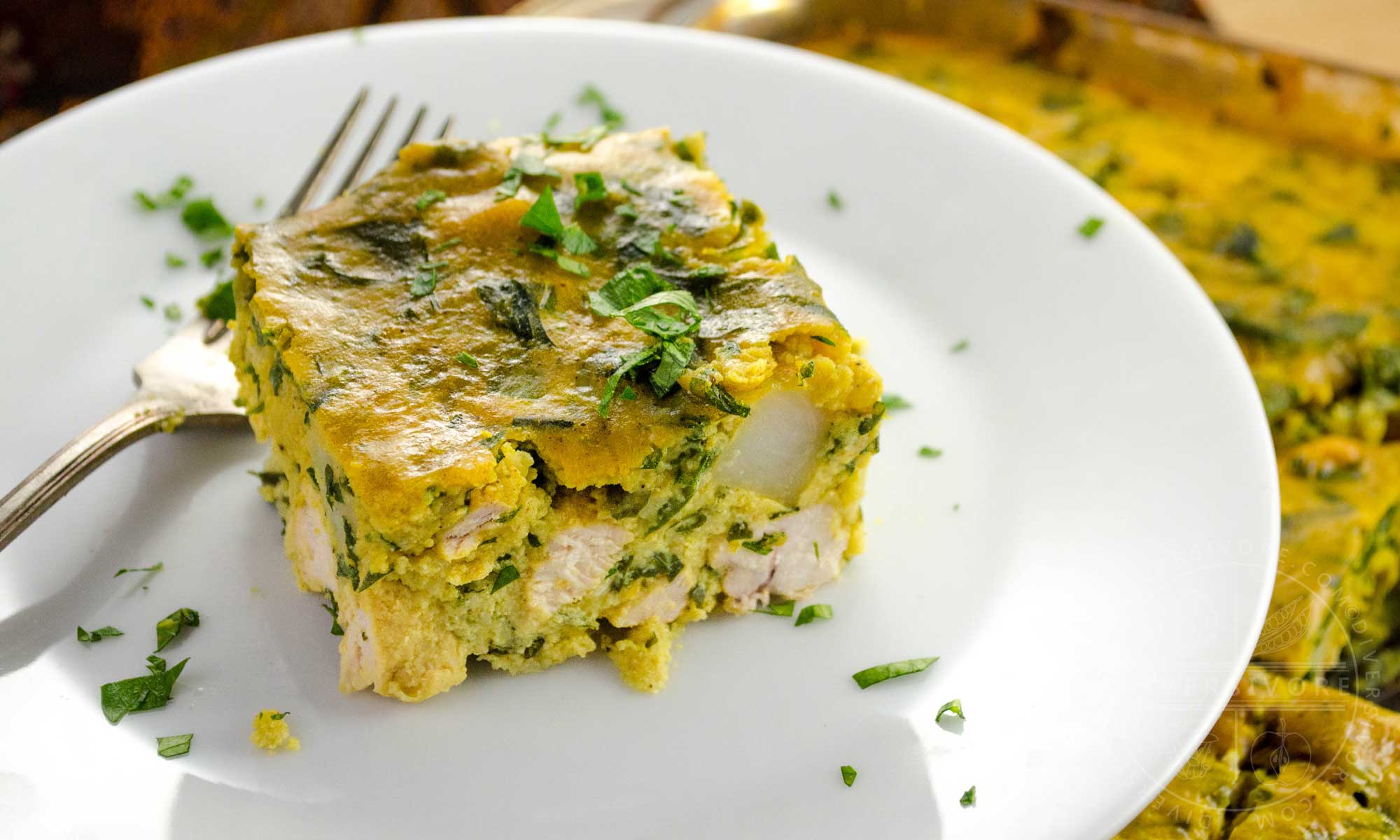 Baked Egg, Chicken, & Parsley Omelette
This recipe for Tunisian Tajine Maadnous is brought to you in collaboration with BC Egg, who have financially compensated me to develop it. 
All opinions are my own.
Tunisian tajines are egg-based omelette-like dishes, filled with a variety of meats, vegetables, and spices. Tajine maadnous features chicken, flat-leaf parsley, potatoes, cheese, and a homemade spice blend to deliver a delicious and easy dish that makes a perfect appetizer or light meal.
For a biologist-and-teacher-turned-food-writer, I sure do talk a lot about language.
I didn't actually intend to talk much about linguistics when I set out to make this recipe, but the word 'tajine' made it somewhat inevitable.  After all, this Tunisian tajine is rather different from what most English speakers think of when they hear the word 'tajine' (or tagine, which is a somewhat more common spelling in English).  In fact, everyone I've told about this recipe to date has immediately been curious about (or confused by) the connection to the popular and flavourful tagine dishes of Morocco.
Tunisian tajines are egg-based dishes, rather similar to Spanish tortilla, Italian frittata, or Egyptian eggah. The more well-known Moroccan tagines are stew-like recipes, named after the special ceramic pots in which they are cooked.  The two appear to have very little in common at first glance, but in reality, it only takes  a fairly short and simple linguistic jump to sort out the confusion.
Both dishes come from variations in the use of the original Arabic word ṭājin (طَاجِن), which comes from the Ancient Greek word tágēnon (τάγηνον).1  The original Greek word means a frying pan or saucepan, while the Arabic derivation can mean this or a clay cooking dish.  Basically, the word has always been used to refer to a cooking dish/pan first and foremost, rather than the meals cooked within it.  However, we humans like to name our foods after our dishes (casserole, pot-pie, paella, and nabe are other examples), and the word tagine/tajine came to be used in this fashion in the North African Maghreb region - albeit in slightly different ways.
In Moroccan Arabic, ṭājin became ṭažin (طاجين), and came to be used to refer to the wonderful, often beautifully decorated ceramic cooking pans used in the region.  These tagines and their distinctive conical lids help condense steam and return it to the dish, keeping slow-cooked dishes moist.  In Tunisia, however, the word retained standard Arabic spelling, and evolved over time to mean a specific egg dish (such as this one), cooked into a sort of hearty meat-and-vegetable omelette.  While the final dishes are undeniably different, they're united by the fact that they were both cooked in simple earthenware pans.  As for the two spellings, this seems to be the result of little more than differences in transliteration to English (or French) from Arabic.  In fact, spellings have been even more variable over the last 100 or so years, with variants like 'tajjine' and 'tajin' showing up in some older sources. Tagine has become the most commonly used English spelling when referring to the Moroccan dish, but tajine is still widely used and accepted.  For Tunisian egg tajines like this one, the spelling with the letter j seems to be widely preferred - possibly because it helps to differentiate it from the now-common Moroccan variant.
The Lisân al-'arab dictionary (لسان العرب) traces the origin of the word to Persian, rather than Ancient Greek.  Given the long-standing connections between the Persian and Greek languages, it may be difficult to say with certainty which language it truly originated in.  The word tagine may also have found its way into Arabic via the Amazigh (Berber) languages, though even in this case, most etymologists believe that the word originated in Ancient Greek.
Now that we're all on the same page with the language, let's talk about the food itself.  Tunisian tajines look, as I've mentioned, quite a lot like other Mediterranean egg dishes, but they come with a spice-forward, distinctively Maghrebi twist.  Like so many North African dishes, spices play a bold and important role. The eggs are still stars of course, but the final texture of the dish is also influenced quite a bit by the added starch.  In this case that starch comes in the form potato, but some tajines use bread or pulses.
This particular tajine recipe - derives its name from the Maghrebi-Arabic word for parsley معدنوس  (mʿdnws - roughly 'maadnous').  The name is well-deserved, as parsley plays a starring role in the flavour of the dish.  I'm a big fan of parsley, and I'm always a little annoyed when it's treated as nothing more than a garnish, so I'm quite pleased to get to use so much of it here.  That being said, if you're thinking that you might like to tone that flavour down - or tweak any of the flavours for that matter - it's quite easy to adapt and modify the recipe to your tastes.
You may be a little surprised to see that cheese also plays a major part in this tajine recipe.  You don't see a whole lot of cheese in the foods of the Maghreb region, but there are some distinctive trans-Mediterranean influences from French, Spanish, and Italian cooking.  Tunisian tajine maadnous almost always includes cheese, though there are quite a few different cheeses that you can use.  The role it plays in the dish is important but surprisingly subtle, and I wouldn't characterize this as a cheesy omelette by any means.  For more on your options with cheese and other ingredients, check out the Recipe Notes section below.
As with any omelette-like dish, there are a whole lot of different ways you can make this tajine.  I'll go into the details about the various ingredients and options below, but first I want to talk a little bit about the technique, and in particular how I cooked the potatoes.
Most of the Tunisian tajine recipes I found call for the potatoes to be cooked separately and then added into the eggs before baking.  I chose to switch things up a little bit by cooking the diced potatoes directly alongside the chicken in the initial steps of the recipe.  This gives the potatoes a bit more flavour, and the starch they release helps to thicken the mixture and give texture to the finished dish.  This method is a bit faster, as you don't have to pre-cook the potatoes, but it's also a little more technically difficult, as you need to make sure to cook off enough of the water to yield a thick roux of sorts.  When the potatoes are cooked in this fashion, the finished tajine has a softer, starchier texture, without the springy chewiness you sometime see in baked egg dishes.  Make sure you don't add too much water to the pan at the beginning; it can be tempting to think that the potatoes need more water, but remember that we're trying to end up with a fairly dry finished mixture.  If you add too much water initially, you'll be forced to cook it down, which will result in mushy, overcooked potatoes.
If you're worried about cooking the potatoes this way, you can always precook them by dicing, boiling and draining (but not rinsing) them.  The final texture will be a little 'eggier' but still lovely, as the leftover potato starch still does its magic.  Likewise, if you have leftover cooked potatoes you want to use up, you can chop them up and use them in the recipe by adding them in towards the end.
Parsley & Other Greens
We've all know the old parsley (or cilantro) conundrum: you need a couple of sprigs, but you can only buy a big bunch, leaving you with more leftover herbs than you know what to do with.  So what should you do with it? Why, you should make tajine maadnous, of course!
As I mentioned above, 'maadnous' means parsley, so it shouldn't come as any surprise to know that parsley is a big part of this dish.  I used the better part of a large bunch of flat-leaf parsley, but the exact quantity isn't really important.  If you like parsley a lot (and I do), you want to use a lot.  If you're worried that it might be a bit too much parsley for your tastes, tone it down by as much as half.
Now, it's not tajine maadnous without parsley, but you can call it whatever you want and use different greens too.  Cilantro (coriander) is another great option, and another ingredient that many of us often find ourselves trying to use up.  I've seen some recipes that call for spinach, and you certainly could give it a go, but you'll want to pre-cook and very thoroughly drain it, or you risk ending up with a watery finished tajine.
Cheese
Unusually for me, I've only listed "cheese" as an ingredient in this recipe, rather than something more specific. This is because ultimately you can use any number of different cheeses.  I used a 50/50 mix of mozzarella and Emmental, but just mozzarella would work fine too.  Ultimately, there are plenty of options you could go with, though I would recommend sticking with relatively mild cheeses that melt nicely.  Avoid particularly sharp, bold, or aged cheeses, as the strong flavours don't play all that nicely with all the spices.
Cream cheeses are another fairly popular option, and I think that goat cheese would be a good choice too, though I haven't tried it yet.  Interestingly, you'll find many Tunisian recipes that call for Laughing Cow (La vache qui rit) cheese wedges.  Highly portable, shelf-stable, and pleasantly mild, Laughing Cow cheese has long enjoyed quite a bit of popularity in North Africa, and is often used as a go-to cheese in recipes like this one.  It's not an ingredient I ever have on hand, but it's an authentic and popular choice.  The cheese is much too soft to grate, so individual pieces can be chopped into chunks and mixed in.  You can mix soft cream cheeses into the eggs thoroughly, or leave them in little chunks to yield little pockets of cheesiness in the finished tajine.
Variations & Add-Ins
Tajine is a perfect recipe to play around with, and you can change it up quite a bit depending on what you have on hand and/or what you think would work. I like this fairly simple tajine recipe because it lets the spices and the parsley really take center stage, but there are a number of variations that are worth mentioning.
Hard boiled eggs - Yes, more eggs! Chopped hardboiled eggs are a popular ingredient to include in tajine recipes.  Some like to cut the pieces up fairly small, while others like to use halved or quartered eggs for a bigger impact.
Meats - No chicken? Lamb and tuna also make great choices! Ground lamb would be easiest, but if you have tender leftover lamb from a roast (for example), that would be wonderful too.  Firm, good quality canned tuna would probably work best, though you could always cook fresh raw tuna too.  While I haven't tried it myself, I think that an oily fish like mackerel would work nicely too, especially with some tomato paste and harissa (see below).
Tomato paste - Try adding a couple of tablespoons, but be careful not to overpower the other ingredients.
Harissa - The quintessential North African spice paste is very much welcome at home in tajine! Try adding a little to the spices that you use to cook the chicken, or just stir some into the mixture before baking.  If you're not sure how much you want to use, start small and serve extra on the side.
Black olives - I've never been big on them myself, but fans will love the pungent, savoury kick they add.  The 'meatiness' of black olives also makes them a popular option for vegetarian tajine variations.
Spices - I know that long lists of spices can make a recipe look a little daunting, but the spices used here are all pretty common and easy to find.  If you happen to have a particular ras-el-hanout spice blend that you quite like, you can use it to replace some, or even all of the spices (except for the salt).  Do be cautious with this method, as some ras-el-hanout recipes lean much more heavily into spices like nutmeg or cinnamon than others, which could change the final dish up quite a bit.  If you're in doubt, try leaving in most of the cumin, coriander, turmeric, and salt, and using about 1 to 1.5 tsp of ras-el-hanout to replace the remaining ingredients.
Vegetarian Options
Now technically speaking, tajines pretty much always have meat in them (often, but not exclusively, chicken or lamb). But with a dish this big on plant-based flavours, I think it's definitely worth trying out vegetarian options.
You could simply omit the meat of course, though that would obviously require changing up the recipe methods a little.  Still, we're talking about omissions rather than additions, so it shouldn't be too tricky.  I would be more inclined to substitute a nice dense and flavour-absorbing ingredient like cauliflower or broccoli.  Try using about 1 lb (450 g), diced into bite-size pieces.  A chicken-like meat-substitute would work nicely too.
Note: Nutritional Information is given for a single serving (1/12th portion of the total recipe).
Nutrition Facts
Tunisian Tajine (Tajine Maadnous) with Eggs and Chicken
Amount Per Serving
Calories 185
Calories from Fat 90
% Daily Value*
Fat 10g15%
Cholesterol 159mg53%
Sodium 380mg17%
Potassium 373mg11%
Carbohydrates 7g2%
Protein 16g32%
Vitamin A 728IU15%
Vitamin C 14mg17%
Calcium 106mg11%
Iron 2mg11%
* Percent Daily Values are based on a 2000 calorie diet.
Nutritional Summary

GOOD NEWS:

This is some healthy stuff! High in protein, fairly low in fat, incredibly low in carbohydrates, and respectably nutrient-dense. Note that the servings are generally on the small side, as this is usually served as an appetizer or as part of a small meal, but even a double serving makes for a very healthy meal.

BAD NEWS:

Not much, really. Note that the cheese you use will impact the fat content somewhat - mozzarella, for example, is lower in fat that many other cheeses.
Ingredient Pages
No ingredient pages have been written yet for any of the ingredients in this recipe.  Like to see one?  Let me know in the comments below or by email.
Pantry Pages
No pantry pages have been written yet for any of the ingredients in this recipe.  Like to see one?  Let me know in the comments below or by email.
Tunisian Tajine (Tajine Maadnous) with Eggs and Chicken
Similar to an Italian frittata or Spanish tortilla, Tunisian tajine is an easy & delicious egg omelette filled with chicken, parsley, and spices.
Ingredients
1

lb

chicken breasts

diced (see note for vegetarian option)

1

medium

onion

chopped

1

large

potato

peeled and diced

1

cup

water

1

small bunch

parsley

(about 1.5 cups, chopped, loosely packed) - see note

8

large

eggs

6

oz

cheese

(see note)

2

tbsp

olive oil
Spice Blend
1

tsp

cumin

1

tsp

coriander

1

tsp

turmeric

1

tsp

salt

1/2

tsp

paprika

or cayenne pepper if you want some heat

1/2

tsp

black pepper

1/4

tsp

caraway

1/4

tsp

thyme

1/4

tsp

cinnamon
Instructions
Mix the spices together (grinding any whole spices if necessary) and set them aside.

In a large frying pan or pot over medium heat, saute the onions in about 1 tbsp of olive oil until tender.

Toss chicken with 1/2 of the spice mix. Add this to the pan and brown.

Add the potatoes and the water to the pan. Bring to a gentle simmer, then cook uncovered until potatoes are tender and most of the liquid has evaporated.

Stir chopped parsley into the cooked mixture and set aside to cool.

Preheat oven to 350°F (180°C), and grease a medium (2 quart/liter) baking pan with the remaining olive oil.

Thoroughly whisk the eggs in a large bowl, then mix in the cheese. Stir in the chicken, potato, and parsley mixture, along with the remaining spice mixture. Stir until well-combined, then pour into the oiled baking dish.

Bake for 30-35 minutes, or until set in the center. Allow to cool, and serve warm or at room temperature. Serve with some harissa, if you like.
Notes
Vegetarian Variation - While tajine is almost always made with meat of some kind, you can substitute more vegetables if you like.  I would try broccoli or cauliflower, as they hold up well during cooking and take on the flavour of the spices quite nicely. Parsley - Parsley is a defining flavour in this recipe, which is why there's quite a lot of it being used.  If you're not a huge fan of parsley, or you want to tone down its impact on the dish a bit, try using about half as much.  Note also that flat leaf (Italian) parsley tends to have a stronger and more distinctive flavour than curly parsley. Cheese - I used a 50:50 combination of mozzarella and emmental cheese, but you can use any relatively similar cheese(s) that you like.  Cream cheeses are also commonly used.  Note that 6 oz (175 g) works out to about 2 cups shredded, loosely packed. Variations and Other Add-Ins - Ground lamb can be substituted for chicken.  Some variations like to add in chopped hard-boiled eggs, black olives, a few tablespoons of tomato paste, and/or harissa paste for some heat.  If you have pre-cooked potatoes, you can add those instead of cooking them with the chicken, though you may find the finished dish has a somewhat different texture.  If you have a particular ras-el-hanout spice blend you really like, you can consider using it in place of most (or even all) of the spice blend I've provided, minus the salt.
Nutrition
Calories:
185
kcal
|
Carbohydrates:
7
g
|
Protein:
16
g
|
Fat:
10
g
|
Saturated Fat:
3
g
|
Cholesterol:
159
mg
|
Sodium:
380
mg
|
Potassium:
373
mg
|
Fiber:
1
g
|
Sugar:
1
g
|
Vitamin A:
728
IU
|
Vitamin C:
14
mg
|
Calcium:
106
mg
|
Iron:
2
mg