Mission Figs
With Whisky Caramel and Ricotta
I've been writing a lot lately.
Diversivore has touched on a lot of things of late, including a look at scratch cooking and nutrition, the fine line between intimidation and encouragement in blogging and cooking, a detailed break-down of non-traditional pesto making, and a linguistic look at peppers and Japanese food.  Funny enough, all of these recipes came about as I worked on a theme dedicated to good food, prepared quickly and with no advanced preparation.  Apparently simple dishes make me chatty.  (Those who know me well would argue that virtually everything makes me chatty, but that's neither here nor there).
In any case, as much as I've enjoyed all of these recent pieces, and as much as I've loved the discussion and the feedback that has grown around them, I thought I'd keep things sweet and simple today, and I'm being quite literal.
I love figs.  I didn't eat them when I was growing up, and I think this has a lot to do with how hard it is to transport a really good fig.  They're at their best when they're ridiculously soft, and they don't ripen well off the tree.  That means that they're a royal pain to transport, and they tend to be priced accordingly.  Luckily, very nice green figs grow quite well here in coastal British Columbia, and I'm seeing very nice black and brown California figs showing up with a little more regularity, so I've been able to experiment more and more over the last few years.
I adore this recipe because it's so simple, and yet so unique.  A soft, simple cheese, covered in a crisp caramel, and topped with perfect, barely cooked, wine-coloured fruit.  Well, technically figs are not a fruit, but a syconium, which is a large floral receptacle lined with ovaries, each bearing tiny fruit.  And they're pollinated by tiny wasps that live inside of the fruit.  And on the subject of California figs, did you know that 14,000 fig cuttings were shipped to California in the 1880s, but not a single one was able to produce fruit because the lack of fig wasps in the USA meant that the figs couldn't get pollinated?  Only when the wasps were introduced to the region did the plants begin producing fruit.  Figs are weird.
Ahem.  I promised not to get into too much extra stuff here, but as you can see I need to avoid falling too far down any one particular rabbit hole.  It's tough because, frankly, food is fascinating.  If you've been tagging along with me for the past few months, I'd like to think you probably agree.  So thanks for reading.  Now go have some dessert.
This is easy, elegant, and very different from most quick desserts. It's also pretty adaptable. I've given a few tips and variations here, but feel free to adjust the fruit or the dairy to whatever you like (or whatever's in season).
Caramel
I'm a big fan of caramels that become crisp and candy-like as they cool, and I personally think they're a little under-appreciated. This caramel is quite similar to the one I used in my Kumquat Apple Tart, but without butter it becomes even more brittle as it cools. This is a deliberate textural choice, as the very soft ricotta and figs need something with a bit of crunch to play against. That being said, if you want a runnier, more flowing caramel sauce, add 2 tbsp of butter to the hot sugar along with the liquid ingredients and (optionally) 1 tbsp of cream after the mixture has stopped sizzling so vigorously.
If you've never made caramel it can seem intimidating, but it's actually very easy. Dramatic, but easy. The two big keys to success are preparation and attentiveness. You want to have all your ingredients ready to go, as the process moves along quickly and you don't want to be left looking for an ingredient or measuring something out. The sugar itself requires very close attention, as it cooks to a very high temperature and will quickly burn if left unattended. If the begins to burn, toss it out and start again, as it will make an unbearably bitter caramel if you continue. As for the drama element, it's worth remembering that cooked sugar is exceptionally hot (WAY above the boiling temperature of water). This means that adding liquid to it will cause it to 'freeze,' crack, and bubble vigorously. As long as you're expecting it, it's actually pretty darned fun.
Figs
Black Mission are particularly lovely and very tasty black figs, but you could use brown Turkey figs or any good fig really. While I love the way dark figs look here, I wouldn't hesitate to use good green figs if I had them around.
When choosing figs, look for extremely soft ones. Figs do not ripen well off of the tree, and firm figs will generally not develop a great deal of sweetness. If you can find really soft figs but you're worried about whether or not they're overripe, you can do two things. First, avoid them if they've got obvious crushed or brown spots. Second, give them a smell; figs spoil and get boozy smelling very quickly once they get past the ripe stage.
If figs aren't in season or you can't get good ones, you could easily experiment with other fruits. In the spring or early summer, apricots would be an ideal choice. Pears would also work quite well, and I know they'd partner very well with the whisky caramel. If you do try a variation, let me know how it goes!
Ricotta and Variations
I like ricotta for this because it's simple, rustic, and light in flavour. If you're feeling adventurous, it's also the easiest cheese to make at home from scratch. I've used a standard, full-fat ricotta here, but if you like light ricotta you could make this a very light dessert overall.
You can change the character of this substantially by playing with the cheese base. Mascarpone would make an amazing, elegant, and rich dessert. Quark cheese would be lovely and light, landing somewhere between mascarpone and ricotta in terms of texture. You could use whipped cream too, but I think that the heavier/thicker bases stand up to the caramel a little better. A very good quality greek yogurt sweetened with honey would also be a nice, simple option.
As a final note, this is (by design) not an overly sweet dessert. If you feel that it needs a touch more sugar, add a little bit of good quality honey to the ricotta and stir it in before serving.
Nutritional information is given for a single serving (1/4 total recipe).
Nutrition Facts
Mission Figs with Whisky Caramel and Ricotta
Amount Per Serving
Calories 410
Calories from Fat 90
% Daily Value*
Total Fat 10g 15%
Cholesterol 30mg 10%
Sodium 182mg 8%
Potassium 48mg 1%
Total Carbohydrates 65g 22%
Protein 10g 20%
* Percent Daily Values are based on a 2000 calorie diet.
Nutritional Summary
GOOD NEWS:
As desserts go, this is very light stuff.  It's relatively low in fat and calories, and high in fiber, calcium, and (interestingly enough) protein.  The total amount of added brown sugar used only amounts to about 1 tbsp per person.  Note that this also include full-fat ricotta, so you can substantially reduce the fat and calorie content by using a light/low-fat ricotta instead.
BAD NEWS:
It is still a dessert, which of course means that it's being added on to a full meal.  That being said, there's really not a lot to get worked up about here, and (as mentioned above), you can reduce the fat and calorie content by using a light ricotta, or even a low- or no-fat Greek yogurt.
Note that using mascarpone will up the fat/calorie count considerably.
Ingredient Pages
No ingredient pages have been written yet for any of the ingredients in this recipe.  Like to see one?  Let me know in the comments below or by email.
Pantry Pages
No pantry pages have been written yet for any of the ingredients in this recipe.  Like to see one?  Let me know in the comments below or by email.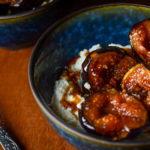 Mission Figs with Whisky Caramel and Ricotta
A light, elegantly rustic, and delicious dish, perfect for when you really want a bit of dessert but you don't want to spend all night in the kitchen.
Cuisine:
European, Italian, Miscellaneous
Keyword:
easy, figs with caramel, figs with ricotta, healthy, simple
Ingredients
8

small

black mission figs

halved (about 300 g)

2

tbsp

scotch whiskey

1/4

cup

brown sugar

packed

1/2

tsp

vanilla extract

1/2

cup

water

pinch

salt

300

g

ricotta
Instructions
Halve figs and set them aside.

Spread the sugar evenly in a large, heavy-bottomed pan and heat on the stovetop over medium-high heat. Once the sugar darkens and begins to melt and bubble at the edges, add the whisky, vanilla, water, and salt to the pan. The caramel should sizzle dramatically. Once it settles down a little, stir gently, and reduce the heat to a very low setting.

Place the figs, cut-side down, into the caramel in the pan. Allow them to cook a little by sitting in the hot caramel for about 1 minute.

Spoon portions of ricotta into individual bowls. Gently remove the figs from the pan and arrange them on the ricotta. Pour hot caramel from the pan over the figs and the ricotta. Serve immediately.
Recipe Notes
Note: this type of caramel will solidify quite a bit as it cools, so don't expect a soft, goeey sauce. If you want a runnier, more flowing caramel sauce, add 2 tbsp of butter to the hot sugar along with the liquid ingredients and (optionally) 1 tbsp of cream after the mixture has stopped sizzling so vigorously.