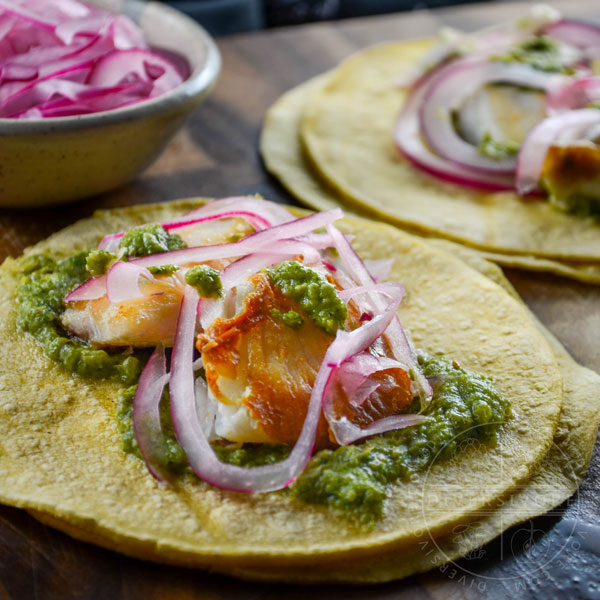 With Roasted Corn & Cilantro Salsa
These quick & simple fish tacos really come to life thanks to a simple, bold salsa made with roasted corn, roasted garlic, and cilantro, along with quick and easy pickled red onions.  They're adaptable too; halibut, cod, basa, scallops, and more all make great seafood bases! Best of all, the salsa and onions can easily be made ahead of time for a quick weeknight-friendly meal.
Sometimes I have to make a decision about how, exactly, I'm going to present a recipe. For example, if I make something with two or three different components, do I publish them all together? Do I publish separate mini-recipes for each component? And nothing forces me into this situation like tacos.
Some taco recipes do revolve around a single central recipe - a "one-and-done" taco, if you will.  But so often, tacos are really made by the toppings and add-ons.  Salsas and pickles can completely transform a simple taco base.  I personally love this, because it gives you enormous variation and adaptability in your cooking; a simple protein can transformed all sorts of ways with different toppings. But I know I like to see finished recipes when I go hunting for inspiration, rather than collections of possible combinations - so I feel the need to put a few different components together into something a little more composed.
Take this recipe, for example.  The fish part is so simple that it barely qualifies as a recipe.  The ingredients are just fish (I used halibut cheeks, but any good firm white fish will work), salt, and oil.  The only bit that's even remotely tricky is getting a good sear, and that's simply a matter of practice and confidence.  The pickled red onions are another ultra-simple aspect of the recipe, requiring only the simplest of ingredients and a bit of time (though I do have an alternative and slightly more complex Yucatecan-style pickled red onion recipe here).  The real magic here is the cilantro-corn salsa.  Part of me thinks I should have published the salsa on its own... and hey, maybe I will.  But I just love to see the whole thing put together, and I personally always feel a bit more inspired to make a condiment/side/sauce/whatever when it's put together with other ingredients to make a meal.  That, and I just love tacos too much.  If I've got a chance to share a taco recipe with the world, I'm going to do it pretty much every time.  Likewise, if I've got a chance to eat a taco, I'm going to do that pretty much every time.
Tacos forever, my friends.
This is an easy meal to make, and perfect for throwing together on a busy weeknight.  Make the onions and salsa a day or two in advance and all you'll need to do for dinner is fry up some fish.  It's also a great example of how you can build a really wonderful Mexican meal by building around a handful of mini-recipes (e.g. salsa and pickles) - something I've actually addressed in a few different recipes.
None of the techniques are very tricky here, though I will give a few pointers about getting a good sear on your seafood.  You'll also find a few notes below on the ingredients and possible variations.
Fish Options
I made these with halibut cheeks, which are easily one of my favourite seafoods to make (I've already used them with golden kiwis, avocado, and macadamias).  I like the firm but delicate texture of halibut cheeks, and the delicious but mild and agreeable flavour.  If you don't have cheeks, halibut fillets (cut into small portions) would work very nicely too.  Any good firm white fish should be easy enough to work with here - basically, if you can sear it in a pan (or even grill it), you should be fine.  On that note, there's no reason you couldn't use scallops as well.
The sweet and herbal quality of the salsa works nicely with a variety of proteins. Shellfish would be very nice with shellfish (shrimp or crab would be great), and you could definitely use chicken too, if you're not all that inclined toward seafood.  Do make sure not to overcook your protein, as you don't want an overly dry mouthful of taco.  If you're looking for a vegan option, I haven't tried it (yet), but I think that fried crispy chickpeas would be a great substitute for meat.  You could also go with a simple marinated-and-fried firm tofu or seitan.
Roasting Corn and Fresh vs. Frozen
I love roasted corn.  It's an amazing ingredient, with a complex flavour and wonderful sweetness that really jumps off the plate.  You certainly could make this salsa with un-roasted corn, but I think you'd be missing out on a lot.  If corn-on-the-cob is in season for you right now, you've got a few great options.  I find the easiest way is to shuck it and throw it on the grill for about 10-15 minutes, rotating it a few times as it cooks.  Corns grills nicely in the husk too, but I prefer to remove it here in order to get more char on the kernels.  You can roast corn in the oven too.  I won't get into too many details here - if you're looking for more methods or advice, check out this comprehensive post from The Kitchn.  Stick with a simple, butter-free cooking method, as you're going to be blending the corn into your salsa.
If corn is out of season, fret not.  You can actually roast corn kernels quite nicely too.  This recipe from Half Scratched goes into the details, but to summarize briefly, you want to roast an 11-oz (300 g) bag of frozen corn tossed with about 1 tbsp of oil on a foil-lined baking tray at 400°F (200°C) for 20-30 minutes. Stir the corn a few times for more even cooking.  You can add a little salt if you like, but I'd keep the additions to a minimum as you're going to be seasoning the finished salsa to taste.
And the Garlic!
You're already roasting corn, might as well roast that garlic too.  You can go with a classic oven-roasted style of garlic with soft cloves, or you can opt for a faster sort of 'charred' method that blackens the skin and leaves the inside a little less cooked.  The former will give you a mellower tasting salsa, while the latter will give the salsa a sharper bite.  Both are great, but I'm a bit more inclined towards the sharper flavour.
If you're grilling corn, toss a couple of larger garlic cloves into a corner of the grill that isn't getting too direct of a flame.  Let it roast until the skin is charred and the interior is softened and fragrant.  If you're worried about the garlic disappearing between the grill slats, simply thread it onto a skewer first.
If you're oven-roasting corn, you can put the garlic cloves right there on the pan with either the whole cloves or the kernels (see the frozen corn method mentioned above).  The cloves should be fairly soft and nicely caramelized after about 30 minutes.
Cilantro Stems = Awesome
Perhaps I should have put this sooner, as it's a major selling point, but this recipe is GREAT for using up cilantro (coriander, to some of you). We've all ended up with more cilantro than we need, and I know I've watched more than my share of it languish and wilt in the refrigerator. Not only does this recipe use a lot of cilantro, it lets you use the stems. Cilantro stems have great flavour, but because they're a little tougher, they often go to waste. Fortunately, the break down beautifully in sauces (which is also why they're great for making Thai curries, especially if you can't find cilantro/coriander roots).
A good blender or food processor should make pretty quick work of your cilantro stems - and all the rest of your salsa, for that matter - but you could make it by hand with a large mortar and pestle or molcajete.
You can make the salsa a full day or more ahead of time, and it will keep well in the fridge for at least 3-4 days.
Pickled Onions
If you've never made pickled onions for your tacos, then a) you don't know what you're missing, and b) you haven't been making enough of my taco recipes. I love pickled red onions so much that I've dedicated an entire post to doing them in the Yucatecan style with sour (Seville) orange juice, but for this recipe there's a super quick and easy variation that you can whip up in no time.  Slice, combine with vinegar/sugar/salt, shake, and rest.  The details are in the recipe card below - but that's really about all there is to it.  The longer you can let them sit and pickle the better they get, so if you've got the time, make them in the morning or the night before.  Don't be afraid to make extra either, because you'll want to eat them on everything.
Note: Nutritional Information is given for a single taco (1/8th portion of the total recipe) made with a single corn tortilla, and including a generous portion of onions and salsa.
Nutrition Facts
Fish Tacos with Corn-Cilantro Salsa
Amount Per Serving
Calories 148
Calories from Fat 27
% Daily Value*
Fat 3g5%
Cholesterol 28mg9%
Sodium 260mg11%
Potassium 355mg10%
Carbohydrates 17g6%
Protein 13g26%
Vitamin A 114IU2%
Vitamin C 7mg8%
Calcium 35mg4%
Iron 1mg6%
* Percent Daily Values are based on a 2000 calorie diet.
Nutritional Summary
GOOD NEWS:
These are SUPER good for you.  High in protein and low in fat and carbohydrates.
BAD NEWS:
Not much! Note that if you use flour tortillas instead of corn it will impact the fat/calorie counts.  These tacos are also a little low in Vitamins, so serve it with some extra veggies if you can.
Ingredient Pages
No ingredient pages have been written yet for any of the ingredients in this recipe.  Like to see one?  Let me know in the comments below or by email.
Pantry Pages
No pantry pages have been written yet for any of the ingredients in this recipe.  Like to see one?  Let me know in the comments below or by email.
Fish Tacos with Corn-Cilantro Salsa
A unique salsa made with roasted corn and garlic and vibrant green cilantro makes these unique fish tacos really stand out. Prepare the salsa and onions ahead of time for a super-easy weeknight-friendly meal.
(Note - I used halibut cheeks here, but any firm white fish will work nicely)
Ingredients
Tacos
1

lb

halibut cheeks

or other firm white fish

1

tbsp

avocado oil

or other neutral, high-smoke-point oil

salt

8

corn tortillas

or 16 if you like to double-up

2

limes

cut into wedges
Corn-Cilantro Salsa
1/2

cup

roasted corn

2

cloves

roasted garlic

1/2

cup

cilantro

leaves and stems

2

tbsp

white vinegar

salt

to taste
Quick-Pickled Red Onions
1

medium

red onion

thinly sliced

1/4

cup

apple cider vinegar

or white wine vinegar

1

tsp

sugar

1/4

tsp

salt
Instructions
Corn-Cilantro Salsa
(See note below about roasting corn and garlic)

Combine all of the salsa ingredients in a blender, food processor, or large mortar and pestle. Blend or pound the ingredients until well-combined. You want to stop when the mixture is still just a little bit chunky. Set aside, or refrigerate if making the day before.
Onions
Thinly slice the onion. Combine with vinegar, sugar, and salt in a container. Shake vigorously, then let stand for at least 10 minutes (longer is better). Refrigerate if making the day before.
Fish
Heat a large skillet or cast iron pan on the stove-top over medium-high heat. Add the oil and heat until the oil is shimmering and very hot.

Season the fish all over with salt, then transfer to the hot pan carefully. Sear the fish until it's golden brown and releases from the pan fairly easily. Flip and sear the other side until the fish is cooked through (generally only a few minutes for halibut cheeks, but this can take longer for thicker pieces of fish). Remove the fish from the pan and set it aside to rest for a couple of minutes before serving.

Serve fish with warm corn tortillas, salsa, pickled onions, and lime wedges. Don't skip out on the lime - it really finishes things off nicely!
Notes
Tip: Make the salsa and onions ahead of time for an incredibly quick and family-friendly weeknight meal. The salsa will keep well in the fridge for a couple of days, and the onions will keep for at least a week. NOTES Fish - I used halibut cheeks for my tacos, but any firm white fish will work nicely (e.g. cod, halibut fillet, basa, etc.).  Consider using smaller pieces of fish so you can cook them a bit quicker and get more browning/searing overall. Roasted Corn & Garlic - roasting these ingredients has a huge impact on the flavour of the salsa.  You can roast these any way you like, but I grill the corn without the husk for about 10-15 minutes on a hot barbecue, and the garlic cloves (skin on) until they're charred on the outside and nicely softened inside.  This method gives the salsa a nice smoky flavour.
Nutrition
Calories:
148
kcal
|
Carbohydrates:
17
g
|
Protein:
13
g
|
Fat:
3
g
|
Saturated Fat:
1
g
|
Cholesterol:
28
mg
|
Sodium:
260
mg
|
Potassium:
355
mg
|
Fiber:
3
g
|
Sugar:
2
g
|
Vitamin A:
114
IU
|
Vitamin C:
7
mg
|
Calcium:
35
mg
|
Iron:
1
mg