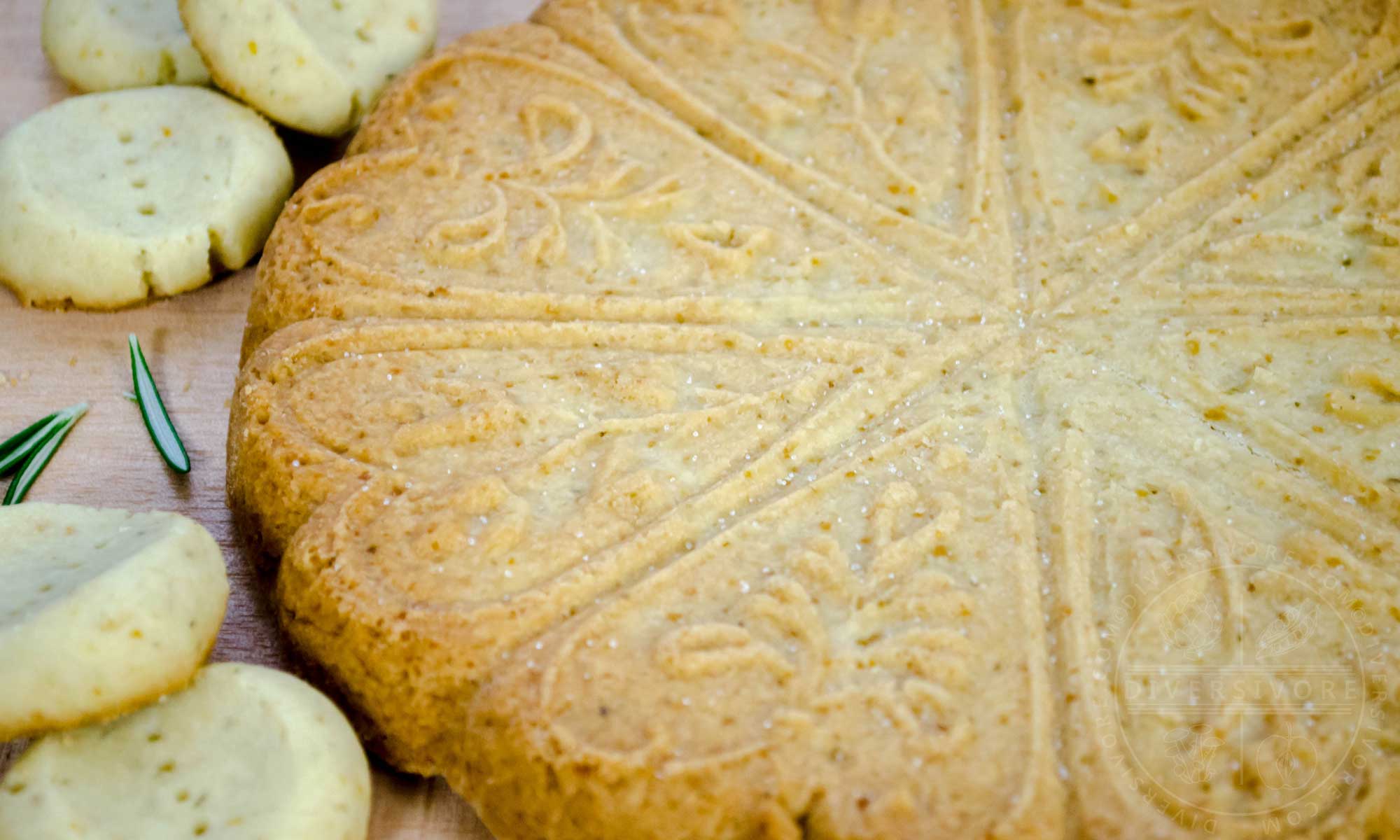 Rosemary Grapefruit Shortbread
Rosemary grapefruit shortbread is a distinctive and delicious cookie variation that's also wonderfully easy to make! The rosemary is wonderfully balanced by the bright citrus punch of the grapefruit, and neither ingredient overwhelms the individual cookies. The recipe works beautifully in a decorative shortbread pan, or as individual hand-shaped cookies.
I have a rosemary problem.
Ever since we moved into our current home with it's modest little townhouse yard, I've tried to maintain a small kitchen garden with herbs and some vegetables.  I do like gardening, but it often falls fairly low on the to-do list, so I really like plants that tend to take care of themselves.  Fortunately, this includes a number of culinary herbs, and my sage, oregano, and thyme have all managed to thrive with minimal intervention.  I have good thyme management.  But my rosemary... well, I'm afraid it's been a little too successful.  The wee rosemary plant I popped into the garden some 4 years ago has morphed into a hulking green behemoth, and at this point, I'm kind of at a loss.  It's straddling the thin green line between shrubbery and small tree.  It has a trunk.  I didn't know rosemary could grow a trunk.
When life gives you lemons, you make lemonade.  When life gives you a comically massive rosemary plant, you make... well, you make every rosemary recipe you can think of.  So when it came time to think up something new for my annual Christmas shortbread recipe, I figured I'd better branch out and embrace something new.  I've long been a fan of the combination of rosemary and citrus, and I thought that the combination would lend itself well to a dessert.  I figured I'd make a few batches, give some to friends, and really get in the holiday spirit.  And I did! But I also got a little overly optimistic about the dent that this recipe would make in my rosemary.  I chopped off far, far more than I needed, but you'd never know it by looking at the thing.  The rosemary perseveres, unfazed.
My complaints are largely in jest of course, but honestly, I'm a little conflicted.  If I were cutting back any regular plant it wouldn't really bother me, but trimming this verdant behemoth feels very much like wasting food.  Sadly, no matter how delicious these cookies are, I can't possibly fathom how I could go about using literal bucket-load of rosemary.  I think I'd need to start buying my butter in bulk and running my oven 24/7 before I was able to bake myself out of trouble, and frankly, I don't think my physician wife would condone our family moving to an all-shortbread diet.  If you have any ideas, do let me know.
I cut about 10 lbs of branches off this plant in the summer. That only made it angry.
Once I realized that there's no beating this over-eager evergreen, so I decided to go all in and just work it into the Christmas festivities. After all, I fell into this whole Christmas shortbread recipe idea in an accidental fashion - why not take on another tradition with equal whimsy?  So I threw on some antlers, grabbed the box of ornaments, and decided that my definitely-not-tree-shaped rosemary deserved to be suitably fêted for its contribution to the holiday.
Did I start a new tradition? No. Definitely not.  The thing looks ridiculous. But hey, I had fun doing it, and the cookies themselves are definitely going on my annual baking agenda.  They're delightfully different.  The fragrant, almost resinous rosemary flavour cuts through the buttery richness of the shortbread in a wonderful way, and the little bits of grapefruit zest add a bright, citrusy pop.  Both elements also add a barely perceptible touch of bitterness to the recipe, which I'm personally quite fond of in my desserts.
Rosemary is supposed to be 2+ meters tall, right?
Setting aside my horticultural debacle, I wanted to say that I hope you're all doing well.  It's been... well, it's been 2020.  You don't need me to tell you what this year has been like.  Here's hoping that some of you are finding this piece some years into the future and thinking "phew, thank goodness that mess is over."
In past years I've taken a bit of time to joke around with my holiday cookie recipe, poking fun at the insanity of the season, and encouraging people to take a step back to enjoy food with friends and family.  But this year has dropped a big fat lump of coal into our collective stocking, so I think I'll lay off the jokes for now.  Instead, I hope you'll bake some cookies and share them with the people who matter to you - in whatever way you can safely do so.  Leave a plate of cookies on a neighbour's doorstep.  Mail a box to the friends you miss so dearly.  If you're able, make a donation to your local food bank.  Cookies can't make everything better of course, but they can definitely make someone's day a lot brighter.
Happy Holidays. Here's to the future, and to many more shortbread recipes to come.   And, uh, if anyone wants to buy a rosemary wreath... just let me know.
I love the simplicity of shortbread.  All you need is a few staple ingredients and an oven.  If you're an old hand at shortbread you'll probably be comfortable skipping right to the recipe itself, but if you haven't made them before, I have included a few basic notes to help you get the best results.  I've also written a bit of information about how best to work with the rosemary and grapefruit, including some tips for tweaking the quantities to adjust the recipe to your own personal tastes.
Grapefruit
I will say right away that while these are rosemary grapefruit shortbread cookies, the grapefruit is a fairly subtle component. It's one of those ingredients that is notable in its absence, but tricky to pick out on its own.
There are ways to increase the grapefruit flavour in the cookies should you be so inclined.  You can add more zest to the recipe, but at a certain point it may start to have a textural impact.  Lots of zest can also contribute bitter, somewhat medicinal flavours that might not work well in the finished cookies.  Be sure to avoid getting too much of the white pith into your cookies, as it's quite bitter.  I like to use a cocktail citrus zesting tool to peel strips of zest, which I then mince or grind finely.
A much bolder, albeit more time consuming method, is to use finely diced candied grapefruit peel.  This will deliver more concentrated punches of grapefruit flavour (plus a bit more sweetness).  It also makes for a slightly fancier cookie! If you want to give this method a go, check out this recipe for candied grapefruit peel from the always lovely David Lebovitz.  You can substitute about 1/4 cup finely chopped candied grapefruit for the zest.
Other type of citrus can be substitute for grapefruit quite easily.  Lemon is a good option, but feel free to experiment and share your results!
Rosemary
Can't have rosemary grapefruit shortbread without rosemary! I tested this recipe with different quantities of rosemary, and the version I decided to post (2 teaspoons of rosemary) is nice and distinctive without being overwhelming. If you want to emphasize the rosemary a bit more, try about 3 teaspoons instead. Beyond this and you're getting into a pretty extreme rosemary flavour.  If you're using candied grapefruit (see above) you might also like to use the higher rosemary quantity for a bolder final flavour.
Rosemary is a powerful, but surprisingly versatile ingredient when used sparingly.  Unlike many herbs, the taste of rosemary doesn't really diminish much with cooking, so it can be used to great effect even in baked recipes like this one.  I only recommend using fresh rosemary in this recipe.  Dried rosemary has a stronger flavour, and the store-bought stuff is often ridiculously hard.  If you do have good dried rosemary and you want to try using it, use about 1/2 teaspoon, and make sure to grind it finely.
Sugar
I use simple granulated (white table) sugar for my shortbread. Some people prefer to use powdered (icing) sugar for a softer, more melt-in-your-mouth texture, but I personally like shortbread to be a little more granular and crumbly. You can substitute powdered sugar into the recipe, but you'll want to make sure to do so carefully. Because powdered sugar is much finer, it can become very dense if packed, yet very airy if sifted. This means that you can't use a 1:1 volume substitution for granulated sugar.  Instead, you can substitute un-sifted powdered sugar at approximately a 7:8 ratio for granulated sugar. For this recipe, that translates to about 1/2 cup, minus a tablespoon. If you're baking by weight, you can simply follow a 1:1 conversion.
Finally, I would recommend caution if you're planning to use powdered sugar and a shortbread pan, as the softer finished cookie may be much harder to turn out in one piece.  I would err on the side of caution and aim for a more well-browned cookie for best results.
Corn Starch & Rice Flour
I generally don't feel the need to include extra starch in my shortbread recipes, but I've made an exception here because of the added moisture from the grapefruit juice.  The addition of a small amount of corn starch or rice flour (the two can be used interchangeably) helps to bind this extra moisture and make the finished cookies a little softer.  If you don't have either, you can use an extra 1-2 tablespoons of all-purpose flour as well, though the finished cookies may be just a bit harder and crispier.
Shortbread pans & Baking Times
I generally make my shortbread by hand-forming cookies, but earlier this year I lucked out and came across a beautiful ceramic shortbread pan in a thrift shop.  The unglazed ceramic pan is designed by Brown Bag Designs of Bedford, Virginia.  Their shortbread pans, cookie molds, and cookie presses have been beloved for decades, and the particular design I have (Hearts and Flowers) is back in production at the time of writing.  If you're a fellow Canadian who hates getting hammered by international shipping costs, you might want to pick one up from Lee Valley Tools - judging by the design, I would assume that they're made by the same manufacturer, though you only have the one Scottish thistle design to choose from.  If you like shortbread as much as I do, and you like making gifts for people (a wonderful tradition for Christmas - or any time, for that matter), I'm sure you'd love one.
If you're new to using a shortbread pan, there are a few tips that I think are worth taking into account.  First, the baking time is increased quite a bit over what you'd need for small cookies on a baking tray.  Because the pan itself takes time to heat up, and because the dough basically forms a single giant cookie, the overall baking time is going to be more than double what you'd need for smaller cookies.  The actual baking time will vary depending on your oven (and possibly your shortbread pan), but 40-45 minutes was about perfect for me.  If you watch the shortbread cook, you'll see the flaky, bubbly 'done' section migrate from the edges to the center.  Once this process has finished, you still want to wait until the cookie is well browned, but not burnt.  If you take it out too early, the center will be soft and unset, and the cookie will fall apart. Trust me.  If you feel like it's browning too quickly, but you're worried it's still not fully set, turn off the heat and let the shortbread sit in the warm oven for 5-7 more minutes.  Keep an eye on it.
To get the shortbread out of the pan, allow it to cool, then gently loosen the edges with a small knife.  Place a cutting board over top of the pan, then invert the whole thing carefully. It should come out fairly easily, but it may take a few gentle taps.
Recipe Size & Quantity
The quantity of ingredients used to make this recipe is largely based on convenience (i.e. 2 cups of flour, 1 cup of butter, 1/2 cup of sugar). This is easily halved or doubled, and it's a convenient quantity if you're making individual cookies. If, however, you're planning to use a shortbread pan similar to the one I used, it's worth noting that a 2/3 batch (which will yield almost exactly 1 lb of dough) will give you the best results.  You can reduce the servings slider on the recipe card from 24 to 16 cookies, or you can just make the full batch and bake the extras on a separate baking pan.   I'd choose the latter, because more cookies are always better.  In fact, if you want to really go all-in and make a bunch of these beautiful wedges to give as gifts, a double batch of dough will perfectly fill three pans.  Just make sure to cover and chill the extra dough in between baking batches.
Note: Nutritional Information is given for a 1/24 portion, equivalent to two small thumbprint cookies, 1 larger cookie, or 1/2 of a large wedge from a shortbread pan.
Nutrition Facts
Rosemary Grapefruit Shortbread
Amount Per Serving
Calories 133
Calories from Fat 72
% Daily Value*
Fat 8g12%
Cholesterol 20mg7%
Sodium 14mg1%
Potassium 17mg0%
Carbohydrates 15g5%
Protein 1g2%
Vitamin A 236IU5%
Vitamin C 1mg1%
Calcium 5mg1%
Iron 1mg6%
* Percent Daily Values are based on a 2000 calorie diet.
Nutritional Summary
GOOD NEWS:
Shortbread is not overly sweet, and is mercifully fairly low in added sugar - especially for a dessert.
BAD TREAT YO'SELF NEWS:
Hey, they're cookies, right? Cookies with butter. Lots of butter. Plenty of tasty, tasty fat.  Enjoy them in moderation.
Ingredient Pages
No ingredient pages have been written yet for any of the ingredients in this recipe.  Like to see one?  Let me know in the comments below or by email.
Pantry Pages
No pantry pages have been written yet for any of the ingredients in this recipe.  Like to see one?  Let me know in the comments below or by email.
Rosemary Grapefruit Shortbread
A distinctive and delicious shortbread variation that's also easy to make! The rosemary is wonderfully balanced by the bright citrus punch of the grapefruit, and neither ingredient overwhelms the individual cookies.
Note that the cooking time can vary considerably depending on a few factors. See the notes for more details.
Ingredients
2

cups

all purpose flour

1

cup

unsalted butter

warmed on the counter for ~1 hour

1/2

cup

granulated sugar

2

tsp

rosemary

(1 medium sprig)

1.5

tbsp

grapefruit juice

2

tbsp

grapefruit zest

packed (approx two medium grapefruits)

1/8

tsp

salt

2

tbsp

corn starch

or rice flour
Instructions
Zest two grapefruits, taking care not to get too much of the white pith. Squeeze some juice (half of one grapefruit should be enough), and set aside.

Grind the rosemary, grapefruit zest, and around 1 tbsp of the sugar in a coffee or spice grinder. Alternatively, you can finely mince the ingredients by hand.

Position a rack in the center of your oven, and preheat to 350°F (175°C).

Sift the flour and corn starch (or rice flour) together. Set aside.

Using a stand mixer or hand mixer, thoroughly combine the butter, sugar, rosemary/zest mixture, salt, and grapefruit juice.

Add flour to the butter mixture a little at a time, mixing until a malleable dough is formed. It should have a consistency rather like playdough.
Shortbread Pan
Spray or brush a very thin layer of vegetable oil over the inside surface of the pan.

Evenly press the dough into your shortbread pan. The dough should be around 1.5 cm (5/8 inch) thick (see note below on dough quantity).

Bake the shortbread until it's flaky and set in the middle, and nicely browned all over; generally around 40-45 minutes.

Cool the finished shortbread for 20-30 minutes. Gently run a small knife around the edge of the pan to loosen the shortbread, then carefully turn it out onto a cutting board. The wedges are easiest to cut apart when still somewhat warm.
Individual Cookies
Shape the dough into individual cookies by hand, or with a cookie press. I like to make small balls with about 15 grams of dough (~1 tbsp), then flatten these with my thumb. Double the size for larger cookies.

Arrange the cookies on a baking tray, taking care to leave a bit of room for them to spread out. Bake until lightly browned on the bottoms; about 10-12 minutes for small cookies, and a little longer for larger ones.
Notes
Volume vs. Weight Measurements - The actual weight of a cup of flour can vary quite a bit depending on a variety of factors.  The weight given here (300 grams for 2 cups) is based on my actual measurements, and not a standard conversion. Serving Size/Dough Quantity - Scaling the batch size to 2/3 will fit best in a shortbread pan without any leftover dough.  You can use the serving slider in the recipe card to adjust the batch from 24 to 16 servings, or you can simply make a full-sized batch and bake a few small cookies separately.  Alternatively, you can double the recipe size and make three pans worth of shortbread - just make sure to cover and chill your dough in between baking sessions.
Nutrition
Calories:
133
kcal
|
Carbohydrates:
15
g
|
Protein:
1
g
|
Fat:
8
g
|
Saturated Fat:
5
g
|
Cholesterol:
20
mg
|
Sodium:
14
mg
|
Potassium:
17
mg
|
Fiber:
1
g
|
Sugar:
4
g
|
Vitamin A:
236
IU
|
Vitamin C:
1
mg
|
Calcium:
5
mg
|
Iron:
1
mg