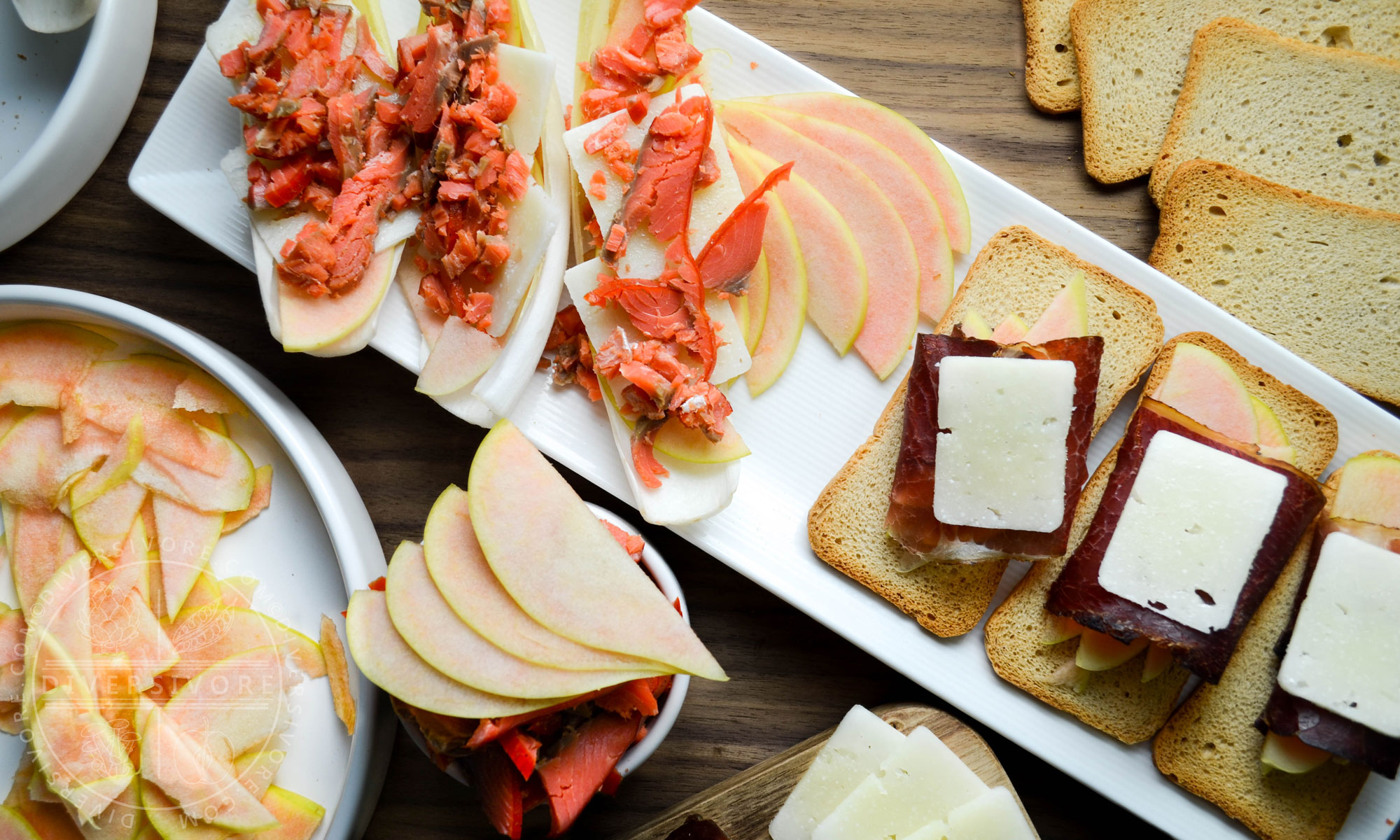 Pink Pearl Apple Charcuterie
With Bison Bresaola, Smoked Salmon, & Manchego
A delicious apple is an easy thing to love. A delicious, perfumed, yellow-green apple that happens to have bright pink flesh? Well that's not only easy to love – it's easy to become obsessed with.
When I started writing a feature all about underappreciated apple varieties, I was spurred along in large part by the discovery of these amazing Pink Pearl apples. They've got a lovely flavour, but their striking appearance is obviously a big selling point. I started developing and cooking apple recipes and the results were wonderful, but I realized that anything I was going to do with the Pink Pearls had to show them off. There's no sense burying them in a recipe and hiding all of that lovely colour. I considered cakes and galettes, but I was worried that they'd brown too much during cooking. Apple sauce was a possibility, but a) I had just canned a big batch, and b) I figured that wasn't really going to do them justice either. Apparently you can make some pretty spectacular blush cider with Pink Pearls, but I had neither the volume nor the know-how. One day I realized that all I really wanted to do was slice them up, show them off, and eat them. What better way to that than with a classic charcuterie spread? I was a little unsure at first -after all a charcuterie plate isn't exactly a recipe – but I decided that this would be a good chance to talk about pairing powerful flavours and making memorable meals.
As I mentioned in my last apple-related recipe, I have a pretty serious obsession with cheese. I try to limit my intake a bit, as I'm neither made of money, nor do I want a body-built-by-brie, but I do love me some cheese. I'm also a big fan of cured meats – and while I try not to overdo it there either, I think that high-quality cured meats can do a lot to actually decrease our overall meat consumption. Cured meats are often packed with big, intense flavours, and are frequently made with under-appreciated cuts.  While it's not uncommon to build a meal for one around 200 grams of meat, that same quantity of cured meat is probably enough to comfortably share between 4-6 people.  So while a charcuterie platter can seem a little indulgent, it's actually a great way to enjoy big flavours while consuming a little less. 300 grams (10.6 oz) of meat and 200 grams (7 oz) of cheese feed 8 people as an appetizer, or 4(ish) as the main component of a meal. The ingredients themselves are certainly more expensive, but the idea is to enjoy a lot of flavour in a small package, and not to fill your stomach with meat and cheese. To this end, I focused on some really big flavours with contrasting buy complimentary flavour profiles. The individual components I've chosen here are, of course, endlessly variable, but I think one of the biggest sins when assembling charcuterie has got to be overloading the platter with too many foods that are too similar. Instead of standing on their own, these end up feeling like filler. We stop focusing on the individual bites and start wolfing down one helping after another. Actually, I have basically the same problem with really mild cheeses too – they're so mild (or bland) and unobtrusive that we end up eating an astonishing amount very quickly. Ultimately, your goal should be a character-driven, flavour-rich board, and not one that's full of filler.
Alright, so how do you fill your stomach without… well, filler? If this is an appetizer at a party, you're probably not worried about how full everyone gets, but if you want to make a meal out of this, how do you avoid polishing off way-too-much and feeling way-too-hungry at the end? This is where veggies, fruits, and to a lesser extent grains come into play. I'll go into the details below in the Recipe Notes, but to summarize briefly, the key is extending and complimenting your flavours with lower-calorie, lighter foods.   As with the meats and cheeses, everything should be on the plate for a reason. Don't underestimate the impact that something like an apple can have either – the sweet, tart, and beautiful pink pearls completely changed the character of this platter for the better. If you're stuck for an idea, it might just be waiting for you in the produce section.
This is a relatively simple charcuterie board – two very distinctive and different cured meats, one kind of cheese, apples, endive, and crackers. You could easily expand it with other selections, or make any number of substitutions. To that end, here are a few tips regarding these ingredients, substitutions, and building your own charcuterie board.
Cured Meats
Smoked salmon has a wonderful distinctive flavour, and it works with a lot more flavours than it generally gets credit for. It can be pricey in small packages or amounts, but you're often paying for convenience and appearances. I buy smoked salmon fillets (or fillet portions) from F.I.S.H. – a fantastic Vancouver area fishmonger. They're much cheaper than vac-packed small portions, and impeccably fresh. If you buy a frozen fillet, you can just cut off a portion to use and keep the rest for a later date. It's a great way to go.
Bresaola is an air-dried, salted cut of beef originally from Northern Italy. Its dry, flavourful, lean character is a great compliment to both the pungent cheese and the soft salmon. To add local flare, I chose a wonderful bresaola made from bison that I found at Vancouver's Oyama Sausage. If you're in the Lower Mainland of BC and you're looking to build a charcuterie plate, you'd do well to start your shopping there.
For this board I went with two distinctive, somewhat smoky, yet very dissimilar flavours. While that smoky quality works really well with the strong manchego and sweet/sour apples, you could easily go down many different roads. A good butcher shop will have plenty of cured meats to choose from, and you can ask for recommendations that will work together and fit your theme. In general though, try to avoid choosing two meats that are very similar to one another. Two very dissimilar meats may work depending on the other ingredients you use, but you'll often find that you gain something by choosing ingredients that share some broad culinary characteristic (e.g. herbs, fat content, spice level, smokiness, etc.). I also really like using meats that have different textural qualities on the board. If everything is very dry, or very firm for example, it can be off-putting. For example, if you've got a very dry cured sausage that you want to use, try pairing it with a fresh or cured non-dried sausage. This is all a guideline of course – let your instincts guide you, try a few samples, and ask a few questions!
Cheese
Manchego is a sheep's milk cheese from Spain with a distinctive but not overwhelming flavour. I'm quite fond of it, and I think it works really nicely with the smoky flavours of the cured meats. It can be tricky to find (and very expensive – I was lucky enough to find some that was 50% off), but other sheep milk cheeses (pecorino, for example) can make excellent replacements. That being said, if you've never had a sheep milk cheese, be sure to try a little first – they have a distinctive flavour that some people love and others aren't fond of.
Ok, manchego is wonderful, but let's talk variation. I'm going to try to keep this section short, because honestly I could go on all day. Cheese is a pretty personal thing, but I'm going to encourage you to look for distinctive cheese(s) to use here. Many of the comments I made about complimentary and opposing flavours also apply here, and I would using broadly similar cheeses. Now there are those out there who may disagree with me, but I would also avoid the innocuous and frankly bland cheeses that basically act like fatty filler (I'm looking at you, mild cheddar). To be clear, that doesn't mean avoiding soft cheese; it means avoiding cheese that leaves no real impression on you. If the flavour is so mild that it disappears against the meat, then you're basically eating it for texture. Fatty, calorie-laden texture.
Carbs
I'm going to keep this simple. The cheese and meat pack a lot of salt, so the crackers shouldn't. I like melba toast, water crackers, or something like a simple white baguette. If you are going to go with a fancy-shmancy cracker, make it one that specifically partners with your ingredients. Last, and perhaps most importantly, don't make overload the platter with carbs. Yes, you need to eat your charcuterie with something, but you don't want to fill up on crackers. Limit yourself, and move on to the fruits and veggies.
Fruits, Veggies, Etc.
This is a frequently overlooked category, and it needs to be considered more carefully.
The pink pearl apples are beautiful and distinctive, but any good sweet/tart apple makes an amazing compliment to rich, creamy, salty, or smoky flavours. Cheese with apple is a classic for a reason. But apples aren't the only fruit that works well here; pears, citrus (either cut or in a preserve), dried fruits (apricots are a great example), and even some berries can all be incredible. Use your imagination.
Vegetables wildly underappreciated underappreciated in charcuterie, and they can contribute an awful lot to the plate when chosen carefully. Perhaps when we picture vegetables and platters, we imagine baby carrots and celery sticks encircling a tub of ranch dip. Let's put that notion to rest for a moment – I'm not suggesting that you just slap any old veggies on this. In fact, they're probably one of the hardest components to work with. I used endive for its crisp, slightly bitter flavour, and because the little scoop-like leaves are wonderful to spoon ingredients onto. They're a win-win, bringing interesting flavour and allowing you to avoid cracker overload. As for other vegetable selections, pickles are always a great way to go, and not just teeny little cornichons either; try peppers, olives, onions, etc. Vegetable-based spreads are great too – think hummus, babaganoush, etc. Experiment. Have fun. Eat more charcuterie.
Apple Diversity
This recipe is part of a series highlighting the flavour and versatility of little-known and underappreciated apple varieties.
There has been a growing interest in rediscovering forgotten heirloom apples, as well as a resurgent interest in growing and marketing new hybrid varieties. Apples were once once of the most important and varied fruits in both North America and Europe, but large-scale commercialization favoured a handful of attractive, easy-to-grow apples with long shelf lives.  But the longest lasting apples aren't necessarily the best or most interesting ones, and chefs, farmers, and apple enthusiasts around the world are working to give some of these forgotten apples the exposure they deserve. This little feature is my contribution to that worthy cause.
Pink Pearls are, unsurprisingly, notable for their distinctively pink flesh. The colour you see in the photos is not enhanced – they're genuinely pink – sometimes shockingly so. Pink Pearls are descended from another pink apple called Surprise, which in turn is the result of crossing a standard domestic apple with the bold, ruby-fleshed Asian crabapple known as Niedzwetsky's Apple (Malus niedzwetskyana). This makes the Pink Pearl one of the delightfully named 'applecrabs' (domestic apples with some degree of crabapple parentage).
Pink Pearls are said to have a finer flavour than their Surprise parent. They're a sweet/tart apple with a nice, perfumed character (some suggest that the fruit has a subtle raspberry flavour). They can be a little bit mealy, but not overwhelmingly so. They have a fairly short season, arriving early in the fall and lasting for a few months at most. Pink Pearls were developed in California, and tend to grow best up and down the Pacific Coast (up to and including British Columbia).
The nutritional information given is for a single serving (1/6th of the total recipe, including all ingredients listed).
Nutrition Facts
Pink Pearl Apples and Charcuterie
Amount Per Serving
Calories 283
Calories from Fat 126
% Daily Value*
Total Fat 14g 22%
Cholesterol 64mg 21%
Sodium 816mg 34%
Potassium 87mg 2%
Total Carbohydrates 11g 4%
Protein 22g 44%
* Percent Daily Values are based on a 2000 calorie diet.
Nutritional Summary

GOOD NEWS:

Given how rich charcuterie can be, this is actually pretty lean and fairly low in calories. The saturated fat is on the high side thanks to the cheese, but you can cut back a little there too. If eaten as a meal (i.e. a 1/4 or even 1/3 portion), you'd still be in relatively healthy territory, except for…

BAD NEWS:

… the salt!
Cured meats and cheeses are salty. No getting around it really. Watch your intake for the day, and try to choose lighter options or smaller portions if you're limiting the salt out of your diet.
Ingredient Pages
No ingredient pages have been written yet for any of the ingredients in this recipe, but it is part of a series on unique apples.
Pantry Pages
No pantry pages have been written yet for any of the ingredients in this recipe.  Like to see one?  Let me know in the comments below or by email.
*I've used standard melba toast crackers here, but you can substitute any gluten-free cracker or bread in it's place, as the remaining ingredients are free of wheat and gluten.
Pink Pearl Apples and Charcuterie
Lean cured bresaola, manchego cheese, smoked salmon, and endive all partner with gorgeous (and aptly named) Pink Pearl apples in this easy charcuterie board.
Keyword:
apple charcuterie board, charcuterie board with apples, pink pearl apple, pink pearl apple recipe
Servings
:
6
people (as an appetizer)
Ingredients
2

medium

pink pearl apples

thinly sliced (see note)

150

g

bison bresaola

or similar dry, cured meat

150

g

smoked salmon

1

endive

50

g

melba toast

or similar crackers

200

g

manchego cheese

or other sheep's milk cheese (e.g. pecorino)
Instructions
Thinly slice the apples and set them in a shallow bowl. Pink Pearls don't brown too quickly, but if you're using another apple you may want to toss them with a little lemon juice in order to keep them looking fresh.

Gently clean the endive, then trim the bottom away. Separate the leaves out and set aside.

Lay out all of the ingredients on a platter. You can pre-slice the cheese and smoked salmon or leave that up to your diners. Serve. Eat.
Recipe Notes
Pink Pearl apples are beautiful and delicious, but don't feel limited if you can't find them. A good, firm apple with both sweet and tart flavours will be wonderful.
Bison Bresaola is likely to be a bit of a hard-to-find specialty, but regular bresaola or any dry, lean, cured beef will stand in admirably.