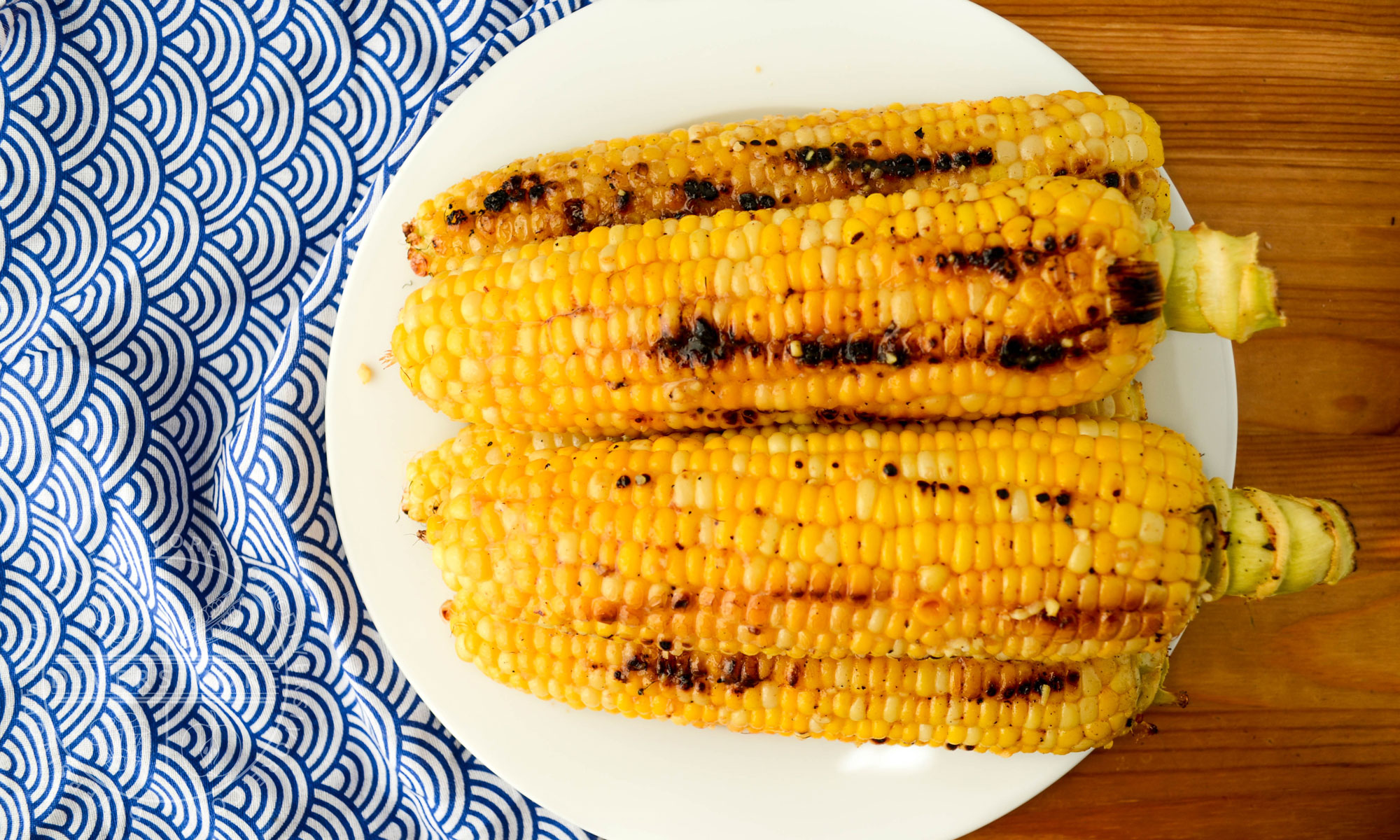 Miso-Yaki Tōmorokoshi 味噌 焼きとうもろこし
Ahhh, grilled corn. It's kind of everywhere these days, isn't it? Of course anybody who grew up (or spent time in) parts of Asia or Central/South America knows that it's been popular there for a very long time, often as a roadside snack. It's ridiculously easy to make, and because it's grilled outdoors it doesn't heat up the house (both biiiiiiig pluses in my books). But I think one thing that's really launched grilled corn into the mainstream is the fact that you can flavour it in so many ways. This has endeared grilled corn to plenty of people, thanks in no small part to the fact that starchy (i.e. not sweet) corn is particularly common in a lot of the world, and it kind of begs for a bit of added flavour. But that doesn't mean that good, fresh, sweet corn can't benefit from being dressed up and grilled, but the key is balance.  Sure you want to add and accentuate flavours, but you also want to let the great taste of the corn speak for itself.  In order to achieve that, I decided to turn to the Japanese palate.
The corn commonly grown in Japan definitely falls into that starchy category, so the average North American cookout technique (boiled and buttered) doesn't really do it any favours. It's often flavoured with soy sauce and mirin, bringing salt and sweetness to bear on the relatively bland kernels. In fact, as the very talented Chef Marc Matsumoto (of the awesome cooking site NoRecipes.com) points out in his miso butter corn recipe, you pretty much have to douse Japanese corn with some kind of sauce in order to make it even remotely palatable. But the sweet corn grown here (in Canada and the USA) for summer consumption is just SO good as-is that it doesn't need a whole lot to make it spectacular.  It's also (as the name suggests) rather sweet, so I really wanted to compliment it with rich, salty, and savoury flavours.  Miso is a wonderful, nigh-magical ingredient that adds a one-two punch of salt and umami, along with its own distinctive and endearing flavours.  I used aka (red) miso for this corn, but you could use any number of good miso varieties to play with the flavours a little here.  There's also some ginger and mirin in all that butter, and you get to top it off (should you choose) with spicy shichimi togarashi.  It kind of hits every flavour note, and I'm totally in love with it.  But my secret ingredient (can you call it that when you publish it for everyone to see?) is a really cool Japanese ingredient called shio koji.  There's a decent chance you've never seen it for sale unless you frequently haunt a Japanese grocery store, but let me tell you now, it's one of those life-changing ingredients.
Shio koji is quite simple.  It's simply alcohol, salt (shio means salt), and rice koji.  What is rice koji?  I'm glad you asked, imaginary conversation partner!  Rice koji is cooked rice that's been treated with the same species of mold (Aspergillus oryzae) used to ferment miso, soy sauce, rice vinegar, sake, and more.  The really cool thing about it is that it contributes salt and umami in a way that allows you to actually use LESS salt in your food.  Basically, it tastes saltier than it is, so you can use less salt in a recipe overall.  Check out the Recipe Notes below for a bit more information about it.
I love this corn alongside grilled Japanese food, which probably shouldn't come as any surprise.  As you can see from the images below, it's great with grilled chicken meatballs (aka tsukune, which admittedly are not ball-shaped in this case).  It's also an awesome side to go along with bacon-wrapped shimeji mushroom kushiyaki.  But even if you're not cooking Japanese food, this is a simple, delicious way to put a savoury twist on corn on the cob.
Nutritional information is given for a single ear of corn, and assumes that about 3/4 of your butter stays on the corn (the rest tends to end up on the foil on the grill).
Nutrition Facts
Miso Grilled Corn (Miso-Yaki Tomorokoshi)
Amount Per Serving
Calories 277
Calories from Fat 117
% Daily Value*
Fat 13g20%
Cholesterol 29mg10%
Sodium 135mg6%
Potassium 10mg0%
Carbohydrates 37g12%
Protein 5g10%
Vitamin A 350IU7%
Vitamin C 8.3mg10%
* Percent Daily Values are based on a 2000 calorie diet.
Nutritional Summary

GOOD NEWS:

This manages to be sweet, buttery, and salty without being particularly high in fat, sodium, or sugar. It's kind of like magic. This is the kind of veggie side that everyone can get on board with.

BAD NEWS:

If we're being nit-picky, it's a LITTLE high in saturated fat (it is butter after all), but even then I think that the data given actually reflects a pretty generous dose of miso-butter. You could probably get away with less.
Ingredient Pages
No ingredient pages have been written yet for any of the ingredients in this recipe.  Like to see one?  Let me know in the comments below or by email.
Pantry Pages
Miso Grilled Corn (Miso-Yaki Tomorokoshi)
Corn on the cob get's the a delicious savoury-salty Japanese upgrade thanks to rich miso-butter, ginger, and an amazing, adaptable secret ingredient.
Ingredients
6

ears

sweet corn

1/2

cup

unsalted butter

(115 g) well softened

1

tbsp

aka (red) miso

1

tsp

shio koji

(see note)

2

tsp

ginger

(10 g) minced

2

tsp

mirin

(or sugar)

shichimi togarashi

to garnish (optional)
Instructions
Thoroughly combine the butter, miso, shio koji, ginger, and mirin in a bowl and set aside. If it's sunny outside, let it sit beside the barbecue while you work, as it will melt a little bit and be easier to work with. Alternately, you could microwave it briefly or leave it (in a heat-proof bowl) on the barbecue lid for a minute before using.

Shuck the corn and remove as much silk as you can from the cobs.

Preheat an outdoor grill over medium-high heat. If your grill has a temperature gauge, you want it to be around 350 F.

Lay down a sheet of aluminum foil across the grill and place the corn on top of it. Cook for 8 minutes, turning occasionally to cook the corn evenly. If you find the corn is scorching too much, drop the temperature a little and keep the lid open for a bit.

Spoon about half of the softened butter over the individual ears of corn and grill, covered, for an additional 2 minutes. Turn the corn over and spoon the remaining butter over the ears, then cook for an additional 1-2 minutes.

Remove from heat and serve. Garnish with a little shichimi togarashi if you're looking for a bit of a spicy kick.
Notes
Shio koji is generally available from well-stocked Japanese grocery stores, usually in the refrigerated section. If you can't find it, you can use double the miso, or use a mix of red and white miso. The taste won't be exactly the same, but it will still work well.
Nutrition
Calories:
277
kcal
|
Carbohydrates:
37
g
|
Protein:
5
g
|
Fat:
13
g
|
Saturated Fat:
7
g
|
Polyunsaturated Fat:
0.4
g
|
Monounsaturated Fat:
3
g
|
Cholesterol:
29
mg
|
Sodium:
135
mg
|
Potassium:
10
mg
|
Fiber:
2
g
|
Sugar:
10
g
|
Vitamin A:
350
IU
|
Vitamin C:
8.3
mg