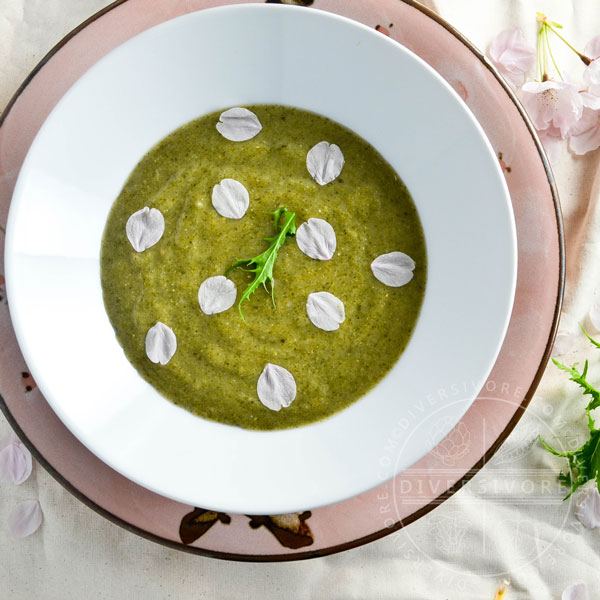 I don't normally try to post two similar recipes in quick succession, but I simply couldn't help myself here. I had originally planned to post a single recipe highlighting two variations on nettle soup, but they turned out too different and each really deserved its own post.
The previous nettle soup was a sublime and simple take on the traditional European variations. This version however is all about building flavours with Japanese staples. Nettle soup is by no means a traditional Japanese recipe, and nettles don't have a particularly prominent place in the Japanese culinary pantheon, but their mellow, green sweetness is wonderfully suited to the subtle marriage of salty and sweet found in a proper Japanese broth. White miso adds richness and complexity while providing a creamy richness to the soup.
Honestly I was really impressed with this soup, but not just because it tasted good (and man, it was good). I love the more traditional nettle soup recipe, but sometimes an ingredient gets a little pigeonholed and you want to see what else it can do. Really, nettles are tasty and versatile, and there's no reason that they should be limited to a single soup (even with variations). So I wanted to see if I could build a great soup with Japanese building blocks – and without any cream, butter, or meat broth. The resulting vegan delight is not lacking for flavour, depth, or richness in any way. The nettles and roasted vegetables are amazing (as you'd expect), but rich and distinctive Japanese flavours still shine through. The miso is an especially important component, adding a rich, salty-sweet element that gives body to the soup. The whole thing is at once familiar and exotic.
For what it's worth, I didn't make two nettle soups because I'm an obsessive tinkerer. Well… not JUST because I'm an obsessive tinkerer. I did it because I wanted to work with a classic and with something different, and I think there's something to be said for that. We fall into routines that revolve around our favorite dishes, but those routines can turn into ruts if we're not careful. I guess what I'm saying is – make your favourites and your specialties, but take a step back and reconsider the ingredients once in a while. You might end up with something new you love – or you might end up surprising and pleasing a whole group of folks who hadn't realized that there were new culinary avenues open to them. Case in point: you're welcome gluten-free vegans (who I would imagine spend a lot of time looking for recipes): there is now a nettle soup for you without any wheat or faux-dairy. So there you go.
Nettles are a very popular wild food, and may be found in some farmers markets. If you can't find them for sale, they're very common in the wild across a lot of North America and Eurasia. If you do forage for your own, make absolutely certain that you know what you're picking. Nettles are a very distinctive plant, but any wild food should only be eaten if you're 100% certain about its identity. You'll want to wear gloves and choose the youngest, tender stems and new leaves. When you are working with the leaves, be sure to continue wearing gloves. Wash the nettles thoroughly and pick out any stems or damaged leaves.
The garnishes are completely optional, but they do add some nice dimension. Cherry blossoms (sakura) are obviously not always readily available, but if you do have access to a clean, un-sprayed ornamental cherry tree, they make a beautiful and pleasantly sour garnish. You could substitute any edible flowers, or some shichimi togarashi for a bit of colour and heat.
If you're not familiar with using kombu, check out this Pantry Page reference guide to learn all about how to find, choose, and use it.
Note that this recipe is very easily doubled to serve 8 (or more if served as a small starter soup).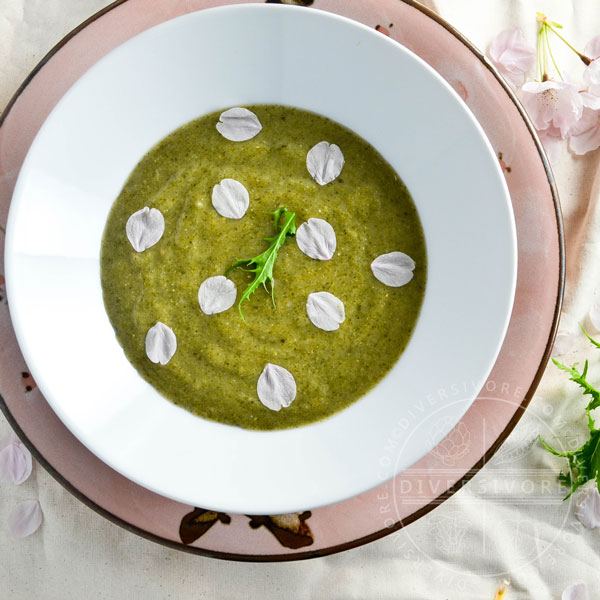 Nutritional info is given for a single serving (1/8th total recipe).
Nutrition Facts
Japanese Nettle Soup
Amount Per Serving
Calories 125
Calories from Fat 18
% Daily Value*
Total Fat 2g 3%
Sodium 318mg 13%
Potassium 326mg 9%
Total Carbohydrates 24g 8%
Protein 4g 8%
* Percent Daily Values are based on a 2000 calorie diet.
Nutritional Summary

GOOD NEWS:

Nettle soup is already a pretty healthy dish, but this does away with nearly all of the fat found in a traditional European style cream soup. Without sacrificing flavour, this is astonishingly low in calories, and still fairly nutrient-dense.

BAD NEWS:

Nothing really – you'd have to eat a quadruple helping before you started overdoing it on the sodium, and it's low in protein, but that's getting pretty nit-picky. Enjoy.
Ingredient Pages
Pantry Pages
Japanese Nettle Soup
Nettles are great in soup - there's no doubt about that. But given their already exotic and unusual status, it's not uncommon for them to be pigeonholed into one very specific preparation. I wanted to show that with some tweaking and creativity, a sublime soup can be made with distinctly Japanese ingredients for a wonderful and unique break from the ordinary.
Keyword:
stinging nettles, vegan, vegan nettle soup
Ingredients
100

g

stinging nettles

3

small

dried shiitake mushrooms

(about 15 grams)

300

g

small yellow potatoes

diced

1

medium

onion

chopped

1

tbsp

vegetable oil

1

tbsp

mirin

3x5

inch piece

kombu

225

g

chinese cabbage

(~1/4 head)

3

tbsp

white miso

2

tsp

tamari

(substitute soy sauce)

2

tsp

rice vinegar

1/2

cup

short grain white rice

cherry blossoms

to garnish (optional)

mizuna

to garnish (optional)
Instructions
Soak the shiitake mushrooms in 1 cup of cold water for at least 1 hour, or up to overnight. Do not discard the water used to soak the mushrooms.

Soak the kombu in 2 liters of cold water. If you're soaking the mushrooms overnight, then do the same with the kombu. If you're pressed for time, simply soak the kombu as long as possible while doing the other steps.

Wear gloves while working with the raw nettles. Pick through them and remove any thick stems or bad leaves, the gently wash the nettles in cold water. Drain and set aside.

Bring a large pot of lightly salted water to a boil. Add the nettles and blanch for 45 seconds, then drain and rinse with cold water. Set the cooked nettles aside (you no longer need gloves to handle them).

Preheat oven to 400 F.

Toss the potatoes and onions with the oil and spread out over a baking tray. Roast for about 15 minutes or until browned and very fragrant.

While the vegetables are cooking, remove the mushrooms from their soaking liquid, remove the stems, and dice the caps. The stems are generally quite tough and should be discarded, though you can add them into the stock and fish them out later for added flavour. Do not discard the mushroom stock (soaking liquid)!

Add tamari, mirin, and rice vinegar to the pot of water and kombu, then bring to a simmer over medium-high heat. Once the broth is simmering, remove the kombu and skim any bits. Add the mushrooms, mushroom stock, roasted veggies, and cabbage, then return to a simmer. Add rice, cover, and simmer until the rice is done; about 15 minutes.

Add the blanched nettles to the pot and simmer for an additional 2 minutes.

Puree the soup with an immersion blender or in a blender or food processor. Serve warm, garnished with bitter greens or edible flowers (or really any garnish you'd like). I used cherry blossoms and mizuna.
Recipe Notes
Be sure to wear gloves when working with uncooked nettles.
Note that this recipe is listed as gluten-free, but do pay attention to your tamari ingredients, as some varieties are made with a small amount of wheat.