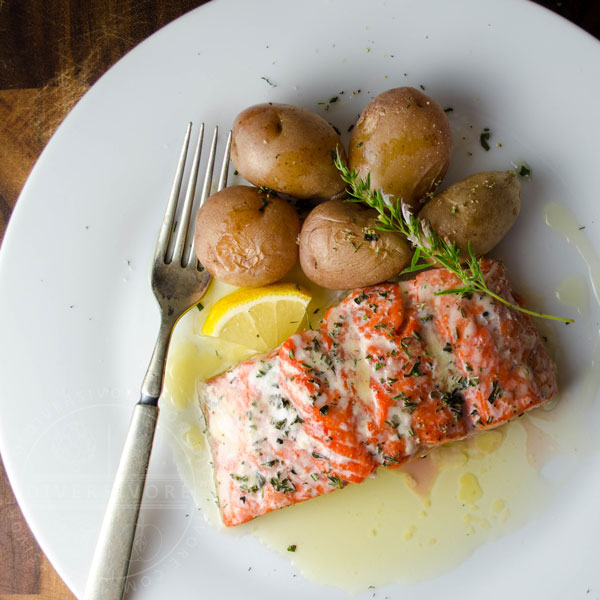 Salmon with Fresh Herbs
And Lemon-Garlic Butter
This post is part of a series of recipes sponsored by Go Wild! BC Salmon. You can find this recipe and more, along with information about British Columbia's incredible wild salmon fisheries. All opinions are my own.
The trickiest recipes to get right can be the simplest ones. And simple-yet-perfect recipes are especially important when you've a really great central ingredient that you don't want to hide. I've had a lot of fun in the past working with less visually appealing (but still delicious) salmon like chum/keta, it does feel a bit like culinary sacrilege to do something too over-the-top with a perfect sockeye fillet. Sockeye salmon is definitely not something that you want to hide; it's delicious and stunning, both raw and cooked.  And as funny as it sounds, the simplicity of this recipe was the real challenge.  I wanted to put together something that would play up the visual appeal and taste of the sockeye salmon but still give you lovely folks a recipe with flavours that would immediately get you curious .  Something simple, but evocative.
Garlic. Butter. Lemon. Herbs. (Specific herbs, but we'll get to that in a second).  All very approachable, easy to work with, and fantastic partners to the distinctive but relatively mild flavour of salmon.  Now the tricky bit was making something with these ingredients that stood out from the pack a little.  A lot of salmon recipes involve baking salmon with all of the ingredients already added on top, but I decided to keep the fillet itself extremely simple – just sea salt, pepper, and herbs.  As for the lemon, garlic, and butter, well I took my lead from a very different (but ever-so-tasty) seafood: lobster.  While the salmon is cooking you put together a simple melted butter sauce.  The garlic cooks in the butter for a rich, deep flavour, and the whole thing is finished off with fresh lemon juice.  Once the salmon is finished you simply serve it and pour that delightfully decadent butter sauce over the top.
Now let's talk about those herbs.  I went with fresh herbs here, rather than dried herbs.  I did this because I really like working with fresh herbs, because dry herbs can easily overwhelm a fish dish, and because… well, my garden is basically exploding with herbs.  I used a lovely little selection (oregano, thyme, rosemary, dill, and savory) but this is definitely an adaptable dish, so if you don't have every herb (or don't have exactly the quantities you might want) don't worry.  There are tips and variations in the Recipe Notes section below.
This is definitely a simple meal to put together, so I don't have to get into much in terms of technique. With that being said, I figured this would be a perfect time to get into the subject of properly cooking salmon. We'll get to that bit a little lower down (past the next image), but first let's talk about some specifics for this recipe, including variations.
Herbs
As I mentioned above (and below in the recipe itself of course), I used a combination of oregano, savoury, dill, thyme, and rosemary here – all fresh, and all in approximately equal portions. Now let's get one thing straight right off the bat here: herb measurements are a royal pain. This recipe calls for 1/2 tsp of each herb, but I know how frustrating that can seem. I mean, herbs don't come in tsp quantities, so you're basically just chopping and leveling up spoons and repeating in order to get the right amount. But the truth is, at least as far as this recipe is concerned, the actual measurements don't really matter. Just try to use approximately equal amounts of each herb and chop until you think you've got enough to put on top of the fish. Bear in mind that you're not going for a thick herb crust or anything so you don't really need all THAT much.
As for the herbs you use – well, feel free to experiment on that one too. Personally I think that the rosemary and dill are essential here, but there's an argument to be made for the thyme as well. They all blend quite nicely, and using a combination of herbs definitely keeps any one ingredient from really jumping out at you and overwhelming the dish. And I say that as a person who's hot and cold when it comes to using dill.
Lemon-Garlic Butter
This simple little sauce is wonderfully easy to make and excellent for all kinds of seafood dishes. Use it for shrimp, lobster, scallops, or a plain white fish to add character and play of the natural briny sweetness of the seafood. I don't think it's going too far to say that it would be quite at home on chicken too.
This is one of those 'if you can melt butter you can make this' kind of recipes. Make sure you mince your garlic and juice the lemon ahead of time, but beyond that it's pretty fool proof. Make sure you keep the simmering butter at a relatively low temperature – you want to cook the garlic but not scorch the milk solids in the butter. Add the lemon juice as you finish cooking the sauce. I strain the mixture for a nice clear end product, but if you don't mind the bits of garlic and the milk solids you can leave it as-is.
Sides
Simple roasted, spiced potatoes make an excellent side (which is why I made them for the photos). Green veggies are another excellent (and lower-carb) choice. I would personally go with asparagus, broccolini, or broccoli rabe, but honestly cook with whatever floats your boat. A nice herbed rice makes a great side (something lemony to go along with the salmon would be great – like my Japanese lemon-herb risotto).
Properly Cooking Salmon
That picture up above this section isn't just here to make you hungry. It's here so that I can take a second to talk about how to nail that perfect cook on your salmon. Salmon is one of those foods that's so often over-cooked that many people have come to expect it served that way, or to believe that properly cooked salmon is in face undercooked. Fish cooks quickly and it's a lot easier to cook a piece of salmon through until it's completely solid and dry. Salmon doesn't deserve that. When you stick a fork into the thickest part of a salmon fillet, you should get something that's moist, flaky-but-not-dry, and darker than the outside of the fish. The colour will obviously vary depending on the variety of salmon that you work with, but with this sockeye salmon it should be a deep orange-red, only a little paler than the raw fish.
So how do you ensure that deliciously moist, perfectly cooked salmon? Well I just happen to have a few tips.
First things first, keep an eye on it. Salmon doesn't take that long to cook, and with especially direct cooking methods (e.g. broiling and pan-frying) it can be done in only a few minutes.
Make sure that your salmon is defrosted and, ideally, at room-temperature.  Salmon that's still a bit frozen in the middle will be a pain to cook, as the belly and back sections will dry out while you're waiting for the middle to catch up.
Judge how well-cooked your salmon is by checking the thickest part.  The thinner belly and back sections of a fillet will cook faster, but relying on those portions can leave your salmon under-cooked.  Slide a little knife into the thick portion and pry a couple of segments of the fish apart.
Don't rely too heavily on the clock.  Any recipe (this one included) should give you an estimate for the amount of time needed to cook it, but you should definitely start checking on the early side.  The size and thickness of a portion, colour and thickness of your baking pan, oven temperature and more can cause cooking times to vary quite substantially.
Remember that fish (as with almost any meat) will continue to cook a little after you remove it from the oven/pan/etc., so don't forget to factor in the resting period and its effect on the doneness of your salmon.
Remember that flaky doesn't mean crumbly.  Cooked salmon should flake into pieces while still remaining moist, but if it crumbles (i.e. you could break it up into dry little bits that don't stick together) then you've gone too far, at least as far as cooking a fillet or other large piece of salmon is concerned.
So there you have it! Happy cooking.  And if you're looking to test out your salmon cooking skills on another recipe, check out this Sesame Salmon with a Maple-Soy Glaze!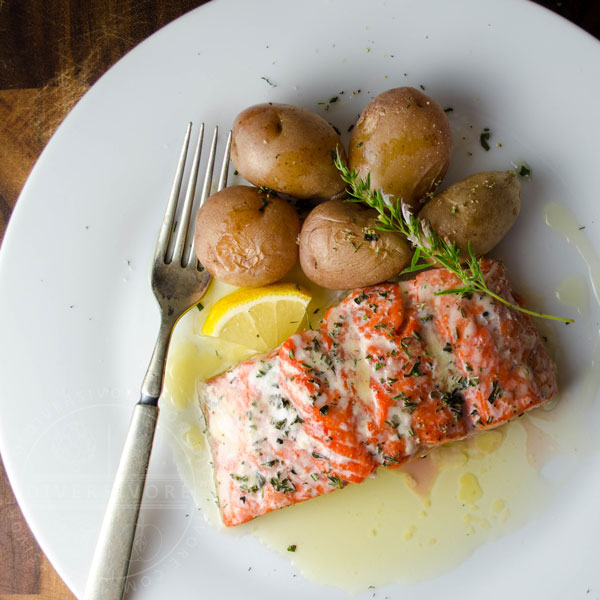 Nutritional info is shown for a single serving (1/6th total recipe) and does NOT include potatoes or any other sides.
Nutrition Facts
Salmon with Herbs and Lemon-Garlic Butter
Amount Per Serving
Calories 225
Calories from Fat 126
% Daily Value*
Fat 14g22%
Cholesterol 79mg26%
Sodium 309mg13%
Potassium 530mg15%
Carbohydrates 1g0%
Protein 21g42%
Vitamin A 300IU6%
Vitamin C 2mg2%
Calcium 26mg3%
Iron 1.1mg6%
* Percent Daily Values are based on a 2000 calorie diet.
Nutritional Summary

GOOD NEWS:

Despite butter starring prominently in this meal, it's a healthy and fairly low in fat overall. It's also high in protein and fairly low in sodium.

BAD NEWS:

Given that this is a simple seafood main, the final nutritional profile of your dish will depend a great deal on your sides and accompaniments. Choose veggies over starches and grains to keep things lean.
Ingredient Pages
No ingredient pages have been written yet for any of the ingredients in this recipe.  Like to see one?  Let me know in the comments below or by email.
Pantry Pages
No pantry pages have been written yet for any of the ingredients in this recipe.  Like to see one?  Let me know in the comments below or by email.
Salmon with Herbs and Lemon-Garlic Butter
Simplicity! Beautiful sockeye salmon, garden fresh herbs, and an ultra-easy lemon-garlic butter. This recipe is adaptable to all kinds of herbs too. Note that all of the herbs used in this recipe are FRESH, not dried!
Ingredients
650

g

sockeye salmon fillet

1/2

tsp

savory

(winter or summer - I used winter)

1/2

tsp

dill

1/2

tsp

oregano

1/2

tsp

rosemary

1/2

tsp

thyme

(~2 large sprigs)

1/2

tsp

sea salt

pinch

black pepper
Lemon-Garlic Butter
1.5

tbsp

lemon juice

(approx. 1/2 lemon)

1/4

cup

butter

2

cloves

garlic

minced

pinch

herbs leftover from salmon
Instructions
Scale the salmon, if you haven't already done so. You can leave the skin on or take it off. I leave it on (which is easier). You can cut the salmon into individual portions or leave it as a whole fillet.

Mince all of the fresh herbs (don't use dried herbs - see notes and variations below for more information) together. Don't worry about measuring the herbs to carefully, but try to keep the quantities roughly proportional to one another.

Sprinkle the surface of the salmon fillet/portions with sea salt, pepper, and herbs. Set aside.

Preheat oven to 350°F (176°C). Cover a baking tray with parchment paper or an oven-proof cooking sheet.

Place the fillet/portions on the baking tray and bake for 8-10 minutes, or until the thickest portion of the fillet is flaky but still very moist and dark. Do NOT overcook your salmon - if it's dry all the way through, it's cooked too long.
Lemon-Garlic Butter
Melt the butter in small pot on the stove. Add the minced garlic and simmer over medium heat for about 2 minutes.

Remove the butter from the heat source and add the lemon juice. Pour the mixture through a small strainer or cheesecloth to separate the garlic and floating milk solids. Add a pinch of herbs to the clarified butter and serve with the finished salmon.
Notes
Note that this recipe uses fresh herbs, not dry. Dry herbs will, generally speaking, be much stronger tasting (gram for gram) than fresh. This is especially pronounced with oregano and thyme. I wouldn't personally use dried herbs here, but if you do decide to go that way, be sure to use about 1/3 of what the recipe calls for.
The herbs I used here are lovely and complimentary, but you can definitely mix things up based on what you have available. Marjoram would work nicely. You could go in an Herbes de Provence direction with a touch of lavender too. Chives would deliver a nice punch of pungent onion flavour that would pair nicely with the garlic butter too. Experiment a little. Have fun.
Nutrition
Calories:
225
kcal
|
Carbohydrates:
1
g
|
Protein:
21
g
|
Fat:
14
g
|
Saturated Fat:
5
g
|
Cholesterol:
79
mg
|
Sodium:
309
mg
|
Potassium:
530
mg
|
Vitamin A:
300
IU
|
Vitamin C:
2
mg
|
Calcium:
26
mg
|
Iron:
1.1
mg